When you plan your move from one nation to another, there are many aspects to take into consideration. You may know you need your passport and birth certificate, but what else? What about the need to verify educational credentials? Do these academic degrees need an evaluation?
In Canada, educational credits are essential in helping you land a job that pays well versus a low-income job. A degree may determine if you will land a job ranging in the $80,000 zone rather than the $30,000 level.
If you are a foreigner who completed your degree in another country, you may need an ECA. This is an evaluation system that verifies and compares your degree with the Canadian standards.
The benefits are evident for proceeding with this evaluation, but it is not an easy task. It is a long process, but it is not impossible.
What is the Educational Credential Assessment (ECA)?
The ECA is a report designed to verify the educational credits of an immigrant applicant. This report intends to verify the quality of education in your home country is on par with Canadian degrees.
This report determines if a person's foreign Diploma in secondary education meets the demands and rigour of a Canadian degree. Several agencies are responsible for the evaluation of foreign degrees.
These agencies include:
Comparative Education Service
World Education Services
International Educational Evaluation Service
These institutions have to evaluate your education and determine its validity and credential.
How to Determine If an ECA Evaluation is Necessary?
Immigration applicants do not necessarily need to complete an ECA evaluation. If you wish to partake in the Federal Skilled Workers Program, you must join the ECA.
The Federal Skilled Workers Program is also known as the Express Entry program. This fast-tracks individuals to immigrate to the country based on their skill set.
Suppose you have a degree from a foreign institution and wish to have this degree accepted in Canada; ECA is essential, especially if you seek a career or job that matches your credentials.
Which Credentials Need Evaluation?
It is not necessary to have every level of education evaluated in this system. What needs evaluation are higher levels of education.
This means you must have your highest level of education evaluated. If you completed both a certificate course and a bachelor's degree, you don't need both evaluated.
However, if someone has multiple credentials, they must have each one evaluated individually. This means if they have a degree in psychology and a degree in mechanics, they must have both evaluated.
Please note that you DO NOT need an ECA for your 10th and 12th-grade certificates. If you have a Bachelor's, then get ECA done only for your Bachelor's (unless you have another diploma like a Post-Graduate Diploma of some sort; In this case, you might be eligible to get both of them evaluated to earn more CRS points). For M.Sc. applicants, it is mandatory to get your Bachelor's evaluated but not your 10th and 12th-grade mark sheets.
Which organization should be chosen for ECA?
This is highly dependent upon the career selected, the credential that needs evaluation, and where they received the degree. To help decide which organization to choose, refer to the CICIC system (Canadian Information Centre for International Credentials).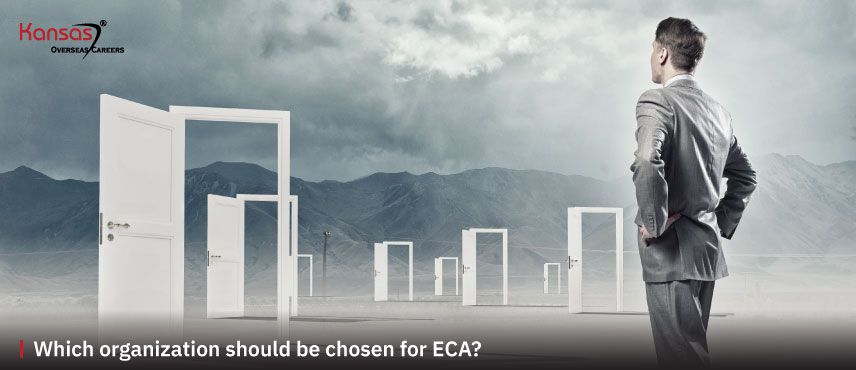 This tool helps the user choose the proper organization for their needs. It uses the applicant's degree and work experience to make this determination.
For medical professionals, it is necessary to have your credentials evaluated by the Medical Council of Canada. The Pharmacy Examining Board of Canada evaluates all pharmacist applications to the program.
Who needs an ECA report for Canadian immigration

?
Individuals who seek to immigrate to Canada under the Express Entry designation must have their credentials evaluated. However, suppose you were an international student who pursued a degree at a qualified Canadian university. In that case, you do not need an ECA report.
Additionally, some Master's and postgraduate degree programs may not need an ECA for the Federal Skilled Workers Program. This is highly determined by the degree, the university, and the country which issued it. Be sure to contact an agent to determine if this is necessary or not.
How do you get an ECA report for Canadian immigration?
To get your ECA report, you must determine which organization is best for your needs.
To obtain an ECA (Educational Credential Assessment) report, an applicant (and their accompanying spouse or partner, if applicable) submits the required documents such as transcripts and degree certificates to an organization designated by Immigration, Refugees, and Citizenship Canada (IRCC).
These organizations operate independently of the government of Canada. The current organizations designated by IRCC to issue ECA (Educational Credential Assessment) reports are:
World Education Services

International Qualifications Assessment Service
Where can I get my ECA?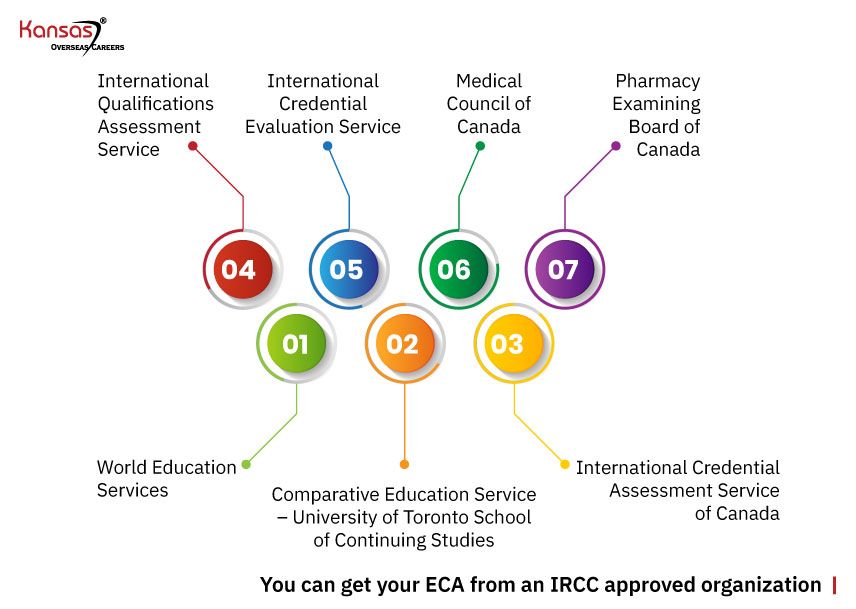 If you are a trained professional who is not a pharmacist or medical professional, you may select WES. WES evaluations are widely recognized by various business, educational, and governmental institutions across Canada and the US.
The steps to submit your documents to the organization of your choice is essentially the same regardless of the one you select. Once the evaluation organization has determined the ECA, this report must be uploaded to the immigration website of Canada.
Sample of an ECA Report Issued by WES
Cost and Processing Time for ECA Canada
Different agencies will have different processing times for the ECA (Educational Credential Assessment).
The table provided below can help assess various agencies quickly:
| | | |
| --- | --- | --- |
| ECA Organisation | Processing Time (approx.) | Fees |
| World Education Services (WES) | 4 Weeks | 220 $ |
| Comparative Education Service (CES) | 14 Weeks | 210 $ |
| International Credential Evaluation Service (ICES) | 12 Weeks | 230 $ |
| | 15 Weeks | 200 $ |
| International Credential Assessment of service of Canada (ICAS) | 13 Weeks | 200 $ |
| Medical Council of Canada – (Professional body for doctors) | 6 Weeks | 290 $ |
| Pharmacy Examining Board of Canada (For Pharmacists) | 13 Weeks | 600 $ |
The above list includes ECA processing time and only the basic ECA Canada fees. It doesn't contain courier charges and other miscellaneous expenses. Processing time varies from case to case.
How Do I Submit My ECA Document, and When Do You Need the Report?
To submit your documents, you must enter the report to your Express Entry profile page. This must be completed within five years of the ECA being delivered and completed.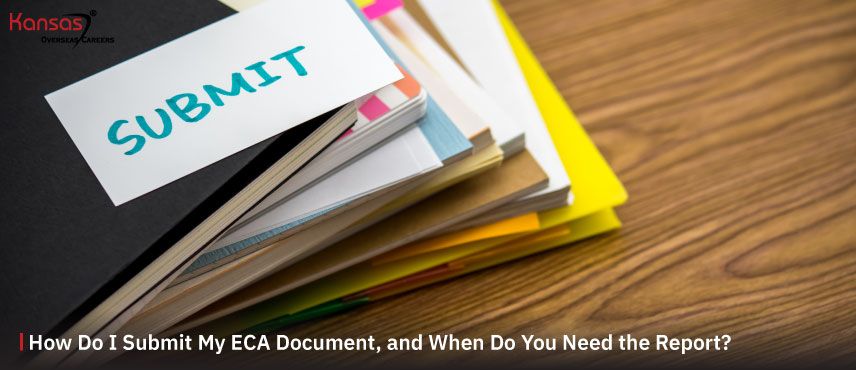 If you couldn't submit your report within 5 years, you might have the report reissued. You should contact the organization and see if this is possible.
You should always maintain the original documents for your records, but uploading them is essential for entry and permission to remain in Canada.
You may also add multiple credential reports on this page. After submitting the first report, you will see the option to add other credentials and may do so.
How Can You Prove Your Credentials for the ECA Assessment?
To qualify for immigration under the Express Entry or Federal Workers Program may seem a little overwhelming. There are many things to take into consideration.
However, there are resources available to you! Finding the right immigration consultant is key to having success in the process.
Contact them for your agent today and see how the right agency can help ease the process of immigration.
FAQs:
Question 1: Which organization is best for ECA (Educational Credential Assessment) for Canada Immigration?
Answer: WES is best in terms of processing time. However, do check if WES recognizes your university.
Question 2: My university does not send the transcript directly to WES.
Answer: WES introduced this condition to avoid any fraud last year. Therefore, all the university is not accustomed to this rule. Therefore, either you should request your university to send the documents, or you have to opt for another organization for ECA.
Question 3: Do I need ECA (Educational Credential Assessment) for my spouse as well?
Answer: IF your CRS score is enough to get you a direct invitation to apply, then you can opt-out and save money.
Question 4: Which evaluation should I choose?
Answer: In general, a Document-by-Document evaluation is sufficient for employment or immigration. Universities, colleges and professional licensing boards require the Course-by-Course review because it contains the detailed information that they need. It is always a good idea to check with the university, licensing board or employer who will receive your evaluation if they have specific requirements.
Question 5: What is the cost of a WES evaluation?
Answer: A Document-by-Document evaluation costs $100.00, and a WES Course-by-Course evaluation costs $160. Extra charges apply if you require additional services, such as rush service, express delivery, or a CPA Board Evaluation.
Question 6: How long does it take to obtain a WES evaluation?
Answer: WES can complete your evaluation in 7 business days or less, depending on the type of service that you request. However, if additional research, correspondence or verification is required, the evaluation will take longer. We recommend that you start the process as early as possible and submit all necessary documents to ensure the timely completion of your evaluation report.