Job vacancies in Canada reach an all-time high. The job vacancy rate was 5.7% in the second quarter.
On September 20, 2022, Statistics Canada released "Job vacancies, second quarter 2022" in The Daily. The national statistical office of Canada, Statistics Canada provides key information on the economy, society and environment in the country.
As per the latest Statistics Canada report, "Employers across all sectors in Canada were actively seeking to fill one million (997,000) vacant positions in the second quarter, the highest quarterly number on record".
Job vacancies in Canada in 2022 second quarter were up by -
4.7% (+45,000) from the first quarter of 2022
42.3% (+296,500) from 2021 Q2
The growth in labour demand in Canada has exceeded employment, leading to record-high job vacancies.
What is meant by the "job vacancy rate"?
The job vacancy rate is the number of positions to be filled as a proportion of the total labour demand (filled plus vacant positions). The job vacancy rate in Canada was 5.7% in the second quarter of 2022, also an all-time high.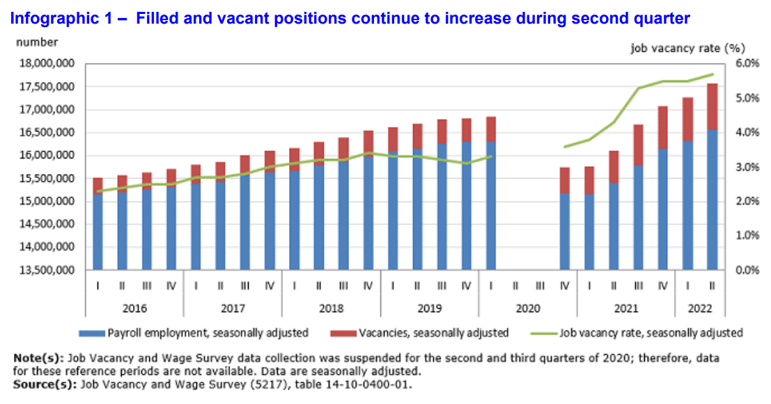 Source: Statistics Canada.
Is there an increase in hourly wages offered in Canada?
Generally, the average offered hourly wage in Canada increased 5.5% in the second quarter of 2022, as per a year-over-year basis.
What is the average offered hourly wage in Canada?
Overall, the average offered wage in Canada is CAD 24.05 (approximately INR 1,440) per hour.
Which occupations had the highest growth in offered salary in Canada?
As per the data with Statistics Canada, across broad occupations, the highest offered wage growth was seen in -
Service representatives and other customer and personal services occupations (+12.0%)
Professional occupations in natural and applied sciences (+10.6%)
Occupations in front-line public protection services (+9.7%)
Which Canadian province had the most increase in job vacancies in 2022?
Compared to the first quarter, job vacancies rose in Canada in 6 provinces in 2022 Q2. These province and the percentage of increase in job vacancies were as follows -
Ontario (+6.6%)
Nova Scotia (+6.0%)
British Columbia (+5.6%)
Manitoba (+5.2%)
Alberta (+4.4%)
Quebec (+2.4%)
With 379,000 jobs available, the highest number of job vacancies were in Ontario.
What is the sector-wise job vacancy in Canada?
In 2022 second quarter, job vacancies in Canada based on certain sectors were as follows -
Health care and social assistance: 136,100
Accommodation and food services: 149,600
Professional, scientific and technical services sector: 74,600
Retail trade: 112,700
Manufacturing: 85,900
Construction: 82,900
According to Statistics Canada, "Employers continued to face significant hiring challenges during the second quarter, with 44 newly hired employees for every 100 vacancies."
Results for the third quarter of 2022 - July to September - will be released on December 19, 2022.
With processing time of around six months, Express Entry is the most popular way to work in Canada as a skilled worker.
For more information, get in touch today!