Key Highlights:
Atlantic Pilot Program
Evaluation of AIP
Immigrant Retention in Atlantic Canad
Rationale for Staying in Atlantic Canada
Immigrants moving to Atlantic Canada through the Atlantic Immigration Pilot have a greater likelihood of staying in that region than their counterparts coming under other immigration programs.
Atlantic Pilot Program
The Atlantic Immigration Pilot is a new immigration initiative introduced by Canada in 2017. It allows employers in the Atlantic Provinces to easily hire skilled professionals worldwide without the Labour Market Impact Assessment.
Evaluation of AIP
In the Evaluation of Atlantic Immigration Pilot report issued in October last year, the IRCC reported that the program was incredibly successful in retaining immigrants in the region.
In the report, 94% of AIP applicants, 88% of PNP-Express Entry applicants and 86% of PNP applicants reported living in the Atlantic region at the time of the survey.
Immigrant Retention in Atlantic Canada
Before AIP, the Atlantic Provinces always struggled to retain immigrants in the region. In the report, IRCC found that most of the 5,590 respondents who migrated through AIP were still in the region after two years.
Many of those respondents reported still working with their original employer, and those who changed employers were working in the same region.
45% of the respondents were in New Brunswick, 34% in Nova Scotia and Labrador & Prince Edward Island were each host to 10% of the respondents.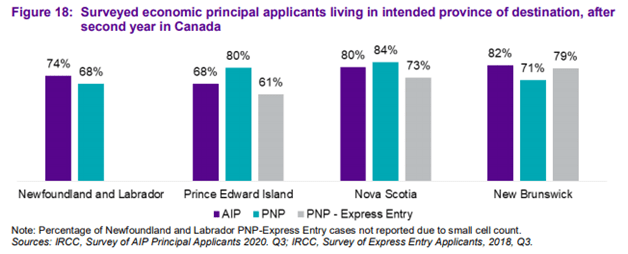 Rationale for Staying in Atlantic Canada
Most respondents reported that the significant reason why they stayed in those provinces was the friendly community, affordable cost of living, and their job.
A third of the respondents said that they had family or friends in the province they migrated to.
A portion of these respondents who wanted to leave said they were looking to make more money in another province.
Over 40% of them said that they could not find suitable job opportunities in the region they were in.
Future of AIP
The Atlantic Immigration Pilot is on the way to become a permanent immigration program. In March 2019, the Canadian government had decided to extend it until December 2021.
This was to study the mid and long-term impact of AIP on the region.