160,000 will get Australian permanent residence in 2022 as per the 2022-2023 Migration Program. Of these, 109,900 visa spaces are for those who migrate to Australia as skilled workers.
Australia needs skilled workers. The Committee for Economic Development of Australia (CEDA) states that "Australia should provide clear and consistent pathways to permanency to remain competitive against other destinations." An independent think-tank, CEDA identifies and points out the policy issues that matter for the future of Australia.
The latest CEDA Research Report - Jobs & Skills Summit: Unlocking Skilled Migration - was published on August 31, 2022.
Australia has record high job vacancies. As per an Official Press Release on June 30, 2022, by the Australian Bureau of Statistics (ABS), "There were 480,000 job vacancies in May 2022, 58,000 more than in February 2022, and more than double the vacancies in February 2020 (227,000) …".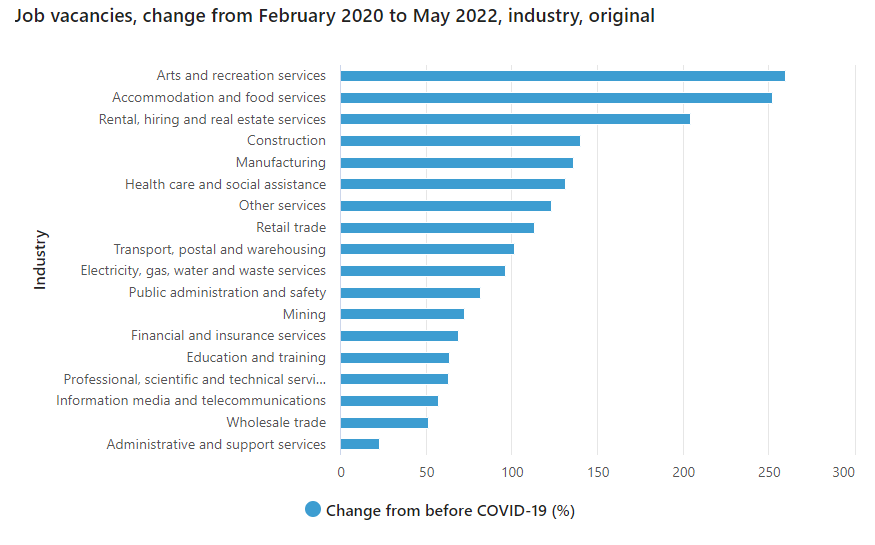 Source: Australian Bureau of Statistics
The significant squeeze facing Australia's labour market is the result of various factors, such as - the COVID-19 pandemic, an aging workforce, and growth in certain sectors.
Immigration plays a significant role in increasing labour supply and promoting skills acquisition. As per the CEDA Report, "Historically, migrants have supplied a third of the increased skills requirements of the Australian economy and given Australia's ageing population we should expect this trend to accelerate in the future."
Australia has increased the skilled worker quota for Financial Year 2022-2023.
A total of 109,900 will get their Australia PR visas in 2022-2023 as compared to the 79,600 skill spaces in 2021-2022. Australia's fiscal year runs from July to June the next year. The 2022-2023 Migration Program of Australia has been specifically designed to boost economic recovery in the post-pandemic environment.
Australia Permanent Skilled Immigration

Total Australia PR visa spaces in 2022-2023

Overall 160,000 visa spaces available

Skill Stream - for those who can fill shortages in the labour market

109,900

Family - proving Australia PR pathways to family members of Australians

50,000

Special eligibility - for those in special circumstances

100

Australia PR Skill Stream Allocation for Financial Year 2022-23

Visa stream

Visa spaces

Employer sponsored

30,000

Regional

25,000

State/Territory Nominated

20,000

Skilled Independent

16,652

Business Innovation & Investment

9,500

Global Talent (Independent)

8,448

Distinguished Talent

300

Skill Total

109,900
The 2022-2023 nomination allocations for State and Territory nominated visa categories have been recently announced. The States and Territories in Australia can nominate skilled foreign workers for Australian permanent residence under the following -
Business Innovation and Investment Program (BIIP)
State and Territory nominated visa allocations​​​​ for 2022-2023
Pathway

Total Allocation

State/Territory Allocation

Skilled Nominated visa (subclass 190)

30,610

Victoria (VIC) - 9,000

New South Wales (NSW) - 7,160

Western Australia (WA) - 5,350

Queensland (QLD) - 3,000

South Australia (SA) - 2,700

Tasmania (TAS) - 2,000

Australian Capital Territory (ACT) - 800

Northern Territory (NT) - 600

Skilled Work Regional visa (subclass 491)

18,550

NSW - 4,870

SA - 3,180

WA - 2,790

VIC - 2,400

ACT - 1,920

TAS - 1,350

QLD - 1,200

NT - 840

Business Innovation and Investment Program (BIIP)

810

NSW - 260

QLD - 235

VIC - 170

SA - 70

NT - 15

WA - 40

TAS - 10

ACT - 10
In 2021, more than 29% of Australia's resident population had been born overseas.
As per the official statistics for 2021, an estimated 710,000 people living in Australia as permanent residents had India as their country of birth. England (967,000), India (710,000), and China (596,000) are the Top 3 source countries of immigrants to Australia.