Express Entry is used by Canada for managing permanent residence applications from eligible skilled workers.
Recently, there has come an official confirmation of all-program Express Entry draws to be resumed July 6, 2022. Canada's Minister of Immigration, Refugees and Citizenship announced in a tweet -
"Starting July 6th, 2022, qualified candidates will be invited to apply for permanent residency from the following programs:
Federal Skilled Worker program

Federal Skilled Trades program

Canadian Experience Class".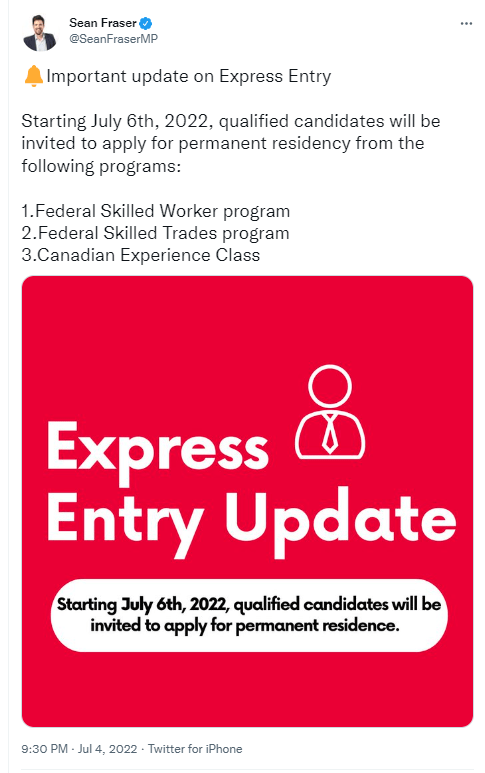 This confirmation follows a recent statement by the Immigration Minister in an interview with CIC News. Canada is also expected to soon be back to the 6-month processing standard for Canada PR applications submitted through the Express Entry system. The processing time begins from the receipt of a complete Canada PR application by Immigration, Refugees and Citizenship Canada (IRCC).
By a 'complete' application is implied an application that has -
No required information missing, and

All the documents needed.
The last all-program draw was held by IRCC on December 23, 2020. Since then, Canada has been focusing more on candidates eligible for the CEC or with a nomination making them eligible for Canada's Provincial Nominee Program (PNP).
There are around 80 PNP immigration pathways available, some of which are linked with the Express Entry system. A PNP nomination is worth 600 points on the Comprehensive Ranking System, thereby guaranteeing an invitation to apply.
Under the Express Entry round of invitations, IRCC invites the highest-ranked - based on their CRS scores - to apply for Canadian PR visa. Only those who receive an IRCC invitation can submit their PR application by Express Entry route.
957,500 job vacancies have been reported in the Canadian labour market in the first quarter of 2022.