Key Highlights:
Overview
CRS Cut-Off Score
Express Entry Draw #174
CRS Cut-Off Scores
Immigration Targets 2021
IRCC invited 4,626 Canadian Experience Class candidates for permanent residence in the latest #174 draw. This was the second Express Entry draw held on 21 January 2021 this week.
CRS Cut-Off Score
The Comprehensive Ranking System (CRS) cut-off score for candidates was 454 points. It is seven points lower than the previous CEC-specific draw that was held on 7 January 2021. We had a CRS cut-off score of 461 points then.
Express Entry Draw #174
The latest draw is the fourth Express Entry draw held in January 2021. On 20 January IRCC had held a draw for Provincial Nominee Program (PNP) candidates.
All candidates receiving a provincial nomination through Express Entry are awarded additional 600 CRS points into their profile. It guarantees that they will obtain an ITA in the next round.
An all-program Express Entry draw is yet to be held in the new year.
Minimum Scores for the Last 10 Draws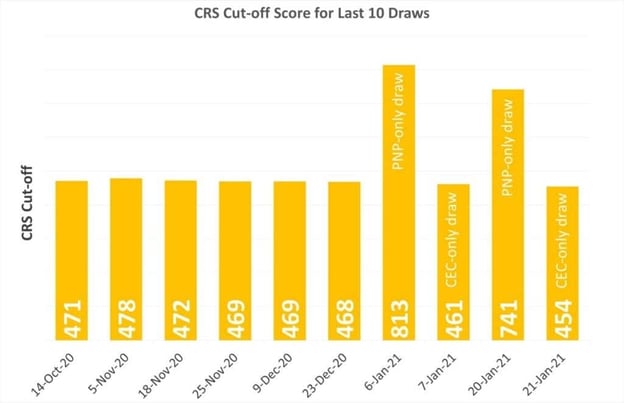 Immigration Targets 2021
The CEC and PNP-specific draws indicate that IRCC is heavily relying on Express Entry candidates to achieve immigration targets set for 2021.
It also appears that both Federal Skilled Worker Program (FSWP) and the Federal Skilled Trades Program (FSTP) candidates would also be considered for draws this year.