Key Highlights:
Overview
Employment Rate
Employment Rate for Immigrants
According to a survey by Statistics Canada, The Canadian economy gained over 157,000 jobs in the last month, bringing the employment rate to the point of pre-pandemic levels.
Employment Rate
The research agency's Labour Force Survey used the country's labour market data from September 12-18. It was the week when several provinces had mandated proof of vaccination to enter non-essential service places.
The country's employment rate was 60.9% in September, just 0.9% lesser than the rate in February last year (before the spread of Covid-19 globally) due to the population growth.
The unemployment rate declined last month for the fourth consecutive time. It has now fallen to 6.9%, the lowest recorded since the start of the pandemic.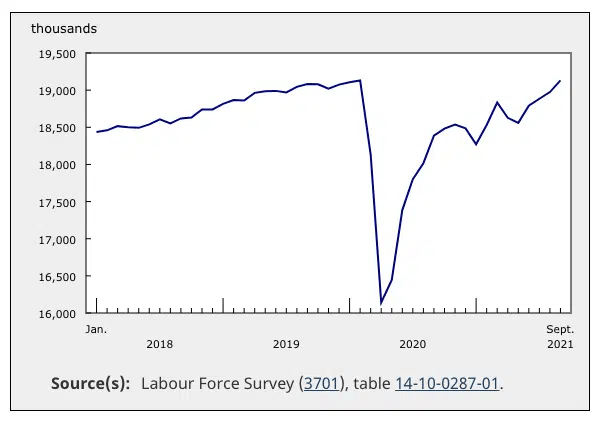 Employment Rate for Immigrants
The employment rate in Canada has also increased, reaching 71 in September, in line with its upward trend.
While the population of immigrants has not grown due to the travel restrictions in place due to the Covid-19 pandemic, the number of new immigrants employed in some sectors has increased.
This was seen primarily in two sectors: professional, scientific & technical services and finance, insurance, rental, real estate and leasing.
These industries have experienced continued growth in employment, even during the pandemic.
Moreover, the immigrants who have been living in Canada for more than five years saw an increase of almost 59% in the employment rate, just 1% less than the rate in September 2019.
Also, citizens born in Canada experienced an employment rate of 61%, just two points lower during the same time frame.