An official advisory for students from India that want to study abroad in Canada. Contingency plans in place for students that don't get their Canada study permit in time to begin the September 2022 term.
On August 19, 2022, the High Commission of India (HCI) in Ottawa issued an "Advisory for Indian students enrolled in Canadian universities and colleges whose visa applications have been delayed".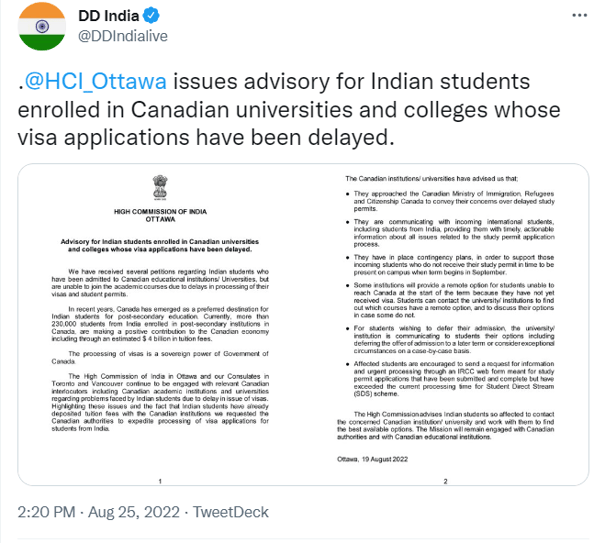 Source: Twitter
In a year, several petitions are submitted from Indian students that have secured admission in Canadian educational institutions. Many of these are unable to join their academic courses due to the delays in the processing of their visas and study permits.
Recently, Canada has come to be the preferred study abroad destination for Indian students that want to pursue post-secondary education. As per the official communication, "more than 230,000 students from India enrolled in post-secondary institutions in Canada, are making a positive contribution to the Canadian economy including through an estimated $4 billion in tuition fees".
The processing of visas comes under the Government of Canada through the federal department of Immigration, Refugees and Citizenship Canada (IRCC).
Indian students continue to face problems due to delay in Canada study permits, many have already deposited their tuition fees.
In view of these factors, the High Commission of India in Ottawa - along with the Consulates in Vancouver and Toronto - continue to be engaged with the Designated Learning Institutions (DLIs) in Canada. A request has been put in by the High Commission and Consulates to "expedite processing of visa applications for students from India".
As per the HCI Ottawa advisory, the Canadian DLIs have informed that they -
Had approached IRCC to convey concerns over delayed Canada study permits.
Were communicating with the incoming international students providing them information on all issues related to the process.
Had in place contingency plans for supporting students that don't get their study permit on time to be on campus when term begins in September 2022.
Might provide a remote option (to be provided by some DLIs in Canada). This will be for those unable to reach the start of the term as they have not yet been granted their Canada study permit.
Were communicating deferment options to students.
Were encouraging students affected by the delay to send in a Request for Information and urgent processing to IRCC.
Indian students impacted by the delay in Canada study permit processing have been advised by HCI Ottawa to contact the concerned Canadian institution / university and work with them to come up with the best available options.
As per the official advisory by the High Commission of India in Ottawa, "The Mission will remain engaged with Canadian authorities and with Canadian educational institutions".