Canada is among the advanced economies that made a quick rebound from the COVID-19 pandemic. However, Canada now faces critical labour shortages leading to uncertainty among the businesses and workers. Acute labor shortage in STEM (Science, Technology, Engineering and Math), health care, building trades, and manufacturing.
On November 1, 2022, Canada revealed the 2023-2025 Immigration Levels Plan. The announcement was made by the Minister of Immigration, Refugees and Citizenship Canada (IRCC).
Canada is all set to welcome 1.45 million newcomers by the year 2025. As many as 465,000 will get Canadian permanent residence in 2023. The target for 2024 stands at 485,000. Another 500,000 will get their Canada PR visas in 2025.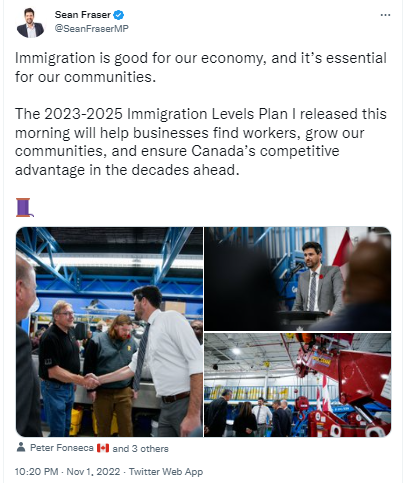 Source: Twitter
As per the official IRCC Press Release, "The plan embraces immigration as a strategy to help businesses find workers and to attract the skills required in key sectors—including health care, skilled trades, manufacturing and technology—to manage the social and economic challenges Canada will face in the decades ahead."
Canada's 2023-2025 Immigration Levels Plan




Announced on November 1, 2022




Overall Planned PR Visas | Annual target for the next 3 years

Stream

PR category

2023

2024

2025

Overall Planned Permanent Resident Admissions

465,000

485,000

500,000

[1] Economic

Federal High Skilled [Express Entry]

82,880

109,020

114,000

Federal economic public policies [TR to PR pathway etc.]

25,000

-

-

Federal Business [Start Up Visa Program etc.

3,500

5,000

6,000

Economic Pilots - RNIP, Agri-Food Pilot etc.

8,500

12,125

14,750

8,500

11,500

14,500

105,500

110,000

117,500

Quebec Skilled Workers & Business

As per Quebec Immigration Plan

To be determined

To be determined

Total Economic

266,210

281,135

301,250

[2] Family

Spouses, partners and children

78,000

80,000

82,000

Parents & Grandparents

28,500

34,000

36,000

Total Family

106,500

114,000

118,000

[3] Refugees and Protected Persons

Protected Persons in Canada and Dependent Abroad

25,000

27,000

29,000

Resettled Refugees - Government-assisted

23,550

21,115

15,250

Resettled Refugees - Privately Sponsored

27,505

27,750

28,250

Resettled Refugees - Blended Visa Office - Referred

250

250

250

Total Refugees & Protected Persons

76,305

76,115

72,750

Humanitarian & Compassionate and Other

15,985

13,750

8,000
How many got Canada PR visas in 2021?
A record 406,000 were granted Canadian permanent residence in 2021. As per the latest statistics in the 2022 Annual Report to Parliament on Immigration by IRCC [for the period ending December 31, 2022] -
In 2021, Canada welcomed the most immigrants in a single year in its history
406,000 got Canada PR,
221,919 permanent residents became Canadian citizens in 2021-22,
191,000+ work and

Canada study permit

holders transitioned from temporary to permanent resident status,
415,000+ temporary work permits issued, and
445,000+ study permits granted.
The 2023-2025 Immigration Levels Plan puts a long-term focus on economic growth. By 2025, just over 60% of all new permanent admissions will be in the economic class, such as Express Entry, PNP, RNIP, etc.
The Immigration Levels Plan projects how many permanent residents are to be admitted to Canada in a given year. Targets are laid down for the overall admissions under each of the immigration categories. As per Canada's Immigration and Refugee Protection Act, the Immigration Minister must put forward the Plan in Canadian Parliament each year.
Canada immigration pathways are many. The most-suitable immigration pathway for you will be as per your individual background and requirements.
An Initial Evaluation Report can help you assess your chances in a better way. Get in touch for more details.