Key Highlights:
Overview

Six Times Bigger

Candidates from EE CEC

IRCC's Commitment

Express Entry System

Frequency of Draws



Canada invites 27,332 Express Entry immigration candidates in the historic draw held on Saturday, 13 February 2021.
You read that, right! This round invited tens of thousands of immigration candidates to apply for permanent residence in Canada.
Six Times Bigger
This draw was about six times bigger than the largest Express Entry draws ever held. Earlier 5,000 ITAs were issued between 18 November and 23 December last year in four straight draws.
The lowest CRS cutoff score requirement was 199 points in the Federal Skilled Trades Program draw held on 16 May 2017.
Candidates from EE CEC
On 13 February 2021, Immigration, Refugees and Citizenship Canada (IRCC) invited candidates from the Canadian Experience Class (CEC).
It was unprecedented that these CEC candidates only required to have a Comprehensive Ranking System (CRS) score of 75 points to be selected for permanent residence.
It is the lowest CRS requirement ever in the history of Express Entry. It amounted to inviting almost every CEC candidate in the Express Entry pool.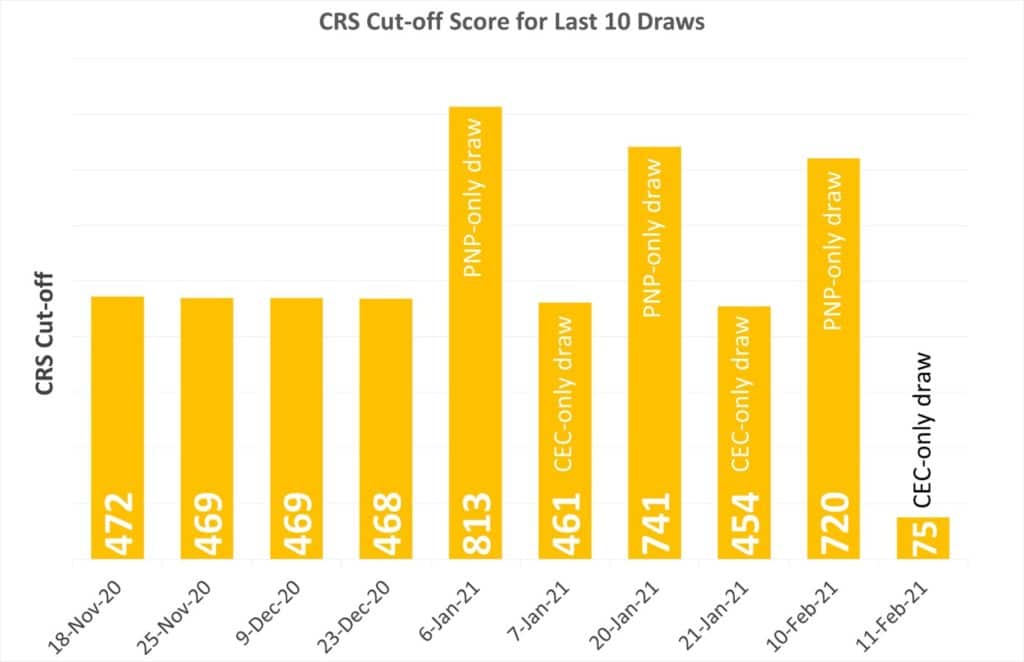 The tie-break rule implemented by IRCC for candidates scoring a minimum of 75 points meant that only those candidates would be included having created their Express Entry profiles before 12 September 2020 at 15:31 UTC.
IRCC's Commitment
This draw shows that IRCC is committed to achieving its' target of 401,000 fresh immigrant candidates in the year 2021. About 108,500 of these newcomers are to come through Express Entry managed programs.
The Express Entry system is most likely to continue to be the primary source of new immigrants to Canada in the days to come.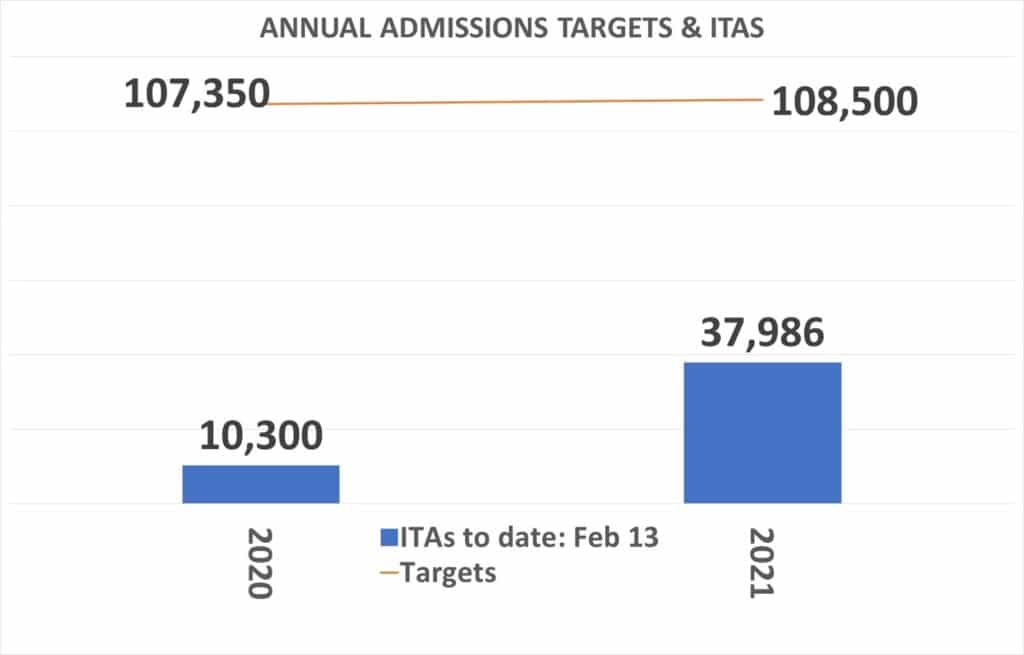 Express Entry System
It is an immigration program and an application management system for the undermentioned three programs under the Federal High Skilled category.
Federal Skilled Worker Program

Federal Skilled Trades Program

Canadian Experience Class
Skilled workers worldwide creating an Express Entry profile need to make sure that they are eligible in any one of the above programs. They will get a CRS score based upon their age, education, work experience, English or French language skills, and other factors.
Express Entry candidates getting a provincial nomination will receive an additional 600 CRS points. It virtually guarantees them an ITA in an Express Entry round.
Frequency of Draws
Express Entry draws are held by IRCC once every two weeks. It has not held an all-program draw so far in 2021. Only CEC and PNP candidates have been invited so far.
These candidates have mainly been prioritised during the coronavirus pandemic since they are more likely to be in the country. PNP-aligned Express Entry candidates have been chosen by demands of the province's local labour markets.
In a separate press release, IRCC explained that almost 90 per cent of the CEC candidates selected through this draw already live in Canada.
Canada looks forward to welcoming skilled workers from abroad only when travel restrictions are lifted.