Key Highlights
Overview
Quebec Budget
Boosting Skills Recognition of Immigrants
Regional Immigration initiatives
Francization & Integration
The new provincial budget for Quebec for 2021-22 includes a massive increase in immigration spending to boost economic recovery after the Covid-19 pandemic.
Quebec Budget
The province's Finance Minister Eric Girard had tabled the new budget on March 25 this year. The new budget allocated an additional $246 million for the next three years.
This is to help the Ministry of Immigration Francisation and Integration (MIFI) boost its efforts to recognize immigrants' skills and encourage regional immigration.
A press release by the MIFI said that this funding would help the government enhance support for new immigrants taking French courses and boost the attraction and retention of international students.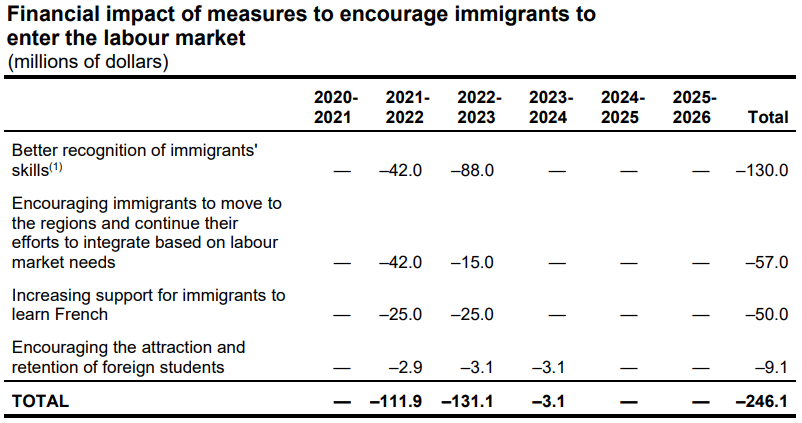 Boosting Skills Recognition of Immigrants
The Quebec government aims to adopt an inter-departmental action plan to upgrade and boost the skills recognition of foreign skilled professionals.
This is to help them integrate quickly into the province's labour market by holding an occupation that is in line with their skills.
Regional Immigration Initiatives
Recognizing that most immigrants choose large metropolitan areas to settle, the province's current immigration policies aim to encourage new immigrants' diverse distribution.
The new budget reflects Quebec's devotion to localize immigration in the context of labour shortages.
$57 million has been allocated to execute new initiatives to boost immigrants who settle in particular regions facing labour shortages over the next two years.
Fracisation & Retention
The budget also allocates $50 million funding for the francization and integration of new immigrants.
This funding will be dedicated to boost educational resources and augment financial assistance provided to new immigrants taking French courses.
Also, the government has provided $9 million over the next three years to help retain international students.