The new U.S. Consulate in Hyderabad will be the largest throughout Asia. With 55 windows for visa interviews, the visa processing times are expected to be much reduced in the near future for those applying in the U.S. Consulate in Hyderabad.
There will soon be 55 windows for visas at the US Consulate in Hyderabad. The consulate services will also see a dramatic improvement. These updates were provided by Senior American diplomat Jennifer Larson, the new Consul General in Hyderabad joining from September 12, 2022. This is her second stint in India.
Recently, Larson was speaking at a luncheon in Washington DC held in her honor by Indian-American entrepreneur Ravi Puli. Larson met with prominent Indian-Americans from Telanagan, Odisha, and Andhra Pradesh.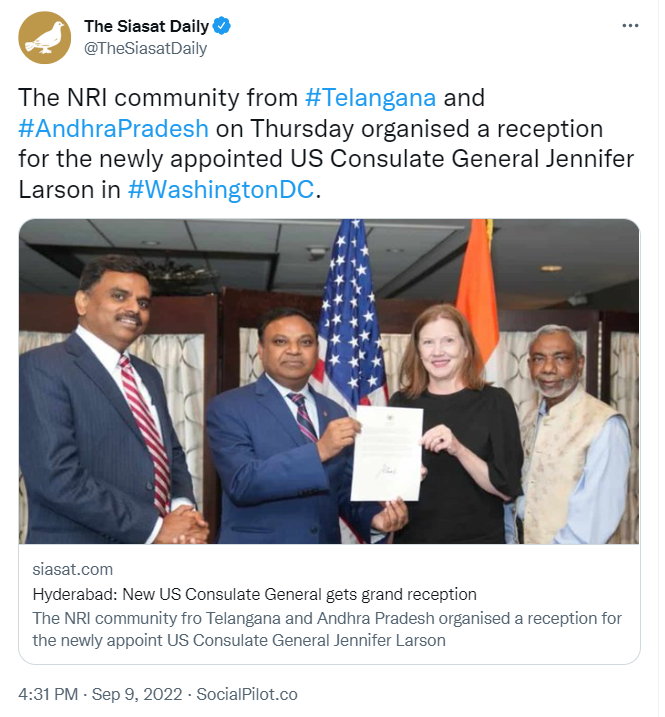 Source: Twitter
Improving the U.S. visa services offered in Hyderabad and strengthening India-U.S. relationship are on the agenda. At the luncheon, Larson spoke in detail about her proposed efforts to improve the U.S. visa services being offered in Hyderabad.
With 55 windows available for U.S. visa interviews in the near future, the process is expected to be speeded up for those applying for U.S. visas at the Hyderabad Consulate.
U.S. Mission in India
Embassy / Consulate

Location

About

U.S. Embassy

Shanti Path, Chanakyapuri

Among the largest U.S. diplomatic missions in the world. The Embassy coordinates the activities of the 4 U.S. Consulates in India, ensuring that the U.S.- India relationship is strong across the country.

U.S. Consulate General Hyderabad

Begumpet, Secunderabad

Established in the year 2009, the U.S. Consulate General in Hyderabad is the first U.S. diplomatic office to be opened in India (since India's independence).




Provides services for those in the states of -

Telangana
Andhra Pradesh
Odisha

U.S. Consulate General Mumbai

Bandra Kurla Complex

Represents the U.S. in Western India, including the states of -

Maharashtra
Madhya Pradesh
Goa
Gujarat
Chhattisgarh

U.S. Consulate General Kolkata

Ho Chi Minh Sarani

Kolkata is among the oldest American Consulates in the world. On November 19, 1792, President George Washington nominated Benjamin Joy of Newbury Port as the first American Consul to Kolkata.

U.S. Consulate General Chennai

Gemini Circle

Among the top visa adjudication posts in the world, and #1 in processing U.S. employment-based visas.




Represents the states of -

Tamil Nadu
Kerala
Karnataka
Lakshadweep Islands
Puducherry
Andaman & Nicobar Islands