Studying in the United States got all the more easier. You can now apply for a US Student visa 1 year before the start of your academic term.
Recently, the US Government announced a breather that will greatly benefit Indians looking to apply to study abroad in the US. As per the latest update for US Student visa, "F and M student visas can now be issued up to 365 days in advance of the I-20 program start date". This will allow more time for foreign students applying for a student visa for the US.
However, do keep in mind that even if you have been granted a visa you can only enter the US as an international student 30 days before the program start date.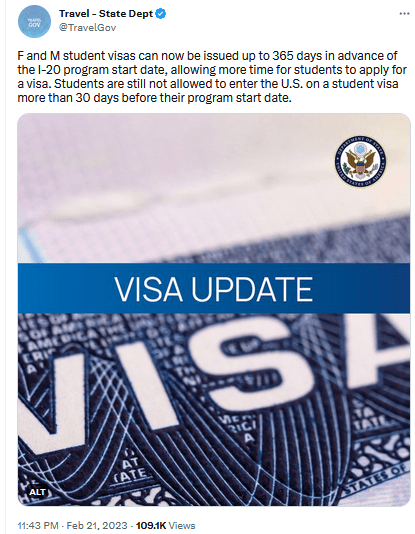 Source: Twitter
What is an I-20 Form and why do I need it to study in the US?
You will need a "Form I-20, Certificate of Eligibility for Nonimmigrant Student Status" before you can study in the US as an international student. This will be required both for -
F students for academic programs, and

M students for vocational studies.
You will be issued a Form I-20 by your designated school official (DSO) after you are accepted to a US educational institution certified under the Student and Exchange Visitor Program (SEVP).
Your Form I-20 must be signed by the DSO as well as the student. Form I-20 is a document that you will need at all times while you study in the US. The program start date is mentioned on your Form I-20.
What's the difference between US Student visa application process then and now?
| | | |
| --- | --- | --- |
| In terms of | Earlier | After the update |
| I-20 Form | Issued 4-6 months before term start | Issued 12-14 months in advance |
| US student visa | Interviews could be scheduled only up to 120 days | Can apply for a visa 365 days in advance |
In the last few months, the US has come up with various steps to improve the processing times for US Student visas.
How many US F-1 Student visas granted to Indians in 2022?
A total of 120,525 F-1 US Student visas were granted to Indians between January-December 2022.
US F-1 Student visas granted to Indians in 2022

January

2,991

February

1,685

March

1,476

April

2,368

May

7,050

June

32,374

July

29,855

August

14,769

September

613

October

499

November

9,931

December

16,914

TOTAL

120,525
Source: US Department of State, Monthly Nonimmigrant Visa Issuance Statistics
The right guidance can help you plan correctly and effectively. Studying overseas can be the best investment you can make for your future.
Top study abroad countries - Canada, US, UK, Australia, and Germany.
For further information, get in touch. Free consultation available.