As of now, Australia does have a points-based migration system. However, there are limited quotas for occupations depending on the demand in specific states and territories.
The Australian government seeks to overhaul Australian immigration. A revamp of the migration system will ensure that -
skilled foreign workers are attracted to work overseas in Australia, and

temporary workers get a route to permanent residency.
Many announcements were made earlier by the Minister of Home Affairs Clare O'Neil while speaking at the National Press Club (NPC).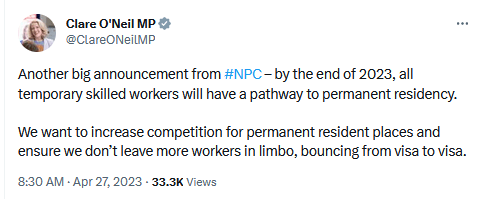 Source: Twitter
The aim behind introducing a Canada-like points-based system in Australia is for countering the trend of global talent selecting Canada in place of Australia to work abroad.
The Australian government will be implementing new migration policies keeping the competitive nature of the international talent market in view. Getting skilled foreign workers to contribute to the local labor market requires that a points-based immigration system modeled on Canadian immigration be introduced.
Australia already has a points-based migration system in place. However, there are limited quotas occupation-wise which are specific to individual states and territories of Australia. The present points-based system followed by Australia is said to be -
Highly competitive,

With lengthy processing times,

Costly visa applications, and

Relatively weak in bringing in high skilled migrants.
The prevailing shortcoming in the immigration system was also acknowledged by the Minister of Home Affairs Clare O'Neil at her NPC address.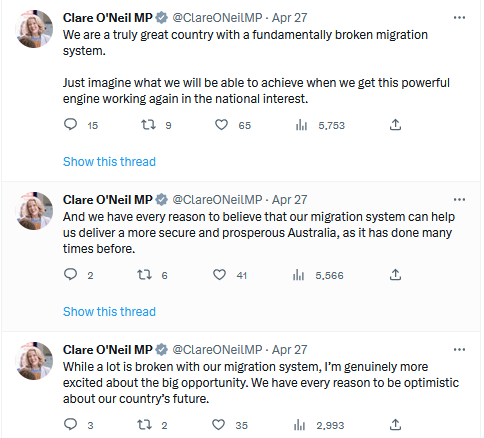 Source: Twitter
In comparison, Canada's points-system -
Is innovative,

Focused on simplified eligibility criteria,

Offers generous visa conditions,

Has accelerated processing,

Deliberate marketing,

Not state or territory based, and

Has a seamless application journey.
Why are changes required in the Australia immigration system?
Many changes have been proposed in the outline of the Government's Migration Strategy, A Migration System for a More Prosperous and Secure Australia.
According to the report, the present Australia immigration system fails to deliver for Australia and for migrants. There is a need for "a more targeted, simpler migration system that serves our national interest and helps migrants thrive".
As per the report, the current system is -
Lacking direction,

Complex,

Inflexible,

Inefficient, and

Fails to deliver for Australians as well as migrants.
The existing system fails to prioritize migrants that are needed for enhancing the economic prosperity of Australia. With a back-to-front migration system being followed in recent years, fewer skilled migrants have opted for Australia. Moreover, an increasing number of migrants are not getting selected based on their skills.
The present Australia immigration system is too complex for migrants and employers alike. Canada scores over Australia in offering simpler and more appealing offers to skilled migrants.
What are the proposed changes in the Australia immigration system?
Proposing to draw on state and territory expertise, the Australian government will be supported by sharing between governments and improved data collection. The shift to a place-based approach will allow a movement away from the complex visa settings followed by the state and territorial governments to a points-based system.
Australia is expected to introduce major changes in the Australia migration systems in the next 6 months. The proposed changes include -
Streamlining and simplification of the skilled visa program,

A 3-tiered (highly skilled - mainstream - essential workers) processing system to be built,
More Australia PR pathways for

Australia student (subclass 500) visa

holders,

PR pathways for Employer Sponsored visa holders,

Increasing the minimum salary threshold for Employer Sponsored visa applicants,

Modifying Australia student visa rules so that foreign students genuinely study and support Australia's skill needs.
Top 5 changes in Australia immigration that are expected to come into effect from July 1, 2023, include -
The Temporary Skilled Migration Income Threshold (TSMIT) to be increased to AUD 70,000 (from the existing AUD 53,900)

Some of the Temporary Graduate (subclass 485) visa holders to be able to get a visa extension for another 2 years,

International student can work up to 48 hours in a 2-week period,

International students working in the aged care sector to be exempt from the 48-hour per fortnight limit until December 31, 2023, and

Visa application charges to be increased.
Australia is looking at the biggest transformation of its migration system in a generation. According to the report A Migration System for a More Prosperous and Secure Australia - Outline of the Government's Migration Strategy, "A new system will drive Australia's economic prosperity and security and be better targeted, more efficient and focused on delivering the outcomes we need for Australians and our country".
Want to live and work in Australia in 2023? Get all the details you need. Free consultation available.