Key Highlights:
Overview
Statistics Canada Report
Unemployment Rate
The Canadian economy adds over 300,000 new jobs in March 2021, surpassing expectations and putting the job market on track to recover everything that was lost last year after the onset of the Covid-19 pandemic.
Statistics Canada Report
The federal statistics platform, Statistics Canada, reported that the economy added 303,000 jobs last month, as the restrictions were lifted, giving way for more workers to industries that were most affected by these restrictions.
The retail sector acquired 95,000 jobs to fully recover the losses they sustained due to the lockdown in January, while employment soared 21,000 in the accommodation and food service sector.
Also, sizeable gains were seen in the construction, healthcare and education sectors. The last one was led mainly by Ontario, which moved its March break to next week to slow the spread of Covid-19.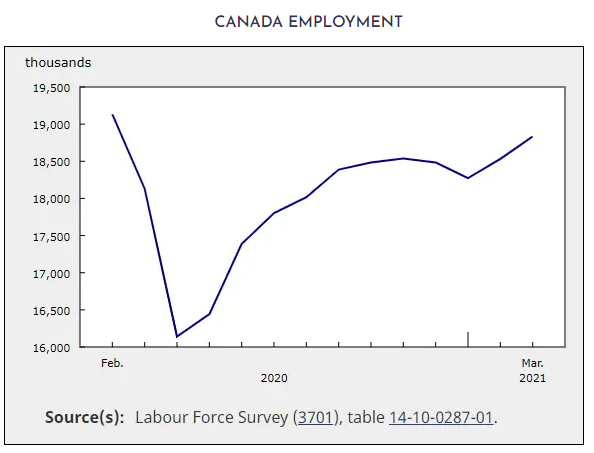 Unemployment Rate
This new increase in jobs places the overall employment to just 296,000 short of what it was in February last year before the pandemic arose, a gap of 1.5%.
The unemployment rate was just 7.5%, lower from 8.2 in February this year. This has hauled the unemployment rate to be on par with the rate before the pandemic.
According to the federal statistics body, the unemployment rate would have increased to 9.7% last month if it had included those who yearned to work but didn't actively look for job opportunities.