Jobs are one of the most attractive aspects of Canada. Especially for Indians, Canada has been a hub of employment opportunities since decades.
Every year thousands of Indians migrate to Canada majorly for a reason that this nation has the best-paying jobs all round the world.
What are the documents required to apply for a Job in Canada?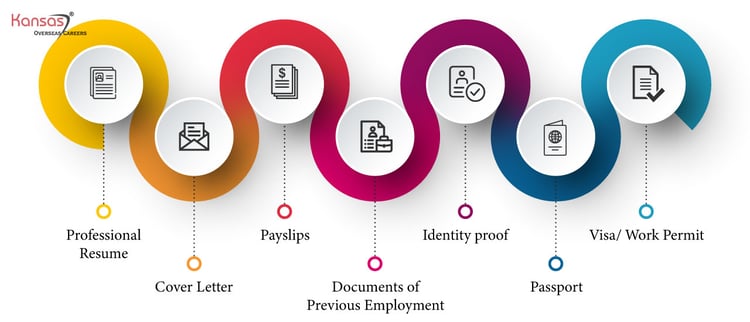 To apply for a Canadian job from India, you will need:
Cover Letter supporting your job application
Documents of Previous Employment
Payslips for salary evidence
Identity proof
Passport
Visa/Work Permit.
Canada's demand for labour is increasing at a gasping rate. It's the best time to move.
How To Get Jobs In Canada from India Easily?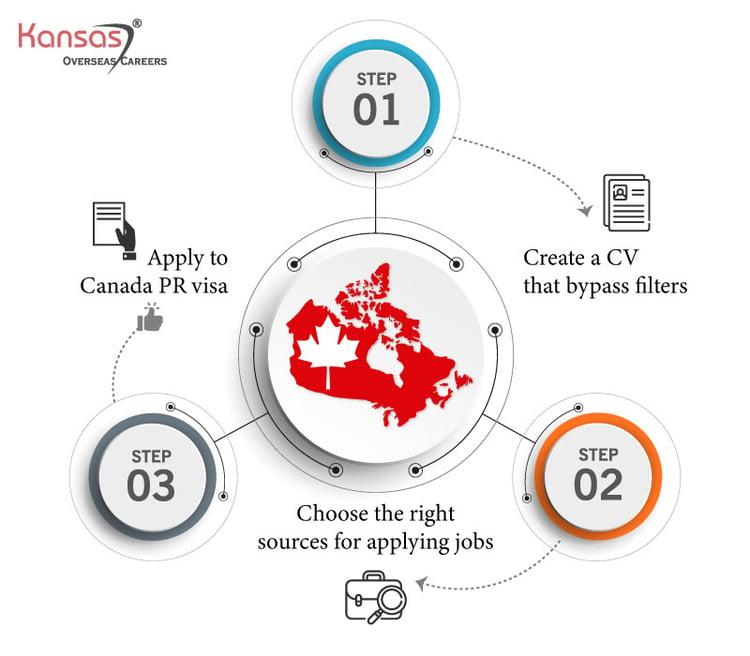 "Get a free "resume analysis", based on Canadian resume format. Send your CV to us at info@kansaz.in and we will give the free tips to update your resume"
1. Create a CV that bypass filters
Resume writing sounds like a simple task for many of us. But it takes a lot of expertise and experience to create a CV.
A company in Canada receives thousands of job applications each month. It is a difficult task to filter all these by humans. Hence the majority of the companies assign the task of filtering the CVs to the tool called "Application Tracking System".
This system will scan all CV and filter out applications based on keywords, resume formats, alignment, profiles with photos etc.
The 1st step to get a job in Canada to reach the HR desk. Create your CV with our resume writing services to get generates maximum responses.
2. Choose the right sources for applying for jobs
In 2022, the method of applying for jobs has changed completely. You need to have a multi-channel approach to get noticed by employers. With the emergence of Linkedin and other portals, reaching to right employer is easier than earlier.
Posting jobs on multiple Canada's job portals , use of social media, reaching out to Canada's HR consultants and applying for the recent jobs directly on the companies website will help you generate the responses quickly.
3. Apply to Canada PR visa
Holding a Canada PR will increase your probability by 3X. The employer will look for candidates with the rights to work in Canada, without the company sponsoring them.
If you good education and work experience, it is wise to apply for a Canadian Permanent residency.
Our team can help you to apply for a visa to Canada in the shortest time.
How Kansas can help you get a job in Canada?
At Kansas Overseas Careers, we have the solutions to all the challenges an Indian may face during a job application.
Click-Bait Resume:

Create resumes that impress Canadian employers.
As every country follows a systematic pattern of resume preparation, we ensure that your resume is meeting the Canadian standards and is click-bait.
Smart Tracking:

Most resumes are barred by employers and do not reach their inbox.
To overcome this aspect, we use an advanced system to ensure that your resume is reached to the recruiter's inbox and gets a view.
Constant Efforts:

We work constantly on your profile for 2 months. During this span of time, all possible options are filtered and applied to.
We market your CV to companies who are seeking candidates with skills like yours.
Interview Preparation:

Getting a yes from a recruiter is no easy task. Our experts train you to crack the code of winning a job through interview preparation assistance.
Mock sessions make our training more practical.
Advanced Services:

If you have a spouse who is accompanying your immigration to Canada, we help you both find a job through our job search service.
How long does it take to find a job in Canada?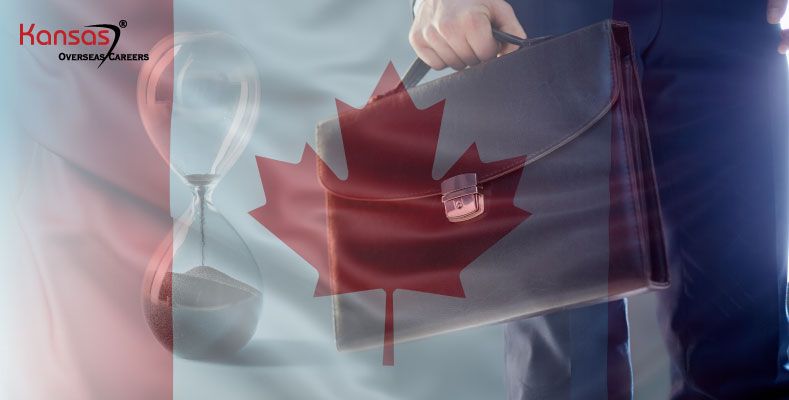 Workpolis once conducted a survey to understand how long does it take for a skilled worker to find a job in Canada.
It found that over 50% of job seekers were able to secure a job within 16 weeks of application.
A large number of candidates stated that they had applied to only 10 job postings before they received their offer.
The salary range for various professionals in Canada
Designation
Min Salary
(in Canadian $)
Avg Salary
(in Canadian $)
Max Salary
(in Canadian $)
Software Engineer
52k
73k
100k
Computer Support Specialist
34k
56k
71k
Database Administrator
42k
67k
93k
Business analyst
50K
65K
95K
Network engineer
49k
73k
104k
IT Professional
43k
63k
96k
Data Entry Operator
10.03
13.76
18.37
Computer Programmer
40k
62k
98k
Network Administrator
41k
59k
81k
Chief Technology Officer (CTO)
89k
159k
240k
Chief Information Officer (CIO)
94k
158k
248k
Application Developer
49k
69k
100k
IT Manager
53k
88k
132k
Design Architect
42k
60k
102k
DevOps Engineer
64k
93k
134k
Help Desk Technician
12.18
16.74
23.13
Sales Associate
8.15
10.30
14.66
Sales Engineer
50k
73k
113k
Account Executive
36k
53k
89k
Inside Sales Representative
31k
44k
61k
Sales Manager
39k
60k
112k
Retail Store Manager
32k
48k
71k
Real Estate Broker
25k
54k
114k
Sales Engineer
50k
73k
113k
Market Development Manager
47k
77k
122k
Outside Sales Manager
36k
55k
92k
Area Sales Manager
40k
66k
107k
Account Manager
37k
54k
83k
Cashier
7.71
9.63
12.43
Construction Worker
10.29
15.31
24.91
Why Canada is the best place for Indians to work?
According to Randstad, most job seekers choose Canada for reasons like its cultural diversity, quality living, high-paying jobs, career benefits and many other factors.
For an Indian worker, these 5 reasons are just enough to kick start their career in Canada:
Multicure:

No bias of religion or caste
Beneficial for families:

Safety and social benefits
Economical:

Highest paying jobs in the service sector
Tech-Savvy:

Fastest growing country in terms of tech jobs
Paid Benefits:

Best in North America
How to find a job in Canada in less time?
Finding a job in Canada can be a daunting task without proper understanding of the Canadian job market and proper planning.
Here's what you need to do to get your job fast in Canada:
Plan for an Active Job Strategy:
You cannot find a job by simply posting your profiles on Canadian portals relaxing for results. You need to actively research for available jobs and apply to the same.
In your tough schedule of work and life, doing so can be challenging. Hence, hire a job search expert for yourself.
As job search experts are well aware of the Canadian job market and everything about Canadian jobs, relying on their assistance will help you greatly.
Apply for a Permanent Resident Visa:
If you think that applying for a work permit for a Canadian job is a good idea, then think again.
Canadian employers are giving a higher preference to candidates with PR visas over work permit holders. This is majorly because:
Permanent resident visa holders bring an assurity to live in the country for a long term.
This gives the employers a confidence the talent of the selected candidate will be beneficial on a longer run.
The fact that employers don't have to bear

any LMIA expenses

also attracts them to hire PR visa holders.
Once the candidate obtains citizenship after 3 years, he shall be an asset to the overall Canadian economy.
Why Indians? A majority of Indians have the skills and talent Canada needs for its economic development.
A high number of candidates are able to meet parameters set by Canada for immigration easily than the nationals of other countries.
In certain occupations or skilled trade, a certification may be required. Similarly, for some roles you may be asked to demonstrate any practical skill test results.
Consult our job search experts to get a personalized checklist of documents based on your profile.
Why Permanent Residency is a Good Option to Get a Job in Canada in 2022?
A permanent residency visa is always considered an ideal option over work permit because of the status it grants. This visa gives you a permanent resident card, similar to the US Green Card.
Also, in order to apply for this visa you do not need a job offer. Both the job search and visa process can proceed simultaneously.
All you have to do is score 67 points under Canada's Express Entry (immigration system) and follow an online visa application process.
Once you have secured this visa, you will be able to:
Work anywhere in Canada
Work for any company in Canada
Switch between companies/jobs if required
Let your

spouse work

without any additional permit
Right to apply for any jobs available for Canadians
Claim unemployment benefits under several schemes
Enjoy the privileges of permanent residency(

free education

and free healthcare)
Right to apply for Canadian citizenship in 3 years
What is the Occupational Requirement to Apply for Express Entry?
Canada Express Entry is the most organized system of issuing visas. Here, the visas are granted solely based on skills, experience and points.
However, it is important that the occupation you represent must be listed in Canada's National Occupational Classification.
This is a list of occupations that are high in demand in Canada and have a severe shortage of skilled workers.
While the NOC list is long and is updated from time to time as per Canadian requirements, here are Canada's top jobs of 2022 from the list:
Sales Associates
Sales associates are on the top numbers when it comes to the most demanded professions of Canada 2022.
As business sector of Canada is booming with new businesses daily, the employers need talented sales-people to reach to their customers. Both B2B and B2C salespeople are at a demand.
If you belong to the sales department and having been dreaming of immigration to Canada, know that the best time has come. You can check out these NOC and apply under the respective codes:
Financial Sales Representatives – 6235
Sales associate – personal banking
Retail Salespersons – 6421
Retail sales associate
Sales associate
Sales associate – retail
Administrative Assistant
Being the cornerstones of office workplaces, administrative assistants have a huge job demand in Canada in 2022.
Especially candidates who can take care of traditional clerk tasks and can perform more specialized tasks like accounting and bookkeeping are at a high demand.
You can apply under the following NOC codes:
Administrative Assistants – 1241
Legal Administrative Assistants – 1242
Medical Administrative Assistants – 1243
Developer
Developers play an integral part in Canada's growing tech sector. With every business booming digitally, software development becomes more significant.
According to Randstad, both full-stack developers who know both front end front-end and back-end programming are in demand.
What NOC codes you can apply under:
Computer programmers and interactive media developers – 2174
Cloud Developer
Computer Developer
Electronic Business (e-business) Software Developer
Electronic Commerce (e-commerce) Software Developer
Graphical User Interface (GUI) Developer
Interactive Media Developer
Mobile Applications Developer
Multimedia Developer
Personal Computer (PC) Application Developer
Software Developer
Web Designers and Developers – 2175
Electronic business (e-business) Website Developer
Electronic Commerce (e-commerce) Website Developer
Internet Site Developer
Intranet Site Developer
Web Developer
Website Developer
Accounts Professional
Whether you an Accountant or an Accounts Manager, there's always a position opened in Canada's labour market for you. In 2022, professionals who know accountancy have a very high demand.
From IT to consulting to sales and marketing, every industry needs accounts professionals in Canada.
Knowledge of CRM software and strong sales ability is also a factor that employers are looking in when they hire an accounts professional.
The NOC codes you can apply under are:
Banking, credit and other investment managers - 0122
Corporate Sales Manager – 0601
Financial Managers - 0111
Financial Auditors and Accountants - 1111
Supervisors, Finance and Insurance Office Workers- 1212
The defined list of occupation under this sector is indeed huge. To process your application, you are in need to have your occupation nominated.
Hence, if you belong to any of these above mentioned streams of accountancy, contact our consultants to check if your job role is qualifying for PR visa under the Federal Skilled Worker Program of Canada.
Project Manager
Project Managers with a project management professional (PMP) certification are at a huge demand in Canada in 2022.
A project management expertise, ability to juggle complicated projects, managing budget and clients efficiently are some traits you need to have in order to win the job of a Project Manager in Canada.
The NOC Codes that can be applied for are:
Engineering Managers – 0211
Engineering Service Project Manager
Construction Managers – 0711
Construction Project Manager
Financial Auditors and Accountants – 1111
Internal Audit Project Manager
Administrative Officers – 1221
Non-Technical Project Manager
Organisation and Productivity Manager
Property Administrators – 1224
Producers, Directors, Choreographers and Related Professions – 5131
VFX Project Manager
Video Games Project Manager
Visual Effects Project Manager
Interior Designers and Decorators – 5242
Interior Design Project Manager
Registered Nurse
With the increase in elderly population in Canada, the country's healthcare system is emphasising more on improving its services.
For this registered nurses and caretakers are at an increasing demand.
you can apply for a registered nurse under NOC:
Registered Nurses and Registered Psychiatric Nurses – 3012
Allied Primary Health Practitioners – 3124
Electrical Engineers
Canada has always experienced a shortage of Engineers. In 2022, Electrical Engineers are especially experiencing at a huge shortage in Canada.
The following engineers can apply for PR and get selected faster:
Engineering Managers – 0211
Electrical and Electronics Engineers – 2133
Other Professionals Engineers, N.E.C – 2148
Electrical and Electronics Engineering Technologists and Technicians – 2241
University Professors and Lecturers -
How is Canada Express Entry Helping Job Seekers?
Canada has designed the Express Entry in a way that it not only streamlines the visa process but also helps candidates connect to employment opportunities.
For this it has included these 3 unique features:
Job Bank Registration: Once you create your profile with Express Entry, you are given an option of creating a similar profile with Job Bank.
This Job Bank is accessed by Canadian employers who are keenly looking for foreign talent.
The Job Bank serves as a recruitment portal similar to Naukri, Shine, Indeed, wherein both candidates and employers can connect to close on vacant position.
Until 2017, registration with Job Bank was a mandate requirement. However, since then it is not compulsory to create a profile with Job Bank.
Employer Sponsorship: Employers of Canada are allowed to sponsor candidates while their visa is in process with Express Entry. This is done by the medium of a valid job offer.
If an employer shortlists a profile and offers him a job offer, the candidate must include the details in his Express Entry profile.
Doing so gives him additional points between 50-200 (depending upon profile) and boosts the overall CRS score.
Provincial Nomination: Provinces that are falling short of skilled talent inline their visa programs with Express Entry to select and nominate candidates for work.
The candidates who meet the requirements of these programs are nominated and are invited to live and work in the province for 2 years.
Challenges of finding a job in Canada:
Now that you know most of the aspects of finding a job in Canada, note that there are several challenges too.
Unimpressive resume can get you failed
Sometimes, your resumes don't reach the recruiter's inbox
There are plenty of openings posted and removed each day, which you could miss
Employers conduct smart interviews and one bad move can lose you the job
What is the income possibility of your profession in Canada?
(Average Salaries by Sector)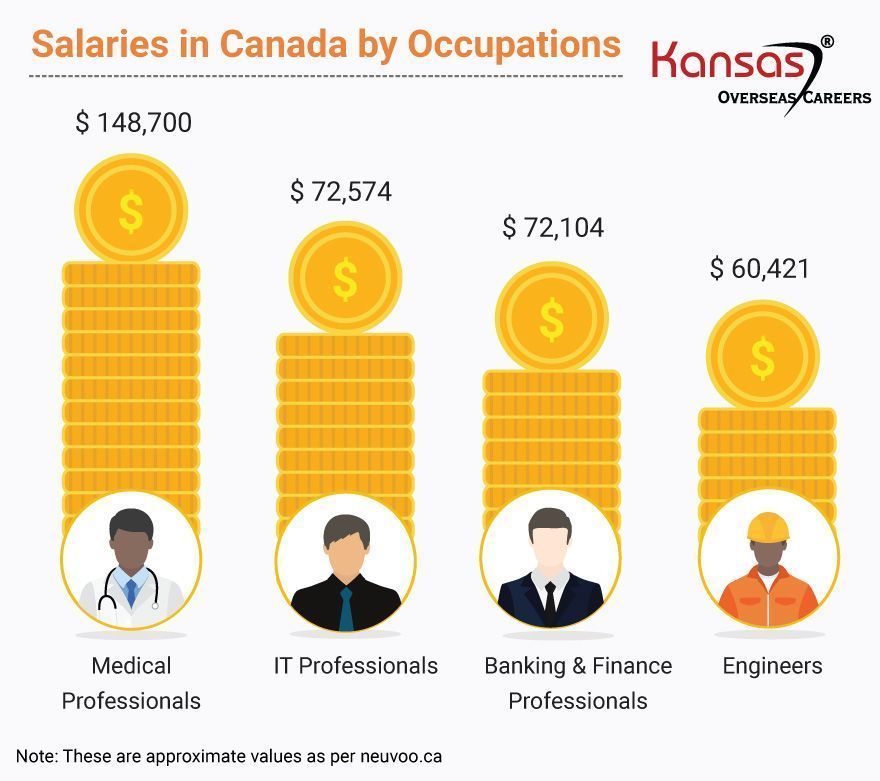 While we can give you an overview of the salary by industry, the exact answer to your question can be determined only after we scrutinize your profile.
As every profession has a varied salary range, only our experts will be able to help you understand your estimated income based on your demand, your job code and the related income.
Connect with us online or visit our office nearest to you.