Do you plan to travel to the US with a B1 visa for a business meeting or conference?
If so, important requirements like
proving that the purpose of your business trip is legitimate,
your duration of stay in the US is limited, and that
you have sufficient funds to complete your trip, and so on, become crucial factors for the US government to decide whether your visa must be approved or denied.
In this guide, you will understand in detail, all the important aspects regarding your application for a US B1 Visa. Read on.
What is B1 Visa USA?
A B1 visa, also known as the US Business Visa, is a non-immigrant temporary resident visa granted to candidates aspiring to visit the United States for business purposes like:
Consult with business associates
Attend a scientific, educational, professional, or business convention or conference
Settle an estate
Negotiate a contract
Participating in short-term training
Transiting through the United States (conditional)
Deadheading (for aircrew)
Eligibility Criteria to Apply for a U.S. B1 Visa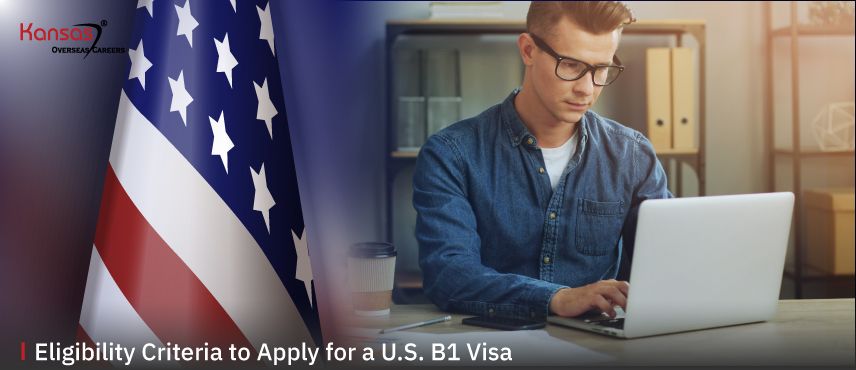 To apply for a B1 visa, you must be a business traveler. So, as a B1 visa applicant:
Your main objective for entering the U.S. is to be involved in legitimate business practices.
You should not intend to settle in the U.S. In other words, you will only be staying for a certain period of time.
You possess sufficient funds for covering your travel, accommodation, and business expenses while you're in the U.S.
You should have a residence outside of the U.S. that you do not wish to abandon.
You should have no other restrictions imposed on you for entering the U.S.
Unsure about the B1 visa eligibility requirements? Talk to an expert!
Documents Required for B1 Visa Confirmation
Form DS-160
Valid Passport
Travel Itinerary
Social Media Accounts
Interview letter
Identity documents
Proof of income and funds
Fee Receipt
Interview Appointment Letter
Photographs
Letter detailing the purpose of your visit
Bank statements
Details of your past visits to the US (If any)
Work and educational background
Need help gathering your B1 visa documents? Let us help!
How to Apply for B1 Visa from India?
The process to apply for a B1 Visa from India is simple and can be completed quickly. Just follow these steps.
Step 1: Fill your Business Visa Form DS-160 online
Gather your documents and get the form here. Take a print out of the confirmation page. You will need this during your visa interview.
Step 2: Pay Visa Application Fees
Business Visa Application fee is USD 160 (INR 11,832 Approximately). This is a non-refundable amount to be paid here. Keep your application fee receipt in handy.
Step 3: Schedule your Visa Interviews
Book the following appointments keeping a minimum two-day gap between them.
One appointment at the Visa Application Center (VAC)
One visa interview at the Embassy or Consulate
Check the appointment wait time here.
U.S Consulates and U.S. Embassies located in India:
Apply to the one nearest to you.
Step 4: Arrange Required Documents
You will require to carry your Passport, DS-160 application confirmation page and a photograph as per U.S. visa specifications
Step 5: Attend Interview and Submit Documents
Take these along:
Hard copy of your Appointment confirmation letter
Your DS-160 confirmation page stamped by the Visa Application Centre
Your current passport (and old passports if any)
All supporting documents
Note: Children aged below 14 years are not required to give a visa interview.
Need help with your Business visa application? Let us know.
How much does a B1 Visa cost?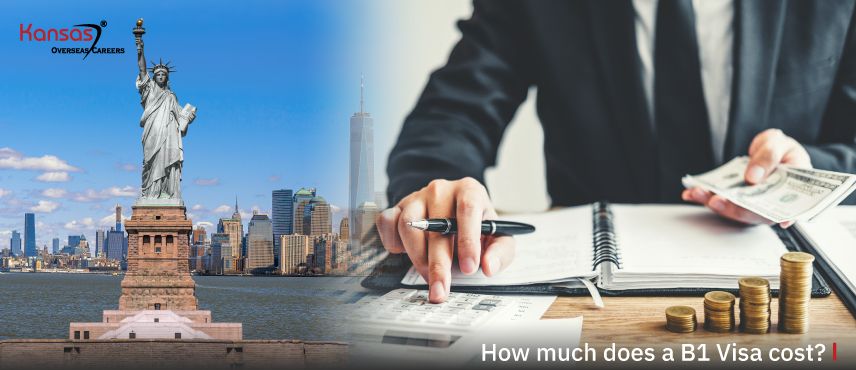 You will be asked to pay a B1 visa fee of $160.
B1 Business Visa Processing Time
The USCIS for processing your B1 visa application depends on the relationship your country has with the U.S. and seasonal workload. But you will be notified for every stage of the process via email.
Other Important FAQs
How long Is the B1 Visa Valid for?
The B1 visa is initially valid for six months. But this can be extended.
How to extend B1 Visa?
To extend your B1 visa, you need to get a letter from your employer or the company with the reason for the extension and the time frame.
When to apply for a B1 visa?
When you are required to consult your business associates in the United States.
When you have to meet a company or business to negotiate a contract or sign a deal.
When you have to participate in any short-term training program that is related to your business.
When you have to settle estates.
When you have to attend conferences, seminars, business events, professional meetings, etc.
When you have to visit the United States for your business research, planning, or development.
Is it necessary to hold a B1 Visa for traveling to Canada?
No, it's not. Although if you're on a visit to the USA holding a B1 visa and wish to travel to Canada as well, you will need the necessary documents. Moreover, there will be a time limit on that.
What is the difference between B1 and B2 Visa?
While both the visas as temporary visas and non-immigrant visas, B1 and B2 visas are used for different purposes. The B1 visa is used to visit the US only for business purposes and the B2 visa must be applied for pleasure (tourism) purposes.
Can I work in the US with a B1 Visa?
No, you cannot work in the US with a B1 Visa. For doing so, you will have to apply for a separate H1B non-immigrant visa after proving your eligibility.
How can I convert my B1 Visa to a Work Visa?
You can apply for a change of status "COS" from a B1 visa to an H1B non-immigrant worker which indicates your intention for an extension of stay. This must be done before your B1 visa expires.
Do I have to attend a visa interview for a B1 Visa?
Yes, you are required to attend a visa interview with the consulate for B1 Visa.
Can I take my family to the US on a B1 Visa?
Generally, a B1 visa is used for business purposes only. You are allowed to take your family while doing so but will need to apply for a separate visa (dependent tourist visa).
Can I use a B1 visa for tourism?
This may not be possible as the visa application condition demands your purpose of visit, wherein you will have to prove that you are visiting the US for business purposes only.
Can I start a business on B1 Visa?
You may sign up for a stake in a US-based company while on this visa but there are several restrictions when it comes to gaining business set-up authorization.
Conclusion
A business visa (B-1) is meant for business-related purposes only. You cannot study or work on a B1 visa.
Stay on B1 is given at the port of entry in the USA.
Apply for a visa extension to extend your stay. All extensions are subject to approval.
So, is your business expanding its horizons to the US?
Then, don't wait. Apply for your visa today.
How can Kansas Help you?
Kansas Overseas Careers is the best visa consultant in India for visiting visa to the US. We specializes in Permanent Residency Visas, Work Visas, Study Visas, Temporary visas, and Dependent Visas to Canada, UK, USA, Germany, and Hong Kong.
Apart from these services, Kansas offers its clients personalized visa services such as:
Profile Evaluation:

Professional guidance based on an

in-depth assessment of the client profile to determine chances of visa success.
Documents & Review: Detailed, error-free documentation based on the visa type drafted to meet specific formats.
Dedicated Case Officer: A dedicated consultant to assist clients throughout the process.
Visa Filing: Kansas ensures that the visa applications meet all the standard requirements of concerned immigration authorities and governing bodies.
Test Preparations: Complimentary online courses are offered to help aspirants improve their Language Proficiency for important exams like IELTS, French, TOEFL, and PTE.
Visa & Interview: Guidance is provided for aspirants attending visa interviews along with verified documents.
Post-Landing Service: Kansas helps clients settle down in the new country with a comfortable stay after they have received their visas.
Additional services offered to job-seekers:
Resume Writing: Dedicated team of resume experts to craft the best resumes that meet prerequisites of immigration authorities and potential employers. This greatly improves their chances of selection.
Profile Marketing: Kansas is well-known for creating the best-in-class portfolios that boost applicant profiles in job-portals. And yes, this is a complimentary service!
Additional services For students looking for a study visa:
Admission Guidance: Comparisons between the best programs, colleges, and countries to study in, including arranged mentorship from existing students.
Writing Services: Admission Essays, Student CV, Statement of purpose (SOP), Letter of recommendations (LOR), and other important services offered by a dedicated team.
Scholarships & Financial Aid: Offer help to find the best Scholarships programs, Education loans, Study abroad loans, and also offer help in sourcing paid-Internships.
Looking to move overseas? We can help!