The United States is one of the top countries for business. To justify the statement, it ranked 6th in studying, working or leisure.
If you are one of those businessmen who want to expand their business in the States, you must be curious about the U.S. B1 visa. This article will answer all your questions and help you learn all the facts you should know before applying for a B1 visa.
What is a U.S. B1 Visa?
The B1 Visa is one of the many visas issued by the United States Citizenship and Immigration Services (USCIS) for immigrants coming to the U.S.
Also known as the Business Visa, the B1 Visa is issued to business travellers exclusively. Business travellers here include people who will be negotiating contracts, making investments, consulting a business associate or attending a conference in the States.
The most significant benefit of receiving a B1 visa is that you get to establish a business relationship with the world's most powerful economy. The renewals are easy, and you can fly in and out of the U.S as many times as you want.
The only thing you need to take care of is to meet the eligibility criteria and follow the rules and regulations given out by the U.S government to obtain the B1 Visa.
Eligibility Criteria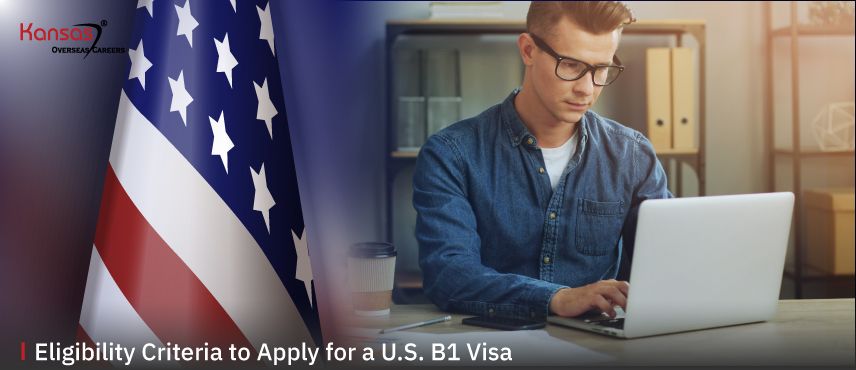 To get the B1 Visa, you must qualify based on the definition of business traveller given by the USCIS. To qualify as a business traveller, you must demonstrate that:
The main objective of you entering the U.S. is to be involved in

genuine business practices.

You have no intention to reside in the States and only stay for a certain period.

You have ample financial resources to cover your stay, travel and business expenses while in the U.S.

You have a place to live outside the U.S and have no intention to abandon it. You do not wish to abandon your ties with your native nation.

You have

no restrictions imposed on you

for entering the States.
If you successfully fulfil all the criteria mentioned above, you need to submit forms and attend the visa interview.
How to Apply for the U.S. B1 Visa?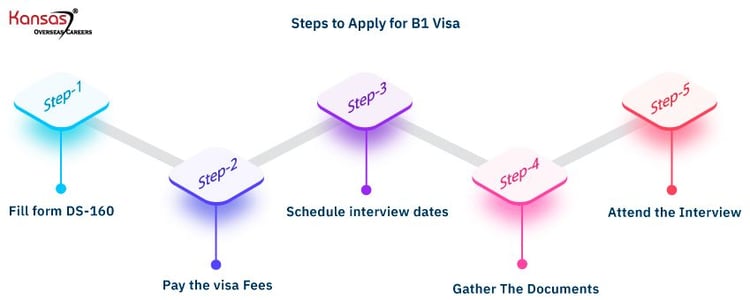 Once fulfilled the eligibility criteria then the process of applying for a B1 visa becomes straightforward and can be completed quickly. Follow the steps given below to apply for a U.S. B1 visa successfully.
Step 1: Fill out the Business Visa form or Form DS-160
Log on to the Consular Electronic Application Centre website and complete DS-160 form online. Select your native country or the country you are applying from, from the drop-down menu.
Make sure to keep all your required documents nearby beforehand. You will be asked for the scanned copies of your passport, business registration, invitation documents, travel itinerary and dates of the last five visits to the U.S.
Keep aside a couple of hours as the form may take time to complete. It is important to be careful while filling the form, as an incomplete form may result in rejection.
Step 2: Pay the Visa Fees
Pay your Visa fees via a credit card or any other online banking system. The cost may vary from country to country. After making the payment, make sure to keep the receipt.
Step 3: Get the Interview Dates with the U.S. Embassy
If you lie between the ages of 14 to 79 you will have to attend interviews with the U.S. Embassy immediately after completing the form. You need to call them to schedule the date, and then they will send a confirmation letter with all the details like the time and date of your interview.
Schedule the following appointments with a minimum of a 2-day gap between them.
One appointment at the Visa Application Centre (V.A.C.)

One visa interview at the Embassy or Consulate
Apply to your nearest U.S Consulates and Embassies in New Delhi, Hyderabad, Mumbai, Kolkata and Chennai.
Step 4: Gather all the documents
The documents generally required for a B1 visa are as follows.
Form DS-160, confirmation page, and bar code

Valid passport

Current Social Media Accounts

Interview confirmation letter

Photos that comply with U.S. visa photo guidelines

An S.O.P. with the purpose of your visit

Bank statements

Documents of ties to your native country (properties, job contracts, lease, bonds)

Background or Criminal check records

Documents of your prior visits to the U.S. (if any)

Salary slip of last 3 months (if any)

A letter from your employer with the details of your visit
Step 5: Attend Your Interview and Submit the Documents
Reach the embassy on time on the day of your interview with all the required documents. It is advisable to arrive at least 30 minutes early.
Note: Children below the age of 14 are not required to appear for an interview.
What is the Cost of Applying for a U.S. B1 Visa?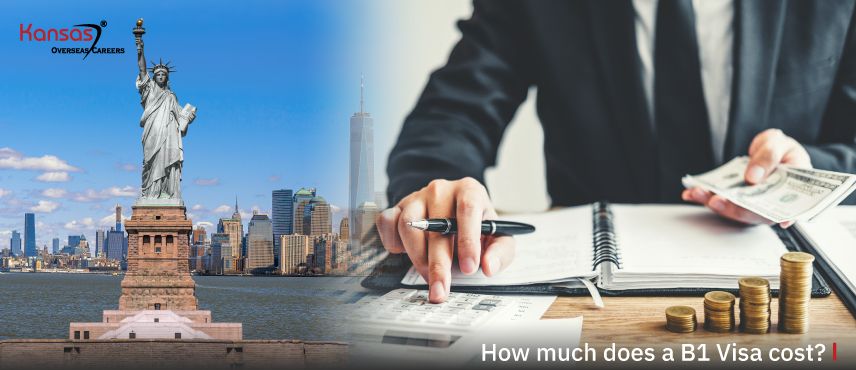 The B1 Business visa application fee for Indians is $160 or 12000 INR approx. This fee is non-transferable and non-refundable. Apart from this, there is a visa issuance fee, among other costs incurred separately. However, the application fee varies from country to country.
Processing Time of U.S B1 Business Visa
The USCIS offers no particular time frame about how long it may take to process your Visa.
However, the time depends on your country's relationship with the U.S.A. and the seasonal workload. They will update you about the current status of your application at every point via email.
F.A.Q.s
1. How long is the B1 Visa valid, and can it be extended?
The U.S. Business visa is initially valid for 6 months.
However, if you wish to extend the tenure of your Visa, in that case, you will be asked for a letter from your employer detailing the purpose and involvement with the company. The letter should also mention the time of the extension.
2. Can I convert my Business Visa to Green Card?
As you have agreed that you have no intentions of staying in the States, you cannot get a Green Card.
However, if you have a family in the U.S, in that case, you can join or marry a U.S. citizen or get a job in a U.S.-based organization that is willing to sponsor your H1B visa; you can get a Green Card.
3. When to apply for a B1 visa?
If you need to consult your business associates in the U.S. or negotiate a contract, you can apply for a B1 Visa. Also, if you need to attend or participate in any short-term training program related to your business or attend conferences, seminars, events etc., in that case, you can apply for a Business Visa.
4. How is a B1 Visa different from a B2 Visa?
Though both B1 and B2 Visas are temporary and non-migratory, these Visas serve entirely different purposes. While the B1 Visa is used for business purposes, the B2 Visa is used for pleasure or tourism.
5. Can my family come along with me on my B1 Visa?
Usually, the B1 Visa is only for business purposes. You can take your family, but for that, you need to apply for a separate Visa (dependent tourist Visa).
6. Do I have to give an interview to get a B1 Visa?
Yes, if you are in the age range of 14 to 79, you have to attend an interview with the U.S. Consulates.
How can We Help You?
At Kansas, we have the best Visa consulting team for visiting Visa to the U.S. We specialize in Permanent Residency Visas, Temporary Visas, Study Visas, and Dependent Visas to Canada, United States, United Kingdom, Hong Kong, and Germany.
We also offer personalized visa services such as profile evaluation, documents and review, dedicated case officer, visa filing, test preparations, Visa and interview and post landing services.
Conclusion
So it is pretty clear that the U.S. B1 visa is only for business purposes. If you are looking for your business to expand its horizons, you might need to apply for the B1 Visa soon.
Want to know more about overseas? Contact now!