If a trip to the US is on your mind, it is mandatory to obtain a Tourist Visa for the USA from India.
A Tourist Visa is a non immigrant visa that helps you travel to a foreign-destination for a limited period of time. It allows you to enter the USA, and it is the most essential document to carry.
Read on to know more about the US Tourist visas.
B1 and B2 Tourist Visa for USA
B1 Visa (Business visa) is for people travelling to the United States for

business-related affairs

like negotiation of contracts, attending educational, scientific, professional conferences or conventions, and seminars.
B2 Visa (Visitor Visa) is for travelers visiting the United States for

recreational purposes

, meeting friends or relatives, or for medical treatment.
B1 and B2 Visas are issued together as one called the B1/B2 Visa or the Visitor Visa.
Note: It is vital to understand that a tourist/visitor or an employment visa falls under the 'non-immigrant visa' category of the USA visas.
Documents required for US Tourist Visa from India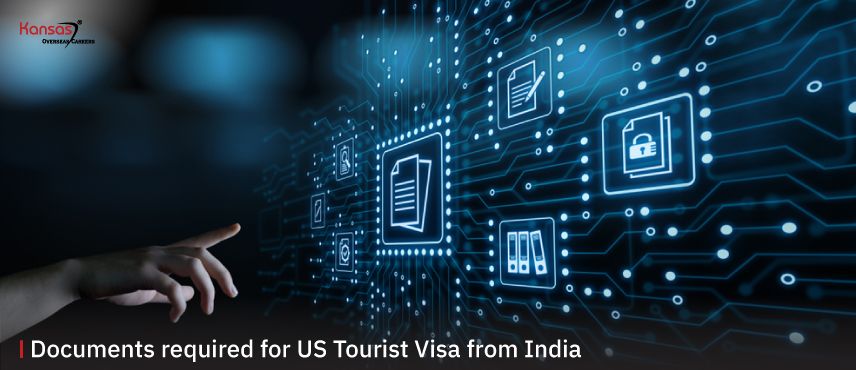 Appointment Confirmation Letter
As you attend the visa interview in person in the consulate, an appointment confirmation letter is vital.
It shows your application number, other personal details, and also shows that you have paid the prescribed visa fee.
Confirmation page on Visa Application DS-160
At the end of the online application process, you receive an application confirmation.
You need to take a printout of that page and keep it with you as you visit the consulate.
Your valid passport confirms the permittance of the government to travel abroad.
If your previous passport has expired, you need to bring the last expired passport as well.
The Birth Certificate confirms the age of the applicant and other details, such as the nationality and details of parents as well.
Your Driver's License confirms your age, address, and also carries your photograph.
It shows that you can drive the class of vehicle you are licensed for.
Police Clearance Certificate
The Crime Investigation Department or other concerned authority of the police department issues this certificate.
It confirms that the visa applicant bears a good moral character and was never involved in any criminal or illegal activity, was never convicted or imprisoned.
This certificate from an authorized Medical Center confirms that you are physically and mentally fit to travel.
Evidence of your Travel Insurance
The travel insurance covers your injuries, accidents, and even death during your travel to the US.
Make sure you choose the best travel insurance plan to get maximum coverage.
For the children traveling along with you, relevant supporting documents should be submitted confirming their age, medical condition, consent from the parents to travel to the US, and so on.
Important notice for Indians:
Applicants without both the medical report and police clearance certificate will not be allowed entry into the U.S. Embassy New Delhi or U.S. Consulate Mumbai.
If you do not have your Indian police clearance certificate in time, you need to reschedule your appointment for a later date.
If there is a problem with your medical report, the Panel Physician will give you separate instructions.
Note: Tourist Visa and Transit Visa are completely different. Transit visa is provided for a traveler going through one country to another destination. It is required by Schengen Visa countries.
How to apply for a US Tourist Visa from India?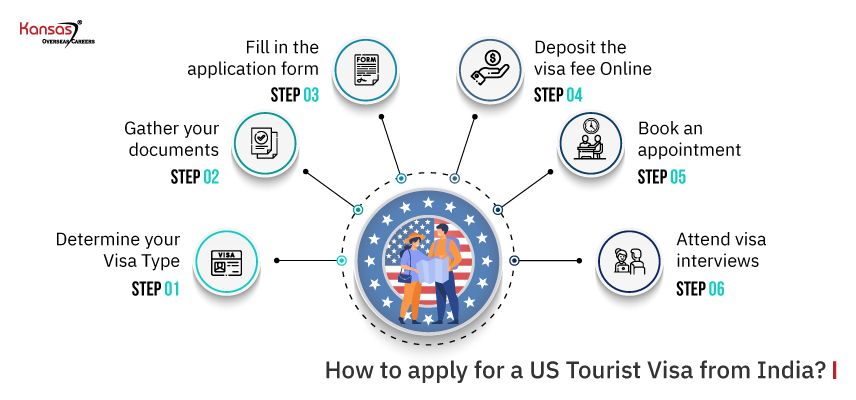 Step1: Determine your Visa Type
You will get the Tourist Visa online through an e tourist visa, but you can apply for it through the dedicated online portal.
You can visit our consultant office to get the Visa Application Form DS-160.
Step 2: Gather your documents
Understand the document requirements and prepare the documents well in advance.
Step 3: Fill in the application form carefully
The Application Form includes your travel date, duration and other details of your trip.
It is essential to specify the purpose of travel whether it is a trip for leisure, a business trip for some official work, or a trip for medical treatment.
Make sure you specify that you intend to go back to your country after the trip is complete. You may also need to state the financial aspects of your trip to the US.
Other details include flight tickets, hotel bookings, and a point of contact with a residential address in the US.
Step 4: Deposit the visa fee Online
Fee is approximately $160 (Rs. 11,300), and may be subject to change.
Note down your account number, which you are to show in your visa interview.
Step 5: Book an appointment
The visa interview is conducted by the officials in the consulate. It may sometimes take about two weeks to get an appointment for a visa interview. Thus, it is advisable to apply as early as possible.
You can book your visa interview appointment in the nearest consulate like the CKGS Application Center in Mumbai, Pune, or any other metro city closer to you.
Step 6: Attend visa interviews
For the first appointment at the Offsite Facilitation Center (OFC) or Visa Application Center (VAC). Your biometrics and fingerprints will be taken here.
You must carry your passport, the confirmation page of Application Form D-160, and the page indicating appointment confirmation.
During the second appointment, you would be interviewed by the officer at the US Embassy or the Consulate.
The officer may ask basic questions about your current occupation, your previous visits to the US or any other country, and so on.
Note:
Keep a gap of at least 2 days between your first and second appointments.
Children in the age group of

8 to 14 years

who are traveling to the US, along with the parents are supposed to face interviews too.
If one of the parents is unavailable for the interview,

a letter of consent

must be carried by the other parent attending the interview confirming that both the parents don't have any objection to the child's travel.
What happens next?
The immigration officer at the embassy consulate may tell you if your visa has been approved or not by the

end of your visa interview.

The foreign nationals willing to travel to the US are either given with the visa or the visa might be denied for obvious reasons.
Note: This type of visa doesn't require an invitation letter.
Get an expert to help you apply for a US Tourist visa.
Cost for US Tourist Visas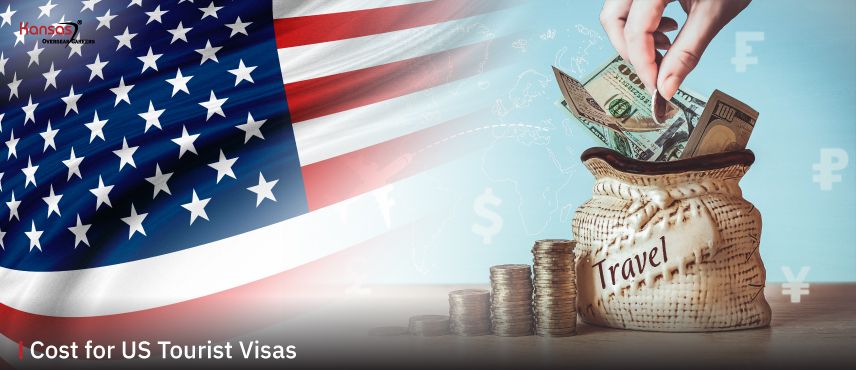 The visa application fee for an Indian Visa applicant for the US visa is approximately $160.
Note: The visa application fee changes according to the foreign exchange rate. It is non-refundable and non-transferable.
Visa Processing Time of a US Tourist Visa from India
The US consulate in India considers the facts and figures provided by you in your Visa Application during your visa appointment. Usually, when you apply in person through the India Visa application form, your Tourist Visa to the US may be approved within

3 to 5 working days

.
Yet, you may need to wait for a few days to

get the stamp

of a US Tourist Visa on your passport which is delivered to your address.
Note: To get an emergency visa through emergency visa service for the US, first regular visa fees are to be paid. Then the DS-160 Visa application form should be filled. And, finally an interview would be scheduled if your request is accepted.
Other Important FAQs
What should I know about the US Tourist Visa as an Indian?
Indian passport or Indian visa holders require a Visitor Visa to enter the United tates of America.
Understand the requirements and procedures carefully as the

rejection rate for tourist visa applications by visa officers is about 40%

.
The passport holders from India receive a US Visit Visa as a stamp on their passport.
The validity of your Visitor Visa or emergency visa depends upon your visit type. You can get a Visitor Visa for at least 6 months to 10 years.
Entering the country without valid immigration and travel documents is a serious offense.
Note: If you encounter any problem with your passport or other documents after you have reached the US, seek help of Indian Embassy present over there.
What should the minimum validity period be for my Indian Passport to apply for a visa when I am visiting the USA?
The minimum validity for your Indian visa passport issued by Indian government should be at least six months to receive approval for your visa when travelling to the USA. It is counted after the completion of your intended duration of stay in the country.
What are the rules regarding the extension or visa renewal of a US visa for an Indian citizen?
The validity of a US visa is non-extendable. Thus, once the validity of your visa expires, you need to apply for a new one.
Conclusion:
The concerned departments such as Customs and Border Protection (CBP) and the Department of Homeland Security (DHS) reserve the right to permit your entry in the US.
Your Tourist Visa to the US from India is not your 'right to entry' in the US. It is a confirmation for your proposed entry on request.
The US Government has a well-designed policy to attract tourists.
Yet, the intentions of your visit and the documentary evidence should be very clear when you apply for the Tourist Visa for the US.
We hope that this blog helped you with the necessary information you need to get started with your visa application. For further information, feel free to contact us.
How can Kansas Help?
Kansas Overseas Careers is the best immigration consultant in India with a high success rate. Served 20K+ customers and over 3K+ active cases.
You can expect a one-stop solution for all your visa needs from profile evaluation, documentation, application drafting to post-visa services with Kansas.
Our services include, but are not limited to:
Profile Evaluation:

Based on your purpose of travel, profile history, and current travel policies, our experts offer you guidance on the visas you can apply for.

Visa Filing: Kansas ensures that your visa application meets all the standard requirements as per the immigration authorities of the country that you are applying for.
Documents & Review: Our team of experts will assist you with all the documents you need to apply for a visit visa.
Visa & Interview: We help you prepare with the best answers and assist you with the documents to be presented at the time of your interview.
Dedicated Case Officer: We assign a case-officer who will guide through every step of the process. This way, you will always have a point-of-contact, when in doubt.
Post Landing Service: After you've received your visa, we help you settle down in the country with a comfortable stay and also offer other customized services.
Avoid any delays or chance of visa rejection by having India's Leading visa consultant by your side!