The United Kingdom hosts thousands of visitors every year who visit for holidays, business tours, and to meet their families. If you would like to know how to get a UK visa, the standard procedure requires some documentation and certain eligibility requirements that you must meet.
This article entails everything that you must know about the requirements of the UK Visit Visa and its application process.
What is a UK Visitor Visa?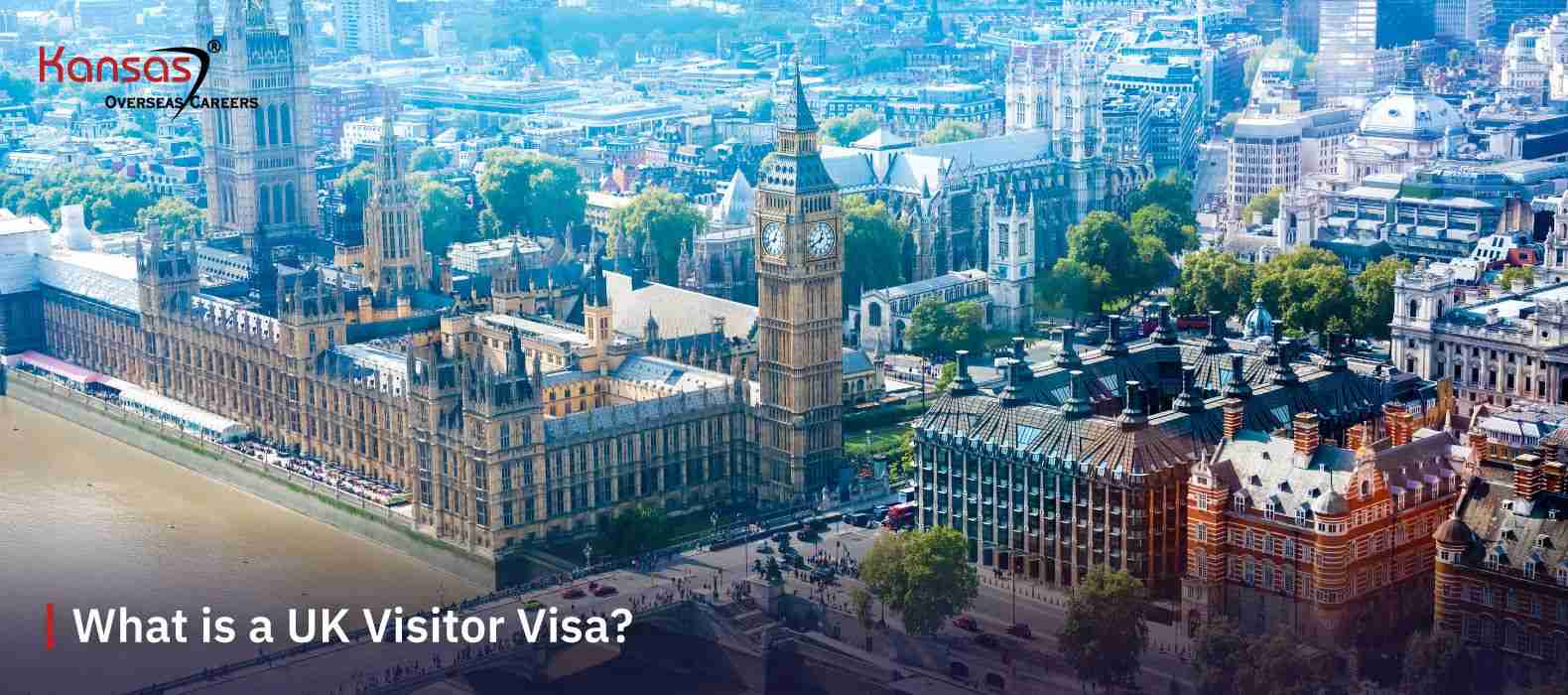 The UK Visitor Visa, also known as the Standard Visitor Visa, is a short stay visa applied by the holder. The Visa allows the visa bearer to stay in the UK for up to 6 months.
Your purpose of visit can be one of the following:
for tourism
for business
for research
for short study courses (up to 6 months)
for private medical treatment, and so on
They grant a visit visa to foreign nationals who do not have a job or a residence in the country.
What are the Main Requirements of a UK Visit Visa?
1. General requirements to receive a UK visit visa
You must show that
you intend to leave the UK after your visit
you'll not extend your visa frequently unless it is a really needed, make multiple visits to the UK or try to make the UK your main home
you have a strong family and economic ties to your home country
you are financially capable of supporting yourself and your dependants during your visit to the UK or you have someone who will financially support your visit
you will pay for your tickets, both incoming and return, or you have someone to be paying for your tickets
you have proof of the business, medical or study that you have legally come to the UK to pursue
2. If your purpose of visiting the UK is to stay for up to 6 months
You must prove one of the following requirements:
Your course duration provided by an accredited UK institution (not an academy or state-funded school) is well within 6 months and you have been accepted to study there
you're above 16, and accepted by a UK higher education institution. The research you are to undertake in the UK must be relevant to your overseas education
you're above 16, and a undertaking an 'elective' of an overseas medicine, veterinary medicine and science, or dentistry course
To do a placement or research activity in the UK, you must already be enrolled in a course that is equivalent to a UK degree.
You may need an Academic Technology Approval Scheme (ATAS) certificate for research. You must have this certificate in order to apply for research or study in the UK.
3. If you want to join a family member living in the UK
If you have a spouse or family member living in the UK with a British Citizenship or settlement, then you can apply for a family visa to visit them.
They may need to show that they can support you financially during your visit to the UK.
4. If you want to work, begin or invest a business in the UK
Depending on your work visa type, you can work in the UK for a short or long term basis. To get a work visa, you must meet the following requirements:
Relevant skill and education
You have a job offer or employer sponsor
Clearly state the purpose of your visit and stay duration
Mention if any family member is accompanying you
To begin your start-up business in the UK, you must apply for a start-up visa or an innovator visa. Or if you want to invest money in a business in the UK, you can do so with an investor visa.
5. If you're visiting the UK for up to 12 months as an academic
You must prove you're:
highly qualified expert in the field
employed for research in your area of expertise by an overseas institution
visiting the UK for research or a formal exchange
not filling a permanent teaching post
6. If you're visiting for private medical treatment
You must prove that you:
have a medical condition that needs treatment in the UK
have enough funds for your treatment
prove any appointments or consultations with physical address
actual duration of your treatment
will leave the UK once your treatment is completed, or when your visa expires
are not a danger to public health if you have an infectious disease
Note: If you have a family escort accompanying you to the UK for your treatment, they are required to apply for a visitor visa and all standard visitor rules and requirements are applicable to them.
7. If you are visiting as a Paid Permitted Engagement Visitor
You must show that
you intend to go return to your home country after one month
you are an expert in your field. You can show any publications or accomplishments for the same
you have a letter from your employer confirming your work and area of expertise
the income you receive for this short-term engagement does not in any way count towards your primary or part-time salary
You are either a visiting academic examiner, assessor, lecturer, qualified lawyer, an arts and entertainment or sporting professional
If you wish to dive deeper into what the Home office staff look in foreign a visitor visa applicant applying for a visitor visa applicant, go through this official publication, or you can consult a visa expert at Kansas.
How do you apply for a UK Visitor Visa?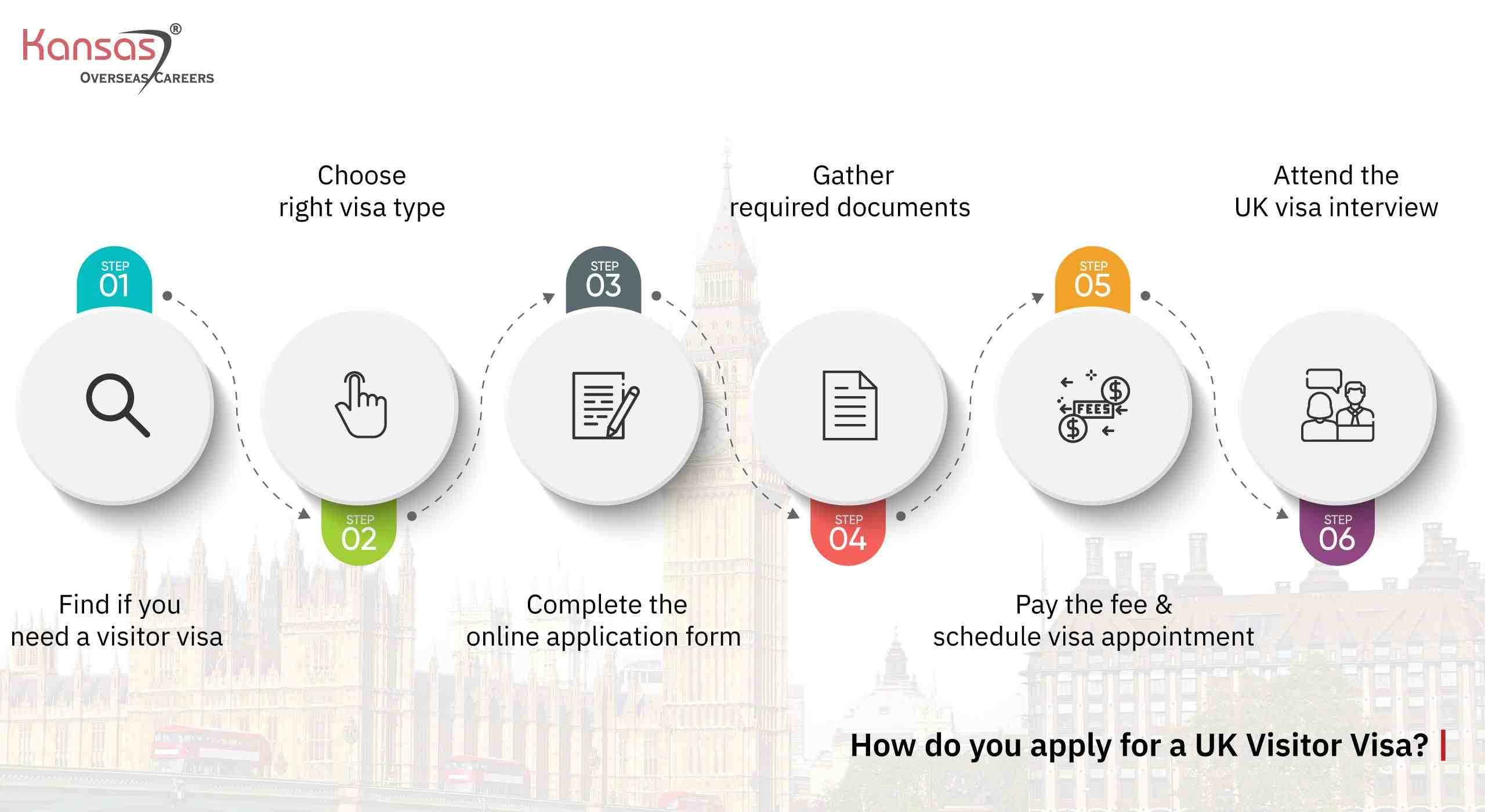 Step 1: Find out if you need a visitor visa
You may be exempt from the UK visa requirement, depending on your nationality. All EEA, Commonwealth country citizens can enter the UK without a visa.
You will not have to apply for a UK visa only if you belong to any of the following countries. Indians however, are required to apply for a UK visitor visa.
Step 2: Choose the right visa type
Based on the purpose of your travel and how long you intend to stay in the UK, you can choose among the following types of UK visitor visas:
Standard Visitor Visa

: It is a UK Tourist Visa for medical treatment, tourism, business meeting, short-term study course or research or visiting family in the UK

UK Transit Visa

: for those who need to pass through the UK in transit to another country

UK Study Visa

: for all those who wish to travel to the UK to enroll at a study course/university. A Standard Visitor visa lets you stay in the UK for up to 6 months for a short-study course

UK Marriage Visitor Visa

: for those who come to the UK to get married but do not intend to settle there

Parent of a UK tier 4 Child visa

: for parents or guardians visiting a child studying in an independent school in the UK who is less than 12 years of age

Permitted Paid Engagement visa

: You can stay in the UK for up to 1 month to attend an event or undertake a paid engagement and are invited by a UK-based organisation or client who regards you as an expert in your profession.
Step 3: Complete the online application form
Usually, the UK visa online application form contains questions on personal information as:
Your full name
Nationality
Marital status
Personal number
Passport number
Purpose of visit statement
Step 4: Gather all the required documents
Here is the document checklist for the UK Visitor Visa application:
UK visa application form
Two colour passport sized photographs
Your Valid Passport
Proof of funds during the visit
Proof of accommodation
Detailed travel itinerary
Tuberculosis Test Results
Biometric information
Fees Receipt of application payment
Step 5: Pay the fee online and schedule a visa appointment
Your online fee would be somewhere around 9,500 INR. You can then schedule an online UK visitor visa appointment on the official UK Embassy Website
Step 6: Attend the UK visa interview
Every applicant who is submitting a visa application must attend the visa application center in person, including children.
Common visa interview questions:
What is the purpose of your travel and duration of your stay?
Do you know someone in the UK? Will you be staying with them?
What have you planned to do while you are in the UK?
Where do you live in India?
Have you visited the UK earlier?
What do you do for a living in India, can share your employment history?
Are you a taxpayer? Can you provide the documentation for the same?
Do you intend to work or do business in the UK?
Will you be travelling with your family?
Why did you select this university to study in the UK? (for students)
A minor error in the documentation process, filling the application incorrectly or making a wrong statement in your visa appointment can lead to rejection of your visa and result in a delayed visit to the UK.
Having a reliable visa consultancy with years of experience in assisting applicants with their UK travel visa can save you a lot of time and money. Meet our UK visa experts at Kansas and let them help you with your visa process.
A few things to note regarding your application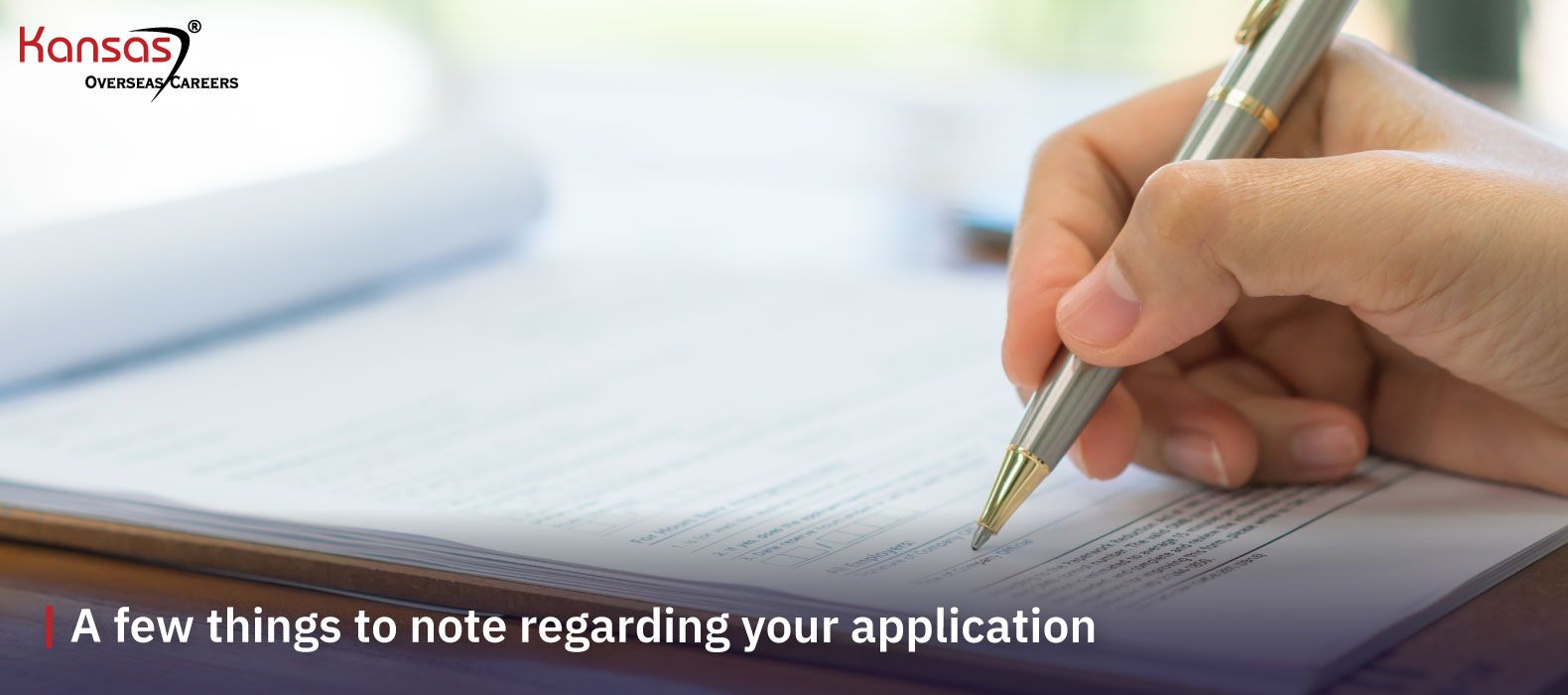 Translations of documents to English
When you are providing the certified English translations of the documents that are not in English or Welsh, the translations have to include:
Verification from the translator that it is an accurate translation of the original
The date of the translation
The translator's full name and signature
The translator's contact details
Proof of return to home country
You need to prove that you will be returning to your home country and do not plan on settling in the UK. You could do this through proof of job or studies in the home country, or even family that depends on the visa applicant for survival.
Proof of sufficient funds for the Trip
Irrespective of who is playing for the trip, you need to prove that you have sufficient funds to afford a UK trip, including your stay, travel, and food.
Proof of a genuine relationship
If you visit another person in the UK, that person must provide the authorities with proof that you will be returning to your home country after the visiting period.
What does a UK Tourist Visa Application look like?
This is what the UK Visit Visa application form looks like: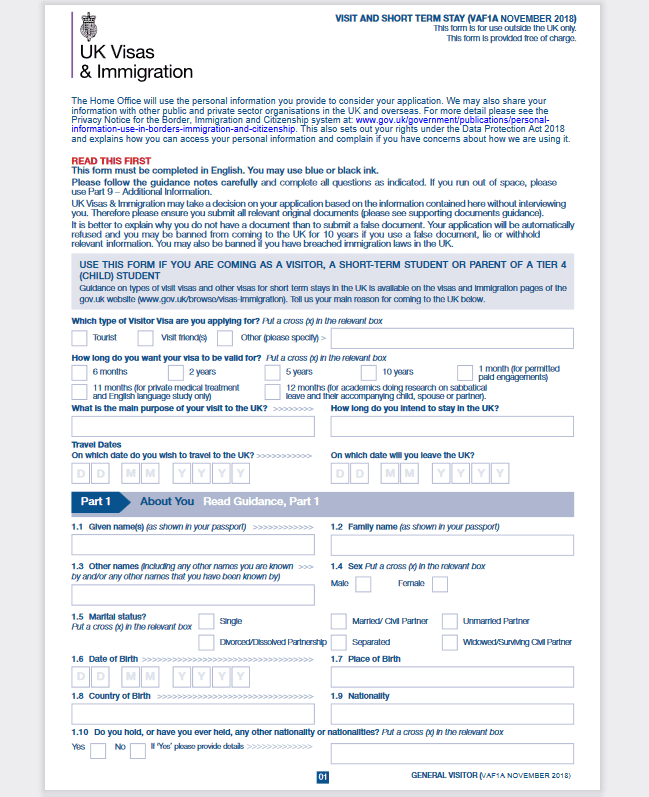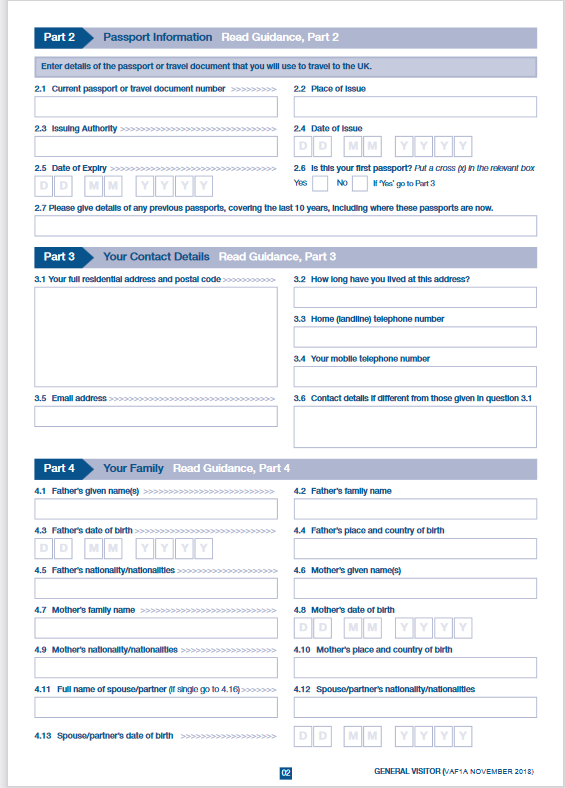 You need to ensure that all the information provided by you in your application is accurate to avoid rejection of your application.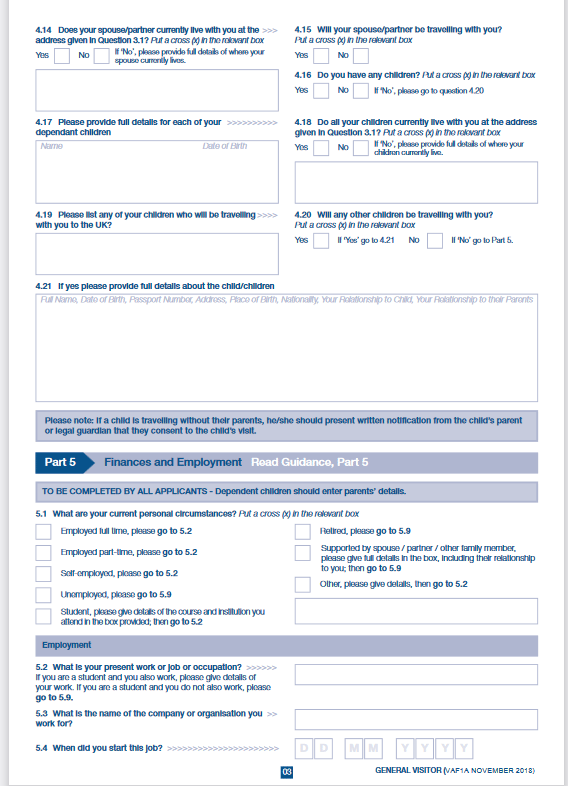 Complete list for the UK Visitor Visa Documents
UK Tourist Visa application form VAF1A.
two coloured passport-sized photographs

a valid passport
proof of financial stability (proof of investments, bank statements, ITR, and so on)
accommodation details of your stay in the UK
Travel Itinerary (optional)
documents specific to the purpose of your visit to the UK
biometrics and visa payment receipt
letter of Invitation from the host country
a recognized certificate of the English Language
details of where you'll be staying during your visit
Tuberculosis test results
confirmed return air tickets
salary slips for the last 6 months and leave letter from employer, if you are employed
original NOC letter from school/college with ID card copy and NOC letter from parents, if you are a student
Certificate of registration of the company/Certificate of Incorporation (MOA/Proof of Proprietorship/Partnership, etc), and supporting documents, if you are self employed
Other documents to keep in handy include:
documents related to your previous travel history over the last ten years
your employer's address and contact information
details of your spouse of accompanying dependents
the name and address of the person funding your trip
contact information and resident address of your family members in the UK
proof of awards, recognitions, certificates in your field of study or work
Gathering your documents becomes a cake-walk when you get expert assistance from our visa processing team at Kansas.
UK Visit Visa Processing Time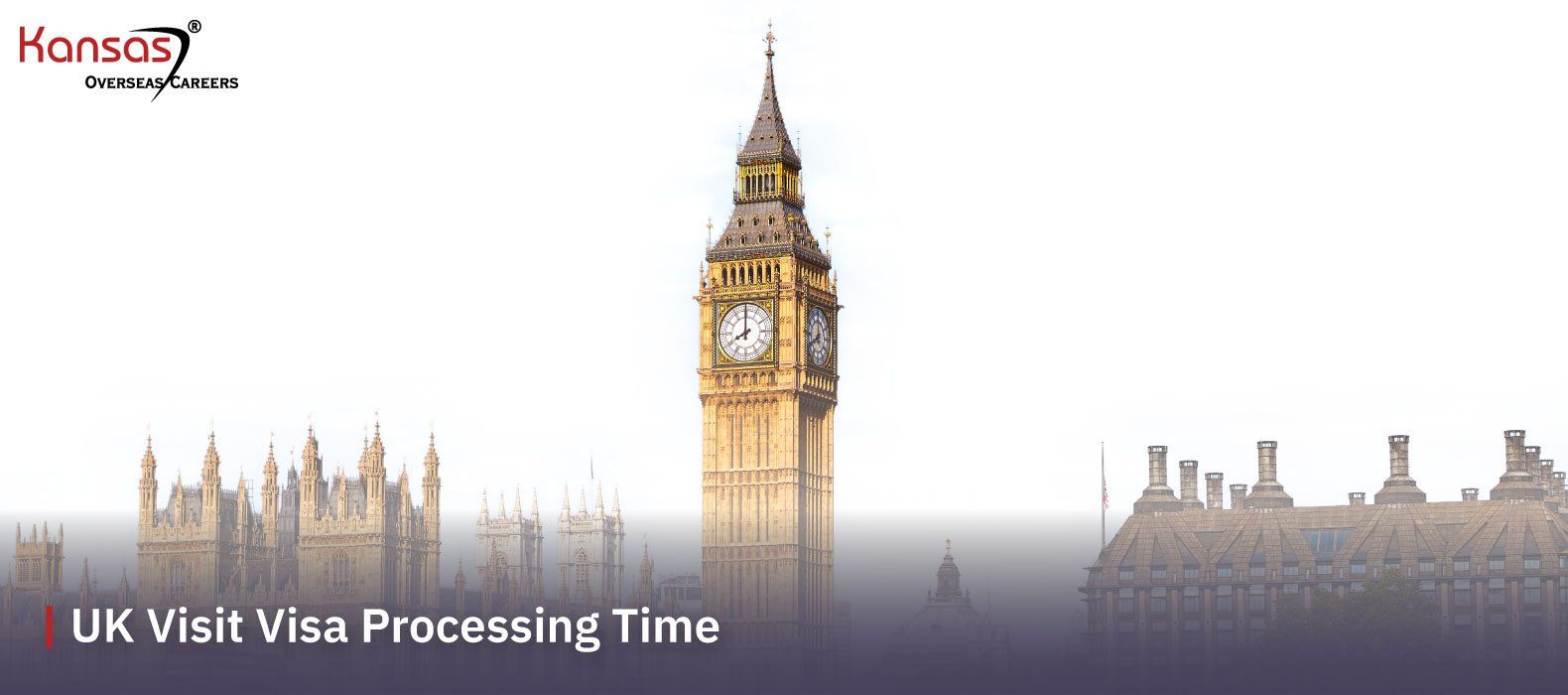 After you have applied for a visitor visa online and have provided all the details correctly, you can expect to receive a decision on your application within 3 weeks.
UK Standard Visa Fees
A Standard Visitor Visa costs 95 Pounds (INR 9,450). If you are registering for a Long-term Visitor Visa, the visa fee depends on its length.
Here's a cost breakdown for you based on the duration of your stay:
| | |
| --- | --- |
| Duration | Cost |
| 2 years | 361 Pounds |
| 5 years | 655 Pounds |
| 10 years | 822 Pounds |
What are some of the common reasons for visa refusal?
The deciding factor for rejections of visa applications could include one or more of the following:
wrong information in your visa application form
history of criminal activities
if your home country has a strained relationship with the UK
if you are medically unfit to travel or have an infectious disease
if your intention to leave the country after your visit is not made clear
if you don't meet the eligibility requirements for your visa type
incomplete or incorrect documentation
inadequate funds to support either you or those accompanying you
credibility and intentions to visit the UK or to extend your stay as a visitor
previous travel history, including visits to the UK and other countries
if your sponsor or relative in the UK has a criminal history or similar
lack of credibility in sponsor's history of 'sponsoring' visitors or relationship between the two doesn't seem genuine
Can you extend your stay or switch to another visa type?
You cannot switch to another visa from a Standard Visitor visa. However, you can extend your stay in the UK with the visa if you are visiting for medical reasons or study. For this, you are expected to meet specific requirements to prove the credibility of your visa extension.
If you need to visit the UK frequently, you can apply for a Long-Term Visitor Visa that lasts 2, 5, or 10 years.
What does the Standard Visitor Visa NOT allow you to do?
With a Standard Visitor Visa for the UK, you cannot
undertake paid or unpaid work for a UK company or work for a self-employed person living in the UK.

spend more time in the UK than your home country by making frequent visits or living in the UK for long, and so on
claim public funds (benefits)
Study in course for over 6 months
marry or register or give notice for a civil partnership of marriage. You can apply for

Marriage Visitor visa

instead
Other Important FAQs
How long can you stay in the UK as a visitor?
The maximum period that you can stay on each visit is 6 months.
Which visas have replaced the Standard Visitor Visa?
The following visas have replaced the Standard Visitor Visa:
General Visitor Visa
Family Visitor Visa
Child Visitor Visa
Entertainer Visitor Visa
Sports Visitor Visa
Business Visitor Visa (this includes academics, doctors, and dentists)
Approved Destination Visitor Visa (ADS)
Private Medical Treatment Visa
Prospective Entrepreneur Visa (Work Visa)
How many months prior to the travel should I apply for a UK Visa?
It is best advised that you apply for a UK visa at least 3 months prior to your expected date of travel.
Is the visa fee refundable?
No, the visa fee is not refundable unless you have placed a written request and submitted it five days prior to the date of your visa appointment. Kindly note that the fee is non-refundable after the biometrics and live image are captured.
What are the do's and don'ts of a UK Visit Visa?
The UK has laid out specific rules about what you can or cannot do during your visit to the country.
Below listed are some of the essential guidelines to be followed:
Here's what you can do with a UK visitor visa:
Partake in any of the business-related activities mentioned in the

UK Visitor Rules

.
Study anywhere in the country for up to 30 days, as long as it is not the main reason for your visit when applied on a visitor visa.
If you are under 18, you can take part in an exchange program or educational visit.
Transform your civil partnership into a marriage.
Pass through the UK on your way to another country (transit visa).
Here's what you cannot do with a UK visitor visa:
Any paid or unpaid work/employment.
Live in the UK for

prolonged periods

via frequent visits.
Get public funding
Marry or register a civil partnership or initiate a civil partnership or marriage.
Does the UK require a Tourist Visa?
Like every other country, the requirements of a UK Visit Visa depends on the person's nationality. If you are from the US, an EU Member State, or certain Commonwealth countries, you do not need a UK visa for up to six months.
There are general grounds of refusal that you need to avoid to apply for a UK visitor visa.
What are the additional documents required for a UK Visit Visa?
Visiting for private medical treatment:
A letter issued by a UK doctor/medical practitioner confirming your medical condition, the name of the disease, and the need for its cure in the UK. He must also mention the cost, place, and period of revival.
Proof of complete payment of the medical costs.
In case you apply for a visa extension, you need to provide proof of extended care issues by a UK doctor. This must also contain evidence that you have the money to pay for comprehensive medical care.
Academic travelling for a research or exchange project:
A formal letter from your home-country employer stating that you are authorized to leave the current job for this particular research or exchange project in the UK and must contain the dates of such leave.
A formal invitation letter from the hosting institution/organization stating that they have made the necessary arrangements for this project.
If visiting as a Potential UK Entrepreneur, you must have:
A support letter from the UK's venture capital firms that are regulated by the Financial Conduct Authority.
A support letter from an endorsed UK entrepreneurial seed funding competition.
Letters of support from the UK departments.
To attend any Professional Training/Assessment in the UK:
A confirmation letter was issued by the General Medical Council & Nursery and Midwifery Council for an arranged

PLAB or OSCE test.

A formal job offer as a clinician or dental observer (you must not have worked in the same position previously).
Conclusion
Here are four important things to remember before applying for a UK Visitor Visa are:
Plan your visit in advance.
This includes everything from the identifying the right visa type based on your purpose of travel, estimation of the no. of months you need to live in the UK, the funds you may require for your travel and living expenses in the UK as well as additional funds you might require to show for financial stability or unexpected costs during your visit.
Gather all your documents.
No matter how genuine your intentions are, if you are unable to show evidence to support the statements you make in your visa application or in the visa interview, you may face a rejection. So it is advised to check and double-check all your documents before beginning your visa process.
Keep an eye out for changes in immigration.
The recent COVID-19 outbreak has led to a number of changes mostly taken as precautionary measures to curb the spread of the virus. Not just that, the UK has been introducing a number of changes in its immigration laws over the previous months.
What may have been the visa process when you had last visited the UK, may not even be applicable now. So make sure that you aren't up for last minute surprises and stay up to date.
Talk to a visa expert and make sure you trust them.
A visa consultant can help you a great deal with the current immigration trends, documentation and can guide you through the visa process. Having years of experience in the field, they can make sure that your application is error free. But before you decide to go ahead with a consultant, make sure that you learn how to choose the best visa consultant correctly.
Let Kansas Overseas Career help fast-track your UK visitor visa application. Talk to our visa experts today and clear all your doubts for free. We can help you choose the best visa for your visit to the UK after we understand your requirements.
Don't wait any further. Let us make your trip to the UK memorable and almost effortless.