Canada's recent Immigration Levels Plan has opened a whole bunch of opportunities for Indians wishing to immigrate to Canada. Software and IT professionals, Doctors, Scientists, Researchers, etc are the most in-demand in 2023.
Yet, getting a Canadian visa is no easy feat. The application process requires thorough documentation and it can take months (if not years) to get approved. A Canada immigration consultant will help you navigate the complicated process of getting your visa in order.
Hiring a trusted and reliable Canada immigration consultant can help you fast-track your visa application which usually requires error-free paperwork and a thorough understanding of the visa process.
If you are looking for a good Canada immigration consultant in Bangalore, this blog will prove to be more helpful than you think, read on.
How does a Canada Immigration Consultant help with a Canada PR?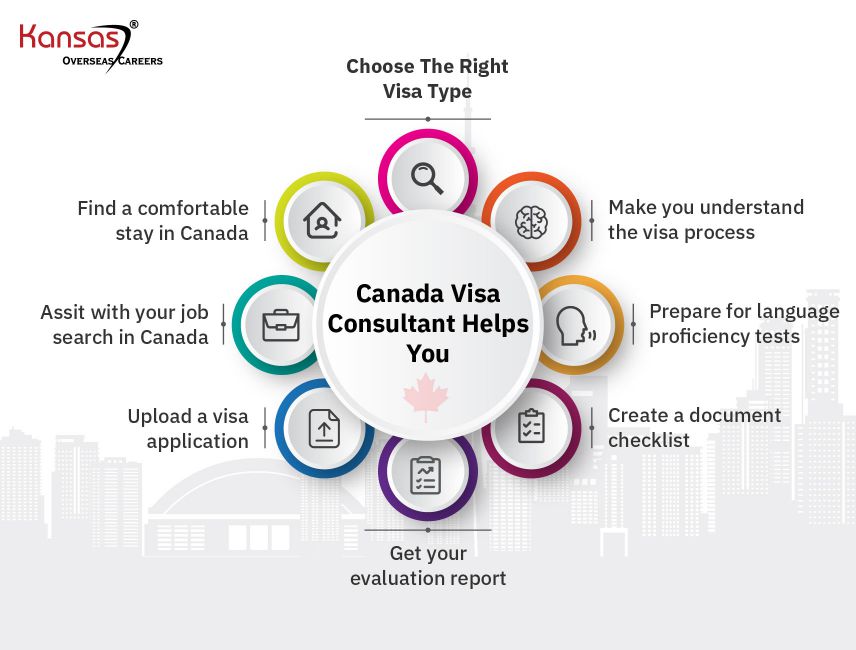 A reliable Canada visa consultant helps you:
Choose the right visa type where you meet all the visa requirements
Make you understand the visa process to immigrate to Canada
Prepare for language proficiency tests
Create a

document checklist

for error-free documentation
Get your

evaluation report

by an authorized assessing body
Upload a visa application meeting specific criteria
Assit with your job search in Canada
Find a comfortable stay in Canada
It is very important to have the best minds working on your visa process.
Not all immigration consultants in India provide the above-mentioned services. Hence it is advisable to find one who can provide most of the visa services, if not all.
At Kansas Overseas Careers, we not only help you with all the visa services mentioned above but also provide personalized services to meet the unique requirements of our clients (See services below).
What are the different visa services offered by Kansas Overseas Careers in Bangalore?
Kansas Overseas ensures that your profile application meets all the requirements set by Canadian immigration authorities for the type of visa you are applying for.
Our personalised services include: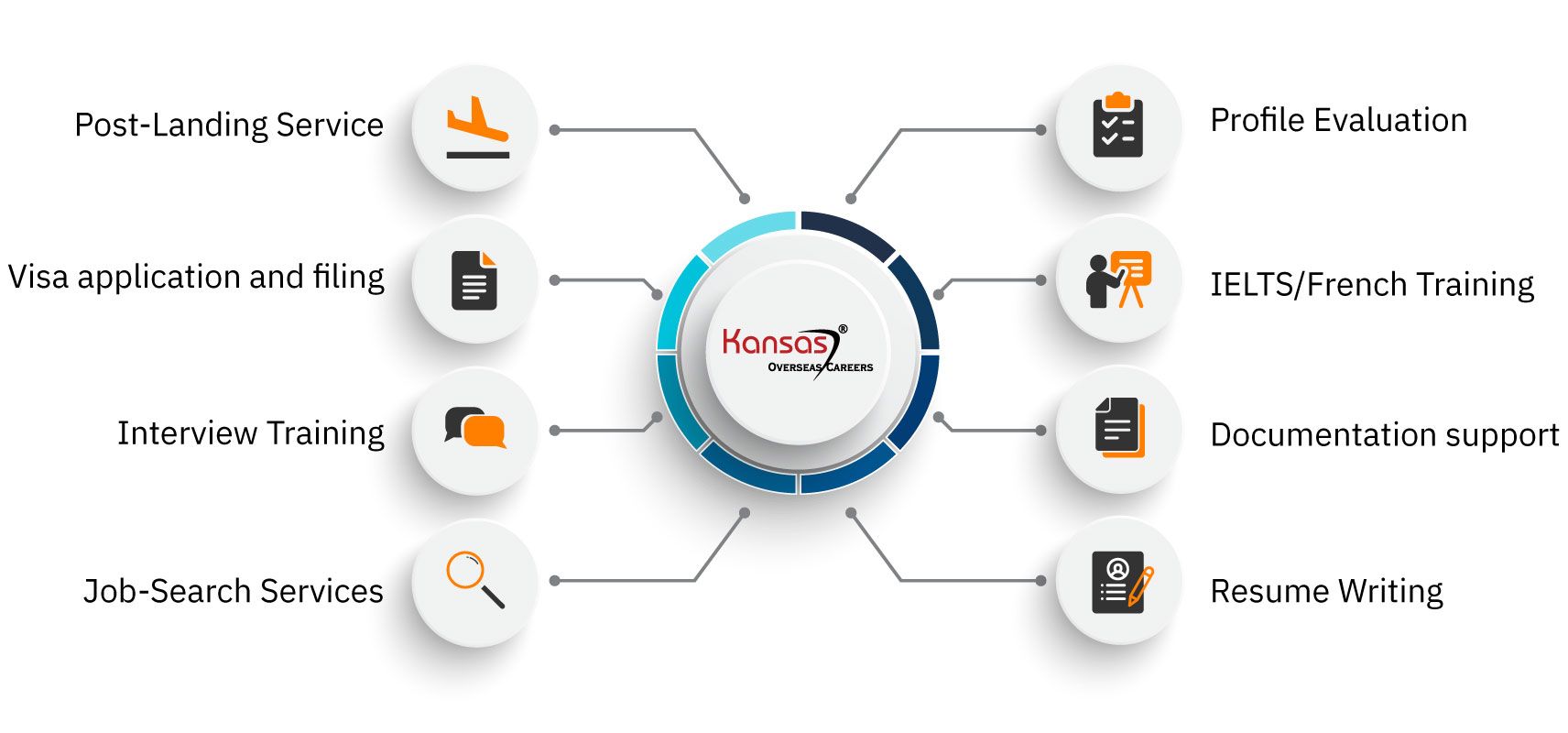 Regardless of which visa you want, the Canadian government evaluates every visa application to meet certain visa requirements. Each profile is unique in terms of the client's age, educational background, work history and other deciding factors.
Thus it becomes very important to pick the right visa category to avoid future rejections.
At Kansas, we make matches to the top 5 visa pathways to Canada immigration against your unique profile history. We verify your past work experience and field of study, assess the authenticity of your documents of evidence, and assist you with the best way-forward strategy by also taking your preferences into account.
Complimentary IELTS or French Training
We have a specialized team of experts who provide online training for IELTS, French, and other language tests at no extra cost.
Error-free visa documentation from document gathering, verification, application submission, and also post-landing assistance. We verify all documents, including that of your family members who wish to join you in Canada; making sure that no document is incomplete, unverified or missing.
We create a resume that stands out. Our resume experts craft the best resumes that meet the prerequisites of immigration authorities and potential employers.
Other writing services for student visas include Admission Essays, Student CV, Statement of purpose (SOP), Letter of recommendations (LOR), among others.
Complimentary Job-Search Services
Most Canadian visas don't require you to have a pre-existing job-offer in Canada when you apply for a visa. However, having a job in Canada definitely adds to your chances at visa approvals.
At Kansas, we help you get a job in Canada by connecting your job profile or resume to a global network of employers who are looking for skilled professionals in your field.
We have a dedicated team who specialize in creating the best-in-class portfolios and market your profile on job-portals. And yes, it's a complimentary service we offer!
Be it a job interview or a visa interview, we have experts who will help you excel in both. In case you have your family members applying to visit or immigrate to Canada with you, they must answer all the visa interview questions correctly. We can assist with that too!
You are also supposed to carry all your documents with you when you attend a visa interview. Any missing document will lead to immediate rejection. At Kansas, our visa experts will guide you at every step along the way.
Visa application and filing
We ensure that your application lawfully meets all the requirements as per the immigration authorities.
After you've received your visa, we help you settle down with a comfortable stay in Canada. We also offer other customized services for the first six months after you have moved to the new country.
You can trust Kansas Overseas. We have been offering reliable and trustworthy visa services for over 7 years and will continue to do so. We're one of the best Canada PR consultants in India. Served 20K+ customers and over 3K+ active cases.
We take your success seriously. We offer a 100% refund to our clients who face visa rejections.
How much do Indian immigrants working in Canada earn in 2023?
Computer/Software Engineering graduates with a Master's degree earn up to $92,503 (Approx. INR 53,07,564) annually on average in Canada.
IT professionals with a Bachelor's degree can expect to earn anywhere between $62,118 to $92,273, depending upon their years of experience and specialized IT skills.
Medical professionals earn more, especially during this time as Canada is facing a shortage of workers in the medical sector.
Software professionals have an employment rate of above 91% in Canada, which means that Indians skilled workers (in Medical, IT, Academia, Engineering, etc) have a higher success rate at getting a Canada Permanent Residence visa in 2023.
Also read: How Canada Immigration Succeeded in 2020 & What To Expect This Year?
Who is the best Canada immigration consultant in Bangalore, and why?
Kansas Overseas Careers: The Best Canada Immigration Consultancy in Bangalore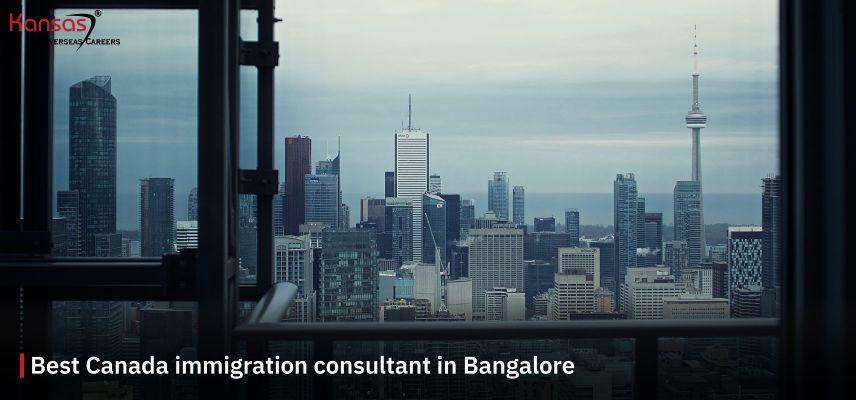 Our Accomplishments & Accreditations:
Among the Top 10 trusted Immigration Consultants in India - By Silicon India 2017, 2019
Awarded "Brand Of Year"- By The CEO, 2019
Kansas overseas employs over 175 staff across 5 Indian cities
7 Walk-In Offices located across the country.
Handled over 10,000+ visa files successfully
Accomplished with a visa rejection rate of less than 1%.
Visa Services Offered at Kansas Overseas
Fast-track visa (by 2x)
Free IELTS/French Coaching
Resume Writing
Interview Training
Post-Landing Services
We Specialize In
Permanent Residence
Express Entry Program
Provincial Nomination
Family Sponsorship Visa
Temporary Work Permit
Other Offices
Hyderabad
Bangalore
Mumbai
Vizag
What are the benefits of migrating to Canada as a Skilled Professional?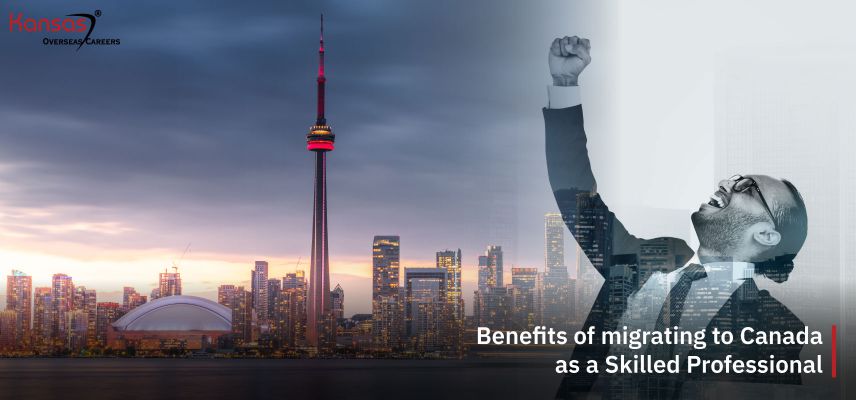 1. Tons of Jobs Opportunities
There is a growing demand for skilled professionals in Canada.
Skilled professionals like doctors, nurses, engineers, banking and finance, business development, sales and marketing professionals, education providers and researchers are very much in-demand in Canada in 2023.
While the service sector drives the economy, Canada is a large exporter of energy, food and minerals. It ranks third in the world in proven oil reserves and is the world's fifth-largest oil producer. Canada's economy is also recovering steadily after the pandemic.
2. Canada takes both immigration and its immigrants very seriously
Even during the COVID-19 Pandemic in 2020, Canada was the first country to bounce back. Apart from the fact that it continued accepting visa applications, the country granted visas to 195,800 new immigrants.
Canada also made headlines during this time by introducing the highest immigration intake plan it had ever made. While most countries went with the 'save our people first' approach, Canada was very helpful to immigrants with financial assistance during the crisis.
3. Canada is one of the world's most immigrant-friendly countries
Canada adopted a national policy of multiculturalism in 1971, to celebrate the country's cultural and linguistic diversity.
Most Indians seek permanent residence status in Canada that legally authorizes them to work and live anywhere in the country! Immigrants are allowed to switch between jobs and move provinces as they like.
4. Live in a Country Awarded for The 'Best Quality of Life'!
U.S. News and World Report's 2019 Best Countries Report ranked Canada #1 for the Best Quality of Life in the world. Canada won this world for the fourth year in a row!
But it doesn't end here. Canada was awarded the Second-Best Country (Overall) in the world, after Switzerland. And if that wasn't convincing enough, the 2023 World's Best Cities Report listed 6 Canadian Cities out of the world's 100 cities to be among the world's greatest cities. The 6 cities are: Toronto, Vancouver, Montreal, Calgary, Ottawa, and Edmonton.
5. Canada is all about Family Reunification!
If you hold the Canada PR status, you can sponsor your family members to come and live with you in Canada. They can also work in Canada.
Also, there are plenty of Canada PR immigration programs where your spouse or dependent children don't even need a sponsorship - you can apply for them in your initial visa application!
6. Canada is the Best Place to Start or pursue a Business
Canada ranked #2 in terms of the best countries in the world to headquarter a corporation. Permanent residents in Canada can legally invest in a franchise or start a new business with a sole proprietorship, partnership, or corporation. There are also many other Canadian immigration programs specifically designed for young entrepreneurs.
7. Free Education for children
Children of Canada PR holders can access free education up to Grade 12. It is a no-brainer that Canada is home to a few of the best universities in the world, and guess what? Children of permanent residents also benefit from a much-reduced university education fee in Canada!
8. Universal Healthcare
Canadian citizens, permanent residents, a few foreign nationals on select work permits and student visas, can benefit from Canada's publicly funded universal health care system. This means that medical care is free, including prescription drugs.
9. Canada has one of the world's most liberal 'Citizenship Naturalization' policies
Immigrants can become a Canadian citizen after just 3 years of permanent residence. If you have previously worked or studied in Canada, you can become a citizen of Canada even sooner!
Even without citizenship, Canada has plenty to offer its immigrant population in terms of highly-paying jobs, great quality of life, and social benefits like retirement payments, disability benefits and survivors' benefits for deceased workers.
Also read: Top 10 Benefits Of Canada PR
What is the basic eligibility criteria for A Canada PR visa?
To be eligible to apply for a Canada PR under the Express Entry system, you will need a minimum score of 67 points out of 100 to qualify.
| | |
| --- | --- |
| Factor | Maximum Points Available |
| Language skills - in English & French | 28 |
| Education | 25 |
| Work experience | 15 |
| Age | 12 |
| Arranged employment (job offer in Canada) | 10 |
| Adaptability | 10 |
| TOTAL POINTS AVAILABLE | 100 |
If you meet the minimum point requirement, you will be eligible to place your application for a Canada permanent resident visa via Express Entry Pool.
On being in the Express Entry pool, you are not guaranteed to receive an Invitation to Apply for permanent residence. For an invitation from the Canadian government, you must have a high CRS Score.
Also Read: Canada PR Application Process EXPLAINED in 7 Easy Steps!
How much do Canada Visa and Immigration Consultants Charge in India?
Canada PR Process

CAD

INR (approx.)

Step 1: Educational Credential Assessment fee

CAD 240

INR 14,568

Courier charges approx

CAD 10

INR 607

Fast Express courier charges

CAD 85

INR 5159

Step 2: Express Entry Application

This is free of cost

Step 3: Pay the application fees.

Main applicant

Application processing fee

CAD 850

INR 51,596

Right of Permanent Residence Fee (RPRF)

CAD 515

INR 31,261

Spouse/partner

Application processing fee

CAD 850

INR 51,596

RPRF

CAD 515

INR 31,261

Dependent child

CAD 230 (per child)

INR 13,961 (per child)

Step 4: Complete your biometrics

For a single applicant

CAD 85

INR 5159

For two or more applicants

CAD 170

INR 10,319

Step 5: Send your passport details

INR 1,000 to 2,500

If you already have a valid passport

Free of cost

Language exam fees (IELTS)

INR 15,500

Medical exam (varies depending on city)

INR 3,000

Police certificate(varies depending on your city)

INR 500
Also read: Medical Test Requirements for Canada Permanent Resident Status
Conclusion
If you are looking for a reliable and affordable Canada immigration consultant in Bangalore, look no further. At Kansas Overseas Careers located in Koramangala, you get a dedicated case-officer who will be your one point-of-contact, taking care of all your visa needs from the start to finish.
Services offered by Kansas Overseas for Permanent Residence Visa
Profile Evaluation
Verification of documents
WES Educational Credential Assessment (ECA) report
English and French Language Test Preparation (free of cost service)
Creating your Express Entry Profile
Improving your

CRS score

Resume writing
profile marketing (free of cost service)
Visa filing
Post-visa services (Travel, Accommodation, assistance for upto 6 months)
Guidance for medical tests, biometrics, police clearance, etc
Manual applications for

Provincial Nominee Programs
Kansas Overseas offers end-to-end visa solutions for all types of Canada immigration pathways. To know more, walk-in to our bangalore office for a free consultation.