Canada is often called a 'paradise for immigrants' . Every year, Canada surprises the world by increasing its annual immigrant intake.
Its welcoming nature, increasing economic growth and easy immigration processes, has made it almost ideal for people to decide to come and permanently settle down in the country.
Want to know the benefits of a Canada PR? Read on!
What are the Top 10 Benefits of Canada PR?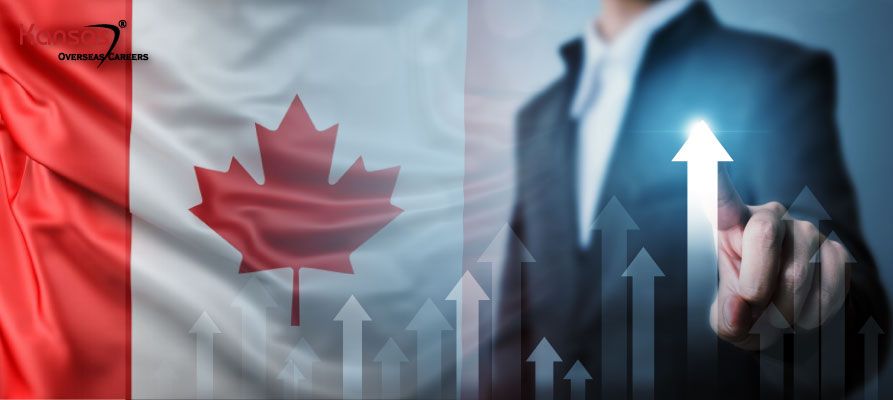 Many immigrants live, work and settle in Canada by getting the Permanent Residency status which opens doors to a wide array of benefits!
Below listed are the top 10 benefits of a Canada PR:
1. Right to Live and Work in Canada
Canada is ranked as the second best country in the world to live and work.
It is one of the top destinations for overall sustainability, cultural influence, economic influence, entrepreneurship, and primarily for the quality of life.
Once you get a PR, you have the right to move to any territory or province in Canada. You don't have to stick with an employer, job, or even a province.
2. Extend or renew your visa after 5 years
A majority of Canadian Permanent residence status cards are valid for 5 years, although some only have a validity of 1 year.
Moreover, there is no prescribed limit as to how many times you can extend your visa status.
The purpose and history will be considered by the officer to evaluate if there is a valid reason for you to continue to stay.
3. Allows you to bring your family along!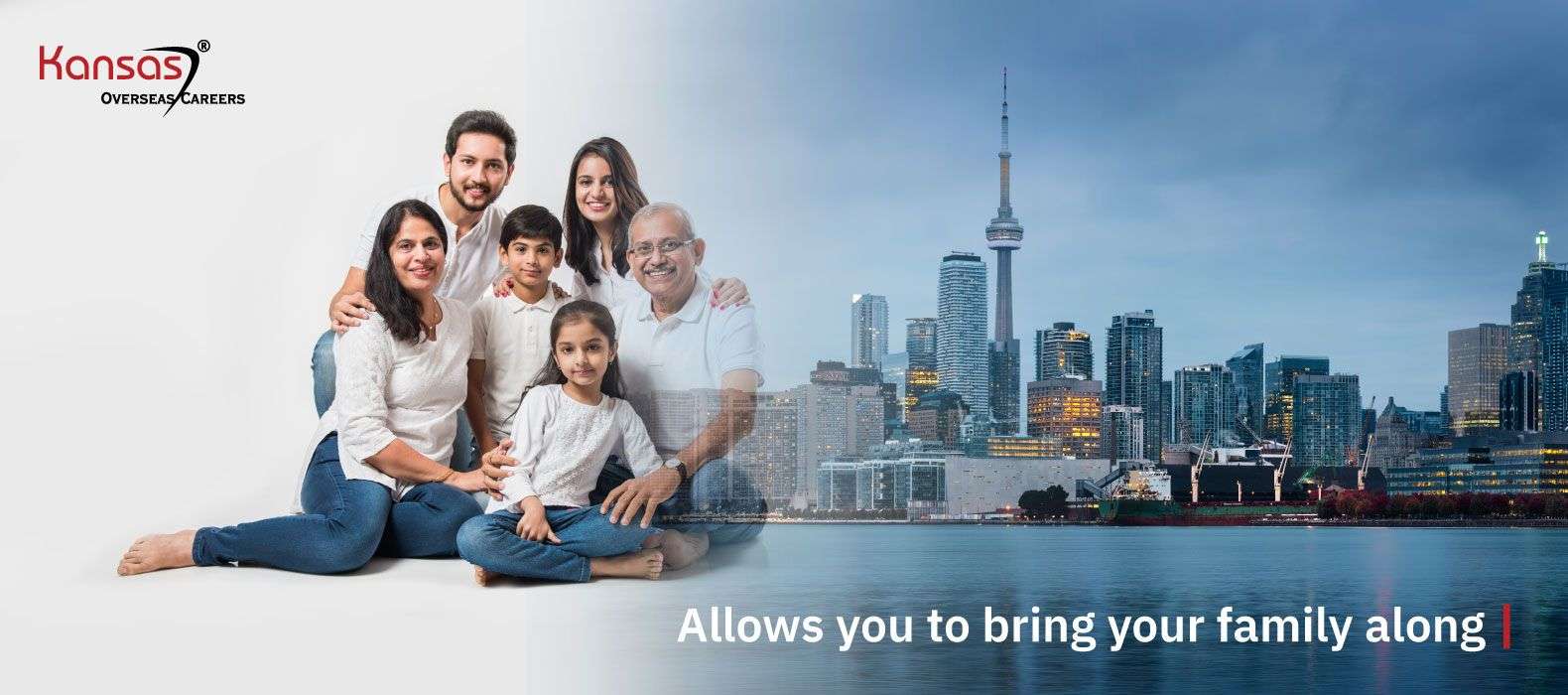 Your family members can also live, study and work in Canada if they become permanent residents.
However, you are allowed to sponsor certain residents if you are above 18 years of age.
4. Free Education for children
The government of Canada ensures free education up to Grade 12 for all children (uptil the age of 18 years) of permanent residents.
Canadian education has three levels – primary, secondary, and higher education.
Moreover, tuition fees are dramatically reduced for permanent residents when it comes to university education.
5. Universal Healthcare
Canada immigration offers universal healthcare provided by the Canadian government and authorities.
For every canadian permanent resident visa holder of Canada, medical care is free, and it also covers all prescription drugs that are paid through the taxes.
You can also apply for public health insurance as a permanent resident in Canada.
Plan to move to Canada? Get help from an expert.
6. Social Benefits
Immigrants in Canada can also enjoy plenty of social security benefits if they have accrued 40 credit points. This is equivalent to 10 years of work, or 40 quarters.
The residents of Canada can get suitable high-paying jobs, and tax rebates, which help them enjoy a quality life.
Other social benefits include retirement payments, disability benefits and survivors' benefits for deceased workers.
7. Road to Canadian Citizenship
Once you get permanent resident status in Canada, you can live there for five years.
If you have physically lived in the country for 1,095 days (three years) out of the five, you become eligible for Canadian citizenship.
However, only the 5 years preceding the date of your filing the application for citizenship are considered to be valid.
8. Freedom to Move
You can move outside, inside or remain in Canada (multiple times) with the Canada PR card.
It grants you the freedom to move and take up residence in another province as well. You can pursue a new job, a new opportunity, or other types of livelihood throughout the country.
Mobility rights are expressly consolidated in Section 6 of the Canadian Charter of Rights and Freedoms.
9. Freedom to Start a Business
Permanent residents in Canada are also known as landed immigrants. They can also legally start their own enterprise following Canadian immigration.
Under the benefits of Canada PR, you can invest in a franchise or start a new business with sole proprietorship, partnership, or corporation without being a Canadian citizen.
10. Safe & Secure Environment
Canada was named as the most peaceful country across the world by The Economist in 2007.
It is a safe and secure destination to settle. Immigrants with permanent residency in Canada have all the rights under Canadian Charter 6 to be protected by the government and authorities.
People giving priority to safety count this as the most important benefit of living in Canada.
Start your PR Journey!
People giving priority to safety count this as the most important benefit of living in Canada.
How can you get PR in Canada?
For a person who wants opt for Canada immigration, here are the top 5 categories you can get a PR: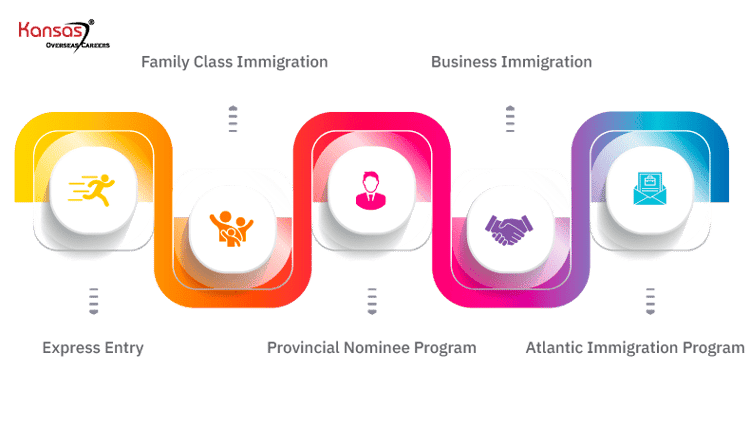 1. Express Entry
The express entry program is valid all-round the year. It basically consists of three sub-categories:
Federal Skilled Workers Program (FSWP): This is for qualified and experienced professionals.
Federal Skilled Trades Program (FSTP): This is for qualified technical professionals with foreign worker experience.
Canadian Experience Class (CEC): This is for professionals who have worked in Canada.
2. Family Class Immigration
A candidate with PR can also bring their family members to Canada through the Family Class Immigration Program.
You can sponsor your:
Common-law partner
Spouse
Conjugal partner
Dependent children

Parents
Grandparents
Brother/Sister*
Nephew/Niece*
Grandson/Granddaughter*
*Orphans under the age of 18
3. Provincial Nominee Program
PNP or Provincial Nominee Program is a unique program for skilled workers who can contribute to economic growth.
Each province or territory has its unique nominee program that helps them immigrate skilled employees and students who can help grow the area.
4. Business Immigration
Canada also attracts business investors, owners, and entrepreneurs through the Business Immigration program.
It helps people who have experience in owning or running a business to enjoy the benefits of Canada PR.
5. Atlantic Immigration Program
The Atlantic Immigration Program is a route to permanent residence for international students and skilled workers who want to stay and work in one of Canada's 4 Atlantic regions. The regions are:
New Brunswick

Nova Scotia

Prince Edward Island

New Foundland and Labrador
What is the Cost for Canada PR?
Your complete application process for a Canada PR visa will cost you around $ 1350.
How many points are required for a Canada PR Visa?
Currently, a candidate must have a minimum 67 points out of the total 100 to apply for a PR in Canada. It includes parameters like:
Individuals with younger age can have an advantage under certain immigration programs. In the case of a Federal Skilled Worker Program, you can get more points if you are younger as per the CRS.
Those with higher educational qualifications will get more points. To become eligible for Canada PR, you must have secondary school level education as per the Canadian level.
English language Proficiency
With a higher IELTS score, you will get more points. You need to show that your English language skills are on par with the Canadian level to become eligible for PR in Canada.
Applicants who have at least one year of work experience (30 hours per week) in a skilled job get more points under the CRS. With more experience, you can get more points and improve your chances.
An applicant gets extra points for the ability to adapt to the country. If you have a spouse with an eligible IELTS score or blood relation in Canada, you can get extra points.
After the initial requirement is fulfilled, you must then apply for one of the pathways to Canada as mentioned above.
To receive a PR for Canada, you must have a good CRS score.
Our visa experts can help you with this!
Other Important FAQs
What is the Best Way for an Indian to Get a Canadian PR?
While many programs allow Indians to immigrate to Canada, the Express Entry system is an ideal way. It is a comprehensive way that allows skilled workers to secure a PR visa in Canada. Although there are 60 different immigration programs, yet below are the top 3 categories for Indians. They are:
Federal Skilled Workers Program
Provincial Nominee Program
Canadian Experience Class
If you are eligible for the Express Entry program, you can submit your documents, create a profile, and apply for the visa. Seek advice from an immigration consultant to know more about Canadian PR programs.
Learn about how to apply for a PR Visa in 7 easy steps!
Can you lose PR visa status in Canada?
You can lose your PR status if you do not renew the validity of your residency before the expiry date. According to canadian law, you can lose canadian permanent resident status if you haven't stayed in Canada for at least 730 days in the last five years.
You can also lose your PR if you:
Become a Canadian Citizen
Become inadmissible to Canada
Renounce your PR status
Which countries can you travel to with Canadian Permanent Resident Card?
With a Canadian permanent resident travel document, you can travel to many countries without going through the process of visa application. Here are a few of the 25 countries that allow you to travel with Canadian passport:
Aruba
Bahamas
Bermuda
Cayman Islands

Costa Rica
Cuba
El Salvador
Georgia
Jamaica

Mexico
Panama
South Korea
Taiwan
Conclusion:
Just to sum up a few benefits of a Canada Permanent Residence status:
Canada was the first in the world to pass a Multiculturalism Act. Meaning, it accepts and promotes people of all races, cultures, religion and sexual orientations.
Canada offers one of the world's best work-life balance plans at workplaces.
And yes, the social benefits, healthcare, education, and a high quality of life that come with a Canada permanent residency status are always a delight to experience.
Canadians are generally known to be friendly and inviting - that's much appreciated as it is very important. Especially when you are planning to live there permanently.
If you like travelling and exploring new places, Canada is going to pleasantly surprise you with its landscape, food and culture.
It is okay to say that when it comes to choosing a country that would be best to migrate to, Canada sure ticks all the right boxes.
As a post-COVID recovery plan, Canada has a target set to Welcome over 4 Million Immigrants in 2021!
So if you want to move to Canada, connect with us. We can help unleash your dream of moving to Canada and obtaining a PR status there!
How can Kansas Help?
Kansas Overseas Careers is the one of India's Top 3 visa consultants, specializing in Canada PR. We can help you with:
Fast-track your visa process
Canadian Immigration and PR visa is a time-consuming process. Any error in a document can lead to cancellation or delay. With our expertise, the scope of error is nil. Your visa processing is fast and smooth.
Documents & Review
We draft a detailed document checklist based on your visa type and verify for document authenticity and correctness.
Dedicated Case Officer
Your case-officer will assist you at every step of your visa process. You can also opt to request a change of officer, if you're not satisfied.
Visa Filing
Kansas ensures that your visa application meets all the standard requirements as per the immigration authorities of the country that you are applying for.
Visa & Interview
We inform you about all the do's and don't when attending a visa interview and also keep all your documentation ready for you.
Post Landing Service
After you've received your visa, we help you settle down in the country with a comfortable stay and also offer other customized services.
Increase your chances of PR Visa approval:
From writing your cover letter to constructing your resume, our services are not just limited to your application and documents. We can also guide you for the IELTS exam. There are on-demand post-settlement services too.
We help you get your Canada PR easily. Served 20K+ customers and over 3K+ active cases.