Indians form the second largest group of international students at German universities. There was a record-breaking growth in the winter semester of 2019-20, showing a 20.85 percent growth in intake over the previous academic year of Indian students. Approximately 21,000 Indian students were enrolled into German universities in 2019.
The growth rate in the intake of Indian students in Germany is 3 times the global average, having almost doubled in the last five years. Indian students who wish to study in Germany need a German national visa for programmes that are longer than 3 months. You can get a Schengen visa for a 3-month course.
The Germany study visa requirements are quite stringent. International students are required to have valid documents and a residence permit in Germany for a national visa. Read on to know about this and the other requirements in depth.
Top 10 German Study Visa Requirements for Indian Students in 2023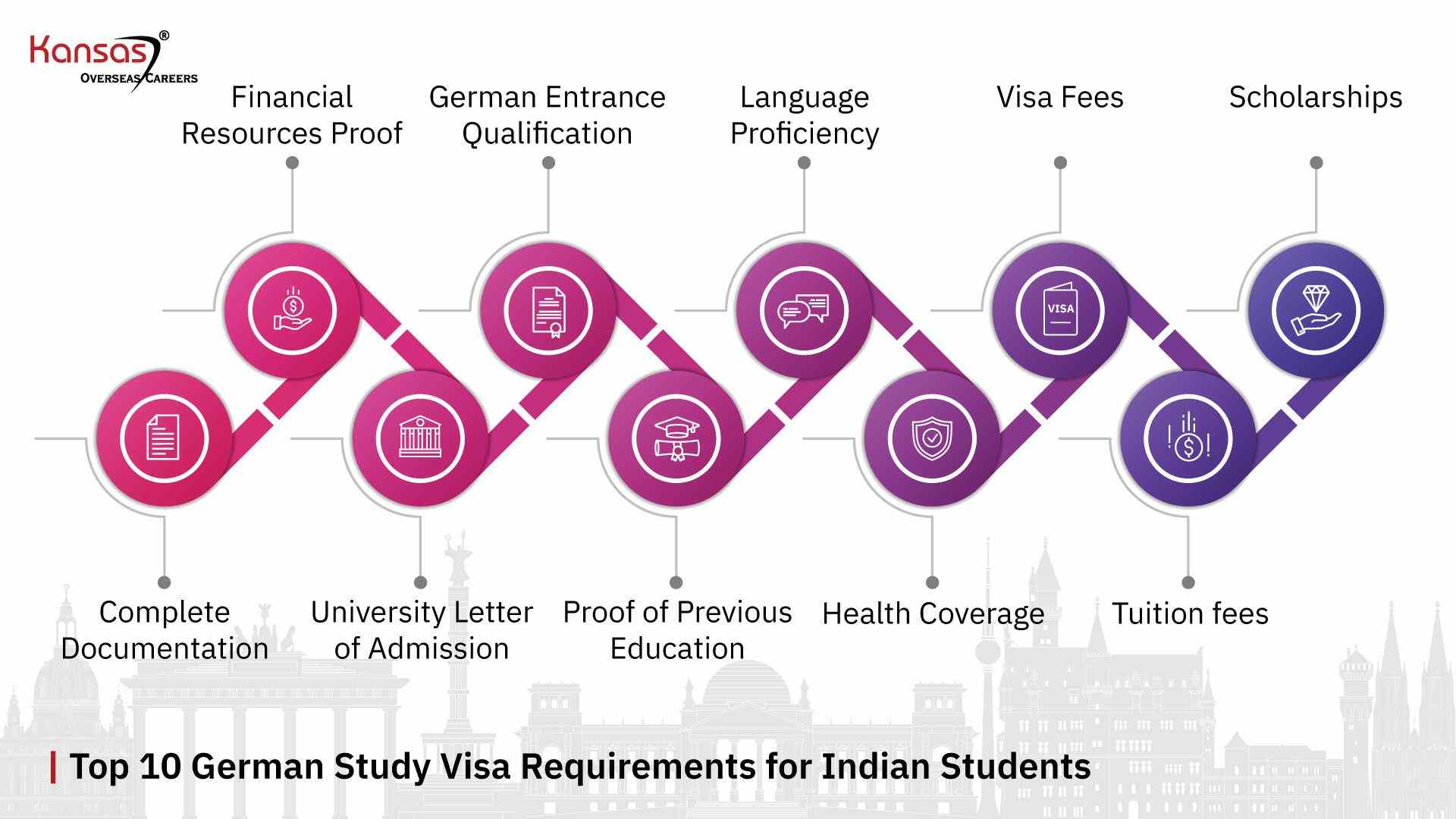 There are three types of Study Visas for Germany: German Student Visa, German Student Applicant Visa. and the German Language Course Visa. The German Student Visa is the most popular among these visa types.
Let's take a look at the requirements for the Germany Study visa, one at a time.
1. Correct and Complete Documentation
There are some documents that Indian students need to get a German student visa. This is one of the main Germany study visa requirements. The documents required (original and 2 copies) include:
Passport
An A4 sheet copy of the information page of the passport
Cover letter or an admission letter from the German University
German language fluency scores
Proof of your funds.
Educational certificates, colleges and universities
Receipt proof of Student Visa fee
Passport-size photographs

Schengen visa

proof (if you had one before)
German residence permit (if you had one before)
Personal covering letter with purpose and duration of stay
Note: The German embassy can have extra German study visa conditions. They would ask you for the additional documents if necessary.
2. Financial Resources Proof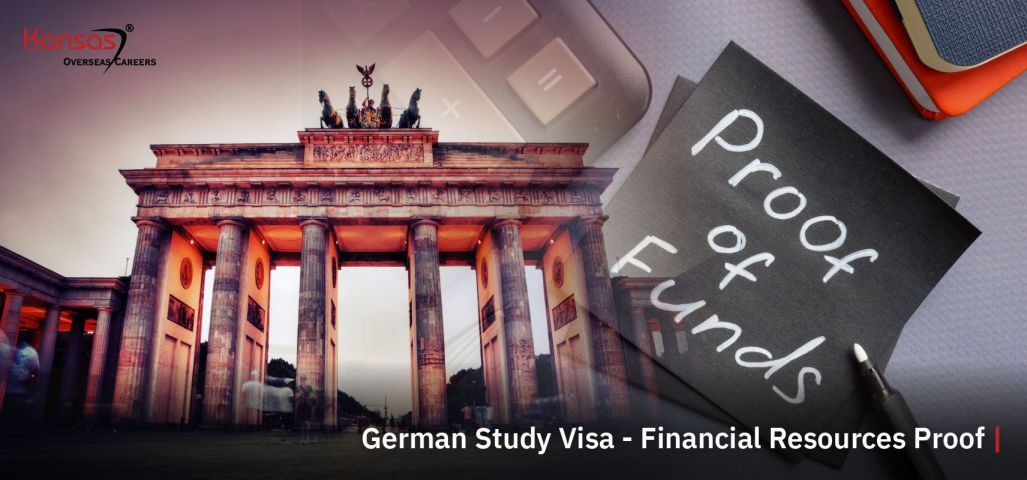 The proof of financial funds is called 'Finanzierungsnachweis' in German. This is one of the most essential Germany study visa requirements. The main things applicants need to provide are:
A bank guarantee from a Germany Bank
Scholarship certificate, if available
The scholarship should include information about the total costs that it covers.
A letter called 'Verpflichtungserklärung' by a resident of Germany issued at the Alien's Registration Office. This applies if a German resident is covering the course study costs
A German blocked bank account deposit confirmations of €10,236 in total. This is a special account for international students. It proves that they can cover the expenses of their stay for a year. This covers the €853 they need for living expenses per month
A letter of commitment for fee payment from the applicant's guardians. This includes evidence of their financial assets and income records
3. University Letter of Admission
Another of the Germany study visa requirements is a letter from the university of choice. This appears after a few weeks of the application submission in an email. You need to print the email and show that as the admission letter proof. You should show it in your home country's German embassy during the visa application.
4. German Entrance Qualification for Higher Education
Students need to show that they can qualify for higher education programs in Germany. The requirements under this topic are as follows.
Zulassungsbescheid
The requirements for this are:
Indian students need to show their admission agreement in this study program
A higher education provider recognized in Germany must issue this
It should include information regarding the language in which you would study
It must include your course duration information
Bedingter Zulassungsbescheid
Indian students need to show conditional admission proof of this.
They should also show proof of admission in 'Intensiv-Sprachkurs,' an intensive course. The letter shows that you can participate in this intensive language course before getting admission. The course lasts for 6 months, with 18 lesson hours in one week. The requirements for this are:
You have to show the letter of confirmation from the 'uni-assist'
Communication proof with the university about final admission
Applicant's admission confirmation proof
Proof of language course fee payment for the first 3 months
Studienkolleg
It is a foundation-level course of 1 year. It prepares students for 'Feststellungsprüfung'. It means a university-level assessment examination one has to sit for. You need to have good language skills at CEFR B1 level to attend the course. The documents required are:
Copies of the leaving certification from your foreign school
Average grades in studies. Applicants can get it from the 'Oberschulamt' state education officials in their city
Proof of CEFR B1 level language skills
The statement about how your foreign certificate is equal to a German school-leaving certificate
The study visa requirements for 'Studienkolleg' are:
Proof of participation in the course
Proof of any communication about final admission with the university
Letter of confirmation from the 'uni-assist'
5. Proof of Previous Educational Qualification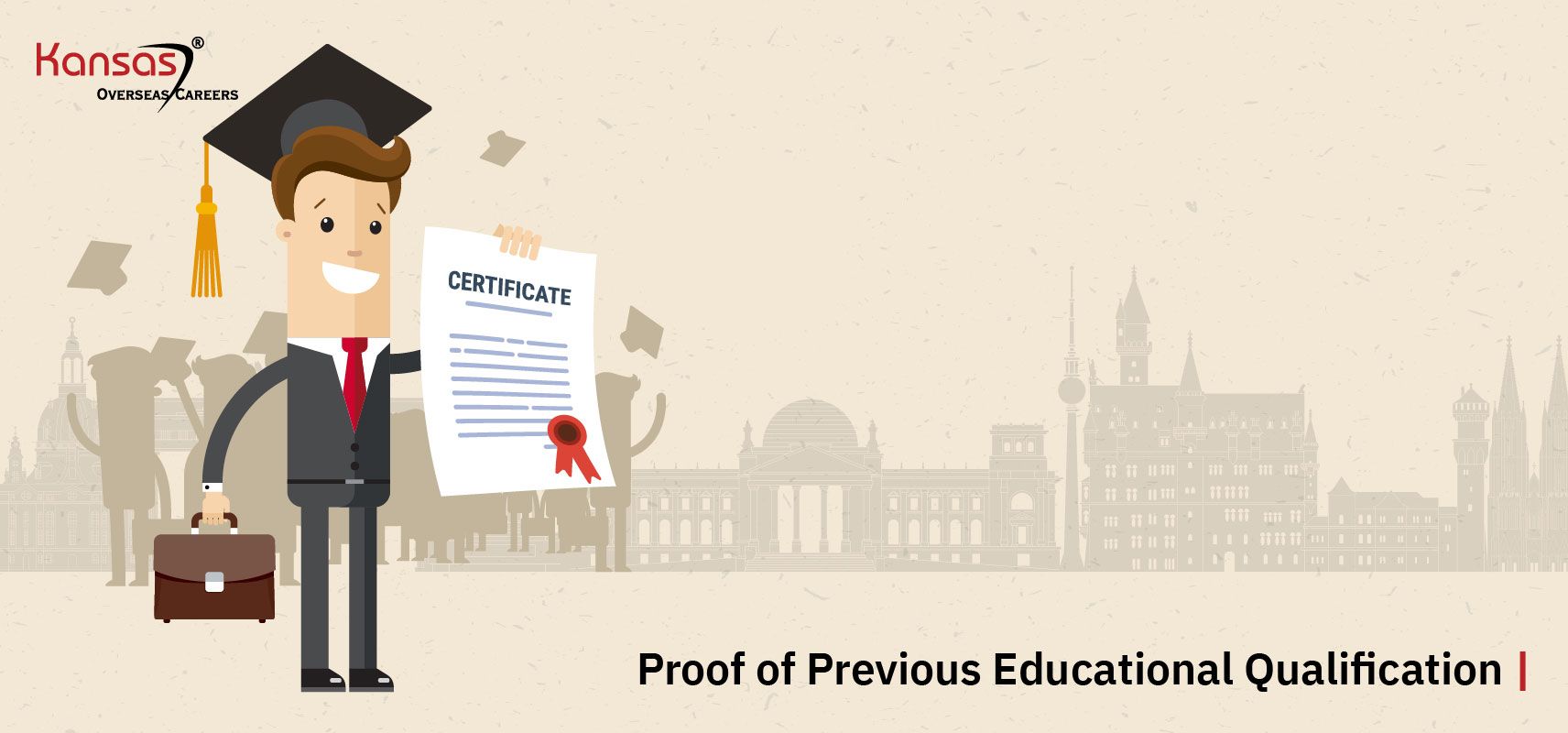 One of the important Germany study visa requirements for Indian students is showing their education proof. The documents necessary are:
Marks sheets
Degree certificates (for applicants of Ph.D. and Mastery courses)
School-leaving certificate (original)
6. Language Proficiency
One of the German study visa requirements is language skills. Indian students need to show proficiency in either the German language or the English language. Students can also show both certificates if they are fluent in both.
Rules for German language skills
Foreign students need to show their skill level in the basic German language. They can also show certificates from German-learning courses.
Students can also give an education completion certificate of a study program in German.
In German international programs, knowing some basic German language is helpful.
The acceptable German language grades for each program are:
Educational program (in Germany)

Grade level (Language test)

Bachelor's Degree

DSH II Level

CEFR C1 Level

Master's Degree

DSH I Level

DSH II Level

Doctoral Degree

No specific requirement.

The individual education providers choose the language they allow for admission.
The certificates that Indian students can show as German skill proof are:
DSH I Level
UNIcert III
DSH Certificate (Level 1 and more)
The least total of 14 points in TestDaF Certificate
GDS Certificate (C1 Level or more)
Telc Deutsch C1 Hochschule Passing Certificate
Education Ministers' Conference language certification (Level 2 + C1 all sections)
CEFR C1 Level
Education Ministers' Conference language certification (Level 2 + C2 all sections)
GDS Certificate (C2 Level or more)
DSH Certificate (Level 2 or more)
Around 4 points in four sections of TestDaF Certificate
Other certificates include:
'Feststellung Prüfungszeugnis' Assessment Exam Certificate
'Abitur' German University Entrance Qualification
Goethe-Institut Test Certificate
Certification of telc Deutsch C1 Hochschule
Österreichisches Sprachdiplom (ÖSD Zertifikat C1)
telc Deutsch B1 Certification (for music or art colleges only)
Rules for English language skills
International study programs in Germany are held in English completely. These students need to have strong English-speaking skills.
Non-international study programs need basic English skills or good German skills from students.
The institutes for higher education in Germany have their own rules for non-English speaking students. The certificates that Indian students can show as English skill proof are:
TOEIC certificate
Educational Certificate from an English-Speaking School. The language score must be 6 (B2)/5 (B1) during schooling years
Cambridge English Certificates. (C2 Proficiency, C1 Advanced, B2 First, or B1 Preliminary)
At least 5.0 (B2) or 4.5 (B1) in IELTS scores
TOEFL Scores- IbT-internet based test-60 (B1)/80 (B2) points. CbT- computer based test- 130 (B1)/170 (B2) points. PbT – paper based test- 450 (B1)/500 (B2) points
UNIcert® minimum II (B2) or I (B1)
University Degree from an English-speaking country (higher education)
Students with University Entrance Qualifications from an English-speaking country
7. Health Coverage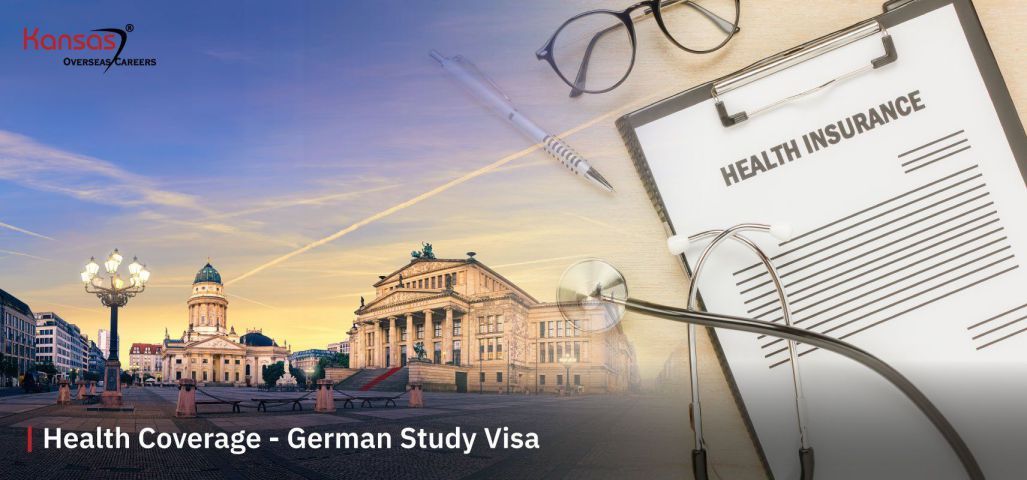 One of the main visa requirements is applying for health insurance. Indian students have to cover their medical needs for emergencies.
There are two types of health-care insurance in Germany. They are:
Private insurance: One can customize it as needed.
Public insurance: It covers basic medical problems only. Most people can get this.
The health coverage plans for Indian students in Germany have certain rules. The rules for Ph.D. students are:
They should try for private health coverage plans.
Foreigners over 30 years cannot get statutory insurance.
Students starting their 14th semester in Germany cannot opt for public insurance.
The rules for preparatory course students are:
These students cannot get public health insurance in Germany.
They can opt for private health insurance plans only.
The rules for foreign exchange students are:
These students can opt for both public and private health coverage plans.
Most foreign exchange students opt for private insurance plans as they are easier to handle.
The rules for scholarship doctorate students are:
Those who are unemployed with lengthened courses choose private insurance plans.
They can choose a plan based on how much they can pay every year. It also includes how much cost their scholarship can cover.
8. Visa Fees
Paying Visa Fees is one of the important Germany study visa requirements. This is a required step. The payment costs are as follow:
National visa applicants above 18 years of age must pay €75 as fees.
National visa applicants under 18 years of age must pay €37.50 as fees.
It takes 25 days to process a national visa. For extra documents, the time can extend to 12 weeks in total.
Applicants applying for a German Residence Permit have to pay €110 (approx). This takes 8-12 weeks to complete the process.
Note: The processing period can go up for visa processing. Thus, you should apply for this very early.
9. Tuition fees
Indian students need to show that they can pay for the tuition fees in Germany. The fees for the courses are different for each university.
The average costs are as mentioned below.
| | |
| --- | --- |
| Program | Average Tuition Fees (yearly) |
| Undergraduate Bachelor Degree | €500 -€20,000 |
| Postgraduate Master's Degree | €5,000 – €30,000 |
Note: Students can study without pay in Public German universities. But they still need to pay for their administration and enrolment charges annually. Thus, they need to show they have enough funds to cover this.
10. Scholarships
Germany provides various scholarships for Indian students and other international students. Many of the institutions in Germany allow this. Those with low funds can apply for such scholarships from top universities.
It is another of the Germany study visa requirements. Scholarship students need to show proof of confirmation during their visa application.
Some of the most popular higher-education German scholarships for Indian students are:
higher-education German scholarships for Indian students are:
DAAD WISE Scholarship Program
Konrad-Adenauer-Stiftung Scholarship
Heinrich Boll Scholarships
Kofi Annan MBA Scholarships
ESMT Women's Academic Scholarship
Goethe Goes Global Scholarships
EMS Undergraduate Scholarship
WHU-Otto Beisheim School of Management, International Scholarships
Master Scholarships at University of Stuttgart
DLD Executive MBA Scholarship
Conclusion
Students applying to study in Germany must meet the different requirements to get a visa. You need to complete most of the criteria before the visa application.
Make sure that you have the following checklist of German Study Visa requirements before you apply:
Documentation
Financial Resources Proof
University Letter of Admission
German Entrance Qualification for Higher Education
Proof of Previous Educational Qualification
Language Proficiency
Health Coverage
Visa Fees
Tuition fees
Scholarships
Kindly note:
Don't staple your documents
German Missions reserve the right to ask for additional documents or the verification of certificates, with additional fees charged
Incorrect documentation or refusal to appear for a visa interview may result in the rejection
In case of any confusion, you can contact our team of experts, who will guide you through the entire process and will also help you with admission essays, cover letters, documentation and settlement services in Germany.