Have you ever seen the Tower Bridge of London? Yes, the London Bridge from the famous rhyme. UK is truly a tourist's paradise.
The United Kingdom is an excellent place to be at for a tour, work, business or studies. Whatever may be your reason for visiting the country, the stunning beautiful English country will not disappoint you.
So, if you're planning your UK holiday, here's what you need to know. Read along.
What is a UK Tourist Visa?
The UK tourist visa is also known as Standard Tourist Visa, designed for those who are eager to make a trip to the country for a short period of time i.e. maximum six months for holiday, to meet a family or a friend, or to attend business conference.
Types of UK Tourist Visas
Tourist visa or standard UK Visitor Visa has replaced 9 broad categories and they are as follows:
Family Visitors
General Visitor Visa
Child Visitor Visa
Sports Visitors
Business Visitor Visa, including visas for academics, doctors and dentists
Entertainer Visitor Visa
Prospective Entrepreneur Visa
Private Medical Treatment Visitor Visa
Eligibility Criteria for a UK Tourist Visa from India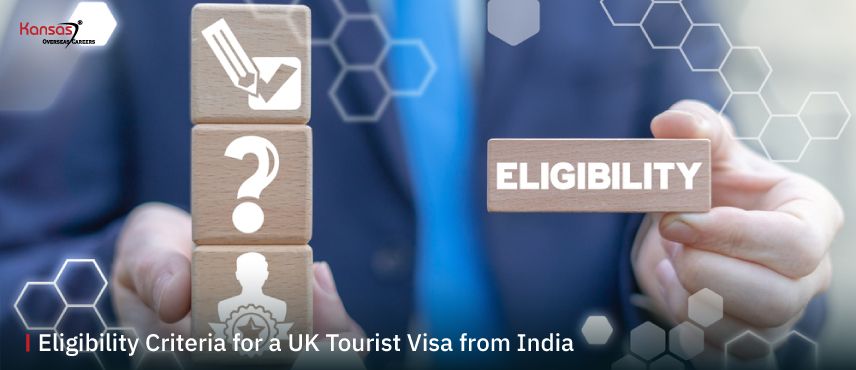 To become eligible for the country's most popular visa is listed below:
The applicant intends to leave the country before his/her visa expires and should be able to sustain independently without accessing public funds throughout their trip.
The applicant is able to prove his/her activities and that they intend to ensure within the country's territory under the comprehensive list of visa Rules.
The applicant must have a clean criminal record.
The applicant must possess good health and character.
Over 40 million tourists visit the UK every year. Join them.
Documents Required for a UK Tourist Visa from India
It's not easy to get the UK tourist visa, there is a long list of required documents.
Check the following list :
Valid passport
Old passport, if any
Latest photograph
Cover letter
Bank statements
Income Tax Form 16
Salary slips
Retirement letter
Leave letter from your university/college or school or employee
If you are a minor then:
One of the parents must submit a notarized NOC by the other parent along with both the parents ID proof and Indian passport copies.
How to Apply for a UK Tourist Visa from India?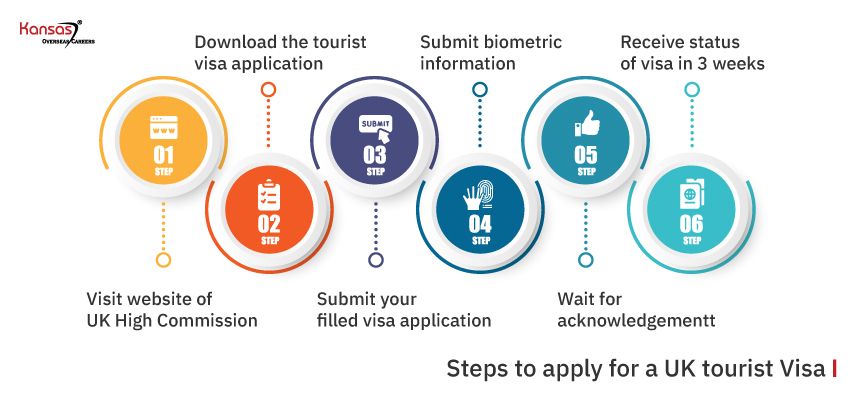 Just follow these steps to apply for a UK tourist Visa:
Step 1: Visit official website of UK High Commission in India
Step 2: Download the tourist visa application to book an appointment
Step 3: Submit your Visa application.
Step 4: Submit your biometrics
Step 5: Wait For your Acknowledgement from the Embassy
Step 6: Receive status of your tourist visa application within 3 weeks from date of submission
How much does a UK Tourist Visa Cost from India?
Different types of UK Visitor Visa have a different fee associated with its application. The below fee structure of each will help you plan out your finances accordingly:
Standard Visitor
| | |
| --- | --- |
| Type of Visa | Fee (INR) |
| Short-term (single/multiple entry, for a maximum of 6 months) | 8,337 |
| Long-term (for a maximum of 2 years) | 30,218 |
| Long-term (for a maximum of 5 years) | 54,877 |
| Long-term (for a maximum of 10 years) | 68,776 |
Business Trip Visa
| | |
| --- | --- |
| Type of Visa | Fee (INR) |
| Business visitor - clinical attachments, PLAB/OSCE test, and dental observation | 8,339 |
| Business visitor - dependant and academic visitor ( for a maximum of 12 months) | 16,051 |
| Permitted paid engagement | 7,981 |
| Diplomatic courier | 7,981 |
| Prospective entrepreneur | 7,981 |
Civil or Marriage Partnership
| | |
| --- | --- |
| Type of Visa | Fee (INR) |
| Civil or marriage partnership | 7,981 |
Special Visitor
| | |
| --- | --- |
| Type of Visa | Fee (INR) |
| Parent of his/her child at a school (for a maximum of 12 months) | 44,476 |
Special Visitor - Child Visitor
| | |
| --- | --- |
| Type of Visa | Fee (INR) |
| Short-term (single/multiple entry, for a maximum of 6 months) | 7,981 |
| Long-term (for a maximum of 2 years) | 30,218 |
| Long-term (for a maximum of 5 years) | 54,877 |
| Long-term (for a maximum of 10 years) | 68,776 |
Note: This is not the final cost. It may be amended any time.
What is the Processing Time for a UK Tourist Visa from India?
It will not take more than 15 days to process the visa, provided all supporting documents are submitted correctly.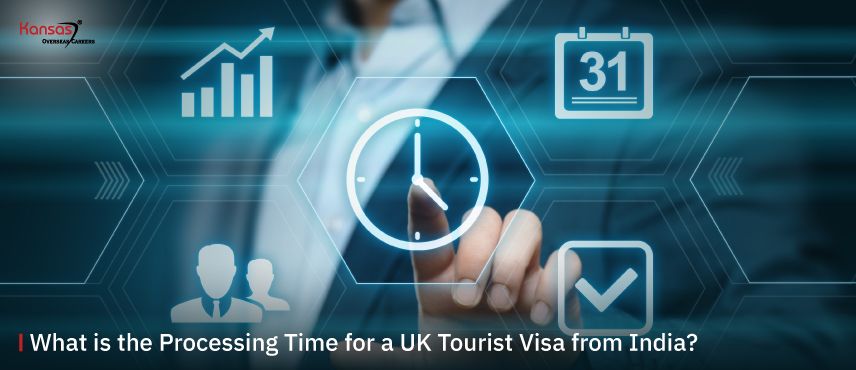 You also have the option of availing fast track services where your visa application will be processed in just 24 hours but for such speedy services you will have to pay extra.
Other Important FAQs
When should I apply for the UK visit visa or tourist visa from India?
Ideally, the applicant should submit his/her UK visit visa or tourist visa application at least three months prior to the actual date he/she wants to travel.
What could be the reason for refusal of tourist visa application in India?
Your visa application could be refused if it falls under one of the following reasons:
If false representation has been made, and/or false information or documents have been submitted.
If you fail to produce required satisfactory ID proofs, or required documents, financial evidences etc
If you have breached travel visa rules and regulations
Hold criminal background or is not in good health
You have been deported earlier or hanging a decision to be deported
Is it safe taking help from visa agents?
The United Kingdom is one country that has often been criticized for its strict visa policies. Thus, visa applicants should not risk their UK dreams and submit their Tourist Visa application under the guidance of an experienced visa agent.
How do I prove my financial well-being to the authorities in charge?
As part of the documentation, you will need to provide copies of your bank statements from the previous 3 months. They will reflect your financial condition.
Who has to sign for a minor when visiting the United Kingdom?
The parent or legal guardian has to sign on behalf of the minor to complete the application process.
Conclusion
The UK has extended its domestic season through autumn to attract tourists. Visit the iconic landmarks, intricate artworks and beautiful landscapes of the UK. You are bound to be left with a strong impression of visiting the UK back.
The mandatory documents needed for UK Tourist Visa are:
Passport
Photos(Passport Size)
Bank Statements
Travel History Statement
Police Clearance Certificate
Medical Certificate
A standard visitor visa would cost you INR 8,337.
Why Choose Kansas Overseas for a UK Tourist Visa?
Our Customized services:
Profile Evaluation:

Based on your purpose of travel, profile history, and current travel policies, our experts offer you guidance on the visas you can apply for.

Visa Filing: Kansas ensures that your visa application meets all the standard requirements as per the immigration authorities of the country that you are applying for.
Documents & Review: Our team of experts will assist you with all the documents you need to apply for a visit visa.
Visa & Interview: We help you prepare with the best answers and assist you with the documents to be presented at the time of your interview.
Dedicated Case Officer: We assign a case-officer who will guide through every step of the process. This way, you will always have a point-of-contact, when in doubt.
Post Landing Service: After you've received your visa, we help you settle down in the country with a comfortable stay and also offer other customized services.
You can expect a one-stop solution with Kansas. Don't wait. Begin your visa application today!