Australia's Information communication technologies (ICT) sector has grown a lot. Technology and information generate some $23 billion every year per year.
With the continued growth of this industry, the government continues funding its development. In order to guarantee only the best get into their programs, they created a skills assessment test.
The ACS skill assessment can be challenging to navigate without the right tools and knowledge. That is why we are here to help.
What is the Australian ACS for technology services?
ACS Australia is a computer and technology review and assessment company. ACS stands for Australian Computer Society. When new immigrants come to Australia to work in the technology sector, such as IT, they must pass the ACS assessment.
Passing the skills assessment of the ACS is necessary to immigrate as a skilled worker. A skilled worker includes individuals with a combination of schooling and professional work.
This assessment evaluates the individual's skills and qualifications. The review board assesses whether these qualifications will positively impact Australia's economy.
The goal is to bring qualified individuals who will meet the employment needs of the country. This test helps the immigration committee sort out qualified individuals versus unqualified.
This assessment has several components. They include a qualifications assessment and a skills assessment. These determine if the applicant's education and experience match the needs of the position.
ACS Educational Requirements
The Australian Assessment Guide states that an applicant must have a minor or major in ICT. This means you need to have a certain percentage of your program focused on ICT to qualify.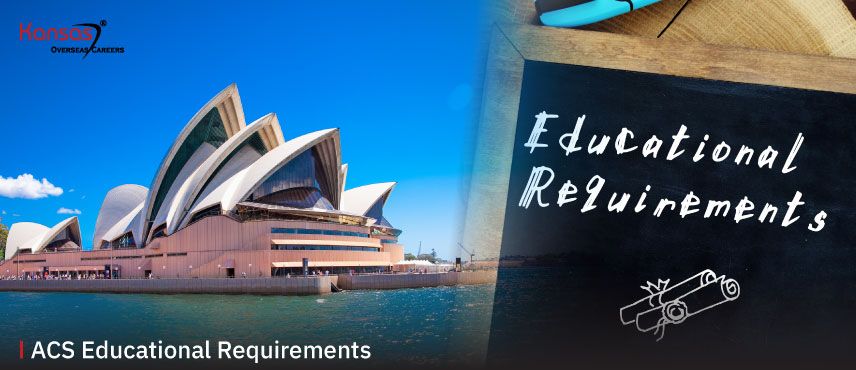 The committee reviews your program and the amount of time spent on ICT. This percentage must be sufficient for the hours of your course to qualify. For upper-level education, the percentage is less than for a lower degree.
For Associates Degrees and Certificates/Diplomas
Applicants may apply if they only have an Associate degree or below. Their degree must have 50% of their study in the study of ICT.
These degrees and diplomas do count as points towards your experience. But, you may need to perform more real-world work to qualify.
For Bachelors Degrees
The course work must have had at least 33% of the course load focused upon ICT for a Bachelor's degree. If you complete your degree within 3 years, they qualify as a major.
However, if the degree is completed over a longer period of time, then the skills will still be evaluated but may not qualify.
For Graduates Degrees
For graduate degree programs, the qualifying programs must consist of 50% (1.5 years) of course study based on ICT. The important factor in this degree is the undergraduate and the graduate degree.
If the undergraduate Bachelor's degree has at least 50% based in ICT, then the graduate degree may require less focus upon this field specifically. There are a lot of intricacies that are included in a graduate degree applicant.
In addition to showing the percentage basis of your program, you must also provide details regarding your thesis and/or graduate project. Provide a summary of the project with qualifying statements and support from the supervisor of your program.
How Do You Apply for the ACS Program
For the ACS program, you need to provide the appropriate supporting documents. These include all educational documents and records supporting relevant experience.
But, before you do this, make sure you evaluate all the visa requirements for your program.
Hiring and working with a qualified immigration specialist can help you determine if you meet the needs of immigration. The Australian Home Affairs department website lays out the various types of visas and visa requirements based on your migration purpose.
You will find the "skills assessment" tab of particular use for a technology expert.
Additionally, enlist the aid of a migration agent (MARA) who will assist you in assessing and submitting the appropriate paperwork. These steps will be explained in detail in the subsequent sections.
Uploading the Appropriate Documents
Upload and submit all qualifying documents to the online portal. The database will scan and evaluate your documents and qualifications.
You must upload these documents as a PDF. All coloured documents need to be clear and high resolution. Make sure all signed and e-signed documents are not encrypted.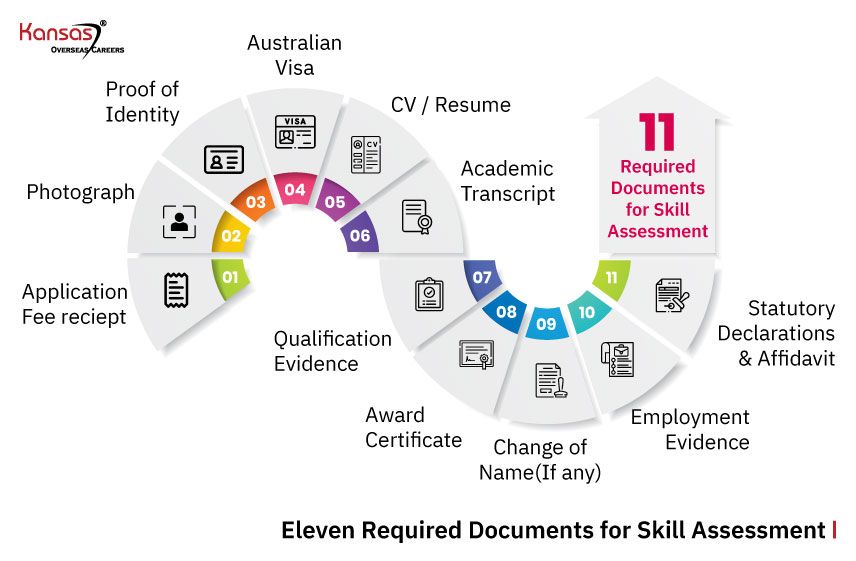 What Documents Do You Need?
Primarily, the documents you will need to apply for a visa successfully are intended not only to verify your identity (however, this is important) but to verify your skills. This means you will need to upload quite a few educational and award documents.
Refer to the application checklist to ensure you have everything you need. This is not an exhaustive list, but these are the primary documents you will need to start gathering as you start your application:
Official Passport: Check to make sure the name and information is all accurate and up to date
Educational and degree certifications: For your educational materials, make sure you include the diploma/certificate, the name of the university/college, proof of completion, and date of completion.
Transcripts: Your complete college transcript, with grades, and in order of earliest to latest. Graduate degrees may require more specific records.
Employment history: Proof of prior paid work experience, volunteer experience, and references.
Combine your documents into one PDF document. These should all be in PDF form. Any photos/images should be in 3000pi clarity and unencrypted.
Follow the lead of the system. It will take you through each part of the application and ensure everything you enter is spelt correctly and is accurate.
Costs and Processing Times
It takes around 8 -10 weeks for the skills assessment to be completed. However, if ACS needs additional documents, it may take longer than the standard processing time.
| | |
| --- | --- |
| Temporary Graduate | $475 |
| Post Australian Study Skills Assessment | $500 |
| Skills (general application) | $500 |
| RPL | $550 |
How Does ACS Calculate Your Work Experience Years?
ACS uses a point system when evaluating a person's work experience when coupled with their schooling. For people applying for skilled work in Australia, you will need a total of 65 points.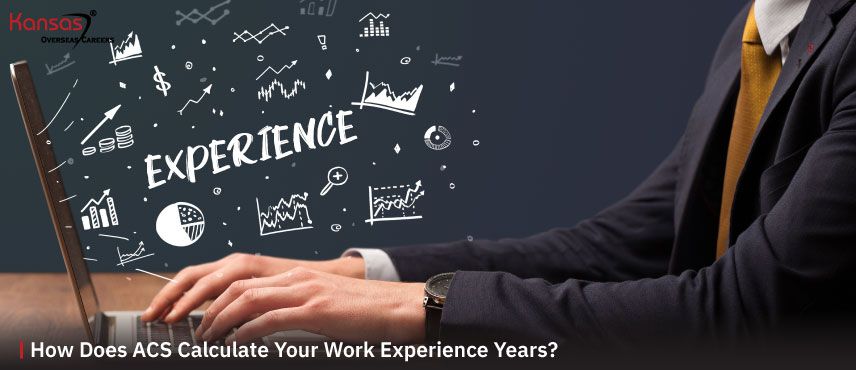 These points are deducted and applied to your overall score based on your experiences. The best way to prepare for this assessment is to review the ANZSCO for occupational codes (Australian and New Zealand standard classification of occupations).
According to the migration website, these points determine how many years of qualified work experience you may still require. Review the Summary of Criteria to help make this determination.
Ultimately, the board and committee make the decision after reviewing your application. Review the Summary of Criteria to help make this determination and prepare.
Ultimately, the decision will be made by the review board and committee after reviewing your application. This will help you be prepared, though.
Employment Reference Letter
For previous experience qualifications, it is important to get an employment reference letter. This reference letter should be an official letter from your previous employment and supervisor.
This letter must include:
Date of employment: Include when you started and when you left (if you currently work here, state "to date" as the answer).
Tasks and duties performed: What did you do here? What was your day-to-day working job?
Statement of integrity/performance review: The employer needs to give a personal recommendation of your personality, integrity, and skills.
Letterhead with an official signature: This is very important. It helps to review committee know that what you're saying is true and verifiable.
According to the migration website, if you cannot get an official document, you may use an affidavit from another employee. This affidavit needs to be an official legal document and include a statement of employment and a leaving certificate (if no longer employed).
When Will You Learn Your Score?
As long as all your documents have been submitted correctly and do not need revisions, the review usually takes 8-10 weeks. Unfortunately, there is no way of knowing your score until after the review is complete.
The best thing you can do is prepare the best you can and follow the rules closely. By paying close attention to the codes given in the ANZSCO, you can choose the best option based on your skills and experience.
Be careful which code you select and ensure it is the best based on your needs and skills. You will be unable to change the designation once your application is processed.
You can track your application status on the dashboard for your account. Login using the credentials (email and password) you made when you filled out the application.
Should You Worry About the ACS Skill Assessment?
Every big move is scary and overwhelming, but with the right tools, the experience can be smooth and efficient. That is why getting the best assistance is so vital to your success.
The point system can be confusing, but finding a skilled agent can help you navigate this with the expertise you need for success.
Kansaz has a set of skilled professionals available to help you find success. Contact us today to successfully traverse this complex system.