Thousands of candidates travel to numerous parts of the world each year to complete their higher studies. International students need to go through a lengthy procedure, including preparing for various standardized tests like SAT, GRE, GMAT, IELTS and writing Statement of purpose (SOP), getting Letters of recommendation (LOR), completing Admission essays, creating Student CV, applying for Student Visa.
Studying abroad requires meticulous planning to say the least. Research shows that it is challenging to study in a university abroad without a relevant visa. If you are an Indian student applying abroad, here is a quick guide for the best SOP format for your student visa application. It is not difficult to get a student visa from India, we can help you follow all essential steps for student visa requirements for different countries from India easily.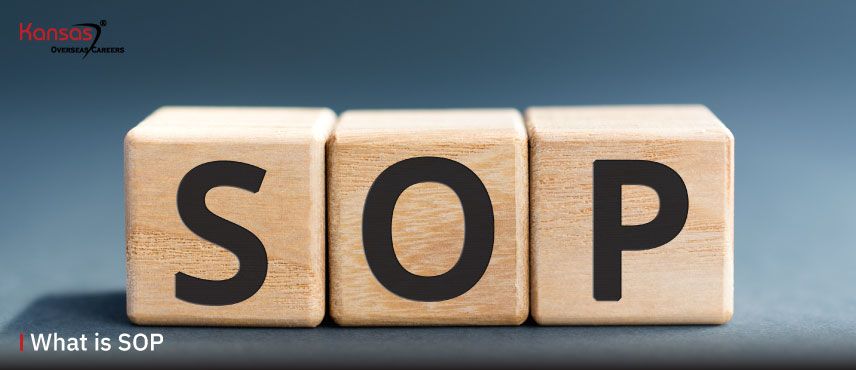 What is SOP
Statement of purpose or SOP is a document stating valid and substantial reasons for your student visa application to a foreign country. Countries like Canada, the USA, Australia, New Zealand UK demand you to ascribe a statement of purpose (SOP) in your visa file.
SOP for student visa application is an essay in which you have to explain your reason for the country, academic profile, post-study plans, and why you chose that particular University and course.
Canada mainly tops the list because they are attentive in knowing the intentions behind your visa application. Canadian visa officers do not call each applicant for a visa interview. Canada student visa applicants are majorly rejected or selected based on their Letter of Explanation or SOP student visa.
How should your SOP be divided?
Statement of purpose for student visa application is not the same as the University application. They address different aspects and fulfil other objectives. This Statement of purpose document will be attached along with your Visa Application. Hence, it is an essential document that helps your Visa to get approved. An SOP for a Student visa should comprise of five significant elements:
Introduction/Personal Information

Academic Qualification

Why this specific course?

Why this specific institution?

Short and/or long-term career goals
And answer questions like:
Would you elect to end up with a job or take up research?

What are your hopes for both the graduate program and the University?

Would you like to study or do research under any particular professor? If yes, why only them?

How can you contribute to the University and our program?

What specific skills do you bring to the table?
Every University wants a student to answer some basic questions that the admissions board has. They might not ask you openly, but these are commonly what they expect you to answer. Besides these elements, students can also include any vital details they want to highlight to the committee.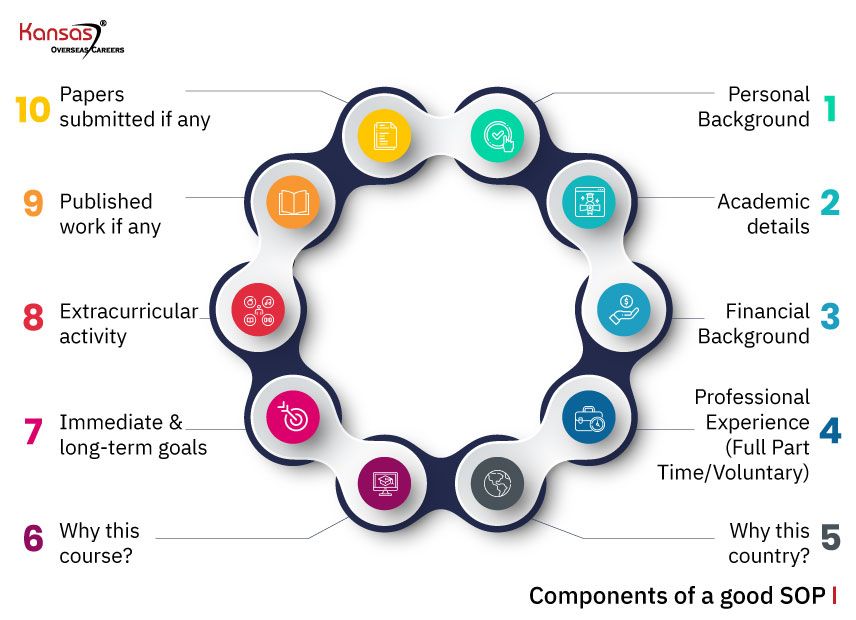 Know the SOP structure
It is very easy to understand the format of how to structure your Statement of Purpose. Look at it as past – present – future. Applicant begins by describing their previous experiences, then how well they fit within that program, and lastly, how you see yourself benefitting from this program in the future.
It's best to keep a standard format, and we highly suggest you use that one for all other documents as well. We recommend using Times New Roman font, 1.5 line spacing, size 12, and justified margins in all your documents.
When writing an SOP, the first thing you do is set the format and make it a habit. When you use the same font and layout for all your documents, you will seem organized, and your text looks clean and well planned.
Sample SOPs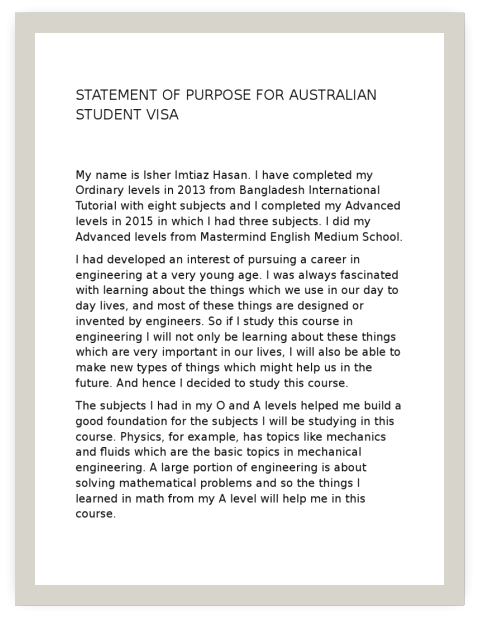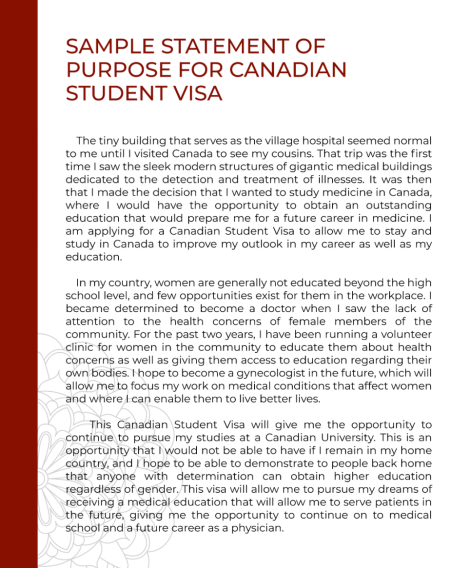 Tips for an effective Sop
Write Stories. Not Statements. Write a short but impressive narrative about what made you choose this course at this University. Excite the committee with your original storyline, and you will reap significant benefits.

Even when you intend to write a story, you must remember that your account should not read like a thesis. It should instead serve as the best source of information about you. And when it comes to communication, numbers play a crucial role.

Highlight things that make you different from the crowd. Discuss unique talents or skills that make give you an edge.

Indicate the area of your interests. Ideally, pose a question, define a problem, indicate a theme you would like to address, and questions from contemporary research. This should be a great paragraph!

At all times, make a rough draft and rescript it. Add the points you missed and edit a few points out if necessary. Do not write and send your SOP without drafting a rough draft.
Want a student visa: Apply early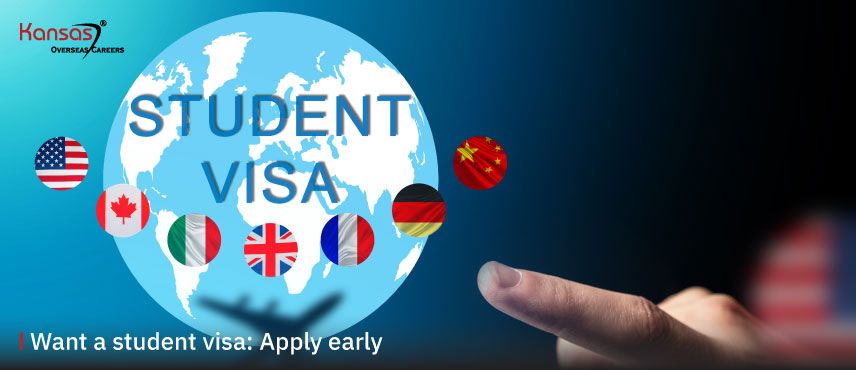 Students can generally begin their visa application once they receive confirmation of their enrolment in the chosen school or University. It is best to start applications as early as possible, irrespective of when your programme is due to start, as visa processing take a lot of time
Different countries have differing visa organizations and acceptance procedures. However, they are usually very similar. International students need to prove that they can understand English, including reading, writing and speaking. You need to have the funds to prove that you have sufficient funds to support your course fees and living costs and intend to return home once your study is complete.
Application Assistance
Your formal application to the University speaks volumes about your academic profile and disposition. Our educational counsellors provide you with tips on drafting an effective Statement of Purpose (SOP), Letter of Recommendation, resume, and other essential documents. We ensure that you represent yourself in the best possible way.
Our team at Kansas gives individual attention to your application, stressing the areas needed for a well-presented, error-free application. You will be expected to sit with your team of experienced application professionals at Kansas to guarantee that all details are accurate and to confirm that you are satisfied with the final application that has to be submitted. Make sure you set aside plenty of time to focus on this stage as it is critical.
It is common knowledge that it is challenging to study in any university abroad without a relevant visa. Our Visa Counselling teams are well equipped to support you in submitting the correct documents to ensure no unexpected delay or rejection. Our counsellors at Kansas will also carefully review the records and check if everything is in order before submitting them.
Conclusion
A good SOP for Student Visa is an excellent first impression of you on the Visa Approval Council. Since it is an integral part of your Visa Application, make sure you draft your SOP instead of copy-pasting formats directly from the internet. Sure, look for ideas and structure but evade using the sample SOP for Student Visa. Therefore, re-write, re-draft and stand out from the crowd!