Students are encouraged to consult overseas education consultants when it comes to navigating international waters for their studies. Every country has a different set of immigration laws and they must be followed carefully to avoid complications.
Who are Overseas Education Consultants?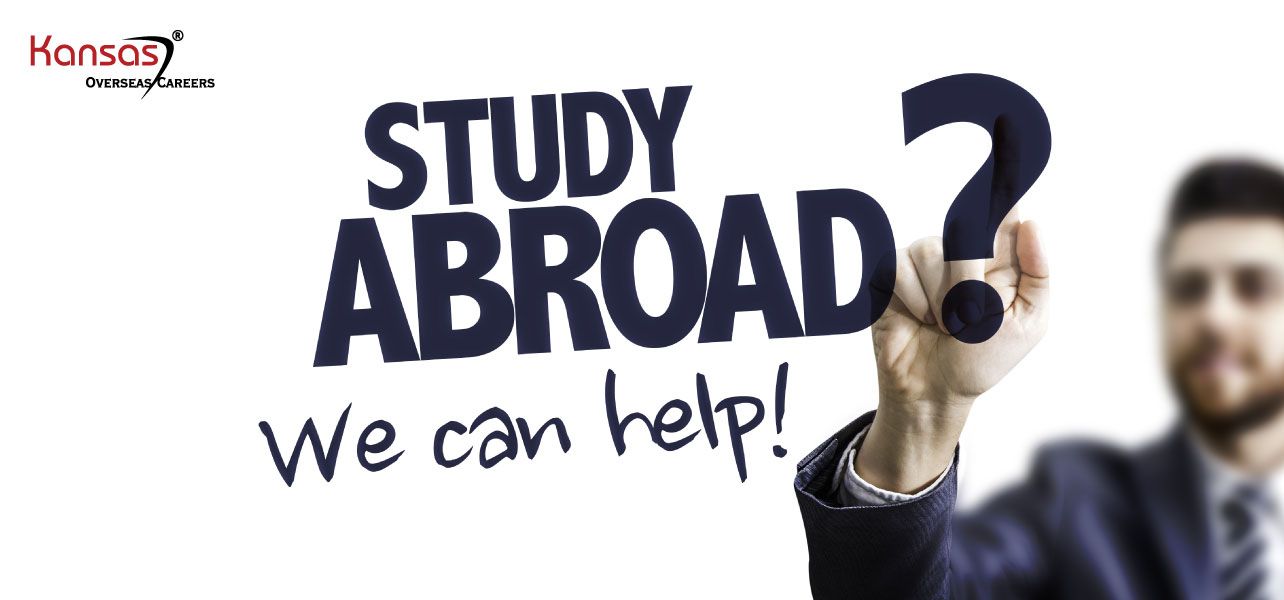 Overseas Education Consultants are a team of experts that assist aspiring students in the process of application and documentation. That is not all they do, they also help students determine the career they want, the course that is appropriate for that, and the university that they should be choosing.
It is a certain kind of career counselling.
What do Overseas Education Consultants do?
There are several areas that an overseas education consultancy can take care of for you, and they are as follows:
They evaluate your profile: International students have a lot of competition to consider when applying to their universities and for their visas. Their profiles are therefore inspected, and the most suitable programs and countries are suggested for these students.
They help you select your university: Indian students have several choices when it comes to their selection of universities. In some cases, there are scholarships specifically designed and reserved for Indian students, to encourage them to apply to their universities.
Overseas education consultants hone in on the best possible universities with high QS rankings, all the while keeping your budget in mind. There is a lot of uncertainty involved when a student has a few universities to choose from. It is a big decision that could affect a person's life in the long-term. Therefore, experts help these young students decide on the right university.
They process your admission: There are several steps involved in applying to a university. There are documents to file, admission forms to fill and interviews to appear for. Education consultants fill in your application, take care of your personal essays so that you have a stellar application at the end of the process. In some cases, due to a satisfactory application, applicants are not asked to appear for interviews and are granted the visa directly.
They file your documents: Education consultants can find out the exact documents that are needed, and in the correct format. They help students assemble their documents as well and avoid errors.
They help you avail education loans: They will let you know of the various criteria that are required to be fulfilled to avail education loans.
They help you prepare your statement of purpose: A statement of purpose, if written well, can have a positive impact on your application to your foreign university. An education consultant will help you write one that is powerful and will help you stand out among other applicants.
They help you process your visa: They help you in the steps involved after your visa application is submitted. They let you know about the visa processing times, and provide expert guidance regarding your upcoming visa interview.
They guide you after your application has been accepted: They will still help you with accommodation, finances and jobs after your visa has been approved.
How do I select my overseas education consultant?
The first step to selecting the right education consultant is to explore all the options you have available. There will be ones that offer exactly what you need, and ones that offer more than that.
The things you need to look for in an education consultant are the following:
They should provide all of the services you are looking for, based on the level of guidance that you need. For example, if you have studied abroad before and are quite familiar with the process, you will not need a lot of guidance. Therefore, you can select an education consultant that will only take care of all the filing and scheduling for you.

They should have a quick response time. You should not be facing a situation where you have applied and are kept waiting forever for a response from your education consultants. This is a bad sign, as they will have to file a lot of documents and follow procedure in the future and keeping you waiting at that stage can be quite stressful for you.

They should be approachable. Accessing the office must be easy, you should not have to run around to get in touch with your education consultant.

They should fit your budget. Studying abroad is already a major financial commitment, so make sure to select an education consultant that fits into your budget.

Look at their client history: There should be plenty of testimonials online that tell you how good or bad the services are. Speaking to such students will make your decision-making process easier. You should ask several past clients about their experiences, not just one or two.
How can Kansas help?
Kansas Overseas Careers offer a range of services that can greatly improve your chances of visa approval.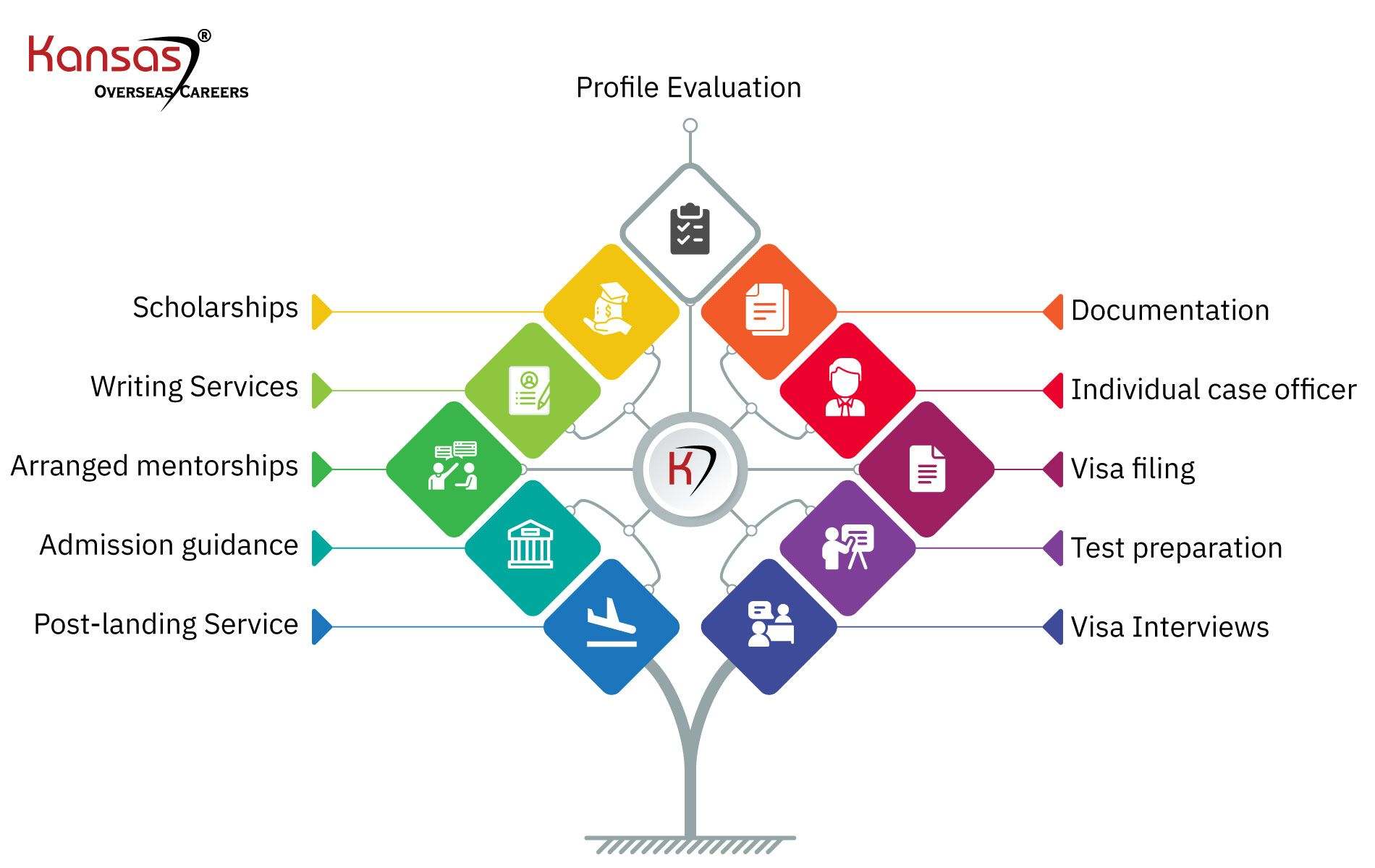 They are:
Profile evaluation: Kansas will screen your profile and let you know of your chances for visa approval. If your profile falls short of the required criteria, Kansas will add components to it to improve your application.
Documentation: The documents are inspected for errors, either in substance or format, and they are corrected to help make the procedure as smooth as possible.
Individual case officer: There is a case officer assigned to every individual that focuses on the client, speeds up the process and makes things less confusing for the client.
Visa filing: They submit your application and the respective documents.
Complimentary test preparation: They help you prepare for language proficiency tests like IELTS, TOEFL and PTE.
Visa Interview: They help you prep for your visa interview, which is crucial for the granting of your visa. The length and purpose of your stay and the ties to your home country will be questioned here.
Post-landing Service: You will be assisted after you land in the country of your choice.
Admission Guidance: Kansas helps students with the selection of their universities.
Arranged Mentorship: Kansas puts new applicants in touch with students who are already studying abroad, to help them understand the situation better.
Writing Services: SOPs, personal essays and letters of recommendation are written for applicants.
Scholarships: Information about scholarships and student loans are gathered for the applicants.
To know more, call us or reach us on our website.
Where can you find Kansas?
Kansas has 8 locations. We are headquartered at Hyderabad, with offices in:
Jubilee Hills

Begumpet

Somajiguda
We also have branches in:
Bangalore

Chennai

Thane

Vizag
Conclusion
Education consultants can be a valuable asset when you are applying for a student visa. Kansas is a good choice for your journey abroad for the following reasons:
Our rules and policies cater to our clients

Our approach is result oriented

Served 20K+ customers and over 3K+ active cases.

We cater to clients who need visas to over 15 countries

We are nationally recognised and have a few awards under our belt

In case of rejection, we are prepared to offer you a full refund
Kansas may help you achieve your goals today. To know more, book a free consultation with us now!
FAQS
Which countries can I obtain a visa to via Kansas?
You can apply for a student visa for any country, provided India is on the list of approved countries for your preferred destination. They are as follows:
UK

Canada

Australia

New Zealand

Germany

Poland

Ireland

Singapore

Netherlands

Italy

Malaysia

Dubai
You can also obtain a visit visa to the following countries:
USA

UK

Australia

Canada

Schengen

Dubai

Malaysia

Singapore

Netherlands

Ireland

New Zealand
How can we contact Kansas?
You can drop into our offices, call us on 1800-102-0109 or visit www.kansaz.in now.