Many people want to travel, study or immigrate to Canada but don't know the best way of doing so. There are different types of visas available for you to choose from depending on your purpose to travel to Canada.
If you do not know what type of visa would work best for you, then it could take longer than expected before entering into the country.
This webpage will help you understand which visa suits your needs best because we have broken down all the information about each visa type so that anyone can easily understand them without any confusion or hassle whatsoever! Read on.
What is a Canadian Visa?
A Canadian visa is a stamp on your passport that allows you to travel to the country. It means that the Canadian Embassy or Consulate in your country has decided that you are eligible and fulfill all the requirements to enter the country.
5 Different Canada Visa Types in 2023
The type of visa you would require depends on your status and purpose of visit. You must pick the type of visa that best suits your motive of visiting the country.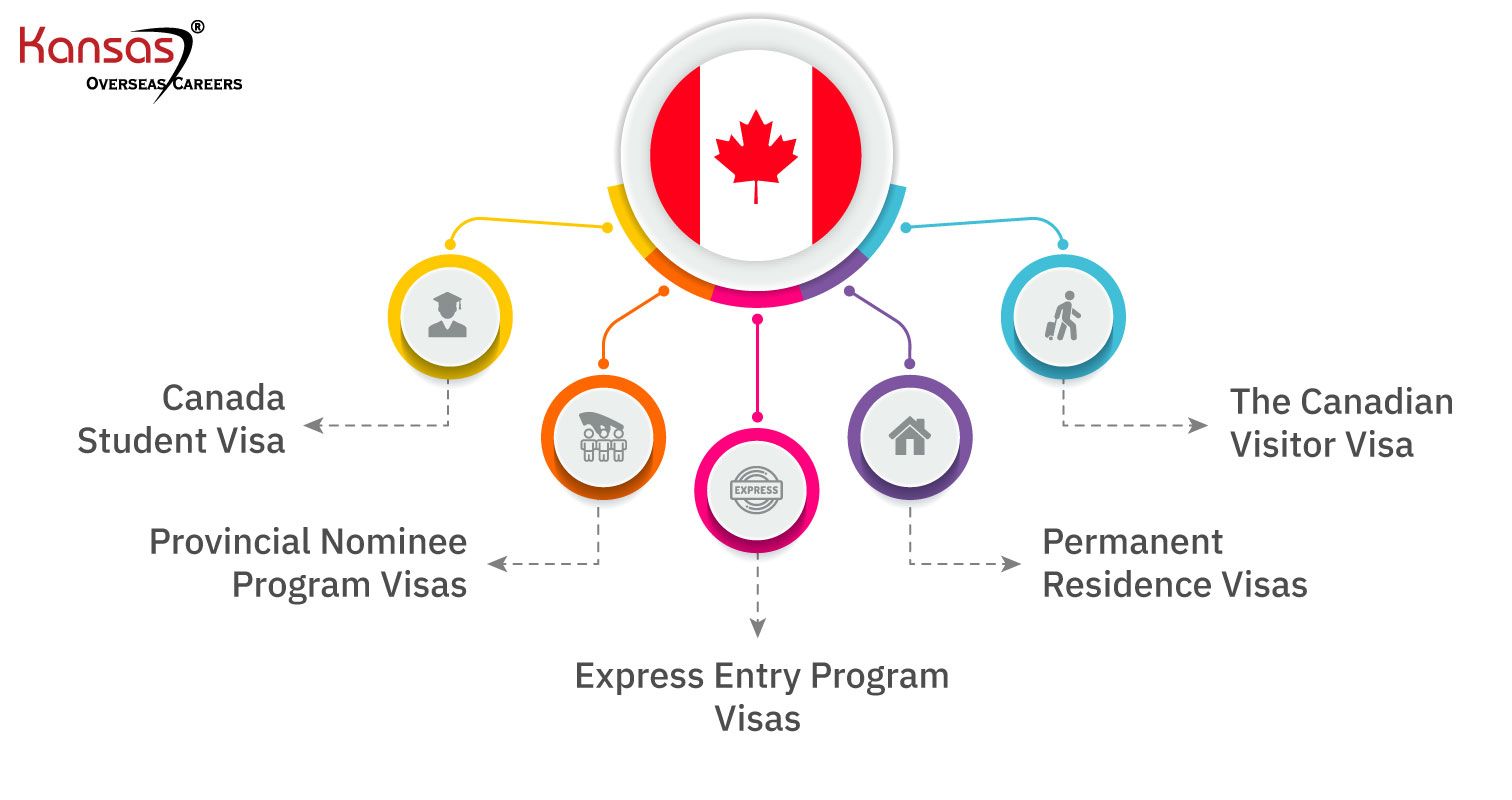 Here are the main types of visas available to people looking to visit or immigrate to Canada.
1. The Canadian Visitor Visa
The Canada Visitor Visa is also known as the temporary resident visa. You can apply for this visa online or through paper applications at the Canadian Embassy or Consulate. One would require a visitor visa even if you are transiting through a Canadian airport to a final destination.
Visitors with this visa can stay for up to six months in Canada. Temporary visas can be single entry visas or multiple entry visas.
Single entry allows you to enter the country once and will not permit you to get back after exiting the country.
The multiple entry visa will allow you to come in and move out of the country as many times as you like during the validity period.
Here is a list of some of the most common types of Canadian Temporary Visas.
Canadian Visitor Visa Types
| | |
| --- | --- |
| Type of Temporary Visas | Features |
| Canadian Tourist Visa | This visitor visa allows the holder to enter the country only for tourism purposes. |
| | This visa is meant for parents or grandparents of Canadian permanent resident status or Canadian citizens to visit their children or grandchildren. |
| Diplomatic & Official Visa | This visa permits diplomats and officials of foreign countries to visit Canada for official duties. |
| Courtesy Visa | This visa is given to all the people who do not qualify for the Diplomatic & Official Visa. But their visit is considered important due to their rank & position. It includes members of trade missions or diplomats with the intent of tourism. |
| | This visa is for individuals or groups wanting to travel to Canada for business purposes. |
| Give Birth in Canada Visa | This visa is allowed for women who are pregnant & want to give birth in Canada. They are however required to fulfill certain criteria. The baby automatically becomes a Canadian citizen when born here. |
| Organ Donors Visa | People travelling to Canada to donate an organ to a Canadian permanent resident or Citizen can avail of this visa. |
| Canada Felicitation Visa | These visas are given to Canadian citizens with dual nationalities. It is for citizens who are not having a Canadian passport. |
| Temporary Work Visa | This visa is for people who are having a job offer in Canada that is less than six months. The applicant, however, will have to present a valid job offer letter from the Canadian employer. |
| Temporary Residence Permit | It is given to people visiting Canada for different purposes and does not qualify for the Temporary Resident Visa (TRV). |
| Working Holiday Visa | It is given to young people from 30 countries to travel to Canada for work. The applicants will, however, have to submit the visa application and wait to be randomly selected for this visa. |
| Canada Transit Visa | Immigration rules of the Canadian government specify that all foreign citizens from visa-required countries should obtain a transit visa if their international flight stops at a Canadian airport on its way to another country. And you'll transit through Canada in 48 hours or less if you don't have a valid visitor visa. |
2. Permanent Residence Visas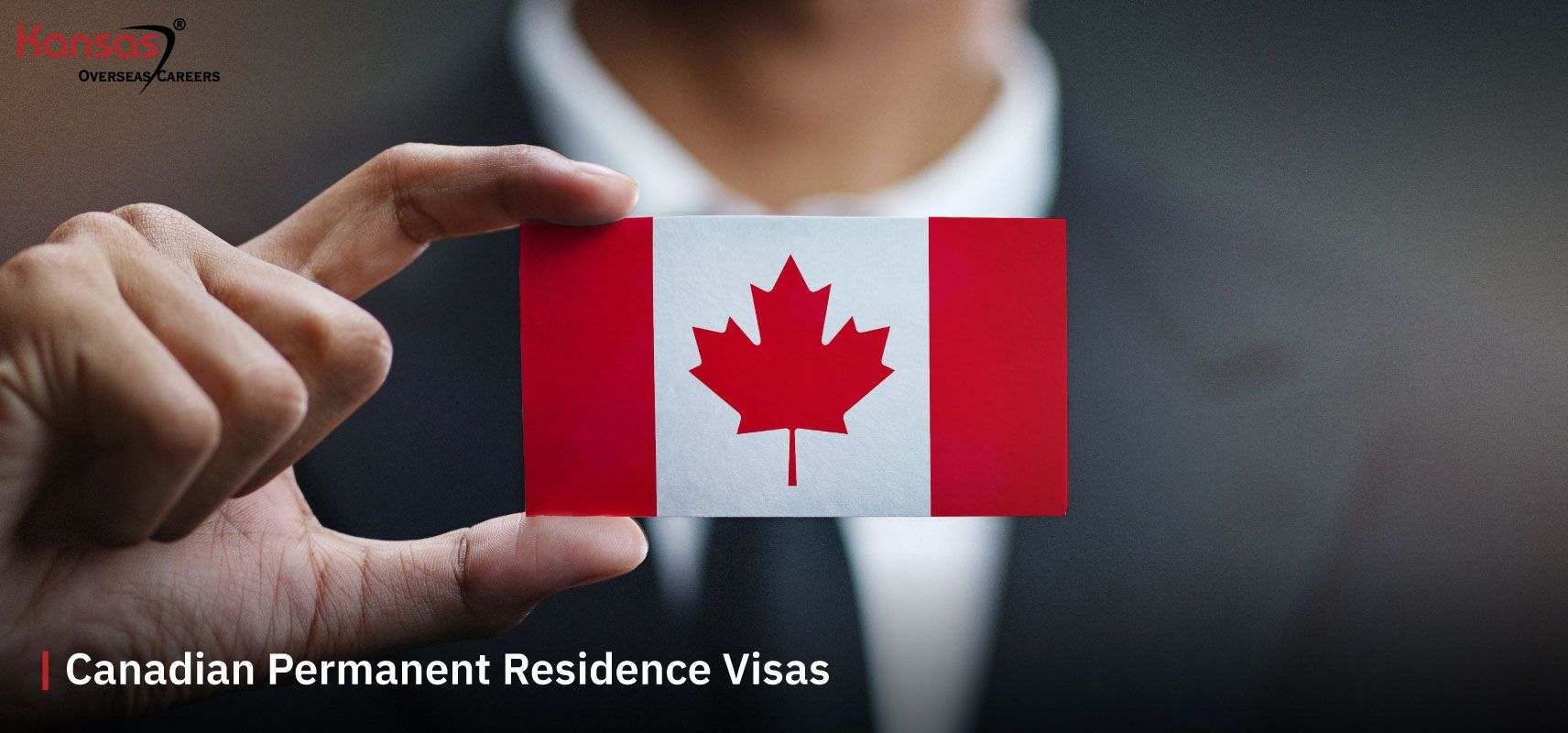 The Canadian Permanent Residence Visas permit the holder to live, work and settle in the country. It is also known as an Immigrant Visa and can be of different types.
| | |
| --- | --- |
| Types of Permanent Residence Visas | Features |
| Immigrant Investor Program | This program is for people willing to make investments in the Canadian economy. However, they must have a net worth of at least CAD $800,000. They should invest at least CAD $400,000 and which the Canadian government would return without interest in 5 years' time. |
| Startup Visa Program | The Startup Visa is for people who would like to individually involve and contribute to the Canadian economy. A net worth of at least CAD $300,000 is expected. The individual must also commit to owning and managing one-third of the Canadian business as well. It is to create and maintain employment within three years of being in the country. |
| Self-Employed Persons Visa | This visa is for people who are having skills in farming, culture, athletics, or business. They can start their own venture in Canada. However, they must demonstrate their skills in particular areas and spell out how they will finance the business. |
| Family Sponsorship Program | This is a key program aimed at family reunification. It allows spouses and dependents of Canadian permanent residents or citizens to permanently immigrate to Canada. Sponsors, however, promise to support the family members for a period of three to ten years. |
| Live-In Caregiver Program (LCP) | It is given to members who are qualified to take care of children, disabled people, or the elderly. They will, however, have to live in private homes in Canada. |
3. Express Entry Program Visas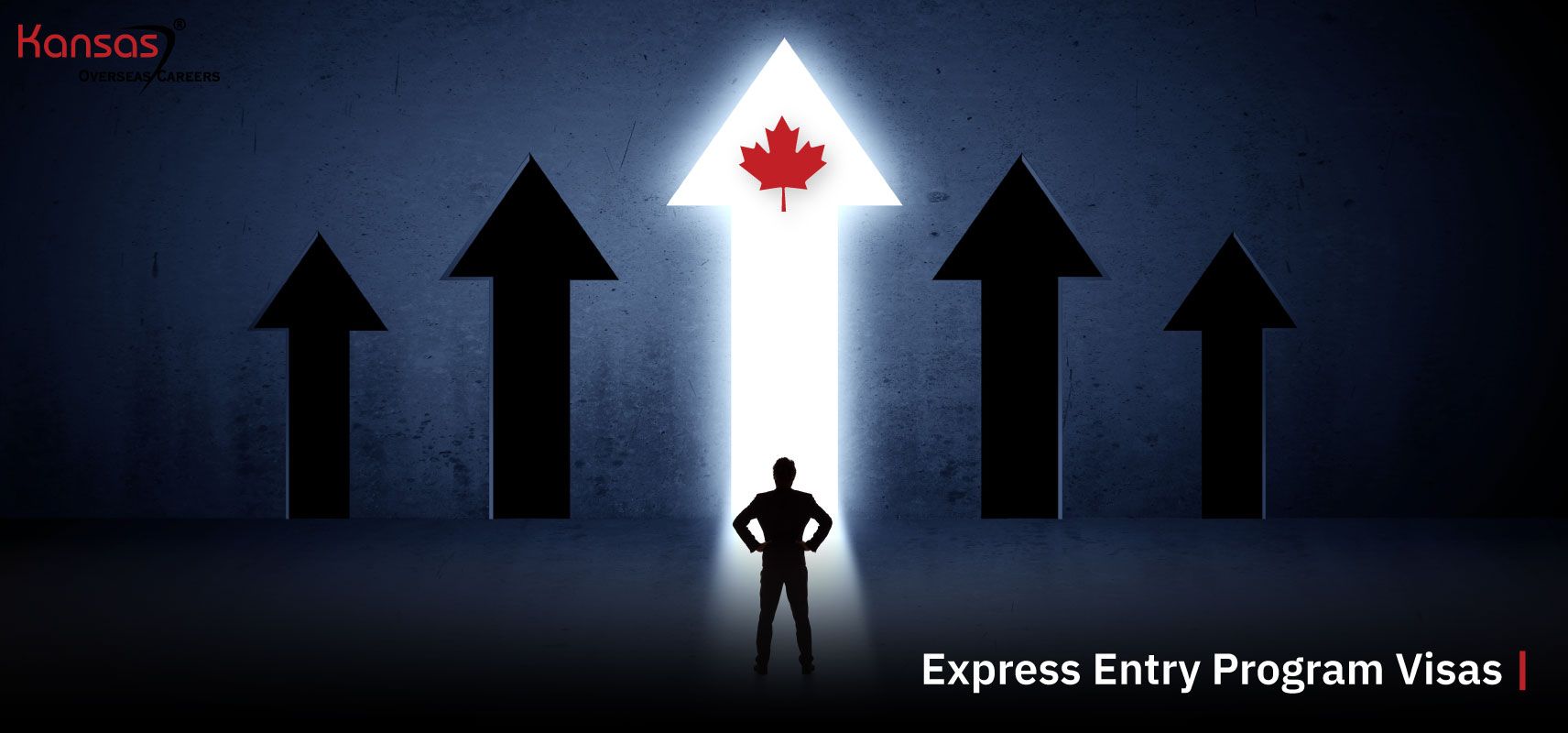 There are three types of Express Entry categories catering to different aspects of the Canadian economy.
Types of Express Entry PR Visas

Features

Canadian Skilled Worker Visa

Skilled worker applicants in this category must score at least 67 CRS (Comprehensive Ranking System) points to qualify. They must also prove that they have enough funds to support themselves and their family members.

Successful skilled worker candidates under this category will be eligible to apply for Canadian permanent residency. It will allow the skilled worker visa holder and family members to permanently live and work anywhere in Canada.

International skilled tradesmen are eligible to apply for permanent residency under this category. All applicants are ranked in order of their CRS points score. Only the highest-scoring applicants are invited to apply for permanent residency through draws as required.

Canadian Experience Class Visa

Permanent residency applicants under the Canadian Experience Class (CEC) are eligible to apply if they are currently in Canada on a temporary foreign worker visa or study permit. They should, however, meet the following criteria to qualify.

At least 12 months of work experience in Canada within the last three years.
Meet the minimum English or French language requirements.
Agree to live outside Quebec.
4. Provincial Nominee Program Visas
All provinces and territories of Canada have an agreement with the government of Canada to nominate immigrants wishing to settle in the province. Such candidates will have to apply to the province and obtain a nomination from there. Moreover, each province has its own eligibility criteria.
5. Canada Student Visa
The Canada Study Permit is a document that allows foreign nationals to study in the Designated Learning Institutions (DLI). International students from India would require a study permit to study in Canada.
The study permit however is not a visa to let you enter Canada. You should apply for a Canada Student Visa. This visa is required if your course of study is more than six months. International students will need a TRV visa if their course of study is less than 6 months.
Eligibility Criteria for a Canadian Visa
Candidates should meet these basic requirements to be eligible to apply for a Canadian visa.
Have a valid passport (travel document)
Be in good health
Have no immigration-related or criminal convictions
Convince the immigration officer that you have ties with your home country
Convince the officer that you will leave Canada at the end of the visit
Have sufficient funds to finance your stay in the country
A medical examination report may be required
Letter of invitation from someone living in Canada
People involved in the following activities are not allowed to enter Canada.
Criminal activity
Human rights violations
Organized crime
Security, health and financial reasons are other aspects for denying entry into Canada.
Documents Required for Canadian Visa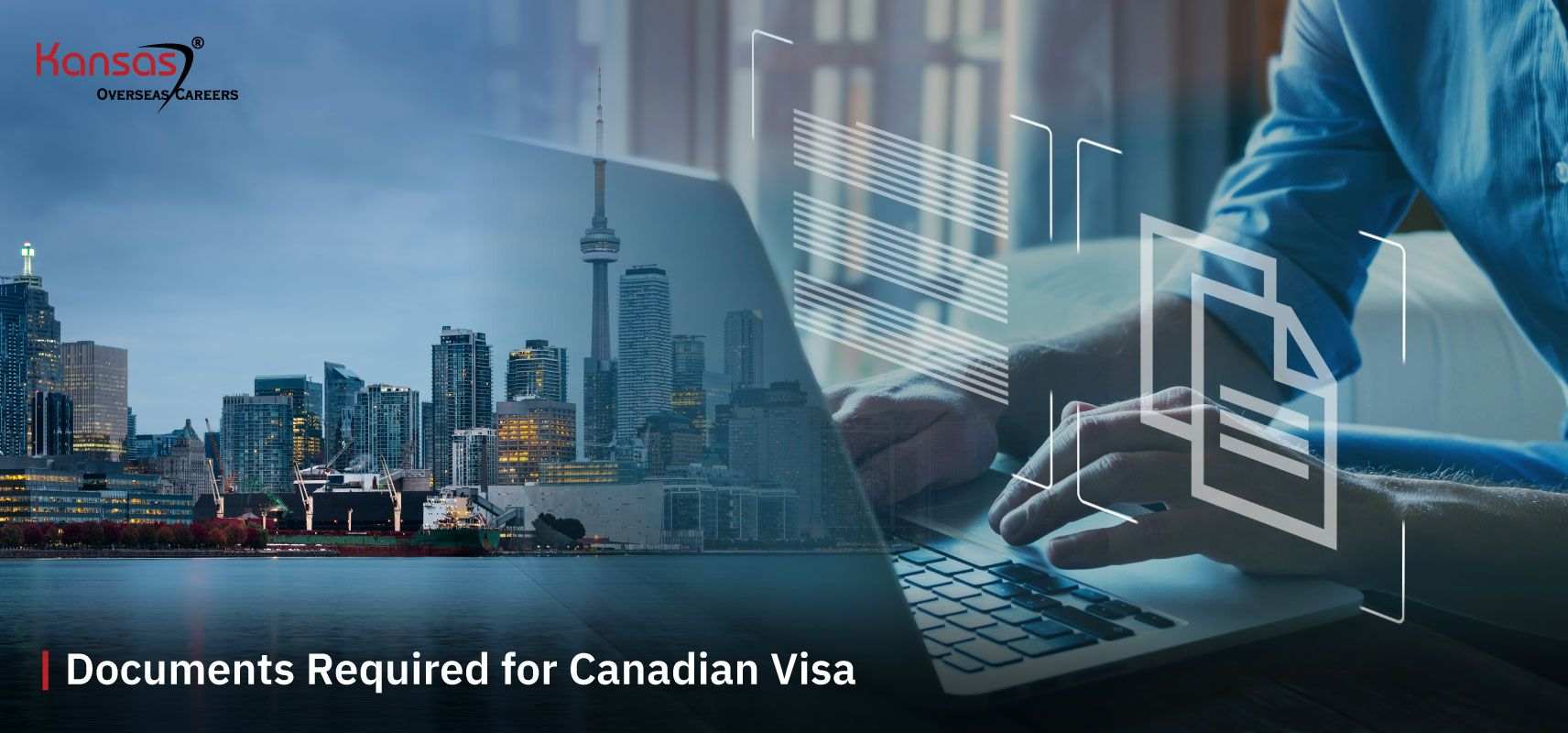 Here is a list of documents required for a Canadian visa application.
Valid Passport: You will have to provide photocopies of the information page on the passport that includes the passport number, date of issue and expiration. Other information includes name, photo, place of residence, and date of birth.
Canada Visa Application Form: Fill up the right application package form that is available on the IRCC (Immigration, Refugees and Citizenship Canada) website. You will also find an instructional guide there, along with a document checklist. Check if any additional documents are required.
Proof of Paying the Canada Visa Fees: There are two types of fees you will need to pay. The visa application processing fee and the biometric fees. Attach receipts with the application. Fee prices will vary depending upon your purpose of visit.
Visa Photos: Provide two passport photos based on Canadian visa requirements. Your application can not be processed if it does not match the requirements set by the immigration department of the Canadian government.
Proof of Sufficient Funds: You can provide this through bank statements, letter of employment revealing annual income, evidence of receiving financial support from family or friends, or evidence of income of your Canadian host.
Proof of Returning to Your Home Country: There are many ways you can do this. You can give proof of employment, title deeds or lease agreements of the property you own in the home country, or provide evidence of your responsibilities back home.
Identity and Civil Status Documents: Attach photocopies of identification and civil status documents to the application. It can include birth certificates, marriage documents, or divorce certificates. Your national id can also be useful.
Police Clearance: It is to prove that you do not have any previous criminal records. And you are not a danger to the Canadian civil society. A police certificate or clearance in your home country should be attached with the application.
Medical Examination Report: You will have to submit your medical examination report from the Immigration, Refugees and Citizenship Canada (IRCC) panel approved physician to prove that you are in good health. A medical exam is usually not needed if you are staying for less than six months.
Letter Explaining the Purpose of Visit: This could be in the form of an invitation letter from your sponsor, the contact information of people supporting your purpose of visit, or any other documents supporting your travel.
Letter of Support/Invitation to Canada: You will require this letter from someone in Canada. It can be a permanent resident or a person with Canadian citizenship. The letter must include name, birth date, phone number and Canadian address.
Canadian Visa Document Requirements for Minors
The same rules apply to minors travelling to Canada as they do to other visitors. Additional document requirements may apply depending on how they are travelling.
All minors are required to carry:
The passport
Copy of birth certificate
Other documents when they are travelling alone:
A travel authorization is required by both parents or legal guardian organizations
The letter should either be issued in English or French
It should include the parents' / legal guardians' phone number and address
Include the name, phone number, and address of the person who will be responsible for taking care of the child in Canada
Documents when accompanied by one parent:
Phone number and address of the parent or legal guardian not travelling along
Photocopy of the passport of the parent not travelling along with the two
National identity card of the parent not travelling along
If the parents are divorced but share custody of the child:
The accompanying parent should bring along copies of the legal documents
Letter of authorization from the other parent
If only one parent has custody of the child:
The parent must bring a copy of the custody decree
When one parent has passed away:
The other parent should bring a copy of the death certificate
When the child is travelling with legal guardians or adoptive parents:
Carry a copy of the guardianship or adoption certificate
When travelling with someone who is neither a parent or legal guardian:
The person should have written permission from the parent or guardian
The letter should include the phone numbers and addresses of the parents / legal guardians
Other Important FAQs
What is the processing time for a Canada tourist visa application?
Processing time for a Canadian visa application can take anywhere from two weeks to four weeks, or longer depending upon when the application is received by the authorities. The processing time is usually delayed when additional documents are required.
Can I extend my stay as a visitor in Canada?
You would have entered Canada with an electronic travel authorization (eTA) or on a temporary resident visa known as a visitor visa. In either case, you would have to apply for a visitor record if you would like to stay longer than the validity period of your visa.
What is a visitor record?
A visitor record is a legal document that allows you to remain in Canada. You must either leave the country or apply for an extension of the visa to remain in the country. The visitor record does not, however, guarantee to re-enter Canada once you choose to leave the country.
When should I apply for an extension of my visa?
You should apply before the expiry date of your previous visa. People with visitor visas are normally allowed to stay for six months in Canada from the date of entry.
How can I extend my stay as a temporary resident in Canada?
You can apply for an extension of your stay in Canada if you are a visitor, student, or temporary resident. The following conditions, however, apply.
Your application must be submitted before the expiration date of the original visa status
Continue to meet the initial requirements of your stay
Must abide by the conditions of your original status
Meet the requirements of the category under which you are applying
Ensure to extend your Canada study visa at least 30 days before expiry
Is work experience necessary for immigration to Canada?
Not at all. There are several Canadian immigration and visa options that allow you to immigrate without any job offer. However, immigration through the Express Entry system would require work experience. And then, you would need to obtain a work permit for most jobs in Canada.
What is the validity of multiple entry visitor visas to Canada?
The multiple entry visa to Canada is valid for ten years from the date of issue. It will let you travel to Canada for six months at a time. You can travel in and out of Canada as many times as you like during the validity period of this Canada visa.
Which is the best visa type to apply for in Canada?
The Canadian temporary visa is the best option. It is for those wanting to come to Canada for vacations, work, or for studies. This is the right Canada visa type for you planning to be in the country for a limited period of time.
How can I obtain an open work permit in Canada?
Obtaining an open work permit requires you to have a job offer from a Canadian employer. The provincial government's labour market opinion confirms that whether it is impossible for the local employer to find a Canadian worker to do the job.
What are the benefits of having a work permit in Canada?
Work permits in Canada allow immigration candidates to work or leave an abusive employer and look for other opportunities. Work permit holders can take advantage of a competitive environment for both domestic and international workers.
How do I know if my Canada visa application is approved?
Go to the official website if you have submitted the Canada visa application online. You can check the visa status here and would receive the approval email once confirmed. And if you had submitted the application at the Canada visa application centre, you would have to collect your passport and the visa approval from there.
Can I submit my visa application at the Canada visa application centre in India?
Yes, the Canada visa application centres have reopened in India since 20 November 2020. They will accept your Canadian visa application for study permits and family sponsorship visas.
Conclusion
Canada has always welcomed immigrants from all parts of the world. People with different backgrounds like software engineers to agriculturists have immensely contributed to the Canadian economy. Almost 4% of people in Canada are Indian of Indian origin. It is a great time to be there.
Immigrating to Canada can be a brilliant choice if you are looking for a better life. The country is absolutely safe for immigrants. There are a number of visa types to suit all kinds of skills. Even during the pandemic IRCC had taken a large number of immigrants and plans to scale it up in the coming years. Start your journey to Canada now!