Filling out the DS-160 form correctly is essential for achieving a US visa success. However, most applicants don't consider the form to be a major element in the visa process. The information may not communicate details, including the experience or other details to the visa officer, often leading to rejection.
On this page, we are going to talk about the 10 important points of DS-160 (and more), so read on.
1. What is DS-160 for US visas?
DS-160, or rather Form DS-160, is an Online Application Visa Application form that must be filled in for temporary travel to the US.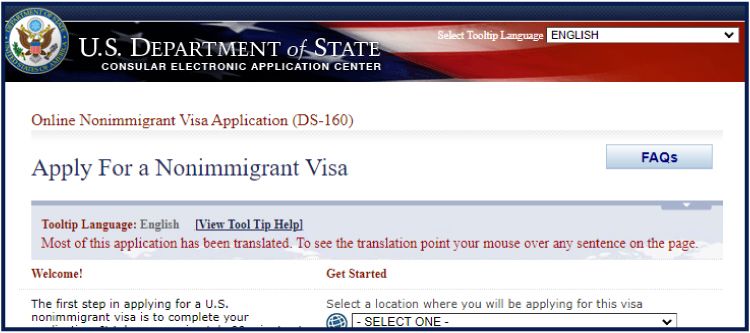 2. Which US visas require Form DS-160?
A completed DS-160, Online Nonimmigrant Visa Application, will have to be submitted for all nonimmigrant US visa categories, including K visas. Nonimmigrant visas permit temporary stay. Immigrant visas are for staying in the country permanently.
3. What are the top 5 common errors when filling up the DS-160 form?
As per the official data, common errors in filling up DS-160 are –
Selecting the wrong visa type,

Not giving the current home address correctly,

Withholding or not disclosing complete information on prior travel to the US,

Misinforming about other foreign travel within the past five years, and

Making an error in giving the name of the person or organization (if applicable) that has prepared the DS-160 application as your representative.
4. How long does a DS 160 take to process?
An estimated 90 minutes will be required to complete your Form DS-160 online.
5. Where do I get my DS-160 form?
You can fill up Form DS-160 through the US Department of State Consular Electronic Application Centre's official website.
Is there a limit on the number of days DS-160 must be completed?
Once you begin your DS-160 application, you will be required to complete it within 30 days.
7. What if I can't complete my DS-160 within 30 days?
If for any reason, you don't plan to complete your application within the next 30 days, you must download your application to your computer by clicking the SAVE button towards the bottom of the page completed last by you. Follow the instructions given. Select UPLOAD AN APPLICATION when you are ready to complete your application.
8. Do I have to take a printout of my complete Form DS-160 to my US visa interview?
The confirmation page containing the Application ID number (for example, AA00911JX9) will have to be taken along for the visa interview. The DS-160 confirmation page will be required at each step of the US visa application process. Your visa application cannot be processed without the confirmation page.
9. What documents are required for DS-160?
You must have specific documents with you when completing your DS-160 form online.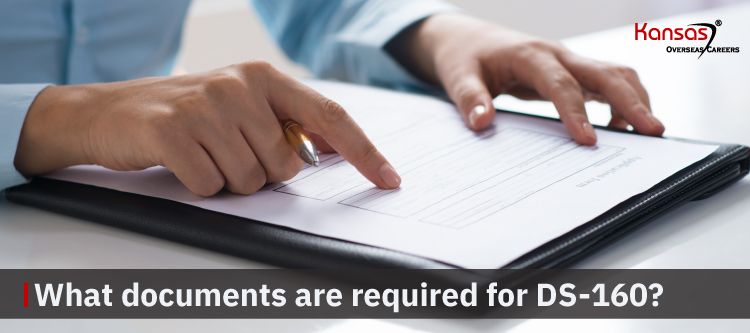 Documents Required for DS-160

General documents

Passport

Travel itinerary (if travel arrangements have been made already)

Dates of previous trips to the US, if travelling to the US in the past

International travel history for the past five years

Curriculum vitae or resume, information might have to be provided of education and work history

Other information might be needed as per the intended purpose of travel.

Additional Specific documents

For students and exchange visitors - F, M, J

SEVIS ID

Address of the school/program of intended study abroad in the US

Information will be printed on Form I-20, Certificate of Eligibility for Nonimmigrant Student Status.

For petition-based US visas, such as - H-1B, L, O, etc.

Copy of your completed Form I-129, Petition for a Nonimmigrant Worker.

Other temporary workers

Information about your US employer, including address.
10. How to fill up Form DS-160?
It is recommended to go through the US Department of State Bureau of Consular Affairs - Online Nonimmigrant Visa Application DS-160 Exemplar to get clarity on what is required and what can be expected from the online application process.
The basic stepwise process for submitting your DS-160 form is given below.
DS-160 form - How to fill up?

Sign up

Get started - Select the location from where you will be applying.

You will be asked to upload a digital photo if required.

Upload a previous application / Retrieve an application

Give the file path of your previously saved application file if you already have an application within the system.

Alternatively, you can retrieve an application from the ID provided.

Application information

A security question will be put to you. Do note that in future, you must enter the answer precisely as given by you at this point.

Enter your personal information as asked for.

Travel information

You will be asked whether you have made specific plans and details on the person/entity paying for your US trip.

Travel companions information

You will be asked whether you will be travelling -

With another person, or

As part of a group or organization.

Previous US travel information

Questions asked include -

Have you ever been to the US?

Have you ever been issued a US visa?

Address and phone information

The Social Media Platform list is also included.

You will have to say if you have a Social Media presence and specify the platforms that you use, such as - Facebook, Instagram, Twitter, YouTube etc.

Passport information

Give the details as needed.

US Point of Contact Information

Mention your contact person or organization in the US.

Family Information

You will also be asked if you have immediate relatives - other than parents - living in the US, along with your immediate family details.

You will be asked for information regarding your -

Relatives

Spouse

Partner

Fiancé / fiancée

Former spouse (if applicable)

Deceased spouse (if applicable)

Children

Present Work / Education / Training Information

You will be asked questions regarding, among others -

Primary occupation

Present employer or school name

Monthly income in local currency (if employed)

Security and Background

Part 1 to Part 5 to be filled up.

An additional point of contact

For all F, M, and J visa applicants.

SEVIS information

For all F, M, and J visa applicants.

Temporary work visa information

If applicable.

Photo upload

To be as .jpg (JPEG file format), not more than 240 Kb in size.

Application Review

Your nonimmigrant visa application has been completed. You can now review the information before submitting your application. Following a review of all sections, you will be directed to the Sign and Submit page.

Sign and Submit

Electronically signing the application is mandatory.

Do keep in mind that additional information might be asked for after a review of your application.
In conclusion
DS-160 is the first step in the visa application process for travelling to the US for a temporary stay. Around 90 minutes will be needed to submit your DS-160 form online. Only after the successful submission of your DS-160 you can move ahead and schedule your visa interview.
Other FAQs
Why do I have to submit DS-160?
Consular officers use the information provided by the applicant in Form DS-160 to process their US temporary visa application. It is DS-160, along with the personal US visa interview, that determines an applicant's eligibility for a nonimmigrant visa for the US.
What are K visas for the US?
K-1 visa, a nonimmigrant visa for a fiance(e), allows the foreign-born fiance(e) of a US citizen to travel to the US and marry them within 90 days of arrival in the country. An adjustment of status to a Lawful Permanent Resident (LPR) will be required. K-2 visas are for eligible children of K-1 visa applicants.
Can I apply as a group for DS-160?
You can create a family/group application when travelling to the US with your family or as part of a group. You can select the option to create a family or group application. Do note that an individual application will have to be created for each family member or every single individual in the group.
What are the digital photo requirements for DS-160?
For the DS-160 form, your digital photo must be -
In colour

Taken within the previous six months

Showing your full face, directly facing the camera

With both your eyes open, no eyeglasses are allowed

Exactly 2 x 2 inches (51 mm x 51 mm) in size

With your head 50% to 69% of the total height of the image

Taken before a plain background that is either white or off-white

With a neutral expression

Taken in clothing, you would typically wear daily
Can I submit multiple DS-160?
While you can submit multiple DS-160 forms, it is advisable not to do so. Filing more than one application at the same time is not recommended. Many complications can come about with multiple filings. If there is a need for a subsequent update in the DS-160 form, you can clarify the same at the time of the visa interview before being asked by the visa officer.
Are all DS-160 questions compulsory?
A majority of the questions are mandatory and must be duly answered. Blank spaces might be left when mentioned as OPTIONAL. Similarly, you can answer a question with a DOES NOT APPLY when that particular question is not applicable to you.
How long is a DS-160 valid for?
After all the information has been duly entered by you, a confirmation page - carrying a barcode - will be displayed. The barcode, to be used only once, will be valid as long as the provided information is accurate. Updating your DS-160 form will lead to a new barcode being generated.
How do I submit my DS-160 form?
Form DS-160 is to be submitted online (via the internet) to the US Department of State website.
What is the difference between DS-160 and DS-260?
DS-160 is an Online Nonimmigrant Visa Application that is to be filled up as the first step of the process of applying for a nonimmigrant (temporary) visa for the US. DS-260, on the other hand, is a form for Online Immigrant Visa Application and Registration. Form DS-260 replaced the paper-based Form DS-230 for all immigrant visa applications.