The USA visit visa is a short-term visa for applicants who want to visit the USA for business or medical treatment or leisure purposes.
Every year thousands of Indians apply for a visit visa. Below is the complete guide of documents for the person visiting the USA for a different purpose. Read along.
The Seven Important Document Types for a USA Visitor Visa
Documentation is the most critical part of your visa application. Even a single missing document can lead to visa rejection.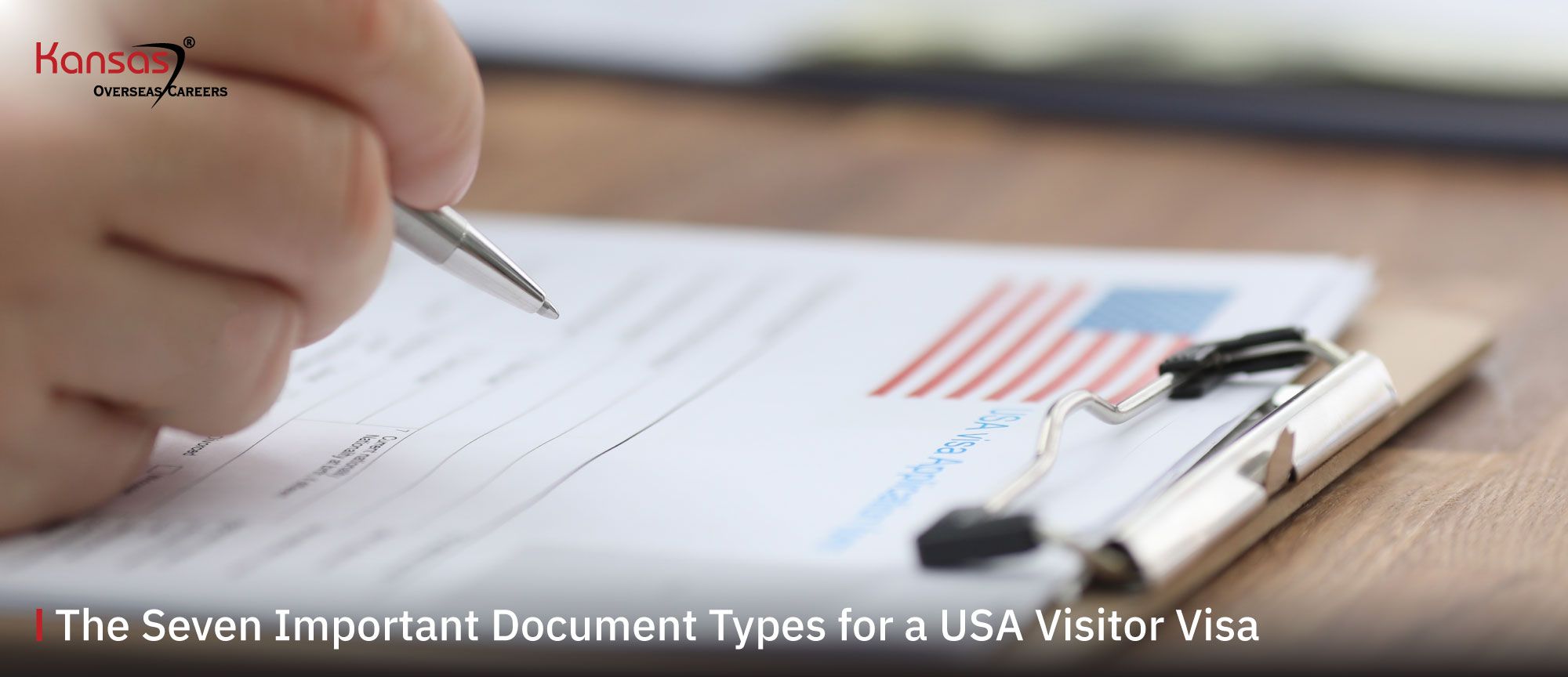 Make sure you double check your documents, and do it once more before you submit your visitor visa application and when you attend your visa interview at the US Embassy.
Below are all the documents that you will need to provide for your US tourist visa process.
1. Mandatory Documents for a US Visit Visa
The mandatory documents required to apply by US tourist visa applicants.
Valid Passport
Travel Itinerary
Dates of your last 5 visit to the USA
Resume or CV
Photograph (as per specifications)
2. Supporting Documents Based on the Tourist Visa Types
USA on Tourism & Pleasure Support Documents
1. Proof of funds for expenses in the USA
Bank Statement-Copy of passbook
FDs and Mutual Funds - Easy Liquidity
2. Travel Itinerary
3. 1-year old ITR
4. Resume or CV
5. PAN card
6. Business card (if any)
Supporting Documents to Visit the USA to Meet Family, Children, or Attend Any Family Event
Letter of invitation from family member or children
Event invitation proof
Supporting Documents to Visit USA When a Spouse (B-1) or Children Requesting Dependent Visa (B-2) to Accompany Them
Copy of B-1 visa and passport (if the visa is pending apply)
Letter of invitation from a B-1 visa holder
Letter to embassy consulate requesting to give visa for spouse or children
Letter from the company stating the B-1 visa holder can take care of their dependent
Proof of funds for the expenses. A sponsorship letter (from either B-1 visa holder or company)
3. Documents Required for your Visa Interview
Below original documents are needed to be taken at the time for an interview at the USA consulate general:
Valid Passport
1 Photograph (as per specifications)
Visa application form DS 160
Visa fee payment receipt
US visa appointment letter printout
Supporting documents based on your visit purpose:
Proof of your purpose of visit
Intent to depart from the USA at the end of the trip
Financial Proof for paying for your stay in the USA
4. Documents for the Visit Purpose proof
Here is the complete detailed list of documents based on the visa category:
Travel itinerary
To and From flight tickets
Accommodation details
If visiting friend or family: Invitation letter from a friend or family
If visiting for business purpose:
Information on the US-based business associate
Applicant's business card
If visiting for an event:
Proof of event
Invitation card
Brochure
5. If visiting for medical treatment
There are 3 documents based on the treatment type:
A medical diagnosis from a local physician stating:
Reason for taking the treatment
Explain the nature of alignment
A letter from the US medical facility or physician stating:
Their willingness to treat your alignment
Cost of treatment (including doctor's fee, hospitalization, and other medical costs
Proof of payment in the US for transportation, medical, and living expenses.
6. Documents for Intent to Depart from the USA at the End of the trip
Here is the complete detailed list of documents for intent to depart from the USA at the end of the trip:
Employment letter from your home country
Family ties proof:
Birth certificate of children
Birth certificate of elders who require your care
Proof of property (documents, photographs, personal affidavits)
7. Documents of Financial Proof for Paying for Your Stay in the USA
The detailed guide for this category is:
1 or more past year income tax returns
Recent bank statement
Proof of visitor health insurance
What are the travel purposes for different types of visas?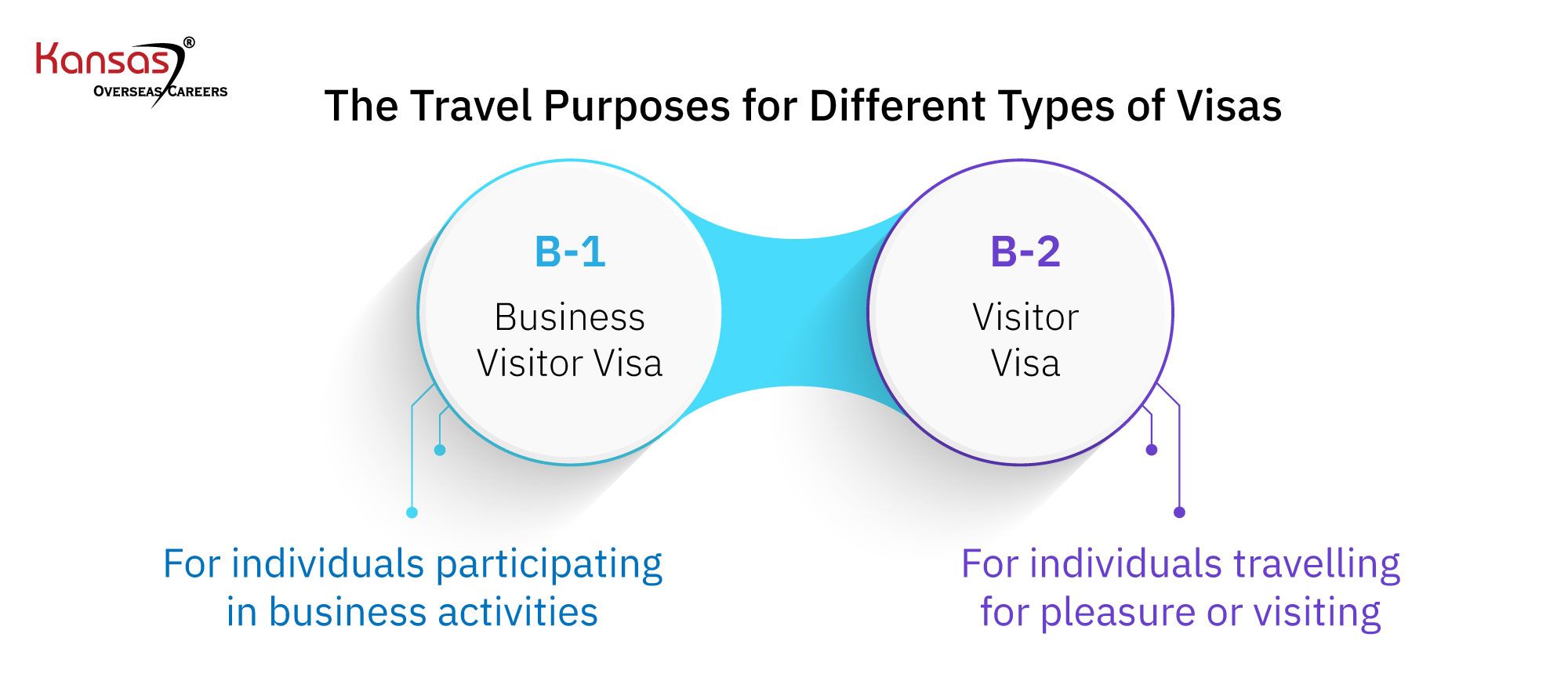 Purpose of Travel for B-1 Business Visitor Visa:
Business associates consulting
Attending the conference
Estate settlement
Contract negotiation
Purpose of Travel for B-2 Visitor Visa:
Visiting tourist places
For spending vacation
Relatives and friends visiting
Medical treatment
Social event and amateur performances participation
Enrolled in the non-credit, short study course
What is the Visa Process for a US Tourist Visa?
Below are the steps to apply for a tourist visa for the USA:
Step 1: Fill the visa application form DS-160.
Step 2: Sign the application form electronically
Step 3: You can pay the fees within 48 hours of form submission. The fee can be paid online or offline.
Step 4: Print the DS-1160 application form
Step 5: Book a visa interview slot.
Step 6: The first visa interview is for biometrics, which is for taking your fingerprint and photograph. The processing time is 10 minutes
Step 7: The second interview at the visa application center is an important one as this is for knowing the visa applicant's purpose of visit to the US.
Step 8: If the non-immigrant visa is approved, you have to submit your passport for stamping at the visa application centre.
What is the Visit Visa Application Fee?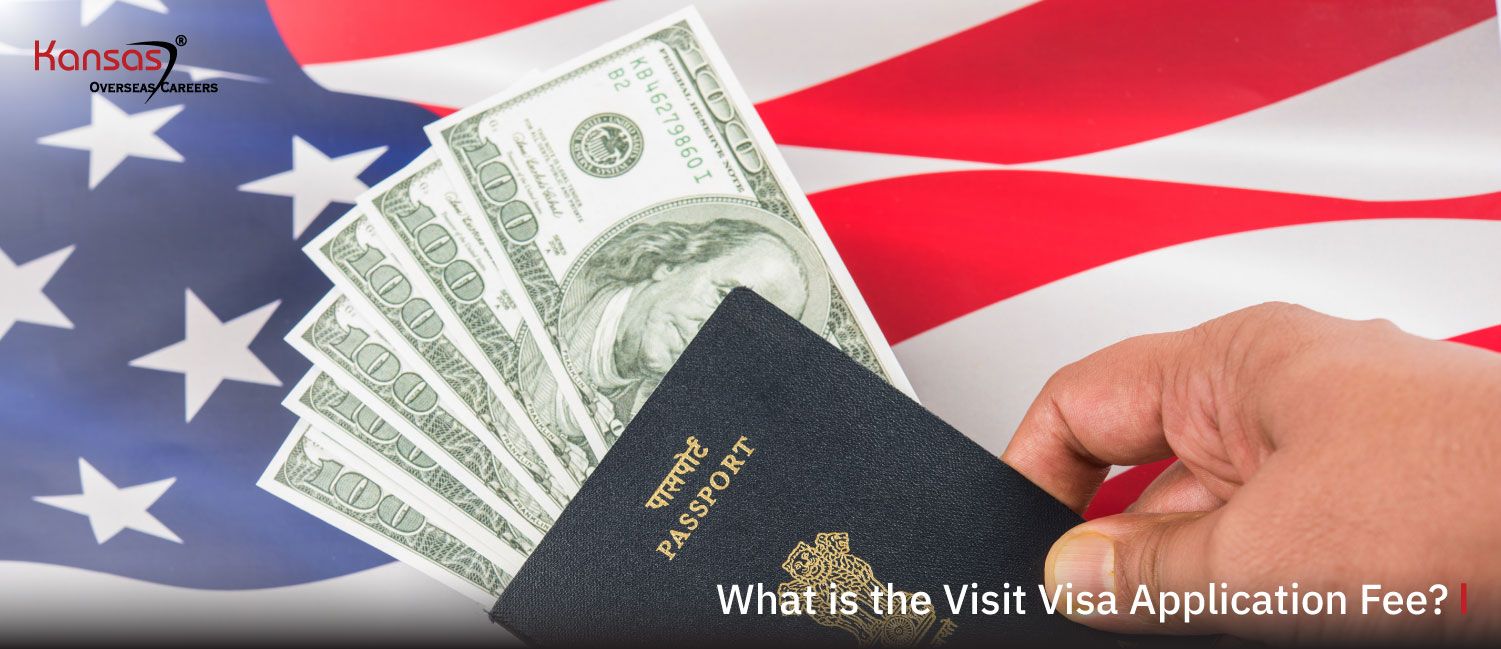 You are required to pay 160 USD (INR 11,500) non-refundable visa application fees. You may pay the amount online, sometimes the option is not available. In such cases, you should pay at the time of the interview.
How long does it take to get your US Visit Visa approved?
After your visit visa interview, you will receive the decision on the spot, and if positive, you can submit your passport for stamping.
Visa processing time: It usually takes from 3 to 5 weeks for the process of a US visa application which will be delivered to your home address 3-5 days after your visa interview.
Other FAQs
How long can you stay in the US on a tourist visa?
The maximum stay option for the tourist visa, i.e., B-2 type of visa is 6 months. If you wish to stay longer, you can extend your visa.
What are the digital photos for online visa requirements?
Minimum 600 X 600 pixels
Maximum 1200 X 1200 pixels
24 bits/pixel Colour
JPEG file format
240 KB file size
51 x 51 mm and 300 pixels if scanned
Can I study in the US on a visit visa?
No. You would require a 'F' or 'M' student visa to study in the United States. Foreign nationals entering the US on a visitor visa (B) can only undertake recreational study during the validity period.
Can a green card holder give an affidavit of support?
Yes. It acts as proof that the applicant is financially capable of managing his/her stay during the visit. This sponsorship letter should however be issued by a U.S. citizen or a permanent resident above 18 years of age.
Is the Visa Waiver Program and ESTA the same?
No. But ESTA is an automated system designed to determine eligibility of foreign nationals wishing to apply for travel to the US under the visa waiver program. However, ESTA authorization will not be able to guarantee your entry into the United States.
Conclusion
Here are some tips for you:
Fill the application form DS-160 carefully
Research well about the requirements
Double-check your application before submitting the form to avoid errors
After submission, book for biometrics and interview appointment
Organize all the travel documents
During the interview, be kind and polite with the consular.
If you do not understand any question, ask the interviewer politely to repeat the question.
Be prepared for "suppose that" questions which the interviewer will ask.
Lastly, when you get an entry visa, check for all the details, especially the spelling of your name.
Still in doubt? Talk to a USA visitor visa consultant!
How can Kansas Help You?
Kansas Overseas Careers is the best immigration consultant in India with a high success rate. Served 20K+ customers and over 3K+ active cases.
You can expect a one-stop solution for all your visa needs from profile evaluation, documentation, application drafting to post-visa services with Kansas.
Our services include, but are not limited to:
Profile Evaluation:

Based on your purpose of travel, profile history, and current travel policies, our experts offer you guidance on the visas you can apply for.

Visa Filing: Kansas ensures that your visa application meets all the standard requirements as per the immigration authorities of the country that you are applying for.
Documents & Review: Our team of experts will assist you with all the documents you need to apply for a visit visa.
Visa & Interview: We help you prepare with the best answers and assist you with the documents to be presented at the time of your interview.
Dedicated Case Officer: We assign a case-officer who will guide through every step of the process. This way, you will always have a point-of-contact, when in doubt.
Post Landing Service: After you've received your visa, we help you settle down in the country with a comfortable stay and also offer other customized services.
Avoid any delays or chance of visa rejection by having India's Leading visa consultant by your side.
Don't wait. Begin your visa application today!