In the most recent immigration update of 2023, the UK has introduced a point-based immigration system that will help foreign aspirants to work and settle in the UK with a fair chance and abundant opportunities.
The system introduced 4 tiers with different benefits and application costs that require candidates to score a minimum of 60 points.
Read along to know all about the key differences and similarities between the UK Tier 1 and Tier 2 Visa
What is the UK Tier 1 and Tier 2 Visa?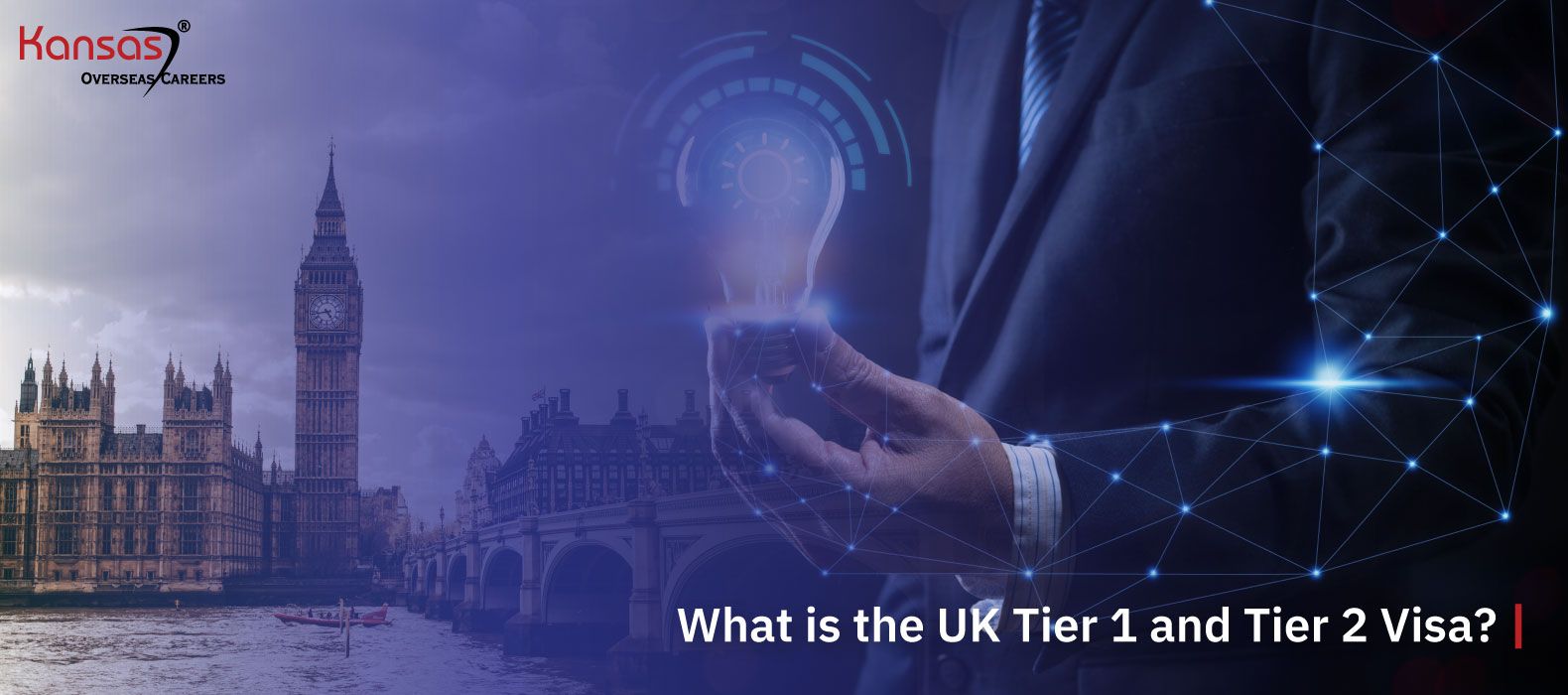 1. Tier 1 Visa
The UK Tier 1 visa, known as the Entrepreneur or UK Innovator visa, is a pathway for highly skilled migrants, be it business owners, investors or inventors, to settle and work in the UK region. This visa is a special visa for non-EU 'exceptionally talented' candidates willing to invest at least £200,000 of disposable investment funds in the UK and add value to their economy.
The visa is available only for persons with a high degree of specialization, who must obtain at least 75 points in an MBA program or the following criteria:
Qualifications (25-45 points)
previous earnings (5- 75 points)
UK experience (5 points)
Age (5-20 points)
More about the Tier 1 (entrepreneur) visa
A foreign business person or entrepreneur who wants to relocate to the UK should provide at least GBP 50,000, representing the minimum share capital for their business.
Besides that, the applicants must own most of the shares in the company and have to create full-time positions for future employees, from which at least two workers from the EEA are mandatory. The knowledge of the English language is a mandatory request once a candidate applies for a Tier 1 visa for entrepreneurs.
2. Tier 2 Visa
The Tier 2 work visa is a visa that encourages skilled migrant transfer to the UK with a prior job offer or sponsorship. This visa requires a mandatory job offer to settle in the UK and is a great opportunity for job seekers to settle in the UK along with family.
Tier 2 is issued for persons who have a score of minimum of 60 points, which comprises:
the presence of a sponsor and a certificate of sponsorship (50 points)

English

language skills (10 points)
available funds (10 points).
More about the Tier 2 (skilled workers) visa
A Tier 2 visa is a skilled visa granted for five years and is necessary for citizens outside Europe to enter Scotland, Wales or Britain. This type of visa is issued to persons who need to fill certain positions if there is a lack of workers in different sectors of the UK. In order to obtain a Tier 2 visa for skilled workers, details about the sponsorship must be provided.
Other UK Visa Types
Tier 5: Temporary Worker Visa: For government exchange schemes, sportspersons, charity workers to stay and work in the UK temporarily.
Tier 4: Student Visa: For international students to pursue higher education in the UK with an extension of 2 years to find a job in the country.
Tier 3: Low skilled work visa: To help low skilled workers fill vacancies in the UK when in-demand.
What is the difference between UK Tier 1 and UK Tier 2 visa?
Differences

Tier 1

Tier 2

Purpose

To attract exceptionally talented business owners and inventors

For skilled workers like engineers, accountants, etc to fill job vacancies in the UK job market

Validity of visa

3.5 years

5 years

Visa approval rate

Low

Above average

Benefits

Education for children

Sponsorship rights for relatives and friends

Global pioneer recognition

Direct pathway for British citizenship

Access to NHS for 5 years

Eligibility for UK Citizenship

Cost

£1,623

£1,408

Process Time

2 weeks

3 weeks
Eligibility Criteria for Tier 1 and Tier 2 visa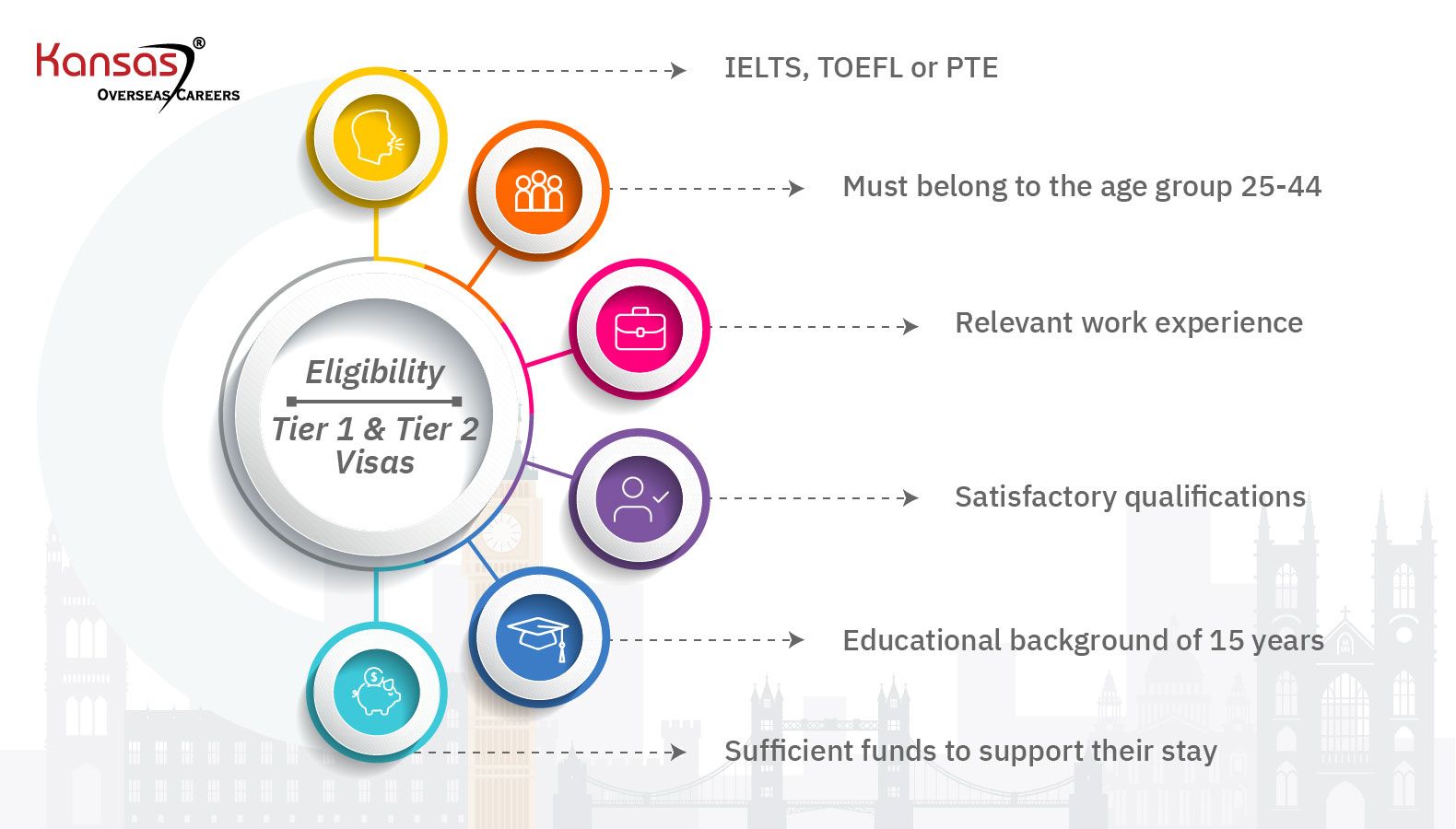 IELTS score must be 5 or above
Must belong to the age group 25-44
Must have at least 1 year of relevant work experience
Must have satisfactory qualifications in the field of choice
Must prove a decent educational background of 15 years at least
Must have sufficient funds to support their stay in the country
UK Points Table
| | | |
| --- | --- | --- |
| Category | Mandatory | Points |
| Offer of job by an approved sponsor | Yes | 20 |
| Job at appropriate skill level | Yes | 20 |
| English Proficiency | Yes | 10 |
| Salary of £20,480 (minimum) – £23,039 | No | 0 |
| Salary of £23,040 – £25,599 | No | 10 |
| Salary of £25,600 or above | No | 20 |
| Job in a shortage occupation (as designated by the MAC) | No | 20 |
| Education qualification: Ph.D. in a subject relevant to the job | No | 10 |
| Education qualification: Ph.D. in a STEM subject relevant to the job | No | 20 |
Documents Required
Certificate of Sponsorship (CoS)
English Language Score Card
Cover Letter
Tuberculosis Test Clearance Certificate
Criminal verification certificate
Proof of funds statement
How to apply for a UK Tier1 & 2 Visa?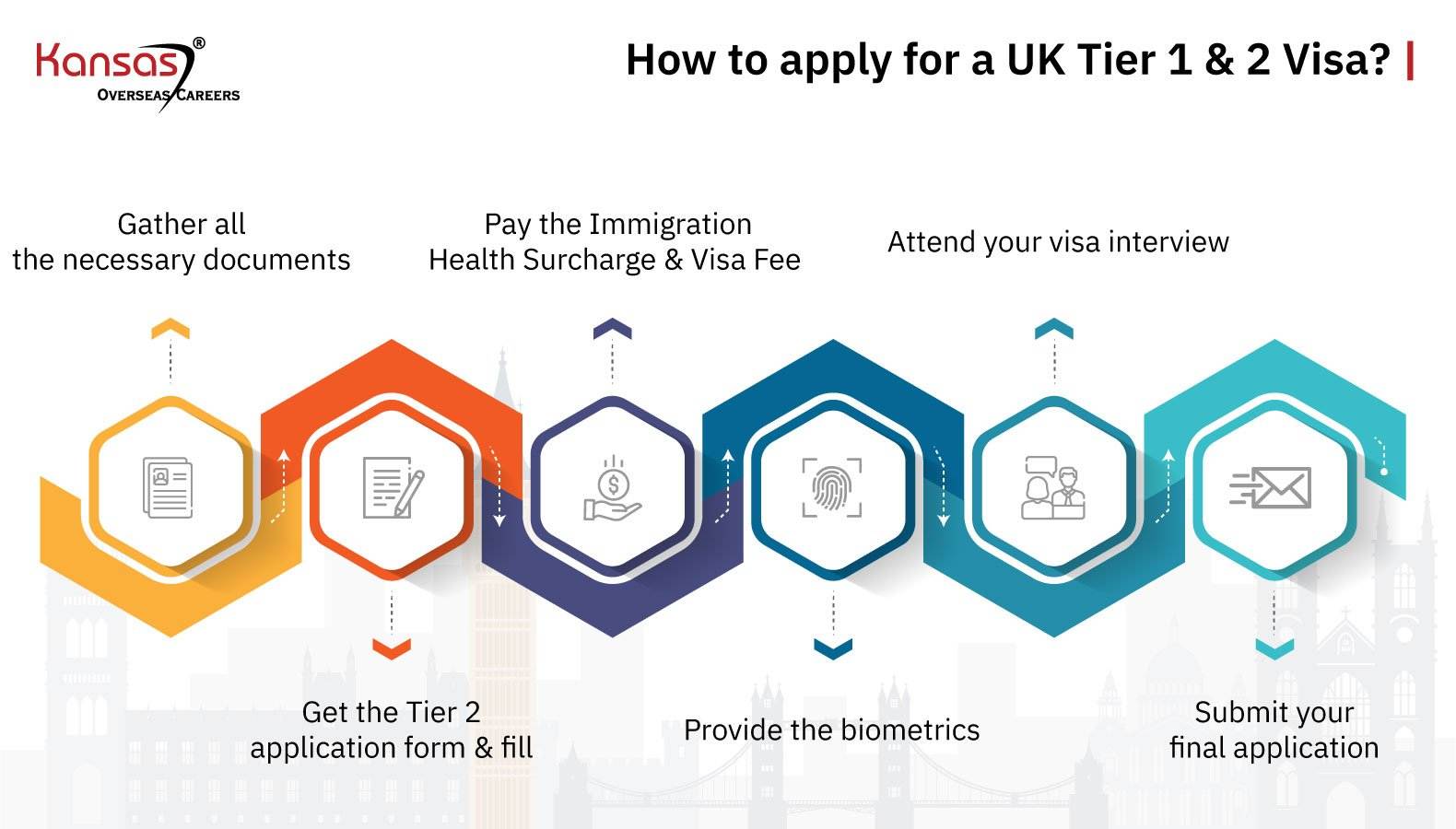 In order to apply for the UK Tier 1 visa, you need to invest at least £2,000,000 in the UK to begin with.
Here are the steps to apply for the Tier 2 Workers Visa:
Step 1: Gather all the necessary documents
Verify all your documents and ensure that they are scanned and attested
Step 2: Get the Tier 2 application form from the nearest Embassy
You can visit a consultancy or fill your form online.
Step 3: Fill the application with accurate information
Any minute spelling errors or mismatched information can cause rejection of the application. Ensure accuracy to the T.
Step 4: Pay the Immigration Health Surcharge (IHS)
You have the make a payment of $400
Step 5: Pay the visa fee
The fees depends on the occupation you have chosen
Step 6: Provide the biometrics
You need to submit your biometric information in the BRP centre. Print this document for the final application.
Step 7: Attend your visa interview
Make sure you go prepared to answer questions like, " What is your purpose of settling in the UK" and so on.
Step 8: Submit your final application
Now, you can submit your application for final review.
How much does a tier 1 and tier 2 UK visa cost?
Tier 1 Visa Cost
The Tier 1 Investor Visa costs around £1,623, even if it is for a visa change purpose.
Tier 2 Visa Cost
| | |
| --- | --- |
| Category | Cost |
| Tier 2 General Visa | £1,220 |
| Tier 2 Health & Care Visa | £464 |
Is Tier 2 General visa a points-based visa?
Yes, it is a point-based visa. It requires a candidate to gain a minimum of 60 points based on their qualifications, age, work experience and English proficiency.
How long can I stay in the UK after my tier 1 and tier 2 visa expires?
Tier 1 visa can be extended for 30 days, and a tier 2 visa can be extended for one year after its expiry.
Conclusion
The UK's newest point-based system has proven to be a refreshing change in their immigration system. It has a more straightforward method and can help more and more foreign nationals settle in Great Britain annually.
The Tier 1 visa is for exceptionally talented scientists, researchers and business owners. It has allotted 2000 intakes per year, making it rather difficult to get.
However, the Tier 2 visa may be well within your reach. It is a pathway for skilled workers like engineers, IT professionals and more such occupations that are in-demand in the UK and give you benefits similar to citizens.
If you want to find out more about the UK Tier 1 or Tier 2 visa, contact our visa experts today!