A US Tourist or Visitor Visa, is a non-immigrant visa. It is given for two purposes, a Business Visa (B1 visa) and a Visit Visa (B2 visa). Depending upon your travel type, you may choose a visa that fits your purpose of visit.
The US immigration authorities must also be clearly informed that you intend to return to your homeland before your US visit visa expires. Read along to know about the 5 important factors to consider when applying for a US Tourist Visa from India.
Top 5 US Tourist Visa Requirements for Indians in 2023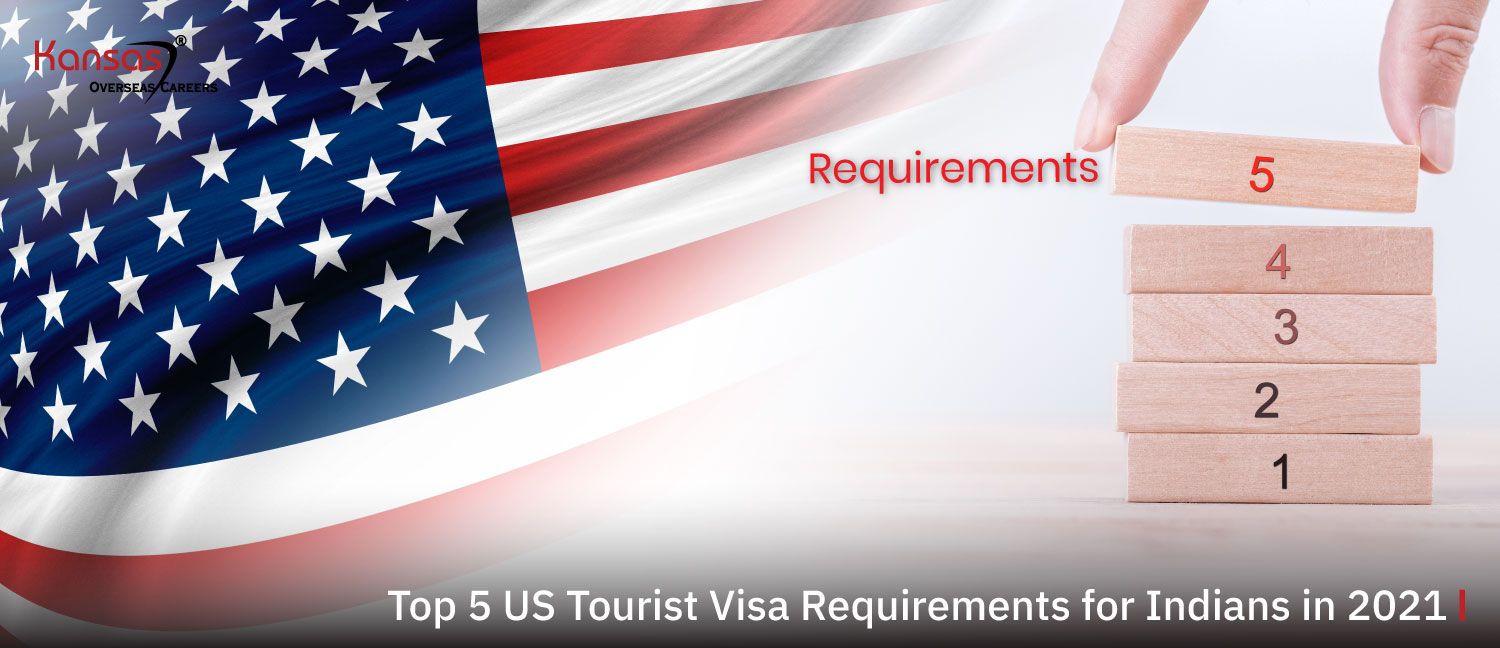 You need to have a genuine reason to visit the USA that is business-related, or for other reasons like medical treatment or recreation and tourism. You are also required to have sufficient funds that covers your visit tickets (back and forth) and also support your staying expenses in the US.
Apart from these, there are other essential US Tourist Visa requirements for Indians that we will look into in more detail below.
Top 5 US Tourist Visa Requirements for Indians in 2023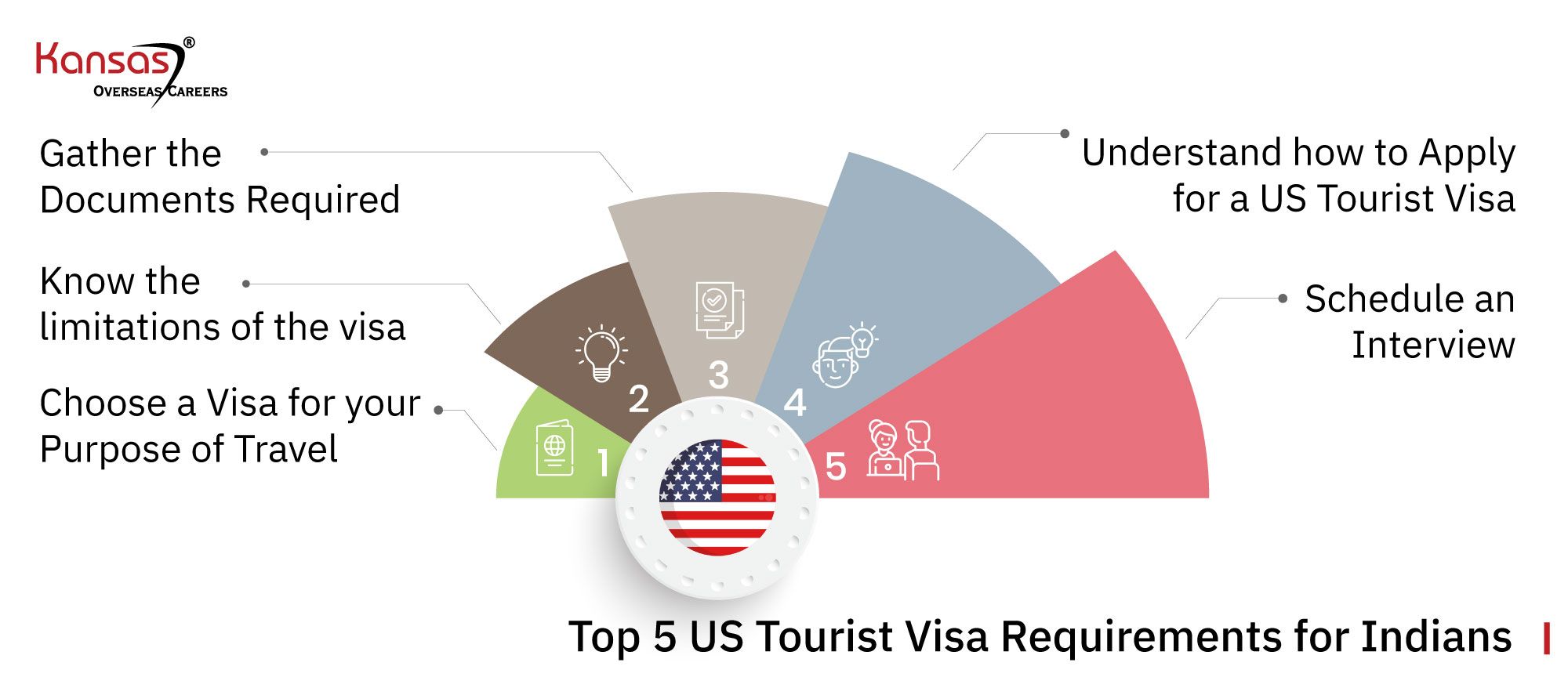 1. Choose a Visa for your Purpose of Travel
First and foremost before travelling to the USA, you have to choose the visa before applying for it
Is it a B1 Visa or B2 Visa?
A B1 Visa is required for:
For business purposes ( to meet or consult business partners)
Attend a educational conference, seminars or meetings
Buying or selling of an property
Negotiate a contract and deals
A B2 visa is required for:
Tourism
For medical purpose
To attend social events
For sports, musical and cultural events
To register in a short-term course or program
2. Know the limitations of the visa
You should keep in mind what you cannot do on a visitor visa to the US like:
Studying or applying for a Permanent Residence (PR) in the USA
Job in foreign media (radio, TV, journalism and others)
Paid live performances (In front of live paying audience)
Illegal entry through flight or ship as a crew member
3. Gather the Documents Required
These are the documents required to get a US visitor visa are:
A valid passport
You must fill the DS-160 form (the online non-immigrant electronic visa application form)
You need to specify the type of visa (B-1, B-2, etc.) in the DS-160 form
Documents of business or visit
Photograph
Invitation letter from the host in the US (If any)
4. Understand how to Apply for a US Tourist Visa
The US Tourist Visa application procedure follows a similar and straightforward process like any other type of US visa:
Step 1: Submit the US visitor visa Form DS-160
Step 2: Pay the visa fees
Step 3: Schedule the tourist visa interview at the US embassy or consulate
Step 4: Complete the B-2 visa document file
Step 5: Attend the visa interview
5. Schedule an Interview
Please carry your DS Form 160 confirmation that is stamped by VAC, your passports (Current and old), documents of your previous visits to the US (if any), and all supporting documents that will prove the claims you made in your visa application.
The interview will ask you questions about your purpose of visit, your intentions to leave after your visit and also may ask you about your relationship with the friend or family member whom you may have come to visit (in such cases you may need evidence to support your relationship with them).
You will also be asked for your travel itinerary and questions related to your travel and stay arrangements in the US.
All visa applicants have to go through Visa interviews, except children as shown in the table below.
| | |
| --- | --- |
| Age | Interview |
| 13 and below | Not Required |
| 14 – 79 | Required |
| 80 and above | Not required |
Planning to get a US Business or Tourist visa?
At Kansas, our team of experts will help you to crack your visa interview in one go. We provide complete support for your visa process and visa interview. We also provide post-landing services. Feel free to contact us.
How long is a US visitor visa valid for?
The validity of the US visitor visa (both B-1 (business visa) and B-2 (visit visa) is 6 months.
How many times can I visit the U.S. on a visitor visa?
The US Tourist Visa, also known as B1/B2 visa is a non-immigrant US Visa that allows single, double or multiple entries to the US. You can get entry to the US and stay in the country for a maximum period of 6 months on each trip.
What is the Processing Time to Get a US Tourist Visa?
The processing time mostly ranges between 3 to 5 weeks for B-1 and B-2 visa types.
The non-immigration visas of the US may take a few weeks or, in worst-case scenarios, months. This may differ according to the workload on the US embassy or consulate or vary according to the country from where the applicant is originally from.
What is the Cost of a US Visitor Visa?
Costs associated with Non-Petition Based Nonimmigrant US Visas and Petition Based Nonimmigrant US Visas are as follows.
Non-Petition Based Nonimmigrant US Visas
| | | |
| --- | --- | --- |
| B | Visitor Visa - Business, Tourism, Medical Treatment | $160 |
| C-1 | Transiting the United States | $160 |
| D | Crewmembers - Airline, Ship | $160 |
| F | Student Visa, Academic Visa | $160 |
| I | Media & Journalists | $160 |
| J | Exchange Visitors | No Visa Fee |
| M | Student Visa, Vocational Visa | $160 |
| TN/TD | NAFTA Professionals | $160 |
| S | Witness or Informant | $160 |
| T | Victim of Trafficking in Persons | $160 |
| U | Victim of Criminal Activity | $160 |
Petition Based Visa Categories
| | | |
| --- | --- | --- |
| H | Temporary Workers / Employment or Trainees | $190 |
| L | Intracompany Transferees | $190 |
| O | Persons with Extraordinary Ability | $190 |
| P | Athletes, Artists & Entertainers | $190 |
| Q | International Cultural Exchange | $190 |
| R | Religious Worker | $190 |
Note: Costs may vary according to new immigration laws
Other Important FAQs
How can I prove my financial stability to the US consulate?
You can prove this by giving the embassy or consulate official, your bank statements, and other financial reports.
These statements should suggest that the applicant is financially capable of maintaining himself/herself on their US trip.
You need to prove your financial status because the US does not want anyone to become an additional burden on its economy.
Hence in order to avoid such circumstances, the country takes measures to stop people from coming to the US, who cannot support themselves or their family (if they bring anyone with them).
Can I work in the USA with a travel visa?
No, you cannot work in the USA with a tourist visa.
If you get a job offer while you are in the US, your employer has to file a petition for you to get a work visa.
With this petition, you need to apply for a work visa in your homeland.
Can I apply for a green card while on a tourist visa?
Getting a green card normally takes a certain number of months or, in most cases, some years. So, even if you apply for a green card while you are on a tourist visa, you may not get one before your current visa expires.
Do Indians have a visa on arrival facility in the US?
No. But Indian nationals with a passport staying in Canada with a valid visa or in the Schengen member states can obtain a visa on arrival to stay in the US for a maximum of 30 days.
What is the Visa Waiver Program VWP?
The visa waiver program was introduced by the United States to allow the citizens of some countries to visit the US for purposes like business, tourism, and transit
The following are the countries that are given VWP to enter the US:
Europe

Scandanavian Countries

Asia

South America

Australia & New Zealand

Italy

Poland

Norway

Taiwan

Chile

Australia

Germany

Austria

Sweden

South Korea

New Zealand

Ireland

Belgium

Denmark

Japan

Hungary

Monaco

Iceland

Singapore

Portugal

Malta

Finland

Brunei

France

Andorra

Slovakia

Spain

Luxembourg

Slovenia

United Kingdom

San Marino

Estonia

Switzerland

The Netherlands

Latvia

Greece

Czech Republic

Liechtenstein
What is an Alien Registration Card?
The Green card is otherwise called an alien registration card.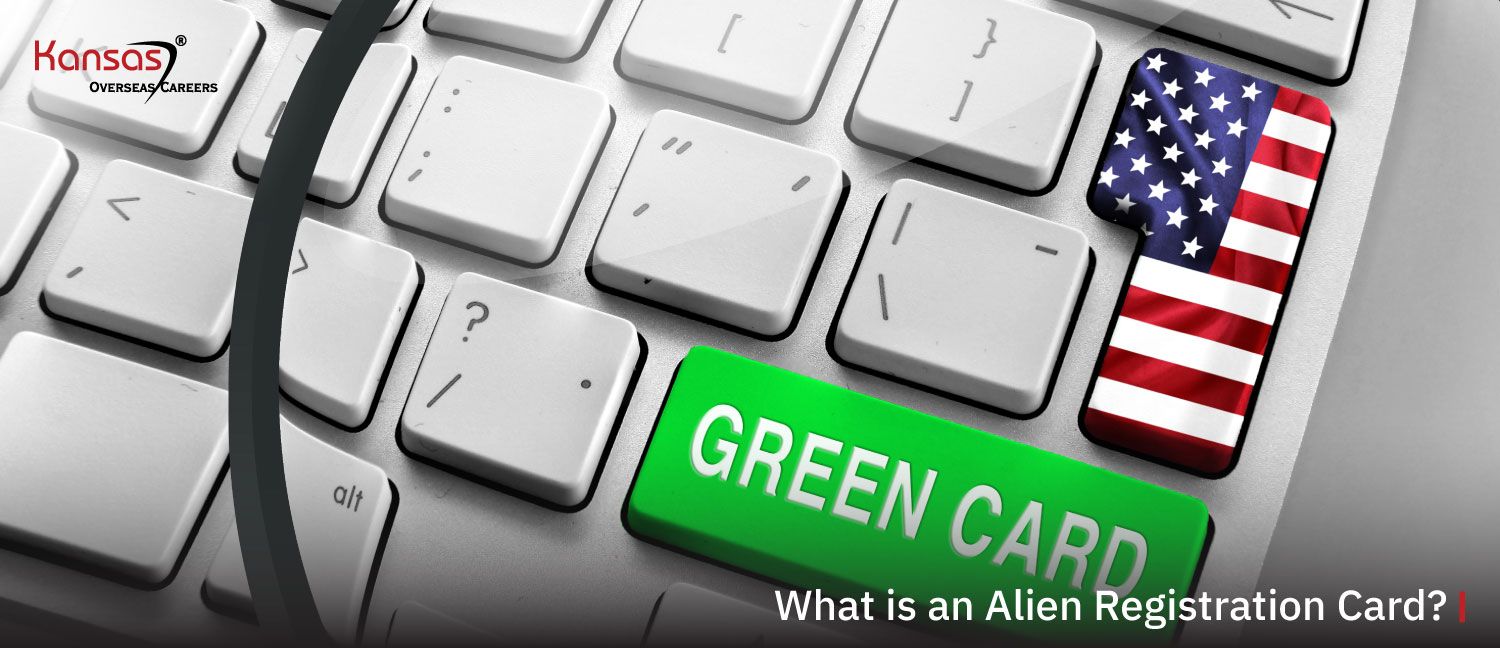 Do I need to go through customs & border protection before getting an entry into the USA?
Yes, any country's citizens who seek entry into the USA has to go through the inspection of Customs and Border Protection (CBP) officers.
There are three types of inspections on applicants called customs, immigration, and agriculture components.
Can I be denied a US tourist visa based on health grounds?
Yes, if the authorities at the embassy or consulate think that you may spread an epidemic or if they think that your health condition may become a problem to the US healthcare system, they may deny you a tourist visa on health grounds.
Conclusion
As an applicant you have to remember these important points before applying for a US Visa:
Select the correct visa for your purpose of travel (B1 or B2 visa)
Things you should never do on Visit Visa (don't apply for PR on visit Visa)
Understand the application process
Gather your documents correctly before scheduling an interview appointment.
Pay the correct visa application fee.
You should be very careful when you are applying for a US Visa. At Kansas, our team of experts will help you to get through the US Visa Application without any hindrance.
Feel free to contact us.
How can Kansas help you?
Kansas Overseas Careers is the best visa consultant in India with a high success rate. Served 20K+ customers and over 3K+ active cases.
What do we offer?
Visit Visa: Travel for leisure or business to any part of the world with Kansas.
Study Visa: Study in Globally-recognized Universities!
Work Visa: Work & settle in the World's Best Cities!
Immigration: We are your one-stop solution for all your visa and immigration needs
Permanent Residence: Become a Permanent Resident and enjoy special benefits.
Customized services:
Profile Marketing: We are known for creating best-in-class portfolios that boost your profiles in job-portals. And yes, this is a complimentary service!
Test Preparations: We have a specialized team of experts who provide online training for IELTS, French and other language tests at no extra cost.
Resume Writing: Our resume experts craft the best resumes that meet prerequisites of immigration authorities and potential employers. This greatly improves your chances of success.
Documents & Review: Error-free visa documentation from document gathering, verification, application submission, and also post-landing assistance.
Visa Filing: Kansas ensures that your visa application meets all the standard requirements as per the immigration authorities of the country that you are applying for.
Interview Training: Be it a job interview or a visa interview, we have experts who will help you excel in both.
Dedicated Case Officer: Your case-officer will assist you at every step of your visa process. You can also opt to request a change of officer if you're not satisfied.
Post Landing Services: Our customized accommodation-support team will help ease your migration journey to the country you wanted to work and settle in.
You can expect a one-stop solution for all your visa needs with us.