Indians are one of the third largest migrant populations in Australia, whereas the United States is the second most popular destination for Indians living abroad, after the UAE.
If you are planning to start your life in a new country in search for a better quality of life, higher pay and better job opportunities, this blog is for you. Read along to all about the difference and comparisons pertaining to immigrating to Australia vs the United States..
Key Differences Between Australia PR & US Green Card
There is a significant surge in the number of people migrating to Australia and the US over the past decade. The warm climate in both countries, highly-advanced economy and growing diversity among the residents has made these countries one of the most sought-after destinations to permanently reside in.
Let's take a look at the key differences between Australia and USA immigration for permanent residence in the table below.
Australia PR Visa

US Green Card

Visa type

Permanent visa

US Green Card

Visa Validity

PR visa is for lifetime. You can settle indefinitely in Australia if you hold a Permanent Resident status in the country.

The Green Card validity lasts for 10 years. Expiration dates differ for individuals who are conditional permanent residents.

Possibilities of getting the visa

High, especially if you have good score in English language tests

It can take up to 10 years to get a Green card, but first you must have employer sponsorship to get a H1b visa

Visa Processing Time

Getting a PR is faster, and takes only 6 to 10 months if you meet the requirements and have a good PR score

Green Card processing time: 7 to 33 months

Employment Based Green Cards: 1 to 6 years

Family Preference Green Cards: 1 to 10 years

Profiles In-demand

IT, Engineering, Healthcare sectors and others

Law, Community & Social Service, Scientists, Athletes, Entertainers, Engineers, Healthcare support & others

Total visas granted annually

Target of over 400,000 immigrants

Limited to 1,40,000 per year
Hiring Kansas can help you immigrate to Australia or the US faster.
Immigration Pathways to Australia and the United States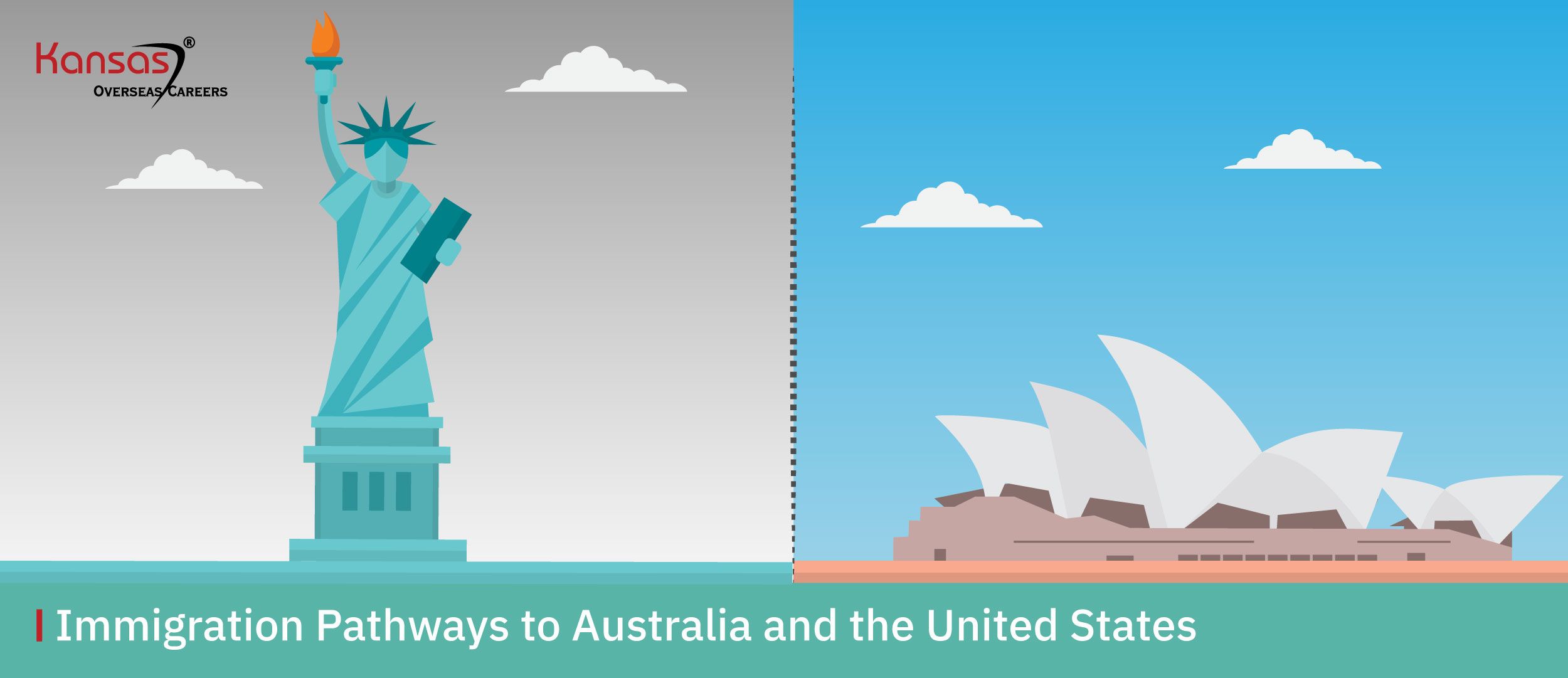 Australia Permanent Residence Visa
The Australia PR visa is a point-based immigration program that requires you to meet certain conditions. It is given to Australia's non-citizens who are willing to work and settle permanently in Australia.
The difference between a permanent resident and an Australian citizen is that the latter has the right of entry into the country, and also holds the right to vote.
Australia Immigrant Intake for 2019-20

Stream

Intakes

Employer Sponsored

29,261

Skilled Independent

12,986

Skilled Employer Sponsored Regional

8,372

Skilled Work Regional

15,000

State/Territory Nominated

21,495

Business Innovation and Investment

4,420

Global Talent

4,109

Distinguished Talent

200
USA Permanent Resident Card
A Green Card, officially known as a Permanent Resident Card, allows you to stay and work permanently in the USA for 10 years.
The H1-B visa is a temporary visa that lets you work and live in the country for a maximum of six years after which you can apply for a Green Card if needed, or apply for an extension of another 3 years. It is a popular choice among Indian skilled immigrants.
Below are two popular immigrant visa types:
Family-based visa: For those with a family member who is a U.S. citizen or permanent visa holder
Employment-based work visa: Requires a job offer from a U.S. employer
You can apply for U.S. citizenship after having stayed in the country for five years as a Green card holder. Spouses of Green Card holders can apply for US citizenship after three years of stay.
Comparing the Australia PR & the US Green Card
Australia PR Visa

US Green Card

Sponsorship requirements

Required to meet the Skill Requirement and get sponsorship

The H1B visa is an employee-based visa for people working in profit based organizations

You will require an employee sponsorship

Popular PR Pathways

Work-Based PR, and Family-Based Permanent Residency

H1-B visa to Green Card, Immediate family of Green Card holders and for people with "Extraordinary Talent"

What does it allow you to do?

Allows you to get a Permanent Resident Status in Australia

The H1B visa allows you to arrive and temporarily work in the US for 3 years

You can then extend the H1B visa for another 3 years, or you can convert it to a Green Card status

Permanent Residence Process and time

You must meet a minimum score of 65 in the Points Grid, and your job must be listed in Australia's Occupation List

If you have a good EOI ranking, you will receive an Invitation to Apply by the government and then receive your PR visa

You can have a Green Card after 6 years of living in the US with the H1B visa

The process is to be initiated by your employer. Follow it up to extend your H1B further

Leaving the country for a year and then reapplying for a H1-B visa is another option

Lottery system

No lottery system, but if your job is listed in the Occupation Ceilings list




It means that there is a critical shortage of workers in Australia in your field, and you have a higher chance of receiving an Invitation to apply for an Australian PR from the Australian government

There is a lottery system that randomly selects H1-B applications

The US government conducts a lottery on the number of H1-B applications received and stops the intakes once they have reached their annual target

Your application may be selected depending on your good luck

You have 3 chances at testing your luck with the lottery system in 3 years

How long until you get a PR?

Waiting time for Australia PR is 8 - 12 months

Green card can take 15 to 20 years, with multiple H1B extensions

(Each extension comes with the risk of rejection)
Eligibility Requirements Comparison
Eligibility for Australia PR Visa

Green Card Eligibility

Have your occupation on the Skilled Occupations list
Meet Education & Work Experience requirements
English Language Proficiency
Either be sponsored or nominated by an employer, the government, or family

Have an outstanding professor or researcher, or
Are a multinational manager or executive who meets certain criteria
Are a second preference immigrant worker,
Or are a third preference immigrant worker
You have cleared the medical exams and background check
For more information on the eligibility requirements, you can book a free consultation with our visa Experts or walk in to one of our offices.
What are the documentation requirements for both visas?
Documents for Australia PR Application
Valid passport
Application form
Report of Educational Credential Assessment
Birth certificate
Character certificate
Proof of nomination (if any)
IELTS or PTE exam results
2 passport size photographs
Spouse Skill documents (if required)
Documents for US H1B Visa Application
Valid original passport
All old passports
Recent photograph as per specification
US Visa Application Form DS-160 confirmation page stamped at the Visa Application Center (VAC)
Visa application fee payment receipt
Visa interview appointment letter
Original Notice of Action-I-797
Application Processes of Australian PR & US Immigration
Application Process for Australia Immigration
Step 1: Eligibility Check
You must check your eligibility criteria.
Step 2: Skill Assessment
Assess your educational background and work experience.
Step 3: Expression of Interest (EOI)
Place your interest through Skill Select. This stage determines your eligibility score.
Step 4: Submit Visa Application
After receiving an ITA, you need to submit the visa application to the Australian Department of Immigration and Border Protection.
Step 5: Add Dependents while applying for the visa
If your dependents are joining you, you have to add their details while applying for the valid visa.
Step 6: Police Verification and Medical Test
You should apply for police verification and medical tests after ITA.
Step 7: Visa Approval
After submitting the visa documents, DIBP will review them. IF everything is satisfactory, you will receive your PR visa within 3 to 5 months.
For more information on the Application Process for Australia Immigration, get in touch with consultants at Kansas Overseas!
Application Steps for the US Immigrant Visa
Here are the steps involved with the Green Card application :
Step 1: File a Petition with USCIS
Eligible candidates will file for I-485 with Application to Register Permanent Residence or Adjust Status.
Step 2: Case Preparation by the National Visa Center
USCIS will transfer your case to the National Visa Center (NVC) for pre-processing. You will be sent a Welcome Letter after this is completed.
Step 3: Visa Interview Scheduling
The immigrant visa application processing fee should be paid prior to your interview. Most interview appointments are set within three months on receipt of all required documents.
Step 4: Medical Exam
Medical exams are conducted by a doctor authorized by USCIS. Alongside physical examination, chest x-rays, and blood test for syphilis, your medical history will also be reviewed.
Step 5: Attend the visa Interview
This interview is meant to verify the validity of your documents and eligibility claims for Adjustment of Status.
Step 6: Green Card Visa Approval
At the end of your interview you will be informed of the outcome. You will be told how and when your passport and the visa will be issued.
You can also use the USCIS Check Status website page to know if your Green Card application is approved.
For more information on the US Green Card Process, get in touch with consultants at Kansas Overseas.
Application Costs Involved
Australia
United States
The new fee structure, unveiled by U.S. Citizenship and Immigration Services (USCIS), is expected to take effect October 2, 2020.
Cost of online naturalization applications is increasing from $640 to $1,160
There will also be a $50 fee for asylum seekers
Visa Processing Time: Australia Vs USA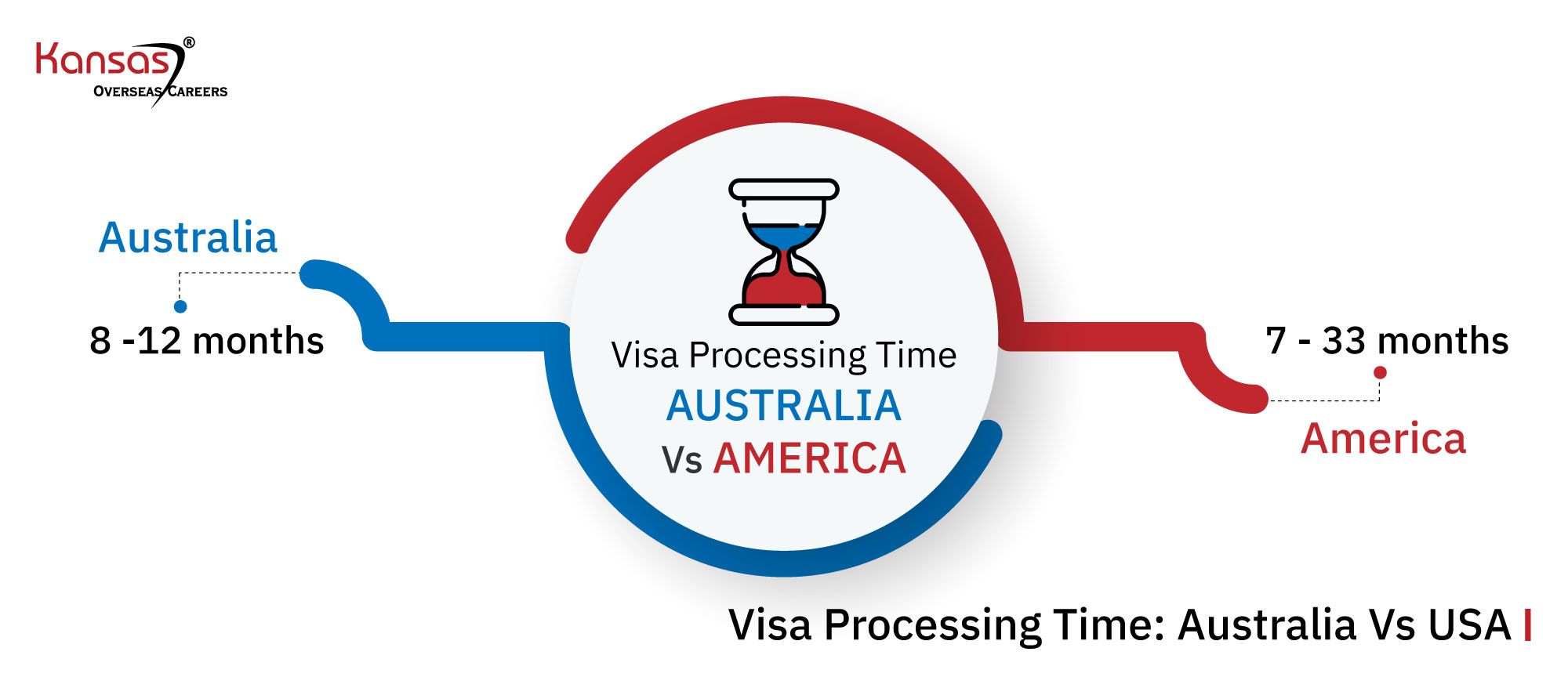 Australian PR Processing Time
As per DIBP, the average waiting time for Australia PR is around 8 months-12 months. Visa processing time largely depends on the visa category you have chosen for PR.
Processing Time for the United States
According to USCIS, an application for permanent residence (Form I-485) will take anywhere from 7 months to 33 months to process. The time range can vary depending on the office location, basis for the filing, and other factors.
Benefits Of Permanent Residence: Australia | USA
| | |
| --- | --- |
| Australia PR Benefits | US Green Card Benefits |
| Australia PR is valid for 5 years | The initial validity of a Green Card is 10 years |
| You can work, study, and live anywhere in Australia | You can work and live anywhere, but switching jobs has a stringent process |
| You can travel within and outside of Australia without any restrictions | It confirms your official immigration status in the United States |
| PR visa holders hold similar rights to Australian citizenship except for the voting right and applying for Australian government jobs | The Green Card, similar to PR, allows you to work and live in the USA permanently with extension every 10 years |
| You can sponsor a spouse, partner, family members, and dependent children to Australia | You can sponsor your Spouse and Unmarried children under 21 to the USA |
| You can access healthcare and social security benefits | No access to healthcare. You will have to pay for all medical expenses |
| Children of PR holders, born in Australia, will be a citizen by birth | Citizenship for the children |
| Free or subsidised education | Lesser subsidies, but access world-class educational institutions |
| Well-paid job opportunities | Better pay structures and better job opportunities |
| Family-friendly environment ideal for children | Lesser stability but you enjoy a high standards of living |
| One of the least polluted countries in the world | Being the prime economical hub of the world, USA has cultural diversity |
Also read: Top 6 Australian PR Benefits
Limitations Of Permanent Residence: Australia | USA
| | |
| --- | --- |
| Limitations of Australia PR | Limitations of US Green Card |
| Required to stay in a specific region for 3 years at least to apply for permanent residency | There is an annual limit to the number of H1B visas to be issued |
| Satisfy the minimum annual income requirement to apply for permanent residency | Finding an employer to sponsor for H1B visa can be difficult |
| Challenging to get a job that suits your expertise | High qualifications and skills required for a job |
| Point-based immigration can become a hurdle in some cases | Can only stay for a maximum period of 6 years with the H1B visa |
Not sure which visa is right for you? Get in touch with an expert who determines which visa best suits your profile.
Working with an Australian PR Visa Vs the USA H1-B Visa
Australia PR Visa

US H-1B Visa

Stability

Flexible and easy to follow immigration laws

The changing immigration policies in the US feeble stability

Freedom to Switch Jobs

You can work wherever you like in Australia




Switch jobs and work for any Australian company willing to sponsor




Australia PR gives you equal opportunities like a citizen

It is very risky for H1B holders to switch their jobs due to visa restrictions. H1B however gives you the freedom of shifting from one employer to another

Your new employer has to apply for your H1B visa when you switch jobs. And you will have to reapply for green card by porting the old green card application date with the new date

You will have to go through the the entire processes once again

Job Opportunities

Rewarding employment opportunities

Job opportunities are more in the US. But it depends on the skill in demand

Business Opportunities

The Australian Business Visa Program is an encouraging pathway with several subclasses.

Visa restrictions applicable to people starting their own business are less
Immigration Policies & Latest Updates for 2023
Australia Immigration Policies
Australia's COVID recovery plan introduced a Priority Migration Skilled Occupation List (PMSOL) targeting occupations in the health care, construction, and IT sectors.
Employer-sponsored applicants in the PMSOL occupations will be given priority processing for both nomination and visa applications in the following visa types:

Subclass 482 - Temporary Skill Shortage (TSS) visa
Subclass 494 - Skilled Employer Sponsored Regional (Provisional) visa
Subclass 186 - Employer Nomination Scheme (ENS) visa
Subclass 187 - Regional Sponsored Migration Scheme (RSMS)
United States Immigration Policies
The Immigration and Nationality Act (INA) allows the United States to grant 675,000 permanent immigration visas every year across various categories of visas.
Sweeping changes to the US federal immigration policies brought by the Trump administration has been turned down by the courts.
Almost two-thirds of the legal immigration to the US is on the basis of family ties. The rest is divided between employment-based and humanitarian immigration.
Although the US is very welcoming, it keeps revising its immigration policies. The primary reason to do so is to control immigration to the USA.
Both COVID-19 and the Trump administration had restricted the US immigration policies in 2020. But it is likely to bounce back under the advent of Joe Bieden as president.
Forward movement for employment based categories for India and China.
USCIS will continue to honor dates for filing till 31 December 2020.
Most Sought-After Jobs In Australia & USA
| | |
| --- | --- |
| Australia | USA |
| Nurses and medical staffs | Application Software Developer |
| IT and Software Programmer | Registered Nurse |
| Construction and Trades | Medical Services Manager |
| Management Professional | Data Scientist |
| Teacher | Business Development Manager |
| Automotive Engineer | Medical Technologist |
| Construction Engineer | Construction Labourer |
| Barristers | Home Health Aide |
| Surgeons | Finance Manager |
Average Work Hours
Australia
If you look at Australia, the standard work hours for an employee under a federally regulated sector are 40 hours a week. Australians work more or less, 41 hours a week.
United States
As per the data revealed by the Bureau of Labour Statistics, American employees worked for approximately 34.4 hours per week in 2019.
Annual Leaves
Australia
The Australian full-time workers are entitled to get 4 weeks of paid annual leave every year.
United States
In the USA, an average American full-time employee can get a 10-days paid vacation per year.
Taxation in Both the Countries
Australia

USA

Taxable Income (USD)

Tax Rate

Taxable Income (USD)

Tax Rate

0 – 18,200

0%

0 – 9,275

10%

18,201 – 37,000

19%

9,276 – 37,650

15%

37,001 – 80,000

$3574 + 32.5%

37,651 – 91,150

25%

80,001 – 180,000

$20,797 + 37%

91,151 – 190,150

28%

Over 180,000

$54,097 + 45%

190,151 – 413,350

33%

413,351 – 415,050

35%

Over 415,051

39.60%
Australia
Australia has a progressive tax scale system. The rate of tax increases with the income. Foreign nationals who come to Australia are treated as citizens for tax purposes.
United States
The US tax system is a bit complicated. It is set up on both the federal and state level. And taxation comes in many forms as income, sales, capital gains, and others.
International Student Scholarships
Take a look at the following table to know about the scholarships for Indian students :
| | |
| --- | --- |
| USA Scholarships | Australian Scholarships |
| Inlaks Shivdasani Foundation scholarships | University of Queensland Postgraduate Coursework Scholarships |
| Stanford Reliance Dhirubhai Fellowships for Indian students | University of Adelaide Ashok Khurana Scholarship for Indian Students |
| Asian Women in Business Scholarship Fund | Australian Leadership Awards (ALA) |
| S.N. Bose Scholars Student Exchange Program for Indian Students | University of Queensland India-Australia BEL Excellence Scholarship |
| Fulbright-Nehru Research Fellowships | Endeavour Leadership Program |
| East-West Center Graduate Degree Fellowship | Australian Government Research & Training Program (AGRTP) |
| Asian Cultural Council Individual Grants | John Allwright Fellowship (JAF) |
| Tata Scholarships at Cornell | Master of Architecture Scholarship - Bond University |
| Hubert H. Humphrey Fellowships Program | Starter Support Scholarship - Covid Bursary - Curtin University |
| Yale University Fox International Fellowships | International Scholarship - Deakin University |
Australia
Scholarships for Indian students in Australia are based on merit. And students have to demonstrate eligibility to apply. However, there is no qualifying exam criterion for availing scholarships.
The government of Australia has made a range of scholarships available to candidates from the Asia Pacific region under the Australian Scholarships Program.
United States
Full scholarships in the US are rare. Whatever is available is competitive. The odds of getting a scholarship in the US are 1 in 8 for Indian students. Only 1.5% of degree program students got enough scholarship in 2015-16 to cover 100% cost of attendance.
International students should plan well in advance to apply for scholarships offered by American universities depending on course and criteria. Factors like extracurricular activities and volunteering can also be considered.
Cost of Living in Australia Vs the United States
| | | |
| --- | --- | --- |
| Factors | Australia | USA |
| Average Monthly Disposable Salary | $3,780.69 | $3,258.85 |
| Basic Utilities | $192.98 | $162.08 |
| Rent per Month - 3 Bedroom | $2,778.30 | $1,685.98 |
| Cinema Ticket | $15.19 | $10.00 |
| Internet | $58.02 | $45.72 |
| Local Purchasing Power | $101.60 | $128.73 |
Australia
Cost of living in Australia on average is 15.71 percent higher than the United States. It varies according to the city or the region you live in. Sydney is the most expensive place to live in the entire country.
United States
Cost of living in the United States fairs better when compared to Australia. Living cost differences between states is a factor that largely results from relatively high housing prices.
Job Opportunities: Australia Vs the United States
Australia
Driven by high rates of immigration, the Australian economy alongside population, has been continually growing. Almost 200,000 new jobs are created each year. Indian IT professionals constitute the largest group within the Subclass 457 migrants.
United States
The United States offers an array of job opportunities for Indians. The skills shortage across various sectors like healthcare, computers and information technology are in high demand. It is also an ideal pathway to come to the US as a student and then go for the H1B temporary work visa.
Job Security in Australia Vs the United States
Australia
Comparatively, workers in Australia have a high rate of job security. Job retention averages almost 89% across the country. But the evolving economy and the fast-paced business environment is more challenging than ever before.
United States
There is no job security in the United States. Chances of losing your job in the US is almost 6.3 percent. Minimal government intervention in the US has created an at-will employment system. Outsourcing has added woes to the US job market as well.
Healthcare in Australia Vs the United States
| | | |
| --- | --- | --- |
| Factors | Australia | USA |
| Health Care Index | 77.38 | 69.20 |
| Global Rank | 9th position | 27th position |
| Availability | Free or Low-Cost - Delivered by government through Medicare | Expensive and Not-Free - Have to pay all costs - Private |
| Public Health Infrastructure | Highly Developed - Public and Private | Federal Structure - Limited Progress |
| Annual Budget | $185 billion | $3.8 trillion |
| Life Expectancy | 82.50 years | 78.93 years |
Australia
Although Australia has highly developed healthcare facilities, they are not evenly distributed. It is delivered by both private and government and is covered by Medicare.
United States
Healthcare facilities in the United States are largely owned and operated by the private sector. While 58% of the hospitals are nonprofit organizations, 21% are government-owned and 21% are for-profit.
General Comparisons Between Australia and the United States
Average Life Satisfaction


Australia

USA

Average Life Satisfaction


Australia

USA

Unemployment Rate


Australia

USA

Unemployment Rate


Australia

USA

Cost of living


Australia
AUD 2,835 per month for a single person.

USA

USD 1000 per month for a single person.
Cost of living


Australia
AUD 2,835 per month for a single person.

USA

USD 1000 per month for a single person.
Average Work Hours


Australia

USA

Average Work Hours


Australia

USA

Best Cities


Australia
Canberra, Adelaide, Brisbane, Melbourne

USA

Dallas, Denver, Charlotte, Boston, Salt Lake City, and Portland
Best Cities


Australia
Canberra, Adelaide, Brisbane, Melbourne

USA

Dallas, Denver, Charlotte, Boston, Salt Lake City, and Portland
PR Options


Australia
Skilled Immigration options like Subclass 189, Subclass 190 and Subclass 491.

USA

PR Options


Australia
Skilled Immigration options like Subclass 189, Subclass 190 and Subclass 491.

USA

Other Important FAQs
Which is the fastest PR visa in Australia?
The most recent addition to Australia's immigration system - the Global Talent Independent program is the fastest way of getting permanent residency in Australia. The processing time for Global Talent Visa varies from two days to two months.
What is an Australian Working Holiday Visa?
There are two types of visas in the Working Holiday Maker program: The Working Holiday Visa (Subclass 417) and the Work & Holiday Visa (Subclass 462).
Both visas allow you to work and stay in Australia. You are also allowed to seek full-time, part-time, casual and shift work for a period of 12 months.
What are the types of student visas issued in the United States?
There are 3 types of students visas issued by the United States:
The F-1 visa for full-time students
The J-1 for work and study-based visitor exchange programs
The M-1 visa to study on a full-time vocational course
Can temporary migrants become an Australian passport holder?
Yes, you can apply for an Australian passport if you meet the following criteria:
If you have held a temporary or permanent visa allowing you to stay in Australia for at least 4 years
You have not travelled outside Australia for more than 3 months in the last 1 year before filing the application
What is the easiest way to get a USA Green Card?
Family-Sponsored Preference Categories
Employment-Based Preference Categories
Diversity Visa Immigration Lottery Program
Is it difficult to get a permanent card in the USA?
The United States, Switzerland, Japan, Germany, and Austria are the five countries where it is difficult for foreigners to obtain permanent residency or citizenship. The US Green Card especially is not easy since the law is complicated. It is sensible to consult an immigration expert for guidance.
Will my parents get permanent residency in Australia?
Yes. The Parent Visa enables Australian PR visa holders and citizens to sponsor parents for permanent residency in Australia. However, this migration program is capped and queued and might take a very long processing time.
Can I work in the USA as a permanent resident of Australia?
Yes. Australians can now apply for E3 visas to live and work in the USA. It is a dedicated visa that is much easier and less expensive than the H1B work visa. About 10,500 E3 visas are reserved in the USA for Australians. The E3 visa is valid for 2 years.
What can I do when my Australian PR visa expires?
You can freely travel abroad and return to Australia as often as you like on a PR visa within the first five years. But it will not be possible for you to get back into Australia after the travel component of the visa expires. You can apply for a Resident Return Visa if you like to re-enter the country.
Does Australia permit dual citizenship?
Yes. Australia allows citizenship of two or more countries. However, this should be legal to all parties involved. Citizens of other countries can settle in Australia and gain Australian citizenship to gain triple nationality.
Which country is less expensive to live in? Australia or the USA?
Australia has the 12th highest cost of living in the world today. The USA is far behind at the 21st place. The overall cost of living in Australia is almost 9% higher than the USA. Sydney is the most expensive city to live in Australia.
What are the different immigration pathways for the US and Australia?
Immigration pathways for Australia
Australian Migration Programs

Purpose





Skilled Migration

Types under the Australian Skilled Migration Programs

General Skilled Migration
Employer Nomination
Business Skills Migration
Distinguished Talent





Family Stream

Immediate family of Australian Citizens & PRs

Partner Visas
Dependent Child Visas
Parent Visas
Relative & Carer Visas

Regional Initiatives

Attracts skilled migrants to regional and rural areas to cater to demands of the local labour market

Temporary Migration

Popular Temporary migration programs to Australia is fast becoming the first step towards permanent settlement in the country
Immigration pathways for the US
US Immigration Categories

Purpose

Family-Based Immigration

It allows US citizens and LPRs to bring in certain family members to the United States

Employment-Based Immigration

There are various ways through which immigrants with valuable skills can come into US on temporary or permanent status like H1B, L1 and L2 visas

Per-Country Ceilings

The INA places a limit on how many immigrants can come into the US from any one country




Refugees & Asylees

For people fleeing persecution or are unable to return to their homeland due to extraordinary circumstances




Diversity Visa Program

It is a lottery system designed by the US immigration act dedicated for immigrants from countries with low rates of immigration to the US.




Other Forms of Humanitarian Relief

The three subcategories under this are:

Temporary Protected Status (TPS)
Deferred Enforced Departure (DED)
Deferred Action for Childhood Arrivals (DACA)

United States Citizenship

Individuals are required to have LPR status or a green card for at least five years to become a citizen of the United States
Conclusion
Both Australia and the United States are perfect places to settle if you are looking forward to immigration.
Australia
As a developed country Australia has a good reputation for welcoming immigrants. It has a strong economy and is an ideal destination with many well paid jobs. With a modern lifestyle and high standards of living, Australia is one of the best places in the world to live in.
United States
Being the strongest economy in the world, the United States is the number one destination for people wanting a better life for themselves. It has the best of the world to offer in terms of education, technology, entertainment, nightlife and more.
Comparing US H1B Visa with Australia PR
| | | |
| --- | --- | --- |
| Aspects | US H1B Visa | Australia PR |
| Job Opportunities | Many Options | Rewarding Opportunities |
| Average Working Hours | 34.4 hours per week | 41 hours a week |
| Job Security | Unreliable | Reliable |
| Annual Leave | 10-days paid vacation per year | 4 weeks per year |
| Average Salary | $40,000 per year | $84,968 per year |
| Average Tax | 19% | 15% |
| Cost of Living | $1,100 - $1,300 Per Month | $2,365 Per Month |
| Healthcare | No Free Treatments | Medicare Coverage |
| Cost of Education (Graduation) | $20,000 - $45,000 Per Year | $20,000 - $42,000 Per Year |
| Scope for Citizenship | Hold a Green Card for 3 Years | After 4 Years of Australian PR |
How Can Kansas Help?
Kansas Overseas Careers specializes in Permanent Residency Visas, Work Visas, Study Visas, Temporary visas, and Dependent Visas to Australia, Canada, UK, USA, Germany, and Hong Kong.
Apart from these services, Kansas offers its clients personalized services such as:
Profile Evaluation:

Professional guidance based on an

in-depth assessment of the client profile to determine chances of visa success.
Documents & Review: Detailed, error-free documentation based on the visa type drafted to meet specific formats.
Dedicated Case Officer: A dedicated consultant to assist clients throughout the process.
Visa Filing: Kansas ensures that the visa applications meet all the standard requirements of concerned immigration authorities and governing bodies.
Test Preparations: Complimentary online courses are offered to help aspirants improve their Language Proficiency for important exams like IELTS, French, TOEFL, and PTE.
Visa & Interview: Guidance is provided for aspirants attending visa interviews along with verified documents.
Post-Landing Service: Kansas helps clients settle down in the new country with a comfortable stay after they have received their visas.
Additional services offered to job-seekers:
Resume Writing: Dedicated team of resume experts to craft the best resumes that meet prerequisites of immigration authorities and potential employers. This greatly improves their chances of selection.
Profile Marketing: Kansas is well-known for creating the best-in-class portfolios that boost applicant profiles in job-portals. And yes, this is a complimentary service!
Additional services For students looking for a study visa:
Admission Guidance: Comparisons between the best programs, colleges, and countries to study in, including arranged mentorship from existing students.
Writing Services: Admission Essays, Student CV, Statement of purpose (SOP), Letter of recommendations (LOR), and other important services offered by a dedicated team.
Scholarships & Financial Aid: Offer help to find the best Scholarships programs, Education loans, Study abroad loans, and also offer help in sourcing paid-Internships.
Get started with your visa process today!