If you're looking to pursue a postgraduate degree in a country where education is the driving factor for daily business, holidays are spent in leisure, where a friendly community is your next-door neighbour, and the street food is a mix of culture and spices, Australia is your resort.
The population of international students in Australia has crossed over 6,37,000. If you're an Indian who wants to study in Australia, you have a high chance of getting admitted at one of the best universities in Australia. International students must apply for an Australian Student Visa and familiarize themselves with the new rules.
Read to know all about the Masters in Australia for Indians, the best universities, courses, cost of living and more in this blog.
What Makes Australia the Best Choice for International Students?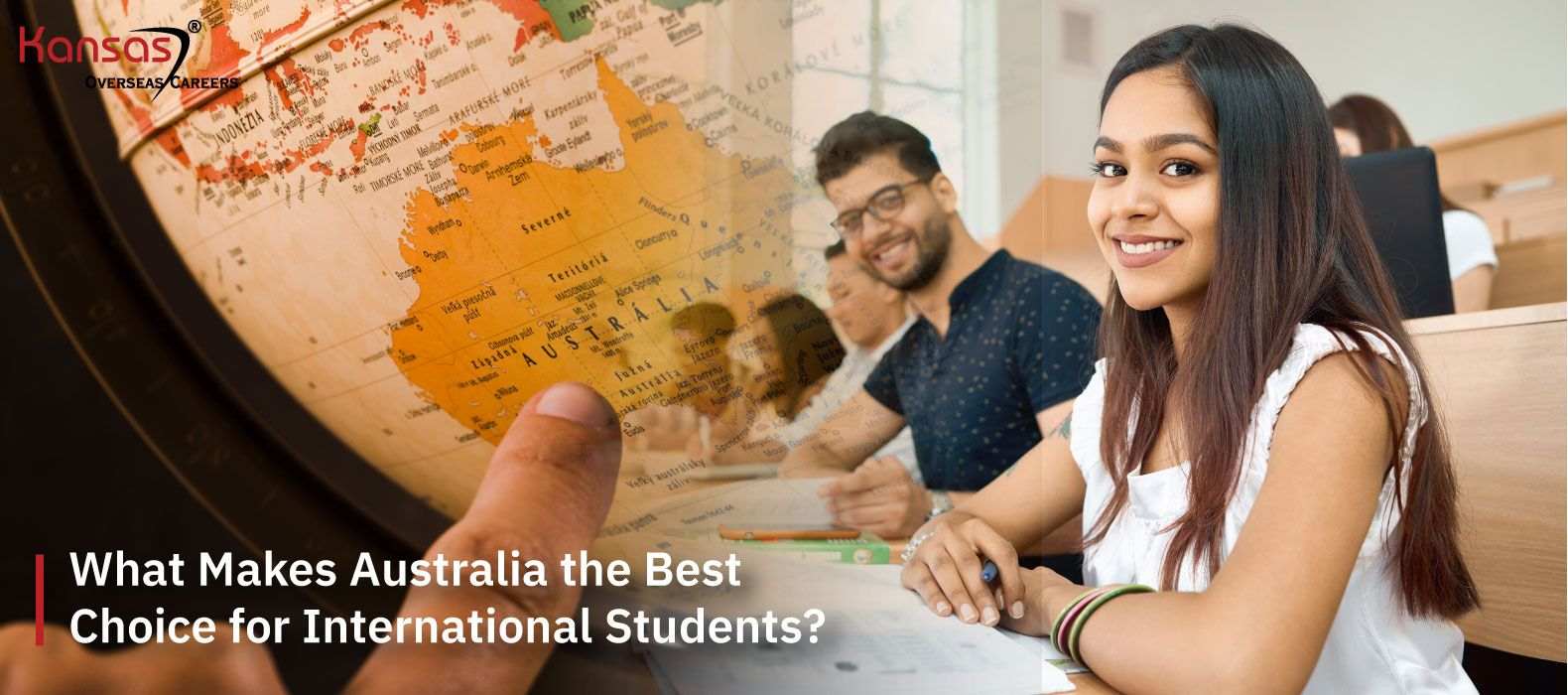 Excellent Education System
Starting from Master's in Data Science to Master's in English Literature, every major subject is covered in Australia, making it the top choice for international students.
Professors in Australia are resourced to exchange knowledge with the students to shape them for the industry-experience. This nonlinear method gives students a say in their future and makes the learning experience more interactive and fun.
English is the mode of communication in all Australian Universities, making it easy for Indian Students to grasp the subjects.
6 universities in Australia are among the top 100 universities globally, known for their detailed course structure, practice-based modules and hands-on training.
Great Scholarship Programs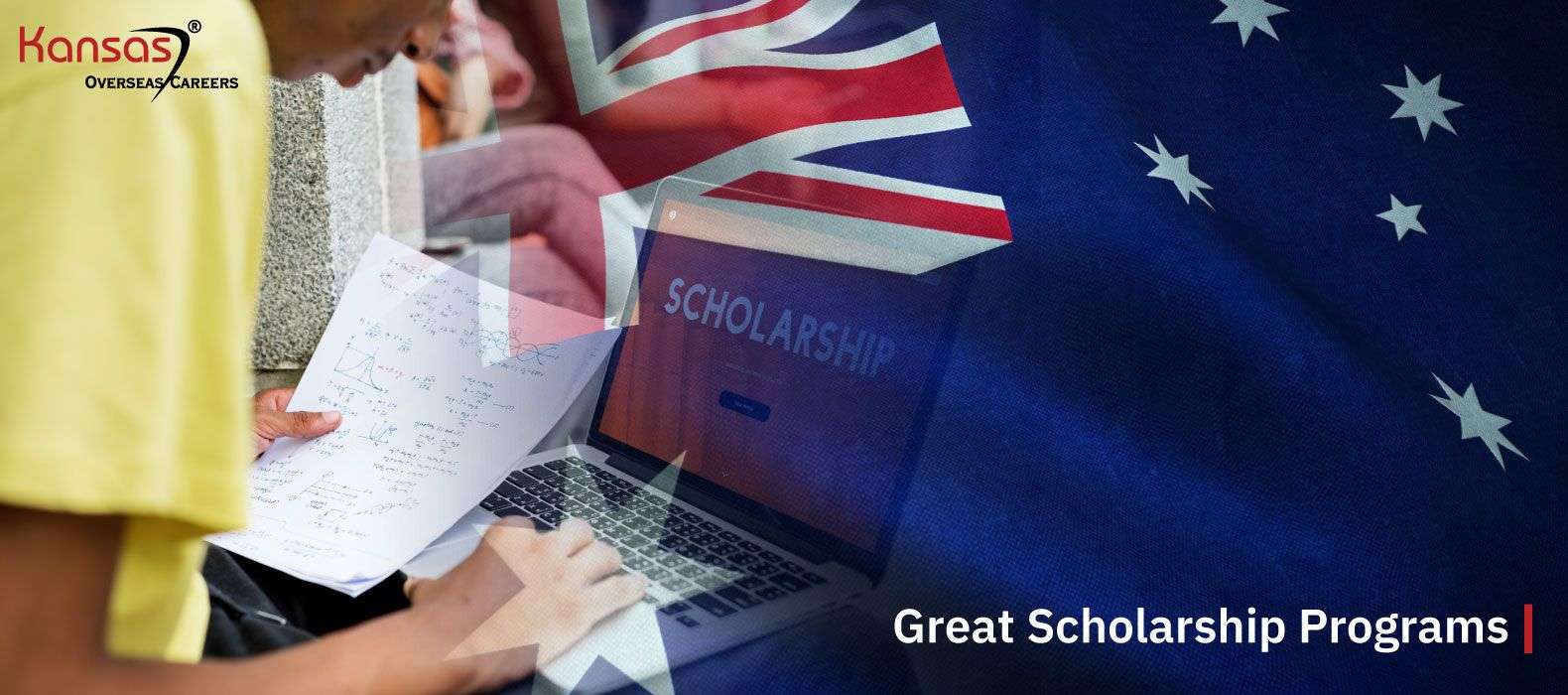 Australia provides project-based and course-based scholarships to students who've shown a keen interest in learning a subject and researching the field. The academic performance and the co-curricular involvement of the students are the prime factors for selection.
Here is the list of scholarships that cover tuition fees, living allowance and health insurance for the year 2023:
UNSW International Scholarships:

Special Scholarship only for international students.

University of Melbourne Graduate Research Scholarships:

For the curious minds of researchers.

Adelaide Scholarships International:

For good performing international students seeking Postgraduate Education.

Charles Darwin University Vice-Chancellor's International High Achievers Scholarships:

For the excellent performers and outstanding students of the field.




Ethnic and Cultural Diversity
Australia goes by the motto, "Racism? No way! 86% of Australians support the anti-racism law in the country.
One in four Australians is born to an immigrant parent.
Temples, Churches, Mosques and other places of worship are built all across the country to encourage religious harmony. Most overseas migrants who settle in Australia say that they feel a strong sense of belonging to the country just within a month.
Known as the country of the future, Australia is home to some of the world's greatest skyscrapers, shopping malls, food fiestas, beaches and more.
People in Australia lead a very easy-going life and believe in a comfortable yet luxurious lifestyle. Students who move to Australia are awed by the liberty, culture and extravaganza of the Australian lifestyle.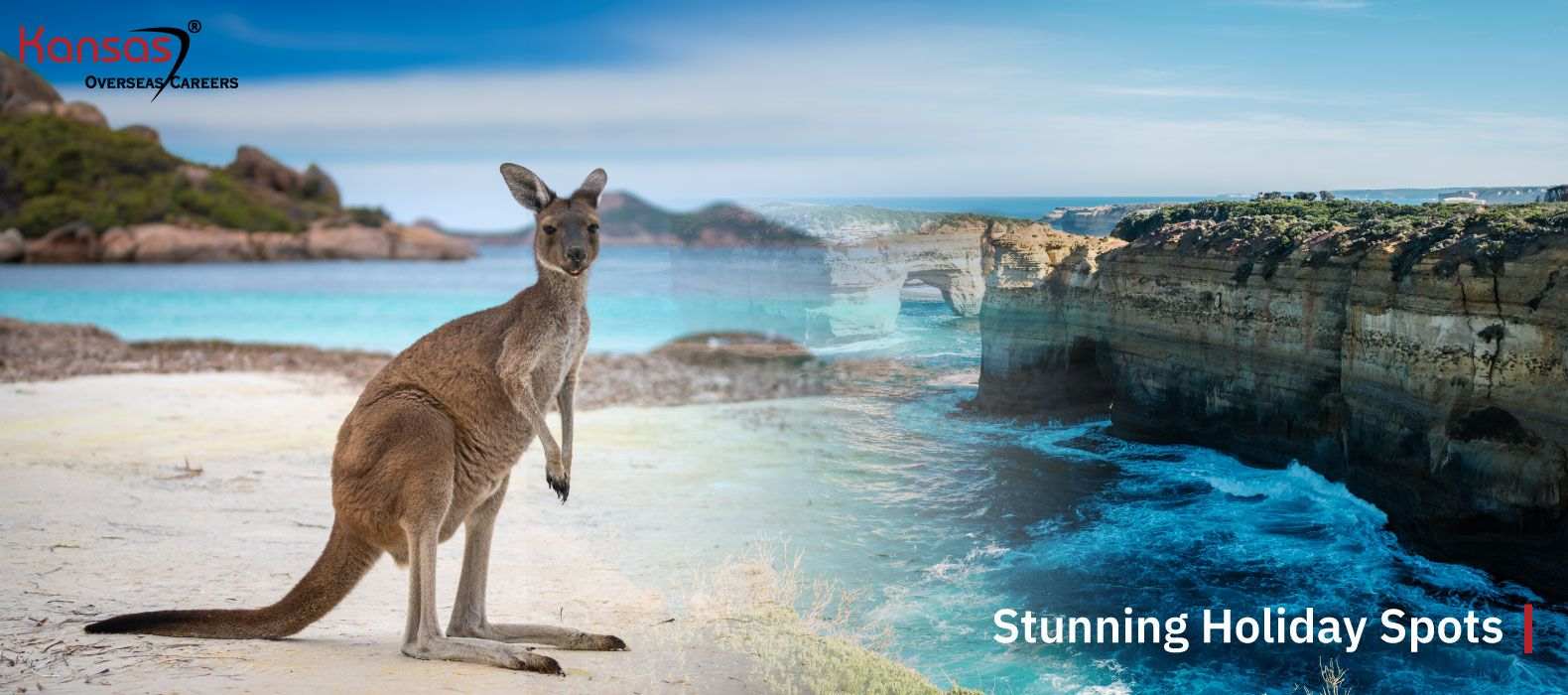 The oldest living rainforest in the world, Daintree is one of the most sought after holiday destinations by students. It has natural water springs flowing from the breathtaking Cassowary Falls and embodies lush forests and wildlife.
Tourist attractions like the Great Barrier Reef and Hamilton Island are some of the most popularly visited places. And, to end your day on the Gold Coast, sipping on a 'mocha' would mean you spent a perfect day in Australia.
Immense Job Opportunities
Prospect, growth and employee benefits are what define a job in Australia. In recent years, many Australian sectors have experienced a demand for skilled migrant workers. Sectors like construction, healthcare, engineering, education, science and technology top that list.
Immigrants are considered a huge asset to Australia's growing economy and hence present many opportunities for students who wish to settle and work there.
Top 9 Colleges Courses and Specializations in Australia
Top Colleges

Courses

Annual Fees

Australian National University, Canberra

M.S Computing

Master (Applied Data Analytics)

$ 30,904

$ 29,628

University of Melbourne, Melbourne

Master of Engineering [M.Eng] (Civil - Business)

Master of Engineering [M.Eng] (Electrical - Business)

$ 30,867

$ 30,867

University Of New South Wales, Sydney

Master (Cyber Security)

Master (Cyber Security Operations)

$ 26,164

$ 26,164

University Of Sydney, Sydney

Master of Architecture [M.Arch]

Master of Law [L.L.M

$ 27,600

$ 32,085

University Of Queensland, Brisbane

Master of Engineering [M.Eng]

Master of Architecture [M.Arch]

$ 31,132

$ 28,041

Monash University, Melbourne

Master of Architecture [M.Arch]

Master (Data Science)

$ 28,290

$ 28,970

University Of Wollongong, Wollongong

Master of Computer Science [M.C.S] (Intelligent Systems)

Master of Computer Science [M.C.S] (Software Engineering)

$ 23,713

$ 23,713

University Of Tasmania

Master Logistics Management (Advanced)

Master (Protected Area Governance and Management)

$ 22,080

$ 21,027

Bond University, Gold Coast, Queensland

Executive Master of Business Administration [E.M.B.A]

Master (Construction Practice + Project Management)

$ 41,272




$ 29,683
How to apply for Masters in Australia?
You must have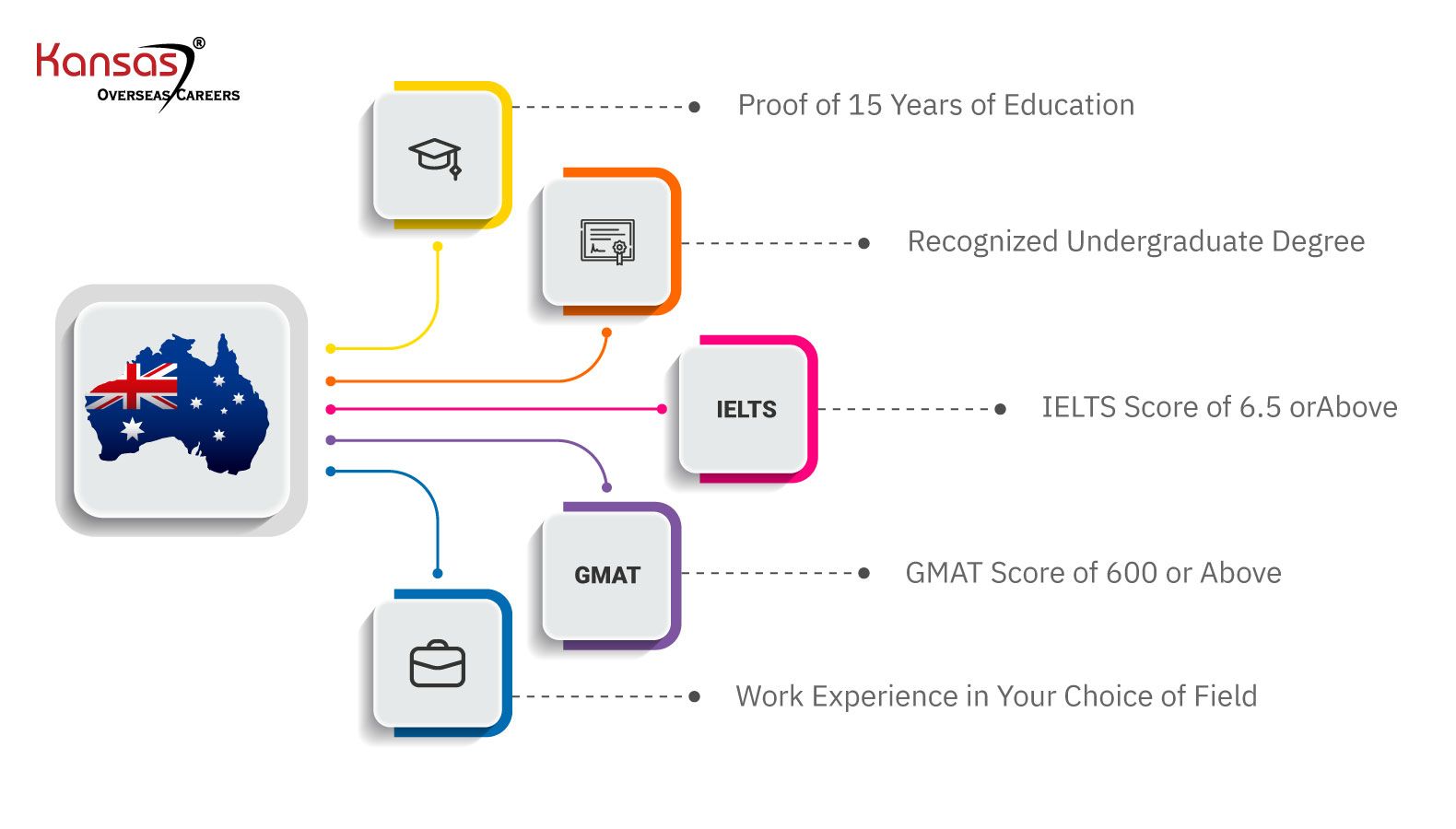 Proof of 15 years of education.

A recognized undergraduate degree with a strong academic background.

An IELTS score of 6.5 or above.

A GMAT score of 600 or above. ( For science, technology and business studies)

Work experience in your choice of field (if any)
Steps to apply for Masters in Australia: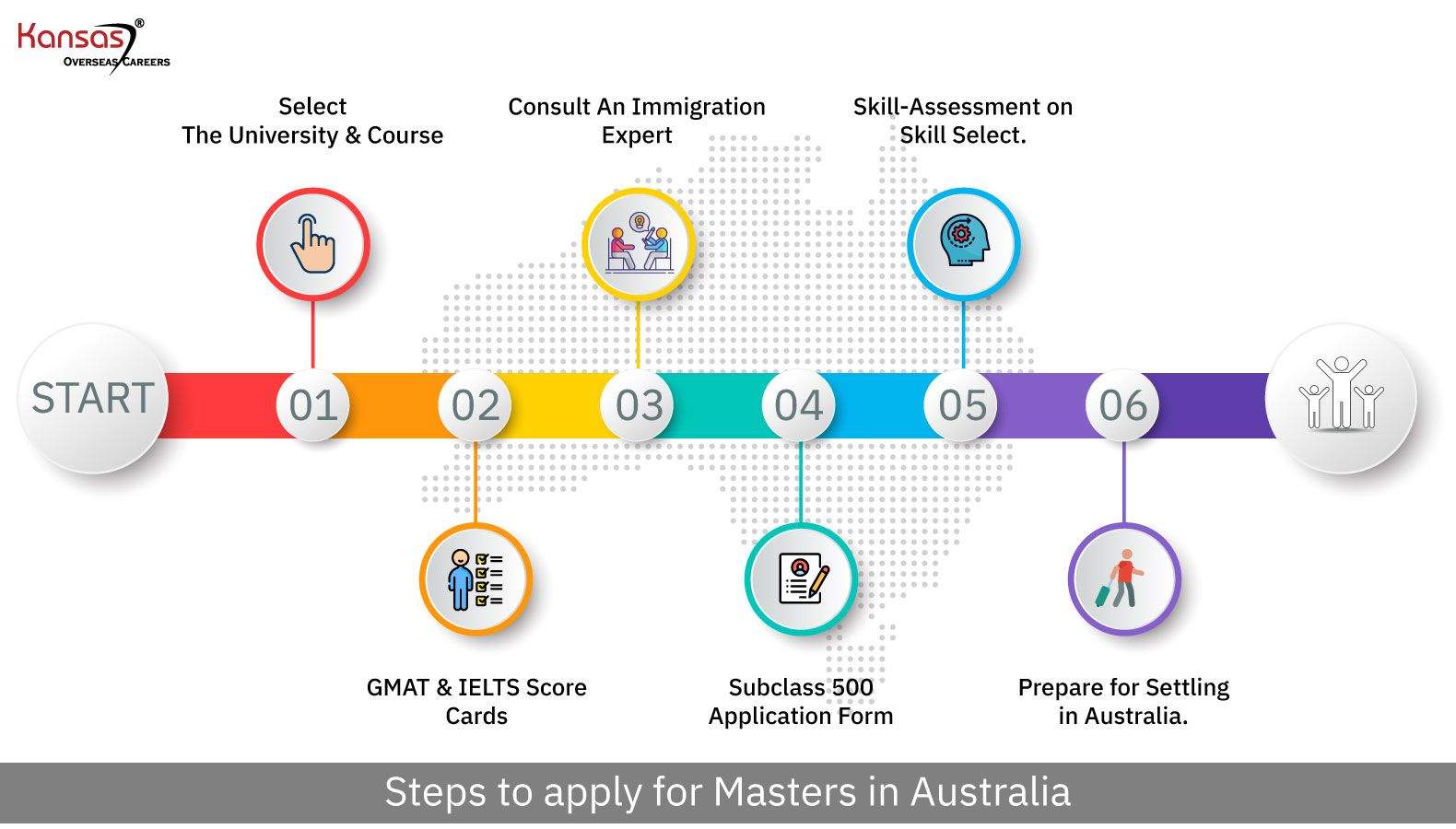 Step 1: Select the university and course you want to study
Depending on your interests and skills, you need to select a university that can help you meet your end-goal.
Step 2: Gather your GMAT and IELTS Score Cards
If you're a science applicant, GMAT is a mandatory requirement to prove your aptitude and knowledge in the subject. Additionally, since the mode of teaching in Australia is English, a decent score in IELTS is required to prove your proficiency in the language.
Step 3: Consult an Immigration Expert
As a student applicant, many a time, you may come across some migration processes that you're unfamiliar with.
A visa consultant will help you list down the best universities for you, complete the documentation, coach you for the IELTS and file your Subclass 500 visa by guiding you in every step of the process.
Owing to their experience and knowledge in the field, they can ease the student visa process for you in much less time.
Step 4: Collect the Subclass 500 application form
The student visa application, Subclass 500, is a mandatory form you need to fill and submit with accurate details. It will require you to fill in details about:
University Location

Course Subjects

Course Duration

Annual Fees

Proof of funds
Step 5: Complete your skill-assessment on Skill Select.
In order to evaluate a student's previous grades, Australian Authorities perform a skill assessment on a portal called Skill Select.
You will have to upload all your documents on this portal and submit it for evaluation. Once assessed, you will be notified about your scorecard.
Step 6: Prepare for your settling in Australia.
Let your immigration consultant handle the rest. From this point forward, you will need to start preparing your travel itinerary and settling arrangements. Your immigration consultant will handle the approval process and ensure that you settle in Australia with ease.
5 Benefits of pursuing a Master's Degree in Australia
You are assured of getting Global Recognition with an Australian Masters Degree. The international course curriculum of the country is designed for future leaders and achievers with abundant on-field exposure.
Most companies look for candidates who are highly skilled and talented. However, the final decision is always based on the candidate's communication power and new ideas for innovation.
Though Australia is reputed to have a high cost of living and tuition fees, with the right skills and motive, that may not be the case.
The fee structure in Australia is far more affordable than in other developed nations. It is designed for middle-class students and provides many options for securing fee-waivers and scholarships.
Travel pass to all states
With an Australian Student Visa, you're free to explore the marvels of the country in any state. Be it the Great Barrier Reef or the Gold Coast, it is your travel pass to any of the states in Australia to enjoy a vacation or spend a holiday at a relative's.
Australian Universities offer paid internships to students every semester. The internships are often guided by professors and on-field experts who give them minor tasks throughout the week and train them for the major upcoming tasks.
Not only is this a great opportunity for students to seek practical experience, but it is also an excellent way to earn some extra money to manage their living expenses.
Easy Accommodation & Transport
Australia is full of shared-accommodation options. This is mainly for students and immigrants who want to spend a bare minimum on housing expenses and want to make the best of their educational journey with access to commute and stay.
In all cities in the Capital Territory, Australian Student Visa holders are given a concession fare on public transport, and in Northern Australia, public transportation is free of cost.
How much does it cost to do a master's in Australia?
On average, your tuition fees will cost you $20,000 annually, and your living costs per month will be around $2,835.
Other Important FAQs
What type of visa will you need to study for a master's in Australia?
In order to pursue a master's degree in Australia, you will need a Subclass 500 Visa.
Which master's degree is most valuable in Australia?
Here are the top 5 most valued degrees in Australia:
Engineering & Technology

Accounting and Finance

Management and Business Administration

Education

Computer Science & Information Technology.
What is the easiest degree to get in Australia?
The Good University Guide says, "degrees in commerce, humanities, education and science remain some of the "easiest' courses to get into."
How long can you stay in Australia after your Master's?
After you've completed your Master's in Australia, you can stay there for 18 months to look for a job.
Conclusion
To get a Masters in Australia, you must have:
A completed bachelor's degree

A Skill Select report

A well-written Statement of Purpose
With a Masters degree in Australia:
You will be eligible for Permanent Residence in Australia

You will get a Globally Recognized Degree with a reference letter from Australian Officials

You can work in Australia with a subclass 496 or subclass 486 visa