According to data from the latest Open Doors Report on International Education, the U.S. hosted more than 1 million international students in the academic year 2019-2020. Following China at 34%, the second-highest international student population in the US are Indians at 18% and South Koreans at 4.6%.
The US also has a higher percentage of visa rejections than any other country in the world. This is mainly due to the fact that many people applying for a US visa are unaware of the requirements needed to be met while filling their visa application.
Read on to know more about the top 5 F1 visa interview questions and answers, F1 visa application, process, important interview tips, and more.
Top 5 USA F1 Visa Interview Questions and Answer in 2023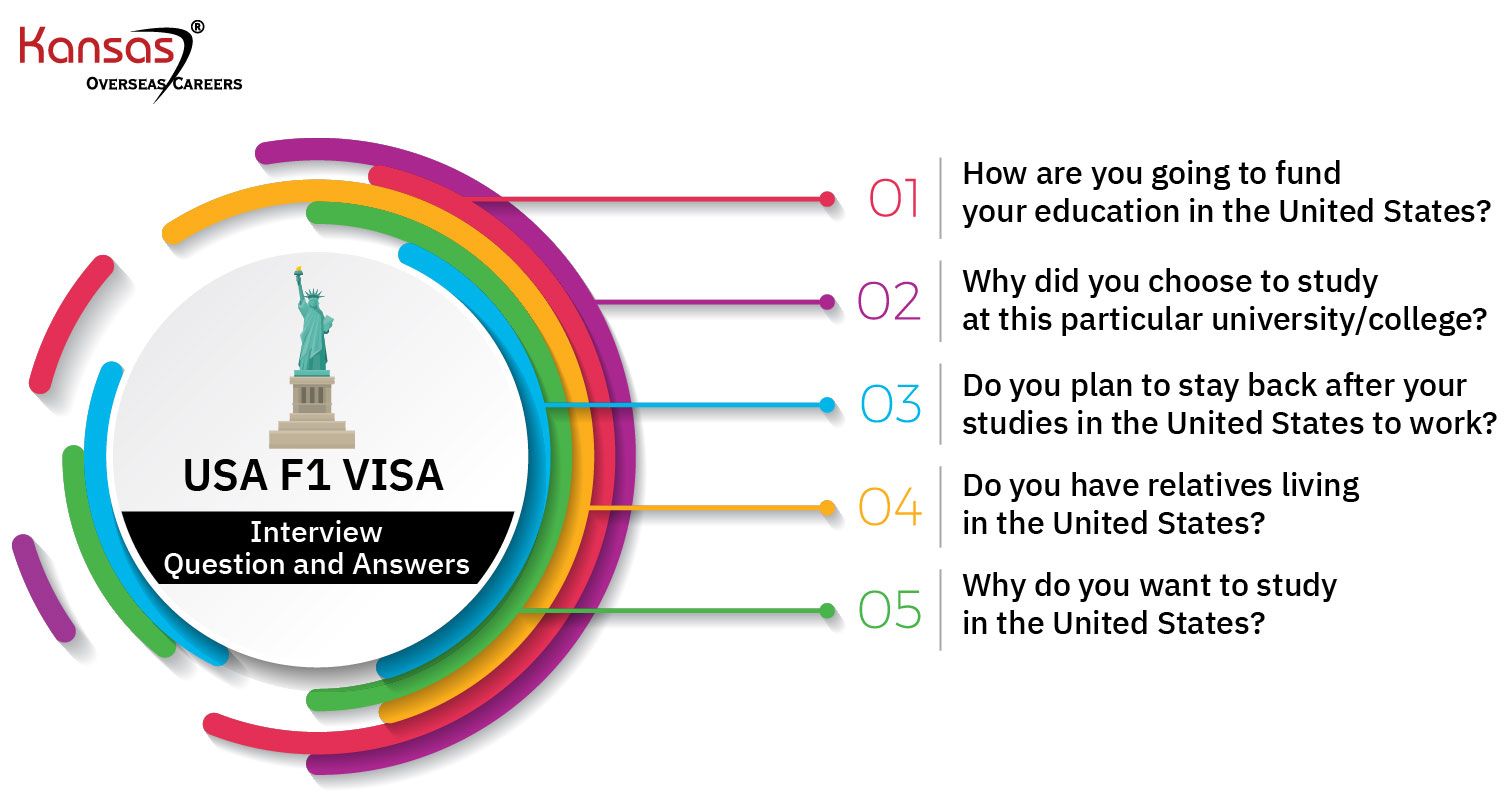 Before you head for the interview ensure that your DS-160 is properly filled up. The questions asked are largely from the form you have filled up. Thereby, either take help from a consultant or fill the form after carefully evaluation each question. .
Here are the most commonly asked F1 visa interview questions and answers for Indian students in 2023:
1. How are you going to fund your education in the United States?
You must mention the source of your financial support for the entire duration of your course. Whether it is a parent or relative sponsoring your education OR if you have a scholarship or have taken an education loan.
Also, mention the annual or monthly income of your sponsor, mention the work they do and for how many years they have been employed or running a company/business. If your sponsor is a businessman, mention the type of business, annual turn over and the age of the company.
If you have taken a loan, make sure to mention the bank name, the amount and whether the loan is approved or not. The same goes for any scholarships you have. Mention the scholarship name and amount.
Carry all your financial documents to your student visa interview to prove sufficient funds.
2. Why did you choose to study at this particular university/college?
When you prepare for an answer to this question, sit back and evaluate how this college or university will help you achieve your long-term career goals.
Does it have an exclusive course that will have a huge impact on your career?
Does the college have a strong networking opportunity?
What is the world ranking of that university and how does it matter?
Have you researched the professors who are to teach you? Does anyone, in particular, stand out?
Does the university offer specialized certifications and courses?
Does the university have a diverse population? How will this help you?
List down more of such questions and notice what stands out to you the best. Your answer must reflect how thoroughly you have researched about the college and the ways your career can benefit from studying there.
Recommended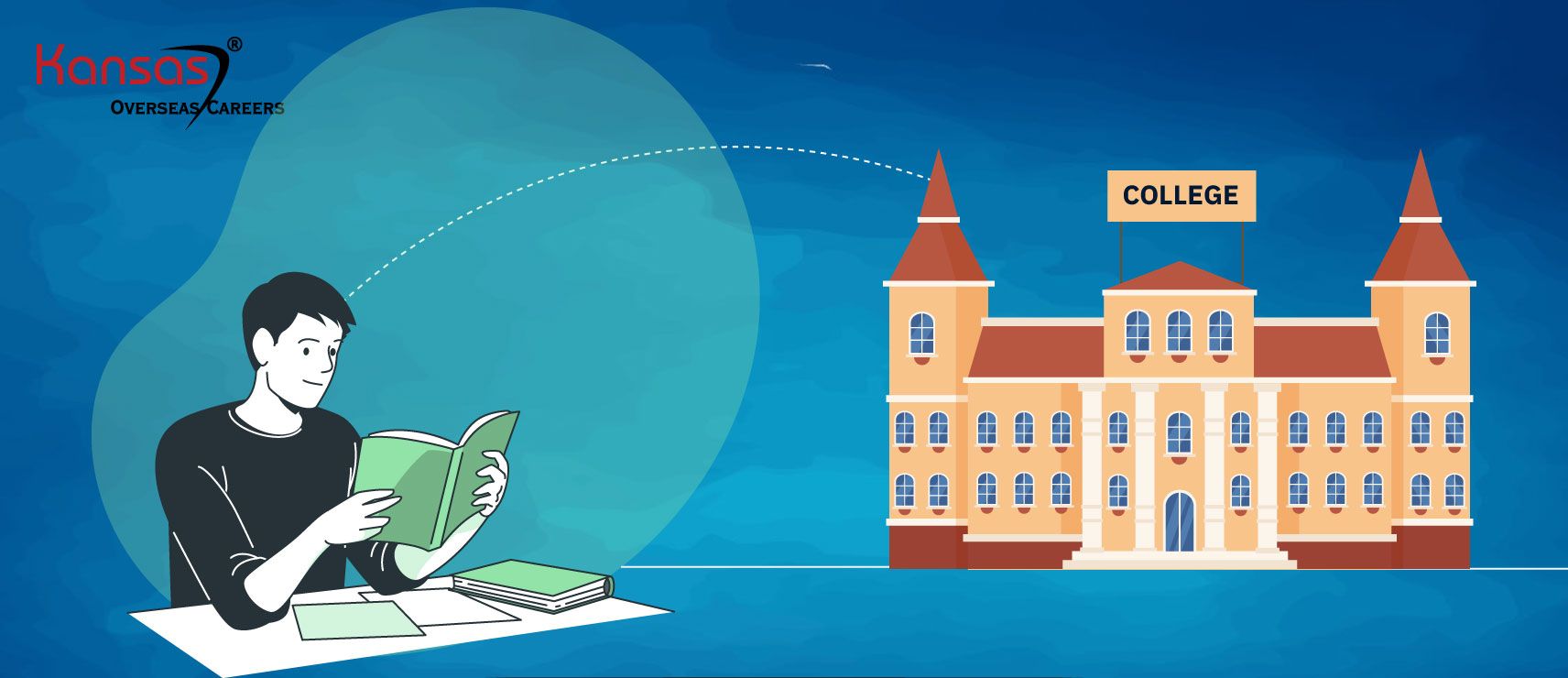 USA Study Visa Process: How to Apply?
3. Do you plan to stay back after your studies in the United States to work?
The visa officer wants to understand your intention of returning to your home country. You must clearly specify what you wish to do and why.
If you have plans of studying in the US and then returning to India to work for a company there, let your visa officer know. Tell them why you want to make this move.
For example, some students say that they want to work in India as they have their family there. Others say they want a master's degree because they want to apply for a specific position in the firm they are currently working in which require them to do so.
Whatever may be the reason, be honest and make sure that you know exactly how you are going to pursue your goals. This gives the visa officer a hint as to how serious you are about your studies and that you do not intend to immigrate to the US.
It is advised that you do stress on your intent to return to India.
4. Do you have relatives living in the United States?
In your DS-160 Form, You are asked about your relatives or siblings living in the USA along with their Name, Relationship and Contact details.
This information is already present with your visa officer. So if you do have blood relatives in the USA, you can mention them. However, if they aren't related to you by blood, you don't really need to bring them up, unless otherwise asked.
Lying about your relatives may lead to permanent denial of entry or granting a visa into the United States.
5. Why do you want to study in the United States?
You can always talk about the university first and how well it suits your education goals. Apart from that, a degree from a U.S. institution is recognized world-wide and opens tons of job opportunities to students.
The U.S. higher education system has great academic flexibility where you can switch between courses and majors or opt for multiple specializations. Universities are also very helpful to international students and make sure that they are comfortable and happy in the US. The universities also have strict rules against racism and bullying. The cultural diversity in the United States also opens up opportunities to interact with people from different cultures and backgrounds too.
Other Commonly Asked USA F1 Visa Interview Questions and Answers for Students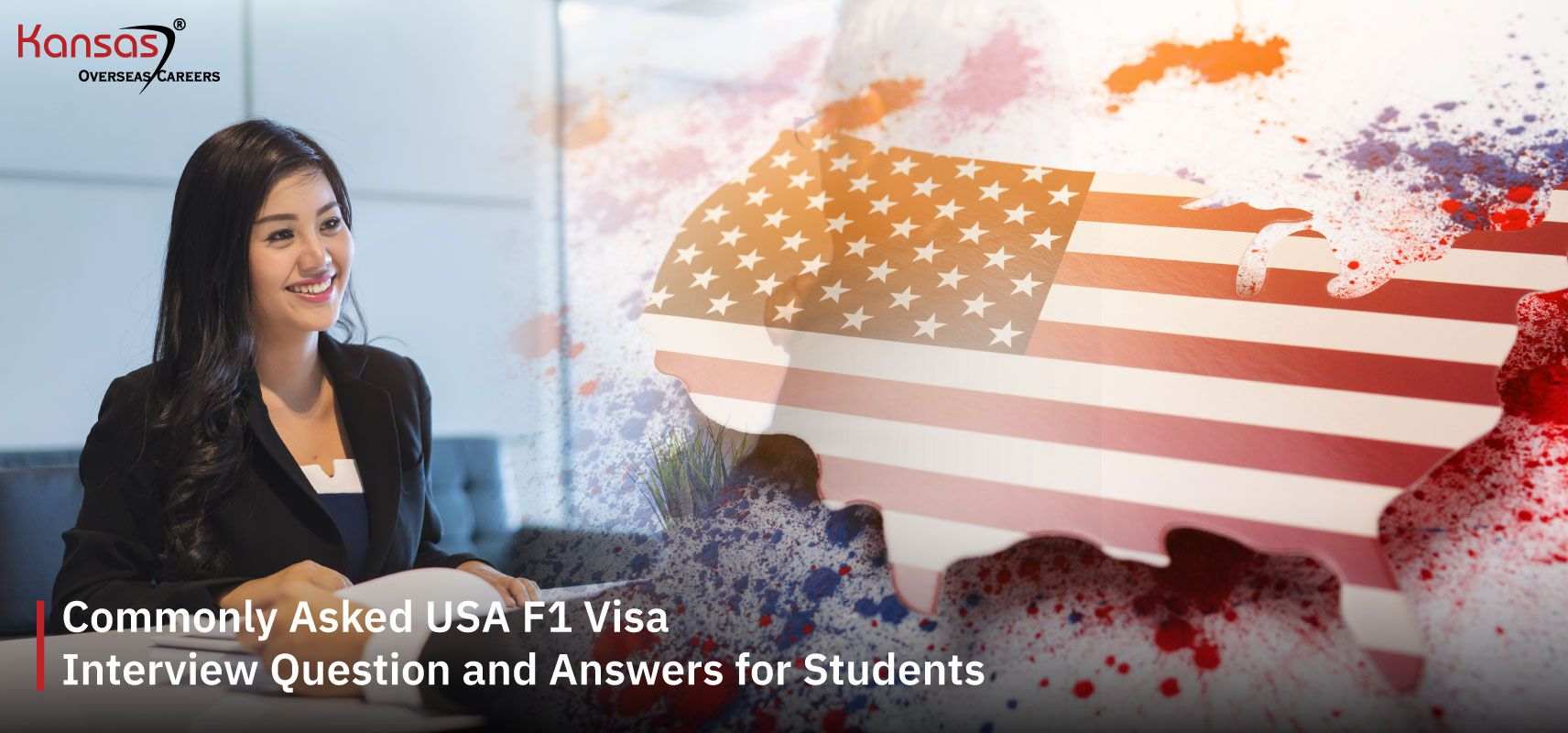 Interview Questions regarding your University or School
Why do you want to study in the US?
How long are you planning to stay?
What are the colleges you applied for and how many did you apply to get admitted to?
Mention the names of the universities you got accepted to?
What made you choose this specific university/college?
Do you know your professors at that university? Their names?
Tell us more about your academic background.
Interview Questions regarding your Educational Funds
How will you be funding your study?
Who is paying for your education in the US? What is their profession?
The annual income of your parents and their designation
How did you get this scholarship, and why do you think they gave it to you?
Details about your sponsor's job and monthly income
Interview Questions regarding your Family, Work and Home Ties
Do you have brothers and sisters? If yes, how many?
Do you have relatives living in the United States?
Do you have any siblings? Do they have any plans to study in the US?
Do you have relatives studying at the same university you are planning to go to?
Are you in a relationship?
Do you plan to stay back after your studies in the United States to work?
We see that you have good work experience. Do you also have savings?
Do you plan on working while studying?
General Student Visa Interview Questions
Is this your first time in the US, have you visited before?
Why didn't you choose to study in Canada, Australia or any other country?
After completing your course here, what are your plans?
Have you planned further in case your student visa is not approved?
6 Mistakes International Students Must Avoid During Their US F1 Visa Interview
You get a decision - "visa granted" or "visa rejected" - on the spot!
Your F1 visa interview won't last any longer than 5 to 7 minutes. This makes it quite tricky to be able to impress the visa officer interviewing you in such a short span of time.
Here are 11 mistakes to avoid during your F-1 student visa interview:
1. Going unprepared for the Interview
There's nothing worse than attending a US visa interview without preparing for it! If you are serious about studying in the US, you must prepare all the necessary documents you need to carry to the interview, be well-dressed and prepare for the commonly asked interview questions and answers beforehand.
While you can find a detailed list of F-1 student visa interview questions below, here are some of the main question types to get started:
What are your study plans in the United States?
Why did you choose to study at the university you've planned to attend
How are going to fund your study
Details about your parents, guardians and/or relatives in the US
Where do you plan to stay while in the US?
What are your post-graduation plans?
Always be specific with your answers. Don't beat around the bush or over-explain your answers.
You may be asked more questions if the interviewer feels like they need more information. You may also be asked to show specific documents to prove your statements. So it is always best to be prepared.
2. Not proving your Intent of Return
Proving your intent to return means expressing that you will return to your country after you have completed your education in the States.
The F1 visa is a non-immigrant visa, saying that you're looking for permanent residence or not being clear about your property, business, family or friends and any ties you have back in your home country will be considered as red flags.
3. Not being confident in your answers
Make a good first impression. Greet your interviewer with a smile, exchange pleasantries and dress in smart formals. This will set the tone for the rest of your interview.
The main thing to remember here is that the interviewer wants to know if you have a strong reason for choosing the university you want to attend and if you have a strong financial plan to back up your education fee and cost of living during your study in the US.
So be prepared to answer these questions. Be honest and stick to your answer. If you seem unsure or hesitant while answering a question, your interviewer will notice that. They might even ask you a string of questions on the same topic or may ask for evidence to support your claims. Answer confidently in a relaxed manner.
4. Not carrying your documents
If you are aware of the requirements and application process of the f1 student visa, you will be aware of the DS-160 form and the I-20 form.
You get your I-20 form from the SEVP-approved US college or university that you have been accepted into. This form includes information such as your course duration, your education funds and so on. It also allows you to schedule an appointment for your F1 visa interview with the local US Embassy or Consulate.
You are expected to have the original Form I-20, the DS-160 confirmation page and a valid passport at your visa interview. Your passport must be valid for at least six months beyond your period of stay in the USA.
Other documents include the F-1 visa application payment receipt, your photograph and so on. See the complete list of F1 visa interview documents below.
5. Showing up late or Missing the appointment
Showing up late for a visa interview simply shows that you are not serious about your studies.
If you arrive 15 minutes after your scheduled appointment, you will not be able to enter the U.S. Consulate for your interview. You will have to make an appointment for another day.
6. Not sharing details about your accommodation clearly
If you have a relative in the US that you'd like to stay with during your course or if you want to stay in the accommodation provided at the university, being absolutely sure is key.
Your interviewer will want to know the reason behind your plans. Take, for example, you have an uncle in the US but you want to stay on campus. When asked why you can mention that you are not comfortable staying with them as they aren't your blood relatives. You can also say that staying in campus will give you more flexibility in terms of group studies, projects, part-time jobs or any other extracurriculars that you'd be interested in.
At Kansas Overseas, our clients are trained to prepare for visa interviews by US F1 visa counsellors. We also help with your online visa application and help with the right documentation for your F1 visa.
For end-to-end solutions for your student visa, contact us today!
What is an F1 Student Visa?
An F-1 visa is a nonimmigrant visa that allows international students from across the world to pursue a full-time educational program in the United States.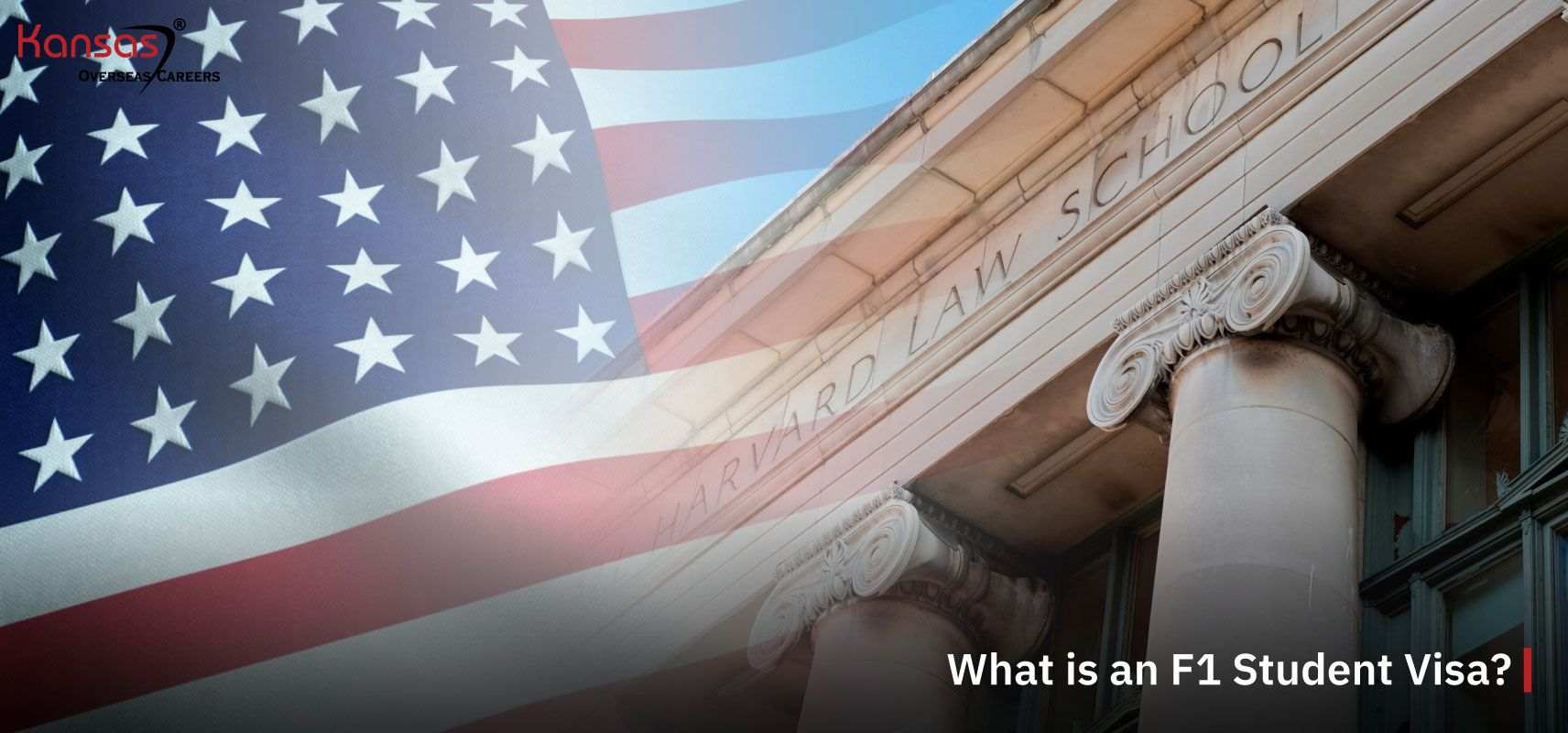 F1 students can only study at SEVP-approved institutions.
Who needs an F1 visa?
You'll need an F Visa if you want to study at a:
University or college
High School
Private elementary school
Seminary
Conservatory
Another academic institution, including a language training program
How to get an F1 visa to study in the US? (F1 Visa Process)
You have to be accepted into a degree program at an accredited US institution of higher education.
After this, wait for the I-20 form or the Certificate of Eligibility for Nonimmigrant (F-1) Student Status that comes from the Student and Exchange Visitor Information System (SEVIS).
The I-20 form is sent to a student by the university or college that they have been accepted into.
Getting the I-20 document is the first step of the US student visa process.
The following information is shared with the SEVIS when your I-20 is issued:
Your SEVIS ID number
Study program start and end dates
Name of the program of study
Your funding sources
Cost of attendance
Other personal information
Once you have received your I-20, you must do the following:
Pay a SEVIS fee online ($350) and keep the e-receipt with you.
Apply for your non-immigrant visa via the

online DS-160 form

($160 USD). You will receive a printed confirmation with a barcode on it. Your I-20, passport, travel itinerary and a photo for your visa will be needed to get your DS-160 form
Schedule your visa interview at the nearest US embassy or consulate.
U.S. Student (F and M) visas can be issued up to 120 days before the start date of your study program.
But don't wait too long to schedule your visa interview after you have received your acceptance letter, because the process can take two months. Check for the visa appointment wait time here.
Also Read: USA Study Visa Process: How to Apply?
Can a student on an F1 visa work in the US?
Yes, an F1 student visa holder can work in the US.
The US F-1 visa supports the freely available on-campus employment and 4 choices of off-campus employment opportunities for international students. This can help you cover your living expenses in the US and will also provide relevant experience in your field of study.
Four categories of off-campus employment:
On-Campus Employment
Optional Practical Training (OPT)
Curricular Practical Training (CPT)
Economic Hardship
International Institutions
Optional practical training (OPT) lets F1 immigration status holders work off-campus either during and after completion of their degree. The work should be directly related to your field of study.
Curricular Practical Training (OCT) allows for practical training as a part of their curriculum. Both of these give F1 students to cover the expenses of their education while they gain valuable work experience.
You can choose either of the programs as you wont be eligible to work for both.
What documents do you need to bring to your US F-1 visa interview?
Gather and prepare the following required documents before your visa interview:
Valid Passport
Nonimmigrant Visa Application, Form DS-160 confirmation page.
Application fee payment receipt
Bring your digitally printed photo (Photograph Requirements) in case your upload failed while completing the online Form DS-160.
A signed Form I-20 by your SEVP-approved school official and you. Your dependents intending to live in the United States with you, will each receive an individual Form I-20.
Additional Documents
A consular officer may request evidence of:
Your academic preparation, such as:
Transcripts, diplomas, degrees, or certificates from schools you attended; and
Standardized test scores required by your U.S. school;
Your intent to depart the United States upon completion of the course of study; and
How you will pay all educational, living and travel costs with financial support documents and bank statements
Cost of an F-1 Student Visa
SEVIS fee: $350 (INR 25,380)
Visa Application Fee (DS-160 Form): $160 (INR 11,602)
Other Important FAQs
What if I am too late to schedule my visa interview?
Submit an expedited email request to the embassy or consulate for an expedited meeting. The embassy will revert within two days.
Is the f1 visa easy to get?
Even though the US has a strict immigration policy and a higher visa denial rate as compared to other countries, it is easy to get a US student visa if you have a well-prepared visa application, meeting all the visa requirements and by answering all the visa interview questions asked by immigration officers correctly.
What is the DS-160 Form?
The DS-160 is an Online Nonimmigrant Visa application form.
What are the best states to study for International Students in the USA?
California, Massachusetts, New York, Illinois, Texas, and Pennsylvania are the most popular states for study in the USA. Each state hosts 50,000+ international students hailing from different countries.
Why was there a decline in foreign student enrollments in the US?
According to a 2019 report by Education data, international students who did not enrol in US college mentioned the following reasons for their decision:
Visa application process/delay/denial - 87%
Enrolled in another country - 58%
Social & political environment - 58%
Cost of tuition - 55%
Securing a job in the US after graduation - 50%
However, over 200,000 Indian students were studying in the United States in 2019, a nearly 3% increase from 2018 and doubled the number from six years ago.
How many foreign student enrollments were accepted by U.S. institutions in 2020?
The 2020 report shows an overall 1.8% decline in foreign student enrollment in U.S. institutions as compared to the previous academic year. This is the first decrease in international student enrollment since 2005-2006, per IIE numbers.
Conclusion
An F1 visa allows foreign students to study in a SEVP approved university or institution in the US.
The F1 visa interview is mandatory for all foreign student applicants. Here are some of the common mistakes students must avoid when appearing for a visa interview:
Going unprepared for the Interview
Not proving your Intent of Return
Not being confident
Not carrying the I-20 form & Valid Passport
Not being specific about the arrangement of education funds
Showing up late or Missing the appointment
Not sharing details about your accommodation clearly
For further information on the F1 student Visa - application process, documentation, costs, and visa interview you can contact our visa experts at Kansas Overseas.