There are different resume formats for job seekers in foreign countries. The resume format for Canada PR is much unlike resumes you usually write for other countries. Go through this article and adapt to the Canadian style of writing your functional resume.
What is a Resume?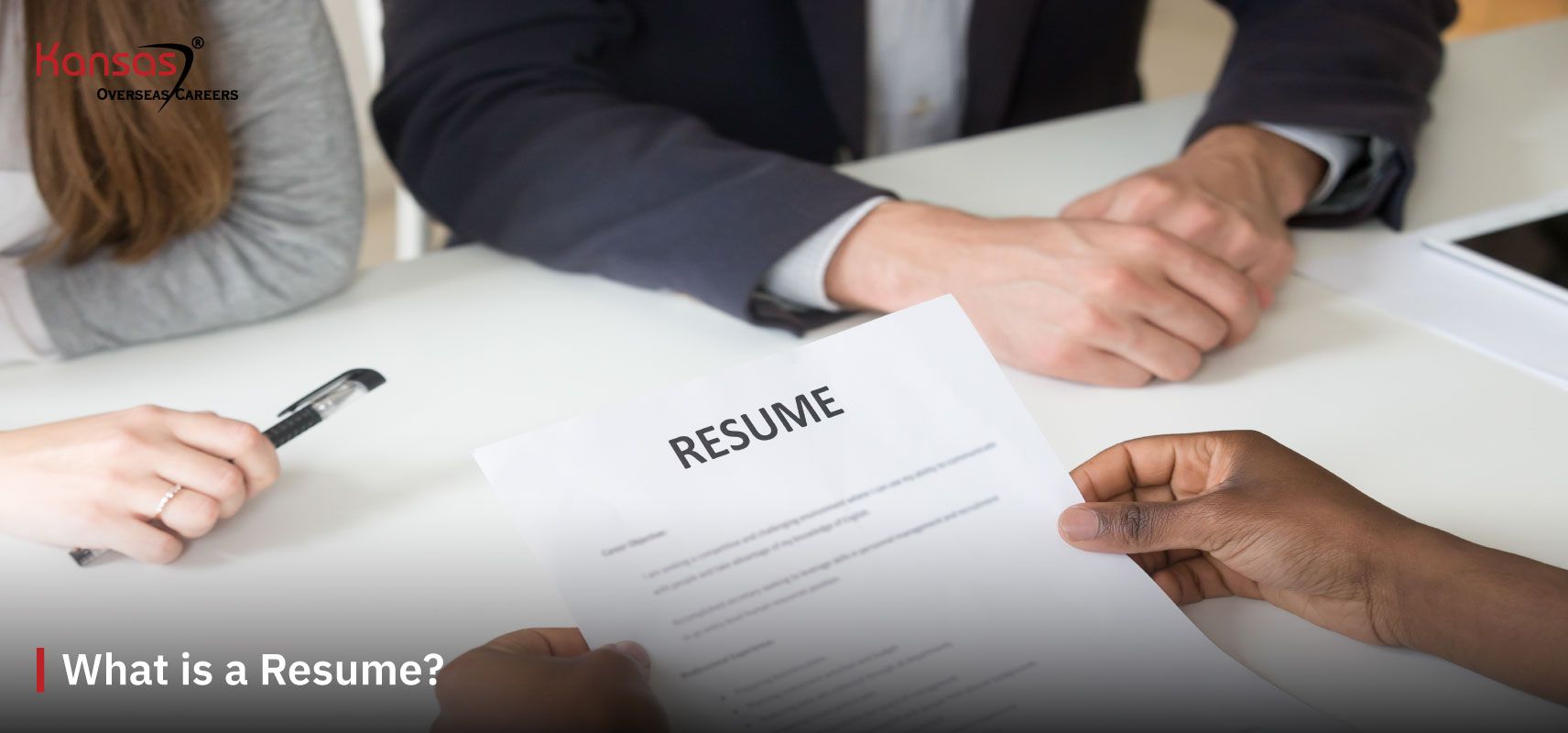 A resume is also known as a curriculum vitae (CV). It is a document that contains information about your education, achievements, and employment history.
Formatting a Resume
There are no strict rules as such. But following specific guidelines can help your resume look professional. Ensure that your resume is easy to read and understand.

Heading: It should have a heading above each new section.
Length:

The length of your resume should be limited to one or two pages. While the size of a resume below one page indicates lack of experience, longer resumes often go unread.

Font:

The font style and size should be consistent across the resume. Two font styles can be chosen; one for headings and one for content. Choose a professional font, and the size should be big enough for readability and printing purposes.
It is a matter of choice to add style to your resume. You can bold or italicize details or essential words. Use it sparingly as it catches the eye. Ensure to highlight content but do not distract.
Resume for Canadian Employment
This short guide intends to direct you to build your resume for employment purposes in Canada. It is based on your skills and experiences. Keep in mind that every resume is unique.
Top 9 Tips for Your Canadian Resume Format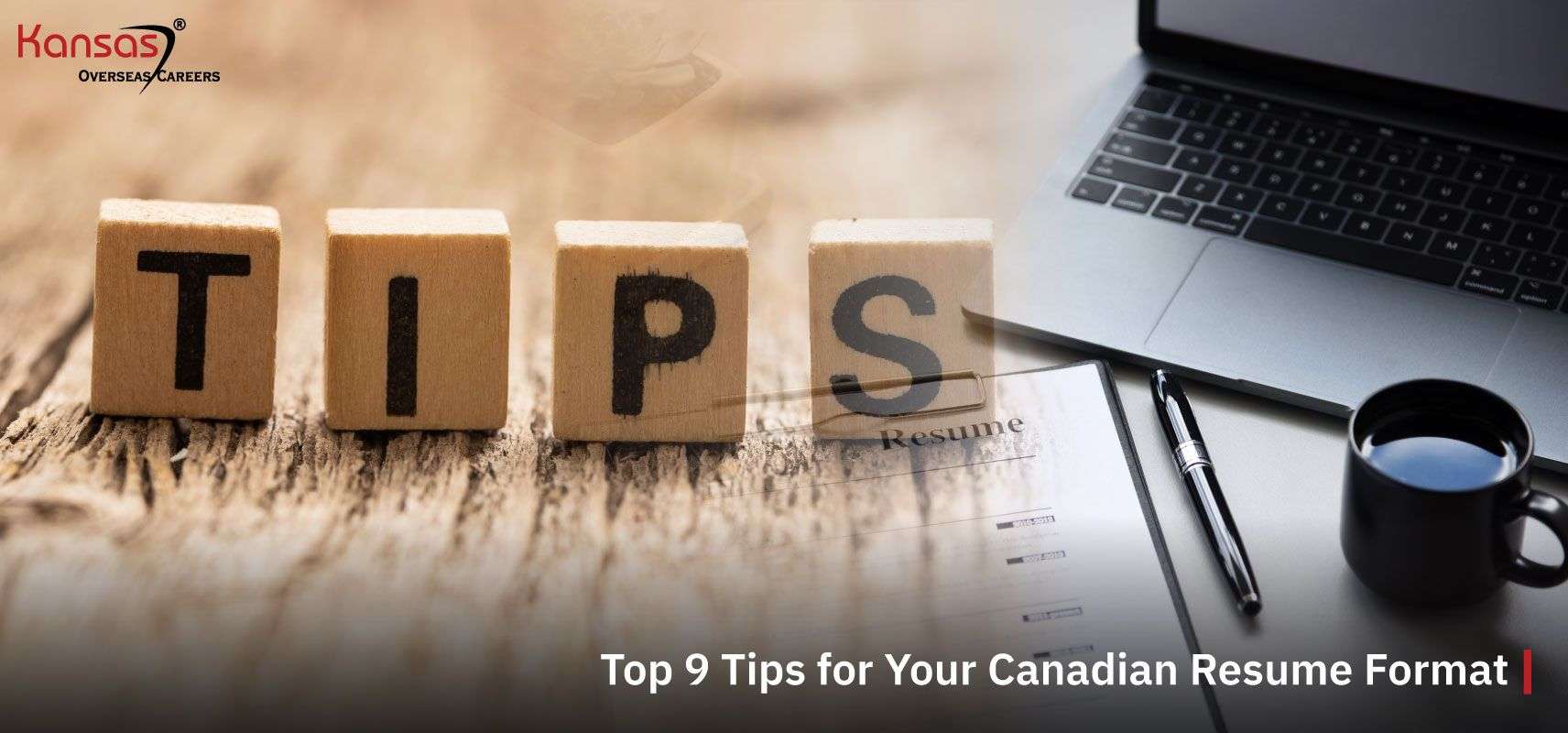 A resume is a tool for securing an interview. It is not meant to be a thorough work history document. Concentrate on presenting highlights and not every detail in your Canadian resume. You can go into more information at the time of interview.

Hiring managers usually spend only 10-30 seconds browsing your resume. So, keep it exciting and utilize the Canadian resume format to sell yourself. It is concise and focuses on your accomplishments.
Long paragraphs and small fonts should be avoided. Font size should never be less than 10. It should be easy to read. Make sure that only one font is used for content throughout the document. You could use another font for headings, but keep the style consistent.
The Canada resume format should typically be a maximum of two pages if you have lots of work experience. Otherwise, one page would do. Three pages are only acceptable if you are having 10+ years of experience.
Never use the first person, like 'I am' or 'I worked'. Only use short sentences and do not waste valuable space. List only those experiences that are relevant to the position you are applying for.
Avoid listing personal interests or hobbies unless achievements are involved that add up to your character. Mentioning the games you play will not likely boost your chances of getting selected.
Relevant skills like speaking a language other than English or mastery of computer applications will enhance your prospects. However, ensure that they complement the job you are applying for.
Please do not use a generic resume format and send it to several employers. Be selective and tailor your resume specifically for every job and company you are applying to. Requirements generally vary from job to job, and from one company to another.
Utilize a professional resume template, or seek services of experts. They are well acquainted with the intricacies and what is required to be presented. Choose experienced Canada PR visa services who have done this, umpteen times before.
What to Include in the Canadian Resume Format
Including the following information in your resume is essential.

Name
Contact Information
Work Experience
Education
You can choose to include volunteer experience if you have. Any awards that you have received can also be included.

Name: Include the first and last name in the right order. The middle name should be excluded. It is the most crucial part of your resume. It should, therefore, stand out and be easy to read. Ideal to use a large-sized font for the name.
Contact Information: The contact information should be placed directly on the side or below the name. It should include the phone number, current address, and email address as well. Ensure to have all the contact information as prospective employers should be able to contact you.
Work Experience:

This section should describe your professional experience. List all your work experience in chronological order.
Occupational Details
1. Position Held
2. Name of Company/Institution
3. Years in Position
4. Responsibilities
Highlight any policies or innovative solutions you have implemented. Also include different duties depending upon the job you are applying for. Remain truthful to experiences and don't be afraid to change details as required.
Use industry-specific language. It will help you demonstrate your expertise. Showcase the scope of the position you held.

Education: Start with the most recent education degree and work backwards. Order them by the relevance to the position you are applying for if you have more than one degree.
Educational Details
1. Program of study
2. Name of the Institution
3. Type of Degree
4. Years Attended
Make it a point to include only current or completed education.
Volunteer Work: It is optional. But volunteer work is highly encouraged by Canadian employers. It can help you distinguish yourself from other applicants. However, only include volunteer work that is relevant to the industry you are applying to.
Showcase a trait of character. It contributes to your qualifications.
Volunteer Experience Details
1. Position Held
2. Name of the Organisation
3. Years in Position
4. Responsibilities
Awards: Showcase any awards or official recognitions you have received. It should be relevant to the position you are applying for. Limit achievements to the three most significant achievements. Also, include a short description of why these achievements were substantial.
What Not to Include in the Canadian Resume
You could include many things in a generic resume but not in your Canadian style resume.
Do not include any overly personal information anywhere in your Canadian resume format.
Avoid Mentioning the Following
| | | | | | |
| --- | --- | --- | --- | --- | --- |
| Gender | Sexual Orientation | Nationality | Religion | Weight | Height |
| Age | Marital Status | Citizenship | Family Status | Disability | Blood Type |
Information about your parents should also be avoided. An effective resume merely includes details relevant to your job search and the position you are applying for.
Avoid using personal pictures or include annexes. Your functional resume format should not be more than two pages at the most.
Do not include any design elements. Keep it simple and make sure it is easy to read if you choose to use colour. Use references only when they are required or if the prospective employer has asked for.
What is Different About the Canada Resume Format?
Your Canadian resume is key to finding a job in Canada. Potential employers generally assess your transferable skills for roles based on your resume alone.
The sole purpose of writing a Canadian resume is to pique the interest of your Canadian employer. Your Canadian resume's focus is not to confuse the employer by telling him everything about you but to make them believe that you can help the company.
Refer to achievements to compete with other candidates and avoid listing duties in each role. Your Canadian resume is unique and needs to stand out.
Other Aspects of Your Canada Resume
There are several other aspects to your Canadian resume, like converting all terms to their Canadian equivalents. These include terms like 'high school', 'internship', 'GPA' , the Grade Point Average equivalent to university grades, and others.
Avoid using the word 'Resume' or 'CV' at the beginning of the page. Even putting the date when you prepared the resume at the top is a bad idea.
Utilize a suitable resume format and have it proofread by experts. Spelling and grammar errors in your resume can create a poor first impression.
Lastly, but not least, do not sign your resume.
Avoid Listing 'Gap Years'
Avoid listing 'one-year work permit' of 'gap year' on your resume. You can discuss immigration status during the interview process when the employer is looking for more information.
Research long-term permanent residence options in Canada and discuss staying back in the country when the work permit expires.
Canadian employers are looking for committed candidates who can contribute to their success.
Detailed information on Your Resume
Take this useful advice on how to work in sections of your resume.
Contact Information
Never list your birth date, gender, marital status, parents' names, or religion on your Canadian resume. It is not part of the country's resume format nor required by the employment law in Canada.
Ensure that you have a Canadian address listed if possible. Include a Canadian cell phone number as well.
List an email address that includes a combination of your first and last name. Avoid using nicknames or slang terms. Set up a new email address for your Canadian job search if required.
Make it a point to add your LinkedIn profile URL to the resume. Custom create your profile URL so that it isn't clunky. Make it easy for your employer to find you on LinkedIn. Ensure that your LinkedIn profile is up-to-date and contains a strong summary.
Work History
You can use any one of the following three types of formats for listing your employment history in your Canadian resume format.

Strategic Functional Format
Traditional Reverse Chronological
Balanced Hybrid Format
All these formats hold the same necessary information in different layouts.
You must choose the right format. The choice is to be determined by the years of experience you have and the type of job you are seeking. Most job seekers in Canada prefer the reverse chronological format to display their work history.
Career Summary
Your professional summary is a micro resume. It allows recruiters to understand your goals. And how you could be useful for their company.
Just a few short sentences will be enough to set you apart from other candidates. Details can follow to include your personality, technical skills, managerial skills, team-building skills, and other talents to help the employer.
List the job title you are applying for. Don't expect the company to figure out a job title for you. In case you are responding to a job offer, then that role will be your job description.
Build two or three separate documents if there are two or three roles you are interested in. However, follow the Canada resume format in each case. Keep a clear focus for the relevant job application in separate documents.

Mention the type and number of years of experience you have. You could even include your future ambitions here.

Give the prospective employer a real insight into your strengths and objectives. These should be specific to you and not generic.

Whether it is supervisory work, managerial work, or other types of professional work, mention your career aspirations.
Other FAQs
Which jobs are in demand in Canada?
Some of the high demand jobs in Canada are as follows:
| | | | |
| --- | --- | --- | --- |
| Licensed Practical Nurse | Software Engineers or Designers | Business Management Consultants | Occupational or Physiotherapy Assistant |
| Registered Nurse | College Instructors | Aerospace Engineer | Industrial Electrician |
| Welders | Aircraft Pilots | Pharmacists | Psychologists |
| Truck Drivers | Pipefitters | Construction Estimators | Veterinary Assistants |
Which is the best sample resume format for the Canadian job market?
A chronological resume is the most preferred resume format that contains an objective and/or career summary statement. Listings in a chronological resume are from the most recent to past employers along with related accomplishments.
How many jobs should I list on my resume?
Only one job should be listed in a resume document. It is better to create separate resumes for different jobs. While contact information and employment history can remain the same for all documents, the job experience section can be tweaked relating to the listed position.
What is a chronological resume format?
The chronological resume format lists jobs starting with the earliest one and ends with the most recent. This type of resume templates focus on the candidate's employment history and professional accomplishments. It is an ideal choice for applicants with a consistent work history.
What is a reverse chronological resume?
The reverse chronological resume format is the opposite of the chronological resume sample. It starts with the most recent position and ends with the first employment position. This type of resume format is best when you have some experience in the workforce.
What is a combination resume?
Combination resume examples start by listing your skills and qualifications. Then comes your employment history in reverse chronological order. It begins with your most recent job position and ends with your earlier posts.
Conclusion
Resume writing is key to landing a dream job. Your first impression matters the most to an employer. Moreover, most Canadian employers nowadays are using applicant tracking systems. It becomes all the more important that your document is in the right format.
Follow the guidelines given in this article about the accepted norms while creating your resume for Canada jobs. Or take the help of a professional resume builder to make one. In any case, ensure that the overview is how it is expected to be, lest your application may be rejected on flimsy grounds.