Working in Canada is a dream for many. The country has the perfect combination of a great economy, cultural acceptance, and an excellent work-life balance. However, getting a job in Canada is not easy, especially if you apply from India. The companies in Canada use ATS, a software that filters profiles based on specific keywords and formats.
Bypassing these filters is an essential step to landing a job in Canada. Below are a few tips for tailoring the best resume, the do's and don'ts and three formats to increase the chances of getting your resume selected.
What is a Resume?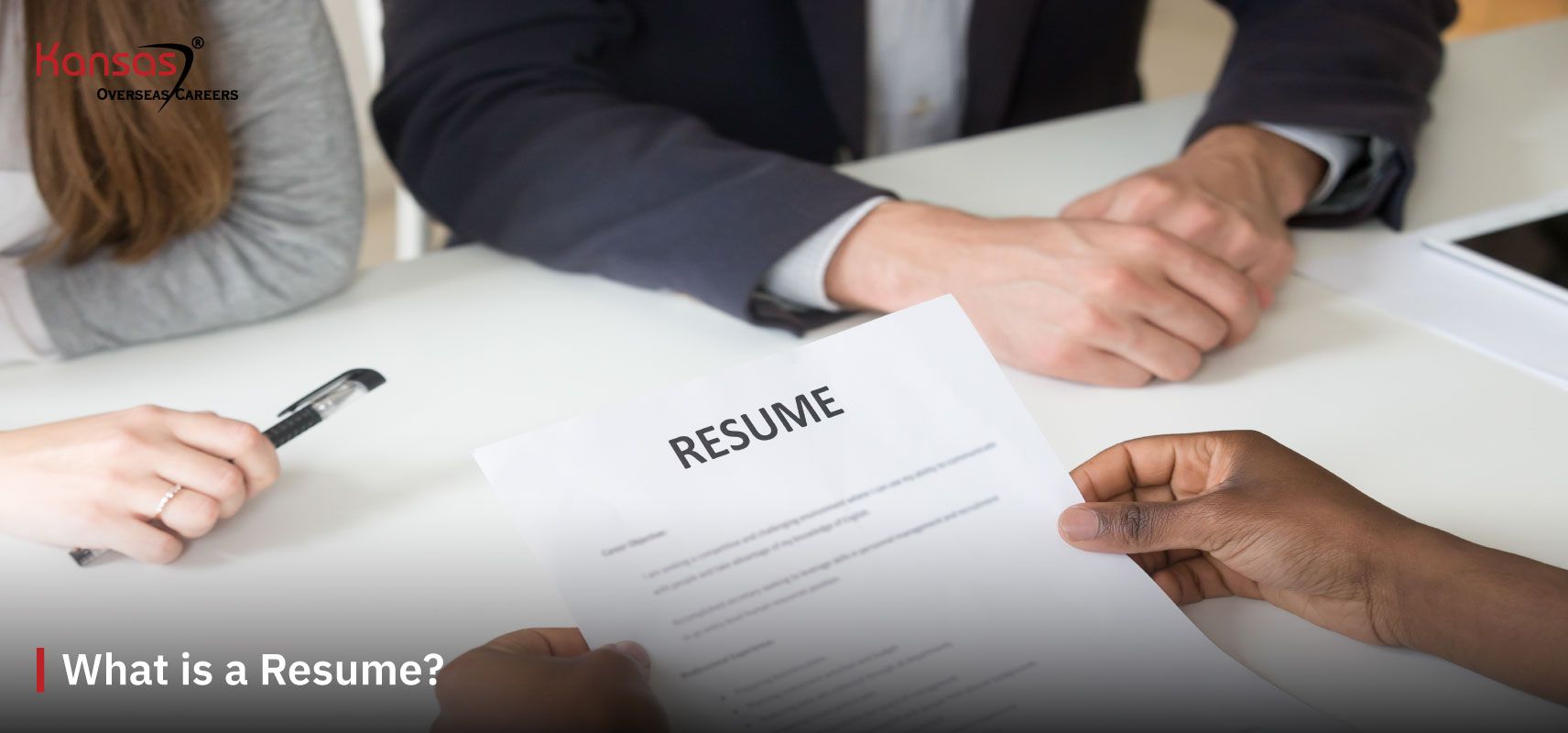 A resume is a formal document that gives an overview of your professional qualifications, skills, relevant work experience, education, skills and notable achievements. It is usually of one or two pages.
A resume is often confused with a CV or Curriculum Vitae. A CV is an extended form of your resume that includes your certificates, work experience and publications. This is usually several pages long.
5 Tips to Boost Your Resume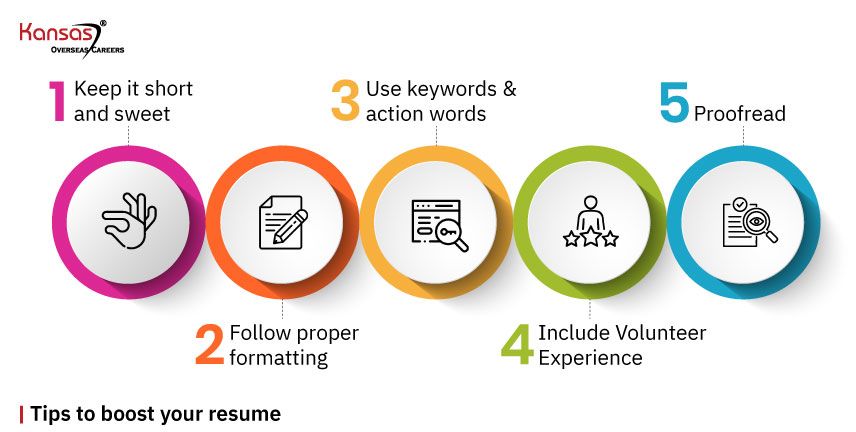 Keep it Short and Sweet: Most employers will look at your resume for no more than 30 seconds.

Use this 30 seconds

to sell yourself and secure an interview.
Make your resume concise and highlight the points you want to draw attention to. Write short and readable job descriptions. Using bullet points instead of long sentences help recruiters go through your resume faster.
Your resume should

never exceed two pages

unless you have 10+ years of experience. If not, two pages are enough.



Follow Proper Formatting: Proper formatting will help your resume appear suitable and pull your recruiter's attention toward your' eye to detail', as well.
Include heading above every section. Keeps your font consistent throughout the document, and the

font size should never be less than 10

. Remove unnecessary spaces and eliminate typing errors.



Use Keywords and Action Words: Customize your resume every time you apply for a different role to beat the

ATS (Applicant Tracking System)

. Be sure to mention relevant transferable skills even if you don't have them.
Using keywords or action words relevant to your role will help you match the Boolean searches of the recruiters. Optimize your resume by detecting the

keywords

used in the job description and make sure to include them in your resume.



Volunteer Experience: If you are looking for a good head start in working in Canada, including one volunteer experience in your resume will do the job for you. Describe the roles and responsibilities you performed during this opportunity.
You can potentially eliminate the

Canadian Experience Barrier

if you include a volunteer experience in your resume.



Proofreading: Make sure you go through your resume thoroughly before sending them to the hiring managers. After you have covered all the points you wanted to highlight about yourself, you can send it out.
You can also ask your friend to have a look at it. Often a different pair of eyes

spot the difference

that yours cannot.
What to Include in Your Canada Resume?
The four sections that you must include in your resume are- Name, Contact Information, Educational qualification, and Work Experience. Apart from this, you can also include any volunteer experience and awards if you have to add weightage to your resume.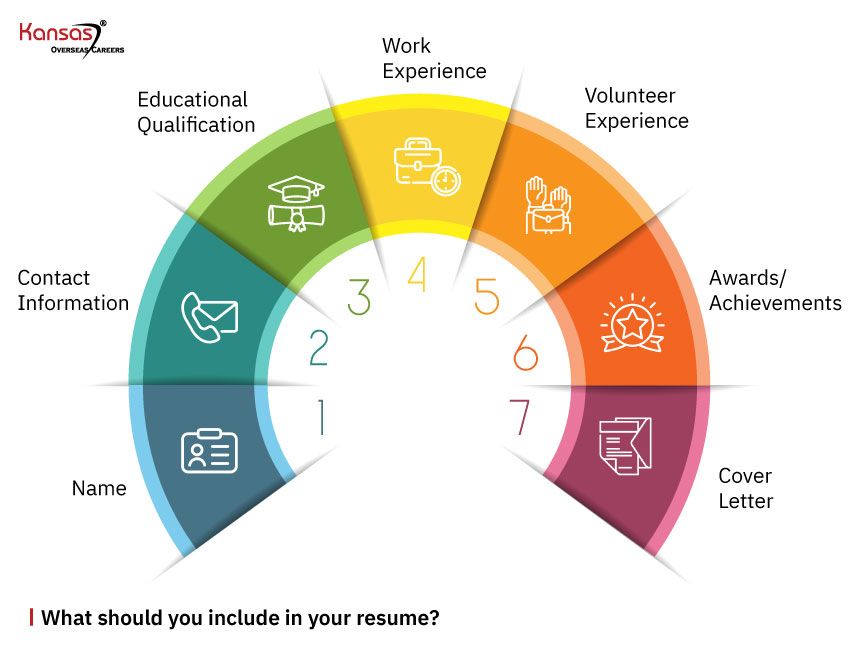 Name: It is ideal to write your name in large font as it is the most crucial part of your resume. Put your first name and last name but exclude the middle name. Make sure it is easily readable.
Contact Information: This should be placed right on the side of your name or below it. It should include your phone number, email address and current address.
Educational Qualification: If you have more than one degree, put them in reverse chronological order. Make sure to include only completed or current education. It should consist of the program of study, institution's name, type of degree and years attended.
Work Experience: This section should highlight your professional experience. Put this list in chronological order. Mention the position you held, the organization's name, years in the post, and responsibilities.
Include innovative ideas or policies that you have implemented and use industry-specific language to showcase your expertise in the domain.
Volunteer work: This is optional, but Canada recruiters give brownie points to those involved in one or more voluntary services. But this only applies when your service is relevant to the job role you are applying for. Include the position you held, the organization's name, years in the position, and responsibilities.
Awards: List out the three most significant achievements, awards or official recognization if that is relevant to the position you are applying for. Write a short description of how these achievements were substantial.
Cover Letter: Companies favour resumes that come with a cover letter. It adds value to your application and, in turn, increases the chances of your resume getting selected.
Why is a Cover Letter Important?
The hiring managers prefer a resume that is accompanied by cover letters. Cover letters are not only a courtesy but your golden chance to impress the reader.
A good cover letter showcases your:
Immediate Value: First impressions matter. Use your cover letter to highlight your plus points and sell yourself by grabbing the reader's attention. A concise and compelling letter will help you stand out among the rest and be considered a

strong competitor

.
Unique Fit: Use the letter to show your unique skills, talents, and knowledge. You can show the recruiters how your skills and their requirement is linked.
Personality: The tone of your letter will give the employer an insight into your nature and help him determine if you can

add value

to his team.
Here is a sample Cover Letter for your reference.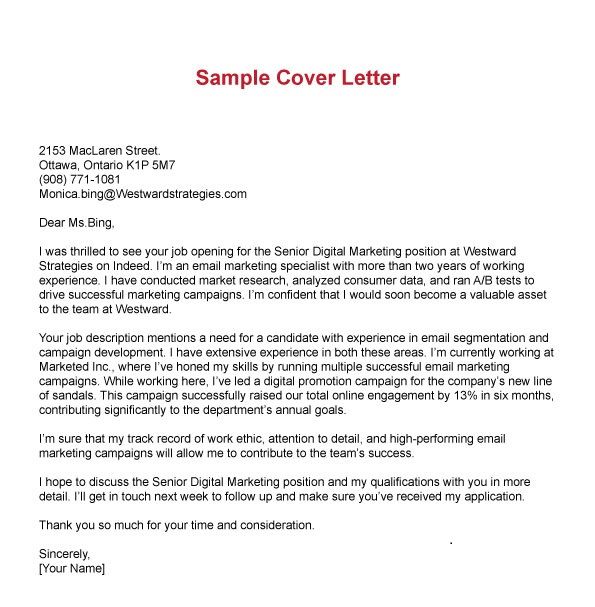 What NOT to Include in a Canada Resume?
A generic resume can include many things, but a Canadian resume is different. Do not mention any overly personal details in your resume. For example, age, gender, height, weight, sexual orientation, marital status, blood group, nationality etc., should be avoided.
Details about your family or parents are also to be avoided. Make sure not to use any personal pictures or annexes. A formal Canadian resume merely includes the pieces of information related to the position or job role you are applying for.
Avoid using Gap years or one-year work permits in your resume. You can discuss this with the hiring manager during your face-to-face discussion but refrain from mentioning it on your resume.
Types of Resume Format Used in Canada
Reverse Chronological Resume: This type of resume outlines your work experience in reverse chronological order. In simple words, the order starts from the most recent experience making its way towards the oldest.

You can use this format if you have

previous experience

working in the industry you are going into now.



Functional Resume: This type of resume throws light on your overall skills and qualification. It lists out all the employment history but after skill and education. If you are trying to switch roles or trying your luck in a new industry, this type of resume is the most suitable for you. You can also use this if you are a fresh

college graduate

.
Combination or Hybrid Resume: This format combines reverse chronological and functional resumes. Your work experience is put in reverse chronological order, and the skills segment includes all the qualifications and technical skills.
FAQs
What is a reverse chronological resume?
A resume that outlines your professional experience from the most recent to the oldest is a reverse chronological resume.
What should not be included in a Canadian Resume?
Any personal details such as height, weight, gender, marital status, blood group, nationality, citizenship, sexual orientation etc., should not be included.
What information should I put under contact information?
Under contact information, one must put the phone number, email address and current address.
What is a combination resume?
A combination resume outlines your skills and qualifications and then lists out the professional experience in a reverse chronological manner.
Which jobs are generally in demand in Canada?
| | | | |
| --- | --- | --- | --- |
| Licensed Practical Nurse | Software Engineers or Designers | Business Management Consultants | Occupational or Physiotherapy Assistant |
| Registered Nurse | College Instructors | Aerospace Engineer | Industrial Electrician |
| Welders | Aircraft Pilots | Pharmacists | Psychologists |
| Truck Drivers | Pipefitters | Construction Estimators | Veterinary Assistants |
How do I apply for a Canada PR visa?
Fill out the online form
Scan and upload the documents
Pay fees
Submit application
Conclusion
The key to landing your dream job is your resume, and in Canada, the recruiters are a little more particular about it. Furthermore, they are using the ATS nowadays, and hence the perfect format is essential. The initial impression makes a lot of difference and can make or break your future with your application.
Follow the steps mentioned above while creating your resume and focus on tailoring the right one that will help you set up an interview. Or else you can also take the help of any professional resume builder to ensure that the overview comes out as you expected it to be unless you want your resume to get rejected on petty grounds.
For professional help on building your resume, contact Kansas Overseas Careers now!