Kansas Overseas is well-known name in the visa service industry. In a span of 9 years, the company has spread like a wildfire (as mentioned by Silicon India). Overseas aspirants consider Kansas as one of their visa consultant. Some of them are well informed about Kansas, while the others like to know more.
Below are the Top 10 facts that you may not be aware of.
1. A Brand With 9,000+ Online Searches (Every Month)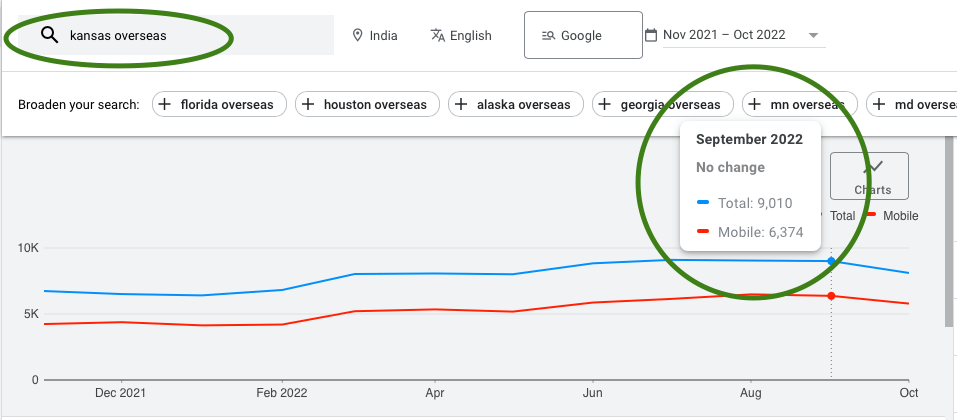 Establishing a company and being a brand (with huge online searches) are two different things. Kansas Overseas believed in the long-term objective of being "the most recommended consultant" by the people. We laboured hard to provide exceptional customer experience and also worked towards creating maximum opportunities for our enrolled clients
Over the years, this approach assisted Kansas in creating trust among the customers and also generated a lot of references. Most customers of Kansas are returning clients or their reference.
2. Kansas was the first to offer a 100% refund policy to its customers
Kansas happens to be the first company in India that offers a full refund in case the clients' visa is rejected. This policy is a win-win for the client as their visa rejection rate is at less than 1%, so even if you do happen to fall within these statistics, you get your money back.
The complete transparency that Kansas Overseas Careers displays is a gesture of goodwill. It shows that Kansas is geared towards getting results for clients and has a personal stake in them obtaining their visas.
3. Kansas is led by 2 female directors having 70% of women staff
Kansas is led by P. Hima Bindhu and Y Sindhura, who make sure that men and women face the same circumstances at work. An equal opportunity provider, Kansas has 70% of women staff.
To quote director Hima Bindhu as told to Hindustan Times, 'Kansas is a success story of its clients and employees'. Manola Anusha, the Head of Operations, has more than 7 years of experience in the immigration department. She specializes in the Canada, Australia and UK visa process.
4. Kansas was named 'Brand of the year 2019' by the CEO
The company has taken off during the last few years and now has quite a few awards under their belt like:
The Top 10 trusted Immigration Consultants in

India - By Silicon India for the year 2017 & 2019
Awarded "Brand Of Year" - By The CEO in 2019

They have also made it to the list of top 3 Visa Consultancies in India.
There are also numerous customer testimonials that can be looked up online. Scores of satisfied clients sing their praise, while some applicants with challenging profiles have found success here after facing difficulties with other agencies.
5. 'Don't be Evil'- A motto that Kansas and Google share
Kansas has made client satisfaction a priority, thinking of every way to ease their clients through the sometimes taxing process of visa application. The first step in this process has been complete transparency.
As mentioned, Kansas offers a full refund in case of visa rejection. It also lets clients be a part of the process, assessing their profiles before the commencement of the visa application process.
Kansas Overseas Careers provides different packages based on your needs and deadlines. To speed up a process to obtain a visa/PR visa you may opt for a privileged pricing system that allows you to access a faster, more effective system. The process to determine this is simple, so it is very easy to find the package that is right for you.
All in all, Kansas makes sure the process is both client-centric and result-oriented, just like Google.
6. Kansas not only retained employees, but also continued hiring during the pandemic
The pandemic brought with it some serious economic issues, other than the threat of the deadly virus. Several firms had to make their workers redundant, due to lack of business and funds. Kansas fortunately could hold on to its employees during this time and kept up with the payment of their salaries.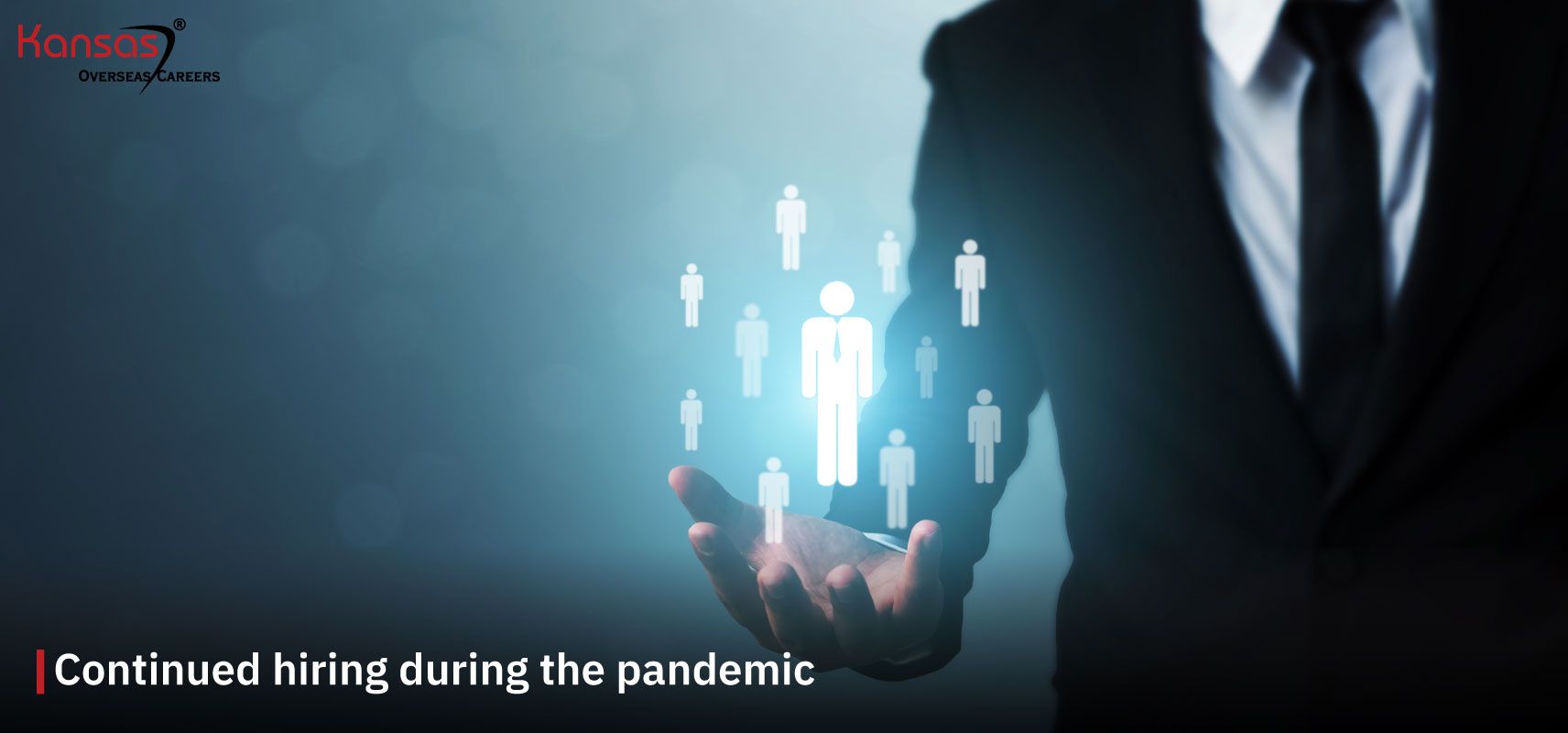 They also hired new employees to strengthen their team, so it does not look like job security is a problem in Kansas.
7. Kansas offers a wide range of visa services that cater to more than 15 countries
Kansas Overseas offers its visa services for countries like Canada, Australia, the UK, USA, New Zealand, Germany, Dubai, Poland, Ireland, Singapore, Netherlands, Italy and Malaysia.
They are well-known for handling clients with expertise and dedication. Each client has a dedicated case officer to guide them through the application process. The following services they offer that help them do this.
Profile Evaluation:

The clients profile is assessed to find out chances of visa application success.

Documentation:

The clients' documentation is reviewed and matched to the visa type. Mistakes in information and format are then corrected.

Free Language Proficiency Training:

Online courses are made to be available to help clients ace exams like IELTS, French language tests, TOEFL and PTE.

Guidance with Visa Interview:

Clients are guided and prepped for their visa interviews.

Post-Landing Services:

Kansas

Overseas Careers

makes sure their clients are comfortable after landing in the country of their choice. Our role extends beyond helping you with the process of visa application.

Complimentary Profile Marketing:

Kansas creates stellar portfolios that clients can use in job portals. This is a complimentary service and a good opportunity to ramp up your application.

Writing services:

Kansas

Overseas Careers offers all kinds of academic writing services for student visa applications- Essays, CVs, SOPs and letter of recommendations.
8.

Kansas has a visa success rate of over 98%
Sometimes people choose the wrong visa type where they fail to meet certain requirements of the visa which leads to visa rejections. Kansas Overseas accepts client profiles only after conducting a profile assessment. This lets the consultants evaluate the client's chances at visa success and suggest them the correct visa to apply for.
Kansas also helps clients improve their CRS scores for Canada Permanent Residence visas by offering complimentary online English and French classes. They also guide students with admission essays and SOPs, selection of the best universities, and courses that have a good scope in the job market.
Head on to their official website and browse through their success stories. There are several accounts from satisfied clients that can make the process a little clearer to you. Even in cases where the client profile is less than optimal, they have succeeded in bridging the gap and enhancing their scores.
9. Kansas has 8 office locations in India
They are headquartered in Hyderabad in Begumpet. They also have 2 offices in Jubilee Hills and Somajiguda.
If looking for them in other metropolitan cities, Kansas also is present in
Bangalore
Chennai
Thane
Vizag
10. Kansas is the leading visa consultancy for Canada PR
Since the inception of Kansas in 2013, their visa consultants have helped thousands of applicants fulfill their dreams of immigrating to Canada. This speaks volumes about the expertise and knowledge of the people who will be helping you with the process when you wish to apply.
Kansas is known for its speed and accuracy which goes hand-in-hand with their vast experience in this field. They strictly comply with the guidelines set by Canadian immigration authorities.
About Kansas Overseas Careers
Kansas Overseas Careers specializes in Permanent Residency Visas, Work Visas, Study Visas, Temporary visas, Visit visas, and Dependent Visas to Canada, UK, USA, Germany, and Hong Kong.
Kansas is gaining fast and wide recognition for its stellar immigration services. Kansas is a consultancy firm and not an agency. Their procedures and policies are very transparent. They have solid refund policies in place as well.
Kansas Overseas Careers is your go-to immigration consultancy firm providing a 360 visa solutions. They offer free consultations for walk-in clients at all of their 7 offices across India.