A significant number of Canadian Universities ask for a 'Statement of Purpose' or SOP to give students a fair chance at admissions. Everyone attempts to write a winning SOP for Canada Study Visa. But, only a few succeed and make it to their favourite university.
In this blog you will learn to write an SOP in 6 easy steps and the importance of a well written SOP! Read on.
What is a 'Statement of Purpose' or SOP?
Statement of Purpose or SOP is an elaborate document containing information about your intention and purpose to study in a particular country. It is a deep insight into a candidate's life, core-interests and outstanding achievements.
What is the Importance of an SOP?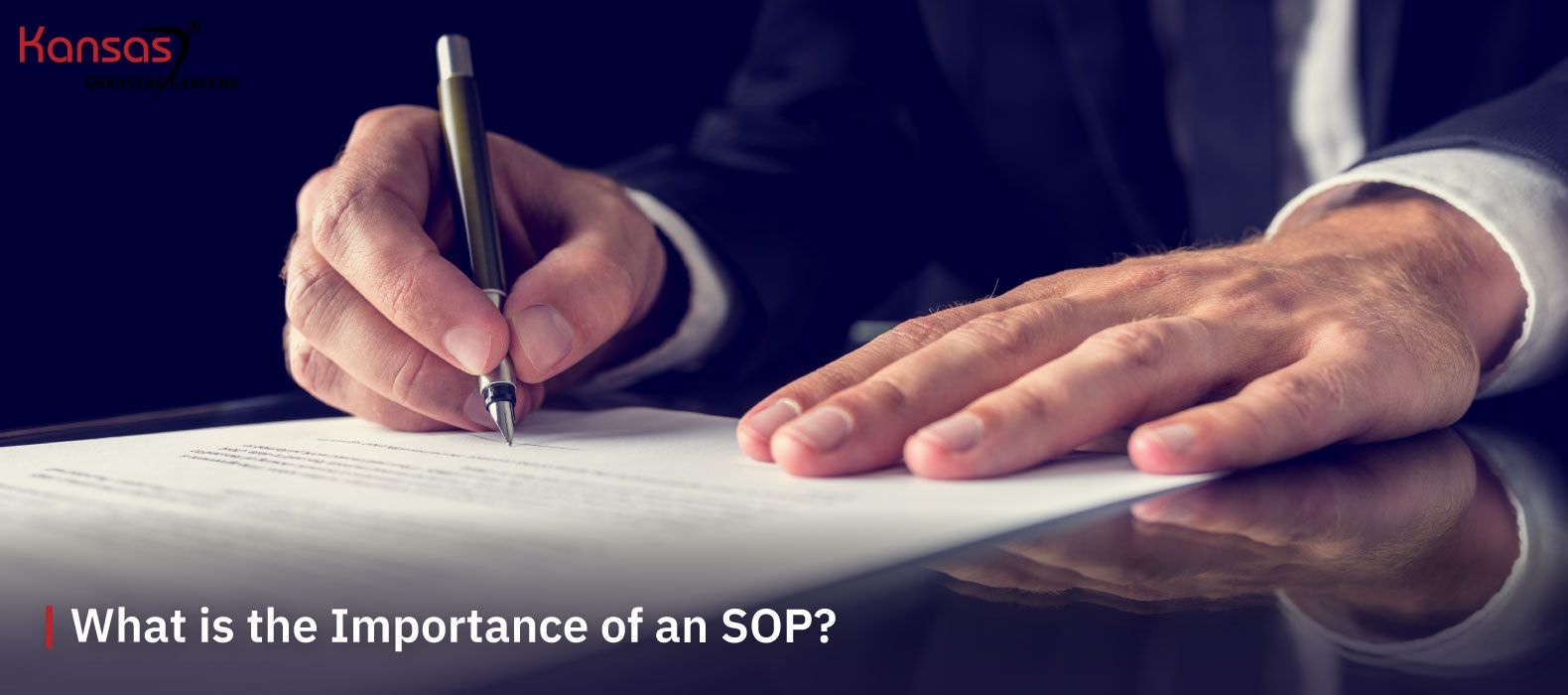 An SOP is a 'Statement of Purpose' from the candidate to the respective authorities in a foreign country.
SOP is a vital piece of document that secures your chance of admission as it:
Highlights the abilities, goals, career-choices and best attributes of a candidate
Helps start aspirants' academic year as soon as possible
Helps choose 'determined and focused' individuals
Note: Some Universities also provide scholarships to students if their SOP is par-excellence.
In 2008, Cambridge University gave a huge scholarship to the best SOP of the intake.
The Shastri Indo-Canadian Institute is known for its SOP and qualification-based scholarships for Indian Students.
Basic Structure followed in an SOP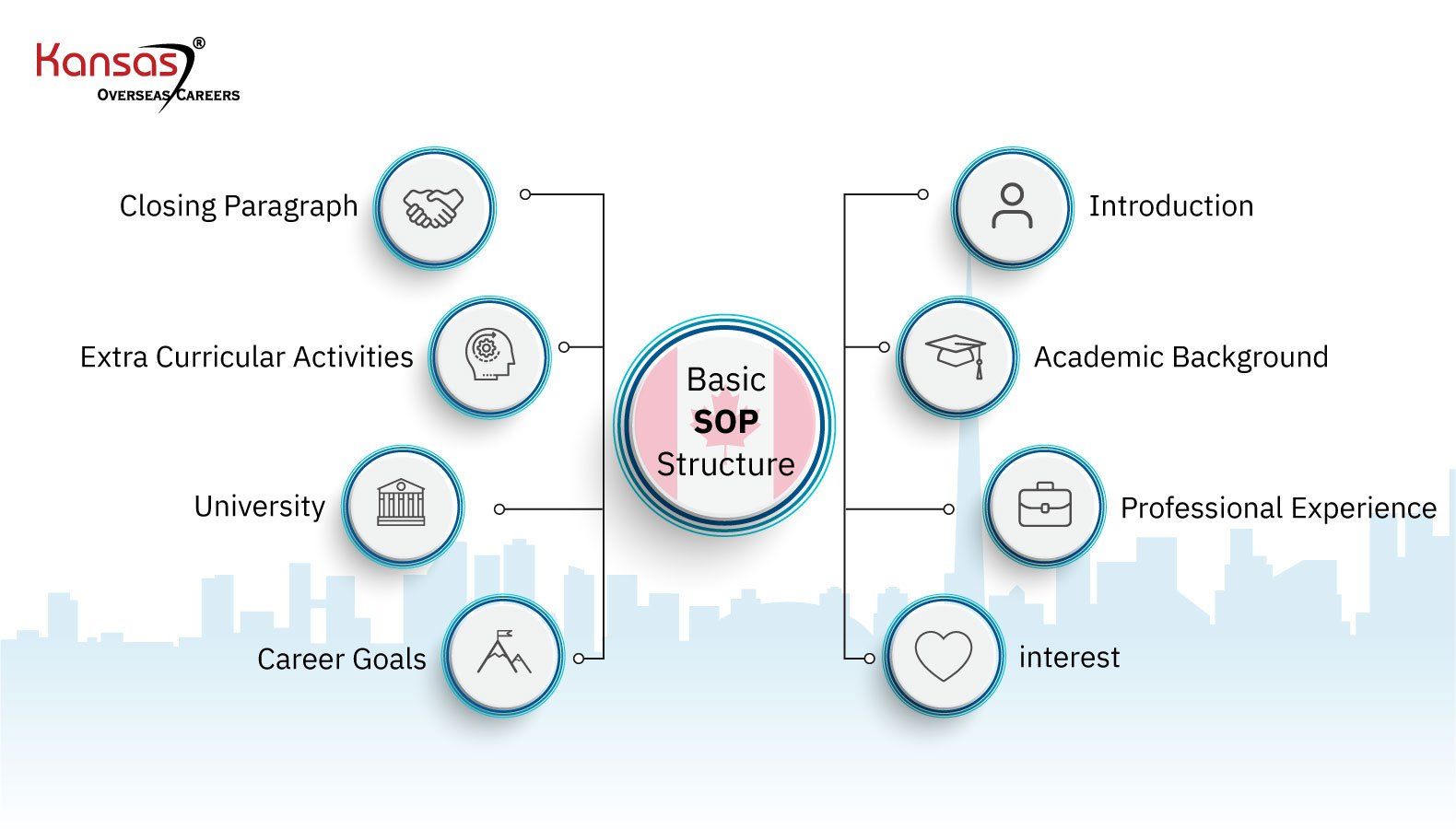 Start your SOP with an attractive opening statement. This could be a quote from a famous author, a broadened theme from your course or the big plan for your future. Make it short, crisp and engaging.
Make a table of your academic scores from high school to your undergraduate degree. Add a separate section for your outstanding achievements. Keep it informative and explanatory. Remember to mention the reason for any gap in your education here.
Professional Experience (if any)
Make a list of all the internships and certification courses you have done in the past. Add a paragraph about what you learned individually from these experiences and how it helped you make an informed decision about the course you have applied for.
Why are you interested in the course?
Describe the course-objectives and what you plan on gaining from it. Write about the technical aspects of your course and your core-interests in the field. For example, write about why you chose the specialization 'signals and processing' and not 'satellite systems'.
Career Goals, both short and long term
Short-term goals: Mention the project thesis you want to work on and the resources that are available with you. Give a gist of the previous projects you have completed and any paper publications that you may have. Talk about the e-Magazines where you want your Master's Thesis paper published and the scope of your research in the industry.
Long-term goals: Talk about your aspiration to become an xyz professional and how you plan to achieve it. Mention about the sector you have chosen and the prospect in the career path. For example, if your final goal is to become a supply chain manager, talk about the growth of the industry in the last decade and how you see immense scope in this career path in the future.
Why did you choose this university?
This is where you give a detailed credit to your research on selecting the university. Talk about how you always wanted to study in a University in Canada because of the endless opportunities there.
And conclude by saying,
"While I was looking for a University in Canada, I bumped into an article about the University of Toronto. The article mentioned how students there always feel at home and do not go a day without practical exposure. I knew by the end of the read that this is where I want to study and I was determined to get selected."
Extra Curricular Activities or Other Interests
If you've enjoyed playing the guitar, or have sought ballerina lessons, this is where you mention it. Talk about hobbies like reading a book, or collecting stamps or anything that you love doing in your free time. Discuss the philosophy of your aspirations in this section.
Express gratitude to the Dean of Admissions for giving you the opportunity to pursue your studies in xyz University in Canada and assure them that you will be successful in achieving your goals and leave a mark in the alumni community as a 'Go-getter'.
Sample Statement of Purpose (SOP) for Canada (Template)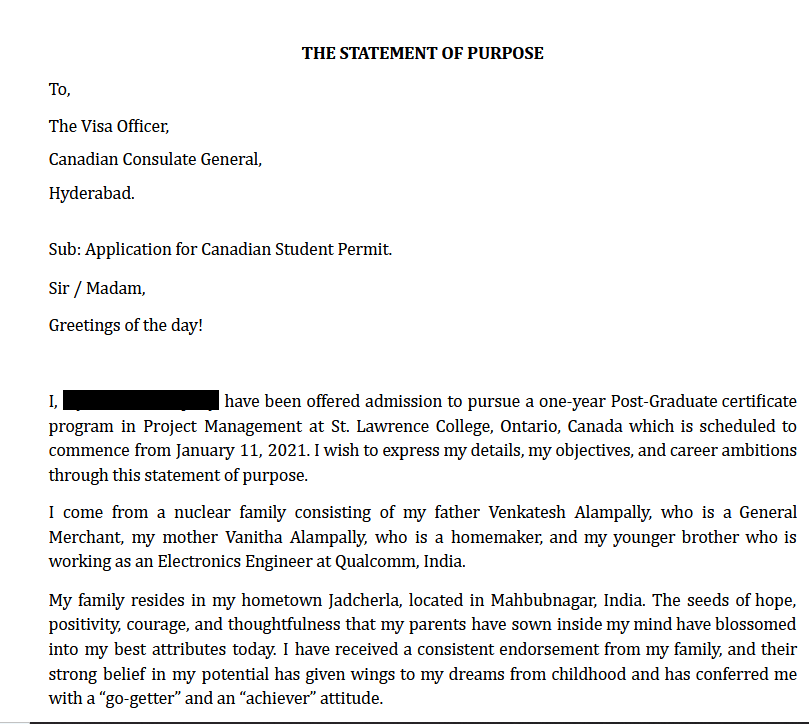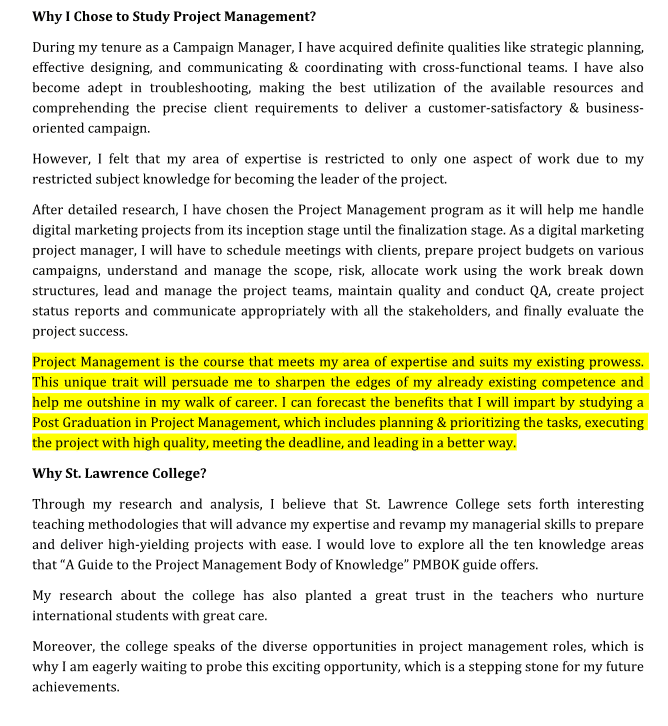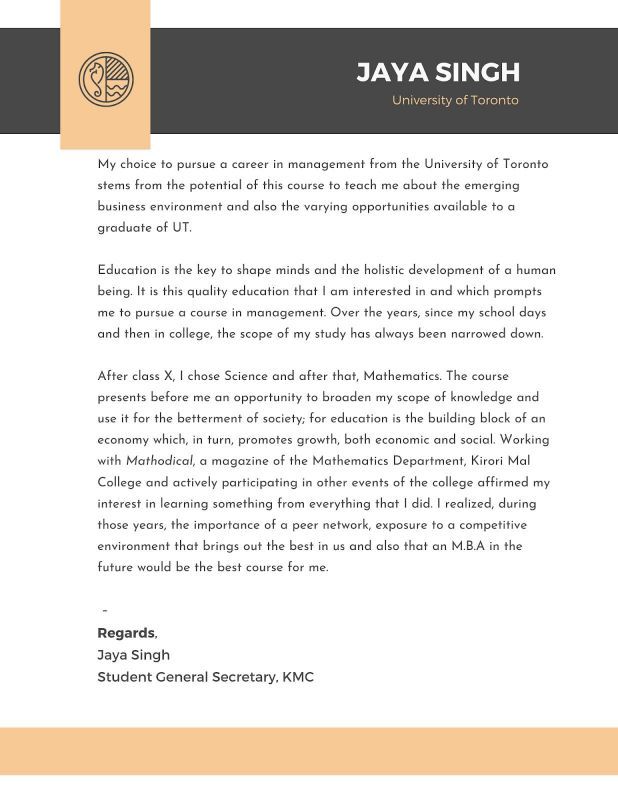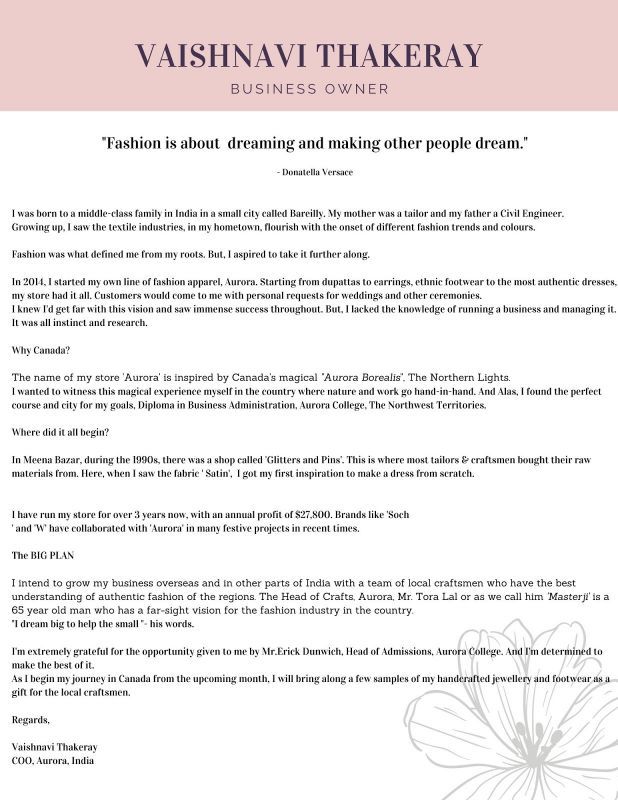 6 Common mistakes students can avoid while preparing an SOP
A last-minute SOP is a last-minute effort gone into vain.
An unsatisfactory introduction indicates the lack of creativity in an applicant.
Improper use of language with colloquialisms or stuffing of technical language reflects poorly upon their communication skills.
Using extensive flattery to secure a position is regarded as irrelevant in an SOP.
Grammar and syntax errors are taken into account for missing out on minuscule details.
Exaggeration or dishonesty in the achievements section is considered as the 'below-average' persuasiveness of a candidate.
Why choose an SOP writing service?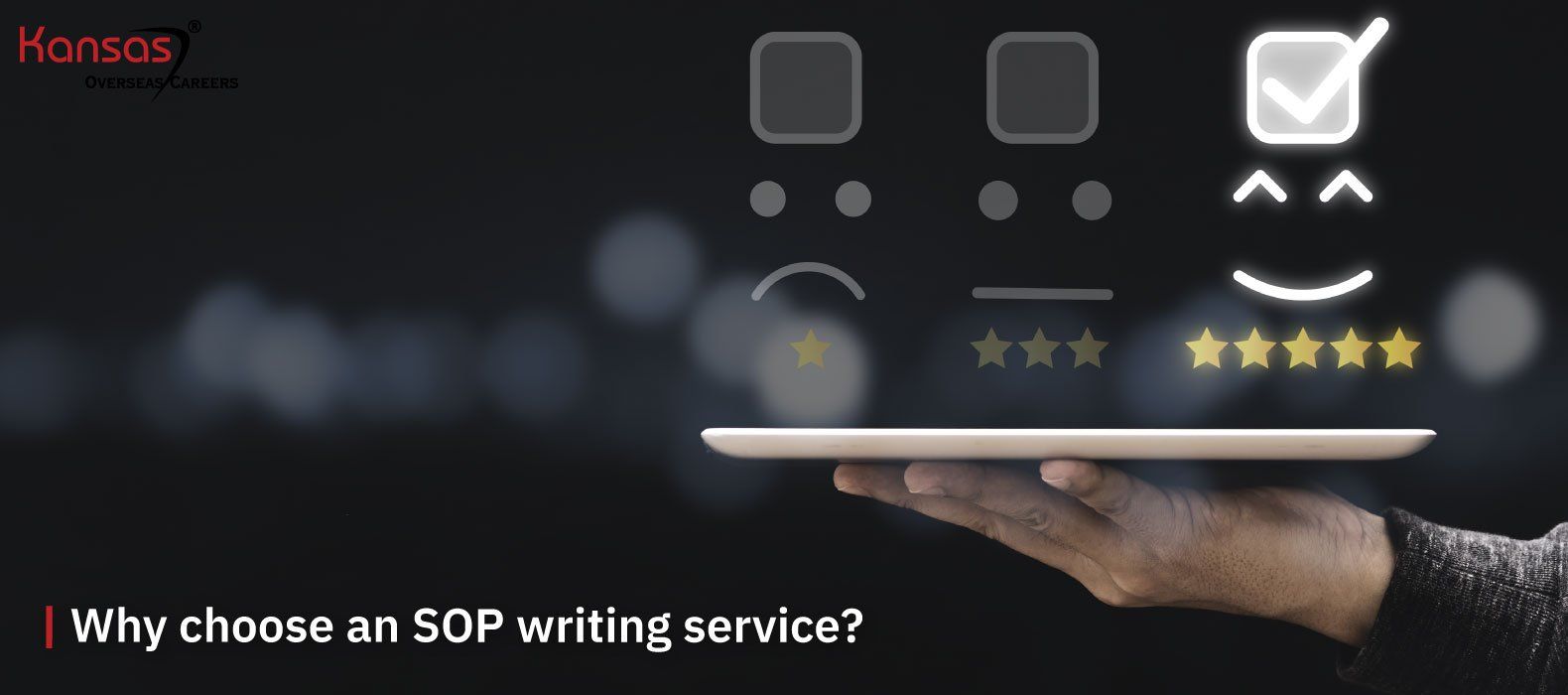 You can save yourself some time and gain some fantastic work on paper. Choosing an SOP writing service is an excellent choice because:
Our team of experienced writers will allocate a specific time-frame to work only on your profile.
We will develop an SOP for you and ensure that your best abilities are the highlight of the SOP.
We will deliver handwritten SOPs to you within an affirmative time-frame.
We will not just write but additionally add visual elements to your profile to uplift it.
We abide by the motto, " Quality over quantity".
And we've saved the best for the last!
SOP writing services are available at reasonable prices.
6 Tips to Write the Perfect SOP for Canada Study Visa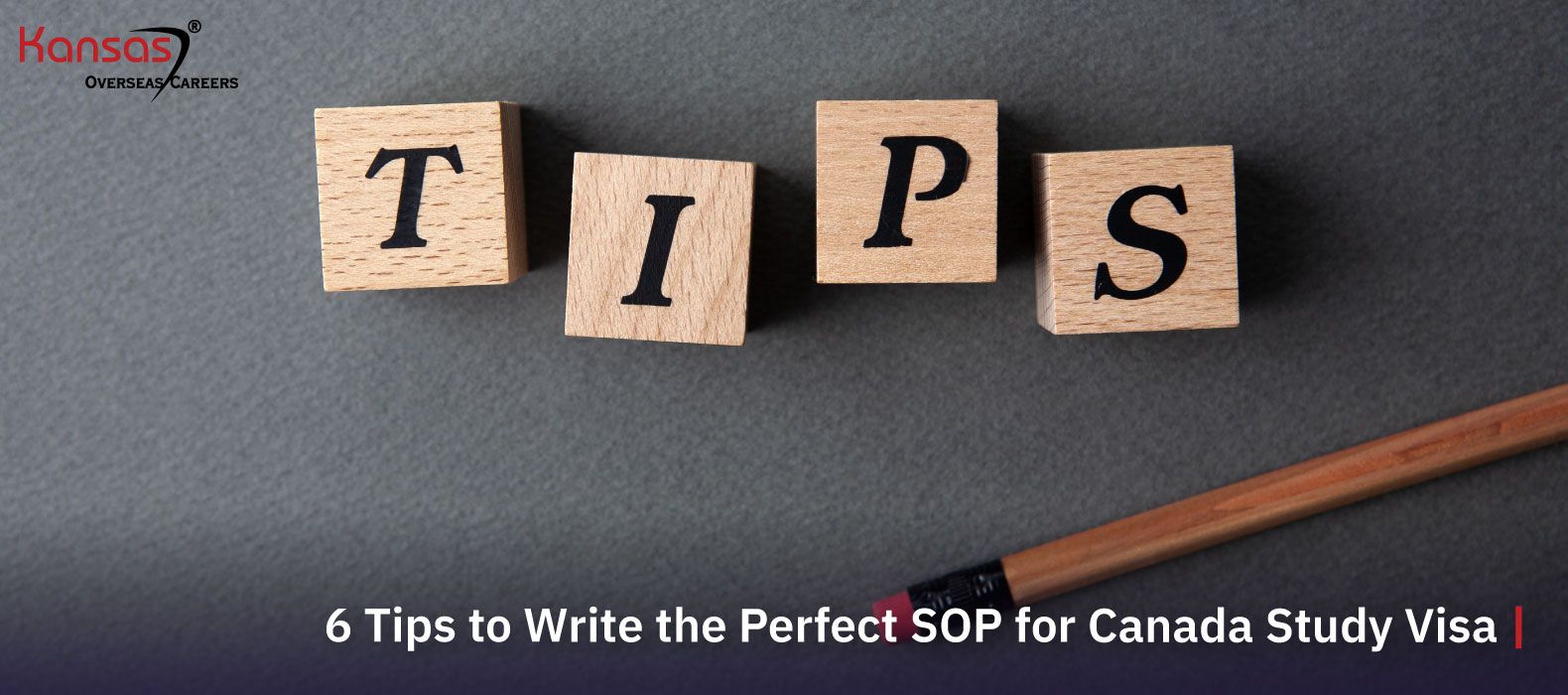 The selection panel receives thousands of applications every year. Most SOPs are skimmed through and rejected within seconds if the SOP seems pretentious or unappealing. So be genuine, humble and keep it precise.
Let's dive a little deeper into how to write the best SOP for Canada student visa application.
1. List down your BEST attributes.
Ask yourself the big question, "What is it that defines me"? SOP is a window to your life and personality. It is a detailed document showcasing your virtues and purpose to apply for a specific course at a University.
For example, if you have applied for a specialization course, you need to start with listing down your core-attributes to the subject from the beginning of your education.
Example: During the summer vacations, I'd learn the scientific names of the fruits and flowers that are tropically grown. For example, Mango is Mangifera indica. I can still recall.
Continue with lines like "I always had a keen interest in subjects like...".
You can end your SOP by saying :
"As a kid, it was always my dream to fix things. And now, I'm determined to turn it into reality by…".
You need to convince the University Authorities that this is what you want, and this is what you will achieve.
Sentences like " I will leave no stones unturned" will grab their attention. However, avoid over-dramatizing your intentions.
2. Purpose of Selection: Why did you choose this course and University?
Remember that International Universities always appreciate a well-researched candidate. Write about your preferred course and why you chose the University in the first place. Things you can add:
"I have completed my Bachelor's Degree in Electronics and Communication, and I intend to expand my knowledge with this Master's course."
"This was when I was browsing through the best colleges in Canada for Master's in Electronics, and I was quite impressed by the University of Toronto's semester-wise curriculum. It has a detailed course-structure and comprises modules that are profound with information. I have been interested in VLSI and Network Systems since the 2nd year of grad-college, and it continues to be my core-interest to date."
" I am hopeful that you will acknowledge my purpose of this course and, in turn, help me achieve my goals in your country with a fair-chance."
3. Add a 'You' Element
This is where most candidates make a mistake. A 'You' element is where you can include something that sets you apart from the crowd. However, some applicants misinterpret it to be a purely subject-related aspect.
Set a theme to your SOP.
Universities in Canada not only want a qualified candidate but also future leaders who are enthusiastic and proactive.
Mention your co-curricular activities or hobbies here.
Tell them your financial journey, and be honest about your struggle.
Convince them with a 'Never give up' attitude.
For example, if you have helped an NGO gain $200 worth of funds in the year 2010, you can describe your entire experience and how you achieved the unachievable in the end.
An aid to the charity is an aid to the world. Hence, you have now proven that you are indeed a global achiever.
4. Your Journey, Turning Points, and Self Discovery
Acknowledge your journey in this next section. This is the highlight of your Statement of Purpose. You are entitled to your life's journey, turning-points and achievements to this point. Hence, mention that in full glory and address it to the officer with due respect.
Stand true to your theme.
Remember to check the tone in your language for:
Irrelevant boasting
Exaggeration of your achievements
Play of words to leave a lasting impression
Derogatory implications
5. Bring back the journey (Merits and Demerits of your Professional Life)
You must have a profound understanding of the course you have applied for to begin this section. Focus on your in-depth professional knowledge in this part and grab the attention of the officer by speaking of your merits and demerits in your educational and work experiences.
" I completed my PCMC (Physics, Chemistry, Mathematics and Computer Science) high school education in 2009 from XYZ College in Hyderabad, aiming to crack the JEE at the first attempt.
However, in 2011, I couldn't meet the cut-off score with just 1 point and shifted base to Mumbai. Over there, I received a full-course scholarship from Narsee Monjee University for B.Tech in Electronics and Communication Engineering (ECE) and became the star-performer within just 1 year.
From the 2nd year, we had modules on Network Analysis, Control Systems and Microcontroller.
And, this is where my interest in these subjects inculcated. I would go back home and read authored books by Morris Mano, Paul Scherz and Simon Monk like "Practical Electronics for Inventors" and analyze the equations used by them.
It didn't happen overnight, but after 4 years of Engineering, I knew I wanted to study 'Signal Processing, Communications, and Control Systems' in detail to become a Robotics Engineer…"
Yes, this is the most genuine and essential part of your SOP because it proves your determination and passion for the subject you have chosen.
6. Read, Edit, and Edit Again. (Final Touches)
It is time to proofread your SOP.
Wait for a day, come back and go through your SOP again. Share the final copy with a trusted advisor. Get suggestions and decide if you absolutely love it, or do you want to make more changes.
A lot of times, owing to the sentimental and technical aspects of SOP Writing, candidates make silly mistakes. Here, external help would be the best alternative.
At Kansas, our in-house SOP Writers value their clients the most. Our abilities and purpose are shaped around a candidate's achievements, core attributes and minor drawbacks. We are specialists in drafting an error-free SOP and our focus is to bring out the best in a profile for the University Heads.
Other FAQs
Should you put your name on your Statement of Purpose?
Since most SOPs are a part of the application process, mentioning your name isn't mandatory. However, if you are sending a stand-alone Statement of Purpose, it is important to mention your name.
How to make your SOP stand out from the Crowd?
Start working on your SOP at least a month before submitting your application.
Revisit all your academic and professional achievements to make an in-depth list of the same.
Follow the

3 step rule

: 1. Write 2. Inform 3. Improvise.
An eye-catching introduction is imperative. Start with a quote from your favourite author or a creative one-liner.
Keep the reader engaged with a definite flow of information.
Avoid exaggeration of your merits.
Is it mandatory to prepare an SOP while applying for a Canadian Study Visa?
SOP is not mandatory for pursuing higher studies in all Canadian Universities. It is up to the university to decide if they require an SOP or not. However, most reputed Canadian Universities ask the applicant to write an SOP.
Can a student use one SOP for all Canadian Universities?
If a student is applying to different Canadian Universities, most of the SOP content will remain the same except the university names and course details.
Where do I get an SOP sample?
You can check out various types of SOPs on our SOP Sample Page to develop an idea of drafting one on your own.
Will a visa officer evaluate my SOP?
No, your SOP will be evaluated by the Canadian University Authorities.
Conclusion
Use a professional and conversational tone throughout your SOP.
A perfect SOP requires the right balance of the two. Remember that your tone consistency will help the University Heads understand your motive better. Write like you're addressing your colleague and keep the flow intact.
Focus on parameters like self-depiction, determination and passion.
Since, the SOP has to bring out your best attributes, you must focus on the course structure, your determination to learn it and your passion to seek practical knowledge in the field.
Bring out the positive side of your competence and abilities.
Mention your long-term goals, your leadership skills, your achievements and all the merits of your professional and co-curricular experiences.
Remember your end-goal and edit the final draft accordingly.
It's always best to make suitable edits to the final draft to ensure that you didn't miss out on any crucial information. Proofreading will help you make your SOP error-free.
If you're facing any more issues with SOP writing, we'd be glad to help you out from scratch.
How can Kansas help you?
Kansas Overseas Careers specializes in Permanent Residency Visas, Study Visas, Temporary visas, and Dependent Visas to Canada, UK, USA, Germany, and Hong Kong.
Apart from these services, Kansas offers its clients personalized services such as:
Profile Evaluation

: Professional guidance based on an in-depth assessment of the client profile to determine the chances of visa success.

Documents & Review

: Detailed, error-free documentation based on the visa type drafted to meet specific formats.

Dedicated Case Officer

: A dedicated consultant to assist clients throughout the process.

Visa Filing

: Kansas ensures that the visa applications meet all the standard requirements of concerned immigration authorities and governing bodies.

Test Preparations

: Complimentary online courses are offered to help aspirants improve their Language Proficiency for important exams like IELTS, French, TOEFL, and PTE.

Visa & Interview

: Guidance is provided for aspirants attending visa interviews along with verified documents.

Post-Landing Service

: Kansas helps clients settle down in the new country with a comfortable stay after they have received their visas.
Additional services For students looking for a study visa:
Admission Guidance

: Comparisons between the best programs, colleges, and countries to study in, including arranged mentorship from existing students.

Writing Services

: Admission Essays, Student CV, Statement of purpose (SOP), Letter of recommendations (LOR), and other important services offered by a dedicated team.

Scholarships & Financial Aid

: We offer help to find the best Scholarships programs, Education loans, Study abroad loans, and also offer help in sourcing paid-Internships.