The USA has many education programs having most foreign students, including Indians who choose to apply for Undergraduate, Doctorate, and Post-Graduate courses. In 2019, the highest international student populations in the US reported were from China (369,548 students), India (202,014 students), South Korea (52,250 students), Saudi Arabia (37,080 students) and Canada( 26,122 students), respectively.
All foreign students who want to study in the US are required to obtain a student visa via the F1, J1 or the M1 visas. It is best advised that you begin your visa process well in advance as it can be a lengthy process. Most students begin their USA student visa process three to five months prior to when the course is due to start.
In this read, you will learn about all the USA Study Visa requirements as of 2023. Read on.
6 Things to Do Before You Apply for a US Student Visa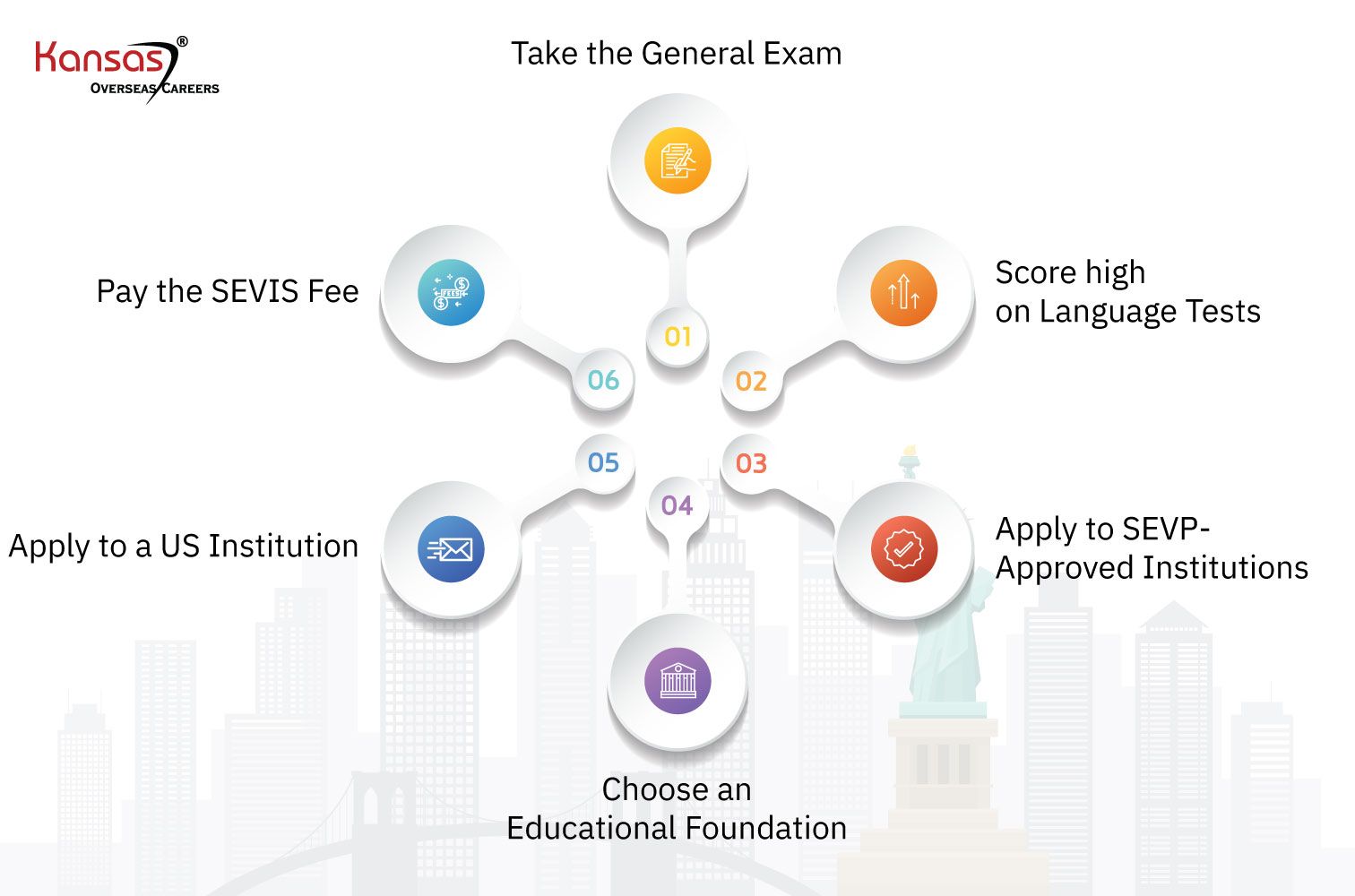 Before you can begin applying for a study visa, you need to:
Take the General Exam
Score high on Language Tests
Apply to SEVP-Approved Institutions
Choose an Educational Foundation
Apply to a US Institution, and
Pay the SEVIS Fee
Now let's look at each of the steps, one at a time.
1. Taking General exams to study in the US
One of the main USA student visa requirements is taking the entrance exams to prove your skills and qualification for the type of course you want to pursue in the US.
Recommended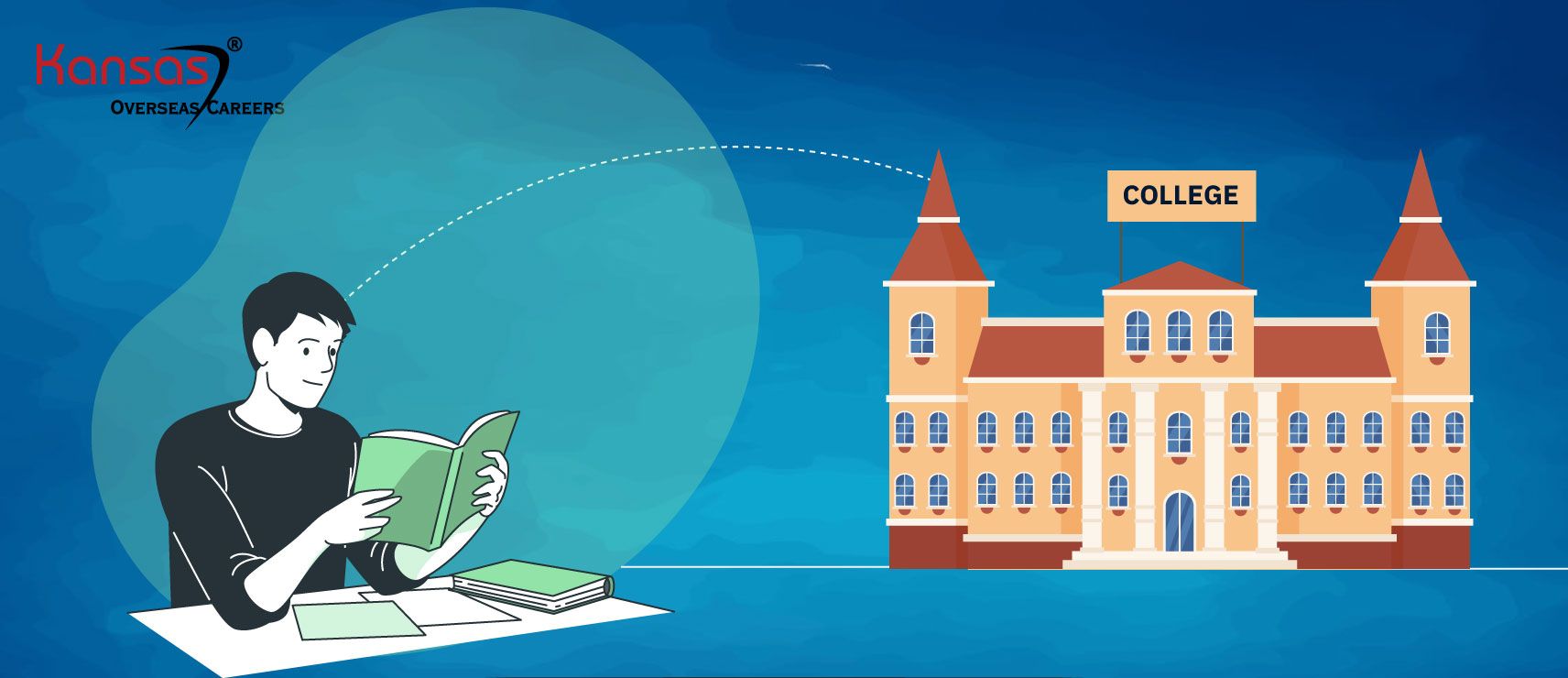 USA Study Visa Process: How to Apply?
To apply for a USA student visa, Indian students need to pass the following general examinations:
Graduate Management Admission Test (GMAT)
This test is used to determine the abilities of potential students seeking admission in MBA programs. It measures the student's English, mathematics and reasoning skills.
Graduate Record Examination (GRE)
This test is required to be taken by students pursuing an MA or MS. Many business schools in the US are now increasingly accepting GRE scores for admission to MBA programs as well.
Law School Admission Test (LSAT)
It is a standardized test and an integral part of the law school admission process. It measures the ability of students in reading and verbal reasoning. These skills are utilized by law schools in assessing applicants.
Scholastic Assessment Test (SAT)
This test measures the literacy and writing skills of the applicants for academic entrance. SAT assesses how well students can analyze and solve problems from what they learnt. It is typically taken by high school students seeking admission in UG courses.
Note: Repetition timeline for examinations
In the case of you want to repeat examinations for a course, the preparation duration is 4-6 months. Students need to pass and apply before the deadline following which they can apply for a Student F1 Visa status.
2. Language Proficiency Tests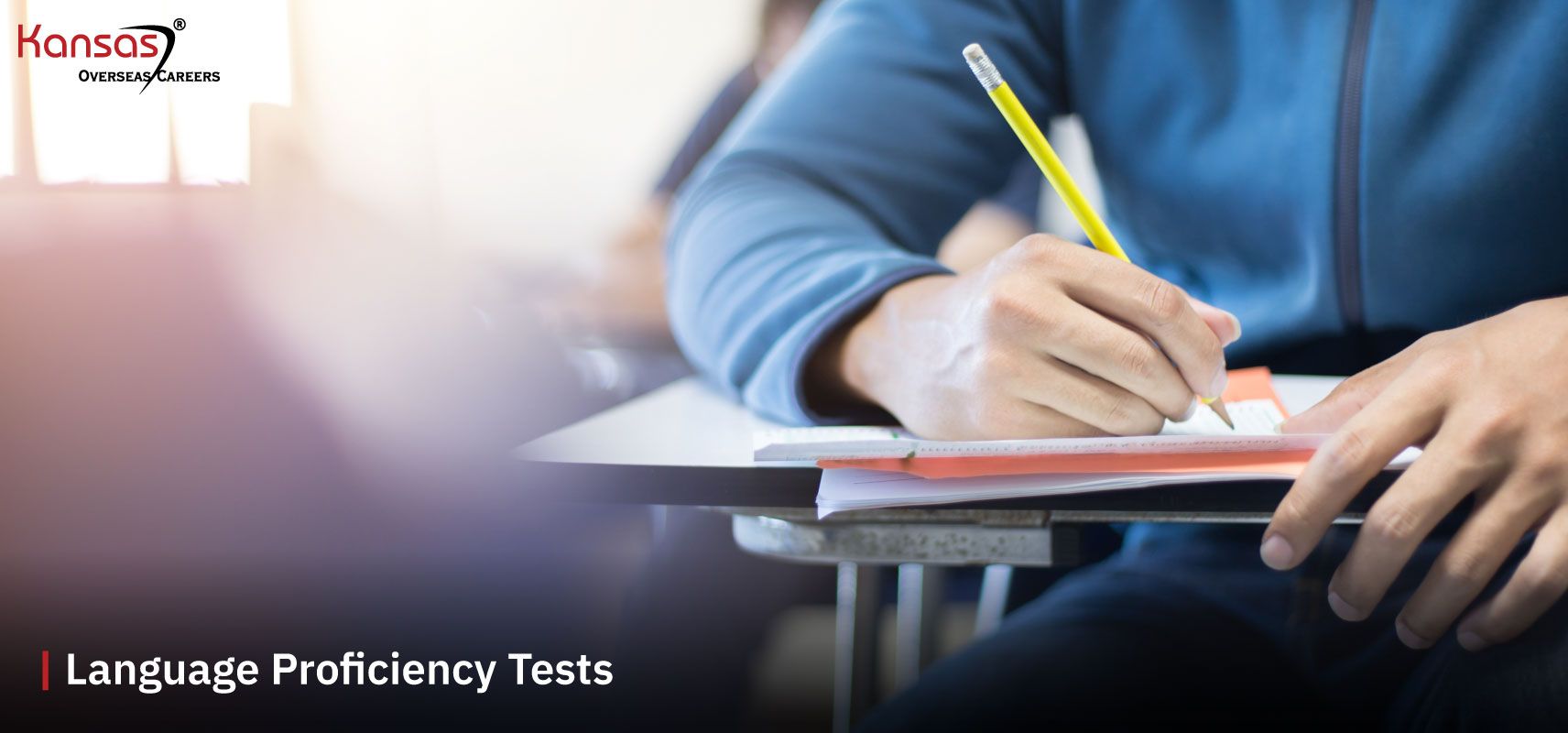 Passing language examinations is one of the main USA student visa requirements. Some of the acceptable languages tests include:
Test Of English as a Foreign Language (TOEFL)
International English Language Testing System (IELTS)
Pearson Test of English (PTE)
These tests are mandatory. However, passing only one of them is enough. The following table mentions the basic fee structure and exam repetition rules.
Type of Language test

Fee Structure (INR)

Number of Repetitive Examinations

Test Of English as a Foreign Language (TOEFL)

13,625

Students can take it without limits.

They need to wait 12 days before retaking the repeat examination.

International English Language Testing System (IELTS)

14,000

Students can take it more than once; no limits.

Pearson Test of English (PTE)

13,300

Students can take it without limits.
3. Apply to SEVP-Approved Institutions
Only an SEVP-approved institution can enroll students and provide documents that are necessary for a US student visa.
An SEVP or Student and Exchange Visitor Program is part of the US National Security Investigations Division that acts as a bridge between the government and nonimmigrants coming to the United States as students.
As an International student, you should always choose an SEVP-accredited educational institution. It guarantees that your degree is recognized by employers, professional organizations, other universities, and government agencies worldwide.
The US does not have any centralized university application system. You will therefore need to apply separately to each institution and fulfill admission requirements. This includes providing proof of sufficient funds.
The SEVP manages students for the F (for academic studies) and M (for non-academic or vocational school) visas. The Department of State (DoS) manages students for M visas. Both organizations use SEVIS to track and monitor institutions and international students.
The university will enroll you in the SEVIS system and send you a SEVIS-generated document known as

Form I-20

if you are eligible for F1 or M1 visas.
A Form DS-2019 is issued by the SEVIS if you are eligible for the J visa.
Note:
Indian students who want to study in the USA can choose to apply for an F1 Visa, J1 Visa or M1 Visa.
The F1 and J1 visas allow you to work when you study in the US, and the M1 the possibility of employment in the US during your stay, while the M1 Visa does not.
4. Choosing the Educational Foundation
Excellent study programs exist in traditional disciplines and professional fields at some of the finest globally recognized universities in America. Lookout for these factors while choosing the right educational institution.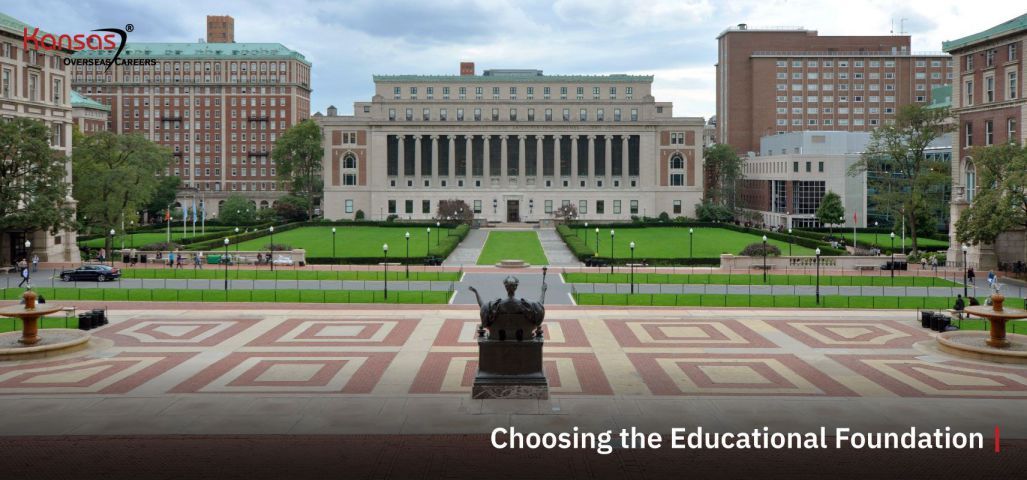 Ensure that the college or university you want to join is recognized for its excellence.
US universities pride themselves for being at the forefront of technology. You will have the opportunity of using these even if your course program does not involve science or engineering. Ensure that you stay connected with experts in your stream.
Opportunity for Training & Research
Several graduate programs offer training and research opportunities in the US. You would immensely benefit from having an opportunity as research assistants or by working on specific projects exploring aspects of your study program.
Study programs in the US are highly structured and specific requirements of students effectively met. You are given a wide range of classes that fit your aspirations. You also have the flexibility to decide as to which best match your interests.
Long-Term career prospects
Employers nowadays seek a wide range of knowledge, adaptability and experience. Individuals able to communicate, negotiate and conduct business across different cultures are largely preferred.
The education system in the country emphasises on all aspects of giving students a successful career. Passing out from a US university effectively boosts your chances.
5. Apply to a US Institution
Most colleges and universities in the US will send you information about the academic programs along with the application form. Admission decisions however are based upon the students' test scores and academic records.
Make sure to send separate application forms to each college or university before the deadline. This will give you some extra time to resolve issues if any.
Receive Acceptance Letters
You will begin receiving letters of acceptance from chosen institutions after the deadline. Some universities however inform candidates of acceptance soon after the document arrives in the admissions office. Other institutions can keep you waiting for months to inform all candidates at one time.
Some institutions require students to pay a deposit before a deadline. This in some cases may be equal to a semesters' or a full academic year's tuition fees.
Make it a point to send the deposit immediately if you are applying for financial aid. Students are required to provide a statement indicating the amount of money they would have during the course of the program. You will also need to send details if you are availing a scholarship.
6. Pay the SEVIS fee
This fee is required to be paid at least three days before the submission of the US visa application. You will have to file an online or paper form for the Student and Exchange Visitor Information System (SEVIS) fee.
Access the US Immigration and Customs Enforcement (ICE) SEVP website for this. Input the required information exactly as it appears on your I-20 or DS-2019 application form.
The procedure for different types of payment methods including debit/credit cards, checks, international money transfers, and Western Union Quick Pay are explained on the website.
Return to the website to check your payment history. Third party sponsors can also pay your fees. In such a case you will have to receive a receipt from the sponsor.
Print a payment confirmation from the website after the payment has been processed. This will be required as proof of payment at the time of the US student visa interview.
Top 5 USA Study Visa Requirements in 2023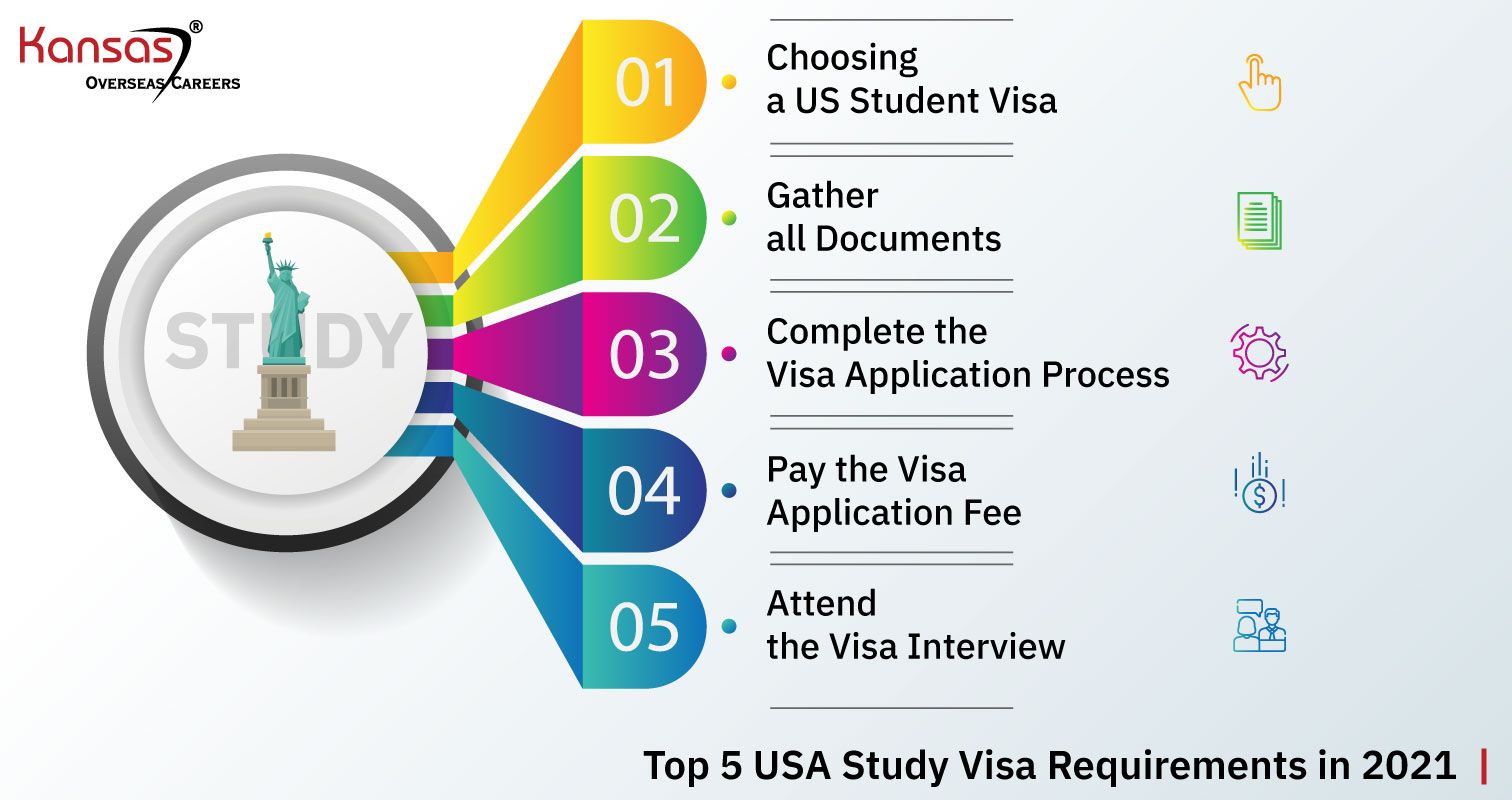 The top 5 USA Study Visa Requirements are:
Choosing a US Student Visa
Gather all Documents
Complete the Visa Application Process
Pay the Visa Application Fee
Attend the Visa Interview
1. Choose a US Student Visa that fits your profile
There are three main types of US student visas for international students.
This visa is required if you want to undertake academic studies in the US. It is by far the most common type of entry visa issued to international students.
F1 status permits you part-time or on-campus employment. You can also work on Optional Practical Training (OPT) for up to a year after completing your academic program.
This visa is issued to international students obtaining practical training that is unavailable in their country.
The status of the J1 visa offers similar employment benefits to the F1 visa holder. The student can stay in the US as long as permission is granted by the program sponsor.
It is a Non-Academic and Vocational Studies visa issued to international students attending such programs in the US.
The M1 visa holder is not permitted to work during the course of study. They are also required to show proof of funds available to pay tuition and living costs for the complete period of intended stay.
2. Gather all the required documents
The following documents are required to apply for the US student visa.
A valid passport valid for at least six months beyond the period of stay in the US
Letter of Acceptance from a SEVP-accredited institution with Form I-20
Application fee payment for SEVIS
Non-Immigration Visa application and Form DS-160 confirmation page
Applicants' photograph in the right format
Other Additional Documents
Academic preparation documents (transcripts of certificates, diplomas, or degrees)
Proof of having sufficient funds for living throughout the stay in the US
Bank statements
Financial undertaking by sponsor
A scholarship program
Evidence of leaving the country after completion of the study course (air ticket back home)
3. Complete the Visa Application Process
Contact the US embassy or consulate in India for a US visa application. Do this as early as possible irrespective of when your program is due to start.
Visa processing times vary. Student visas are issued up to 120 days before you are likely to enter the US.
DS-160 Online Visa Application Form: You will have to fill up the online visa application form DS-160. Select the location from where you intend to apply and keep all information and documents handy.
See the Step-by-Step Process for a US Study Visa below.
4. Pay the Visa Application Fee
The visa issuance fee is known as Machine Readable Visa Fee (MRV fee).
Application fee for different types of US Student Visas
| | |
| --- | --- |
| Student Visa Type | Application Fee |
| F1 Visa | $200 |
| J1 Visa | $180 |
| M1 Visa | $200 |
Review the fee payment instructions on the embassy or consulate website. Normally, there are three ways to pay the non-transferable, non-refundable visa fee.
Personally at an approved bank
Online
By phone
You will need to print the receipt if you pay online and receive a fee confirmation number if you pay by phone.
When you go for the visa interview, you will be asked for the MRV fee receipt.
5. Attend your Visa Interview
This is the final step for obtaining your US student visa. Check the concerned embassy or consulate website for the documents you need to carry along with you to the visa interview appointment. (See document list in the FAQ section below).
The visa officer at the embassy or consulate will determine whether you are qualified to receive a US student visa. And if so, which is the best category for you.
The purpose of your F1 visa interview is that the officer at the embassy wants to know more about you as an applicant than what your documents speak of you.
Answer all questions, including convincing him/her of your ties to the home country. Your academic background, the program that you intend to join and your English language skills will be scrutinized.
Both, F1 and M1 visas are normally issued 120 prior to commencement of your study. But you are only allowed to enter the US 30 days before the start date.
The J-1 visas are issued at any time.
Note:
The 30-day limitation will not apply for students returning to resume studies in the US.
Late candidates to the interview will be asked to reschedule their appointment for another day.
Step-by-Step Process for a US Study Visa
Step 1: Apply to an SEVP-approved educational institution
International students, including Indians must use the Form I-20 (Certificate of Eligibility for Nonimmigrant Student Status) to apply for a visa to enter the United States.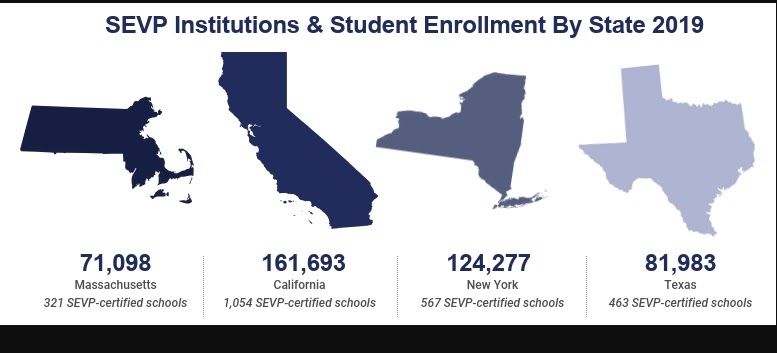 Image source: https://educationdata.org/
This form can only be issued to students by a SEVP-certified institution after they have admitted the student for a particular study program. So make sure you only apply to a SEVP-approved institution.
Step 2: Pay the SEVIS fee
This should be done at least three days before the day you submit the application. Obtain and print a payment receipt from the website.
Step 3: Pay the visa application fee (MRV fee)
Methods of payment may vary depending on the place and country you are applying from. Check the instructions given on the embassy website.
Step 4: Schedule an appointment for the visa interview
You will have to appear for an interview at the designated place and time.
Step 5: Final arrangements to move
Buy tickets or make your final travel arrangements only after you have the visa. You will have to fill a Customs Declaration form (CF-6059) before entering the US.
Personal details required to complete the DS-160 form
Name and date of birth
Address and phone number
Passport details
Details of travel plans
Travel companions
Details of previous US travel
Point of contact in the US
Family, education and work details
Security and background information
Medical health information
SEVIS ID and address of US institution (as on I-20 or DS-2019 form)
A suitable recent photograph
Take care to answer all questions fully and accurately. If you make a mistake, you may have to reschedule your visa interview appointment.
Talk to an expert for guidance on your USA study visa process.
Seven Tips for your Visa Interview
These guidelines can prove very useful for the visa interview process.
Dress formally in a business suit or dress.
Be specific while answering the questions
Carry bank statements
Give proof of employment
Provide details of study plans
Be professional and keep calm
Essential to speak the truth
Your visa interview is very important. A lot depends on how you perform at this juncture.
Getting your US Student Visa
You will receive an approval of your application to a US student visa after successful completion of the above steps. The US embassy or consulate will also return your passport along with the new visa.
Check with the embassy or consulate as you may be asked to come in person to pick up your visa.
Moreover, visa processing times depend on the embassy or consulate. You can however visit the US visas website to know how long the process will take.
How much does it cost to study in the USA for an Indian?
The average cost of college in the United States is $32,889 per student, according to the Educationdata report.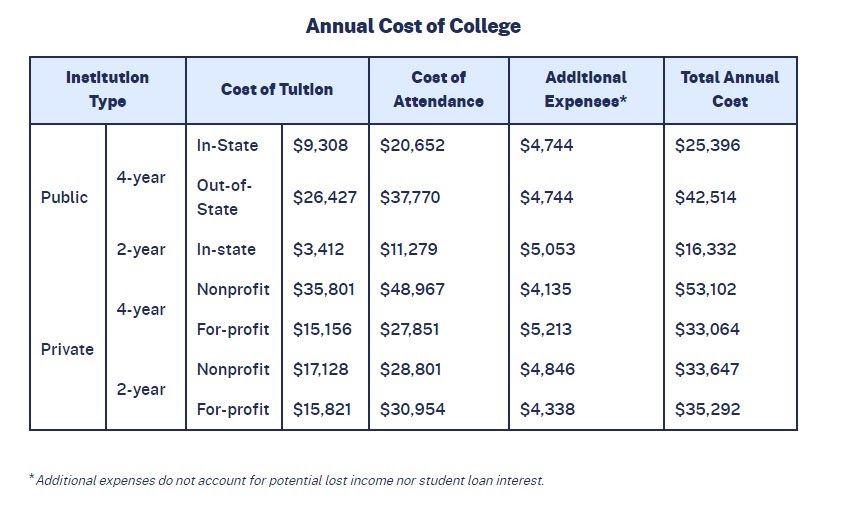 Image source: https://educationdata.org/
The average in-state student cost: $25,396 for one academic year (for a public 4-year institution)
The average in-state tuition fee is $9,308; out-of-state tuition averages $26,427
The average cost for a private university student is $53,102 per academic year, $35,801 of it on tuition and fees
Cost of a bachelor's degree may exceed $400,000 (including student loan interest and loss of income, and so on)
Most Expensive Private Colleges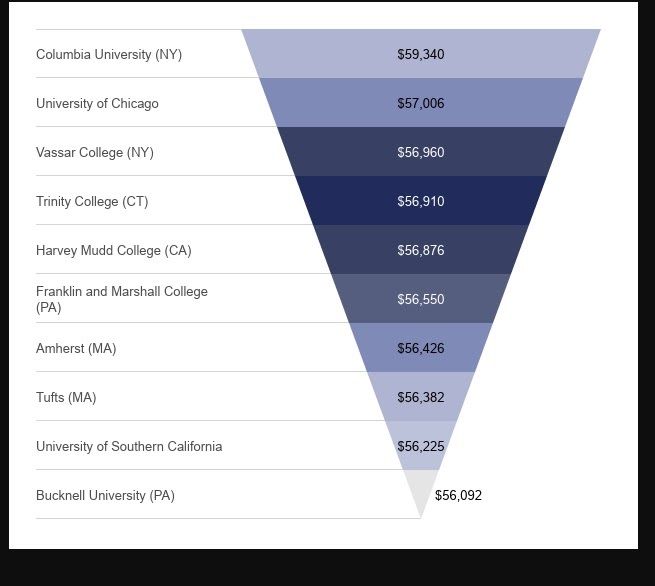 Image source: https://educationdata.org/
Least Expensive Private Colleges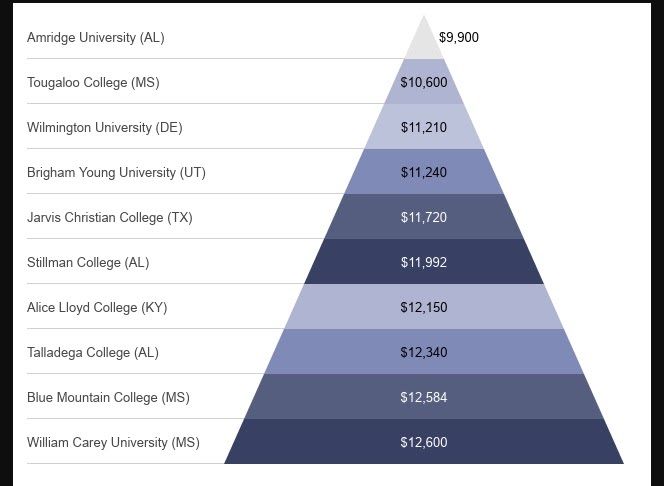 Image source: https://educationdata.org/
Other FAQs
What are the documents required for a US study visa interview?
Documents to carry along for your visa interview include:
A valid passport for at least six months beyond your stay in the US
Signed SEVIS Form I-20 or DS-2019
Form DS-7002 for J-1 Trainee & Intern Visa
SEVIS fee receipt
DS-160 application confirmation page with barcode and ID number
MRV fee payment confirmation
Copy of visa interview appointment
1-2 photographs in the required format
Additional documents:
Transcripts from previous institutions attended
Scores from general and language efficiency examinations
Financial evidence showing proof of funds
Derivative visa applicants will be required to bring:
Copy of marriage and/or civil partnership
Birth certificates for proof of relationship
Copy of principal applicant's visa F1/M1/J1
Or official documentation from the USCIS
Copy of personal data page from the principal applicant's passport
How much bank balance is required for a US student visa?
Academic year in the US is 9 months. Funds required during this period would be mentioned in the I-20 form. A 2-years master's degree in the US is expected to cost $40,000 in the first year. This means you will have to show at least $80,000 for the course.
Is a US student visa easy to get?
The procedure of getting a US student visa is surprisingly easy. But it takes time. It can nevertheless be confusing for international students as they are unaware of the steps necessary to take.
Is ielts required for a USA student visa?
Yes. IELTS is a mandatory requirement for studying in the US. But several universities allow students to select programs without IELTS. Northwood University, North Texas University, Dayton University, and California State University are some of the institutions among others.
What is the age limit for a student visa in the USA?
An interview at the embassy or consulate is required for all US study visa applicants aged between 14 to 79 years. Applicants below or above this range do not require an interview unless asked by the embassy or consulate.
Do US student visas get rejected?
Yes they do sometimes. But the most common reasons for US student visa rejections are lack of financial resources and inability to prove intent of returning to the home country. There are several other factors as well for a student visa being denied.
What are SEVP approved educational institutions?
SEVP-approved educational institution means that the facility has been certified and authorized by the Department of Homeland Security (DHS). These institutions can take in international students holding the F1 student visa.
Is the Student and Exchange Visitor Program part of ICE?
Yes. The Student and Exchange Visitor Program is a part of ICE (Immigration and Customs Enforcement). It is the largest investigative arm of DHS (Department of Homeland Security) in the US.
What is SEVP certification?
This certification permits educational institutions to issue "Certificate of Eligibility for non-immigration student status" (Form I-20) to prospective students when they are admitted for a study program. International students can then use this form I-20 to apply for a visa to come to the US.
Is the US student visa an immigrant visa?
People applying for nonimmigrant visas like the F1 or J 1 are viewed as 'intending immigrants under the US law. It means that this is a possibility, until they convince the visa officer that they do not intend to.
What is the validity of a US student visa?
It is usually for five years if you are travelling to the US on an F1 student visa. The visa stamp typically endorses the validity by the authorities on your passport.
Can I stay in the US after the expiration of my student visa?
You may be able to stay in the United States for as long as you maintain your student status even after expiration of your F1 visa. However, you need to have a valid visa to return to the US if you are returning to the home country or travelling to another country where automatic revalidation does not apply.
How long can I stay in the US after completing my graduate studies?
You can stay in the US only for 60 days on a F 1 visa after completing your graduate studies. So start planning your future course of action prior to completing your graduation course.
How do I get my F1 visa renewal?
You will have to undergo the same process as the initial F1 visa application for visa renewal. However, you can still stay in the US with an expired F1 visa provided your Certificate of Eligibility for Nonimmigrant Student Status (Form I-20) is valid.
Can I apply for a US Green Card as an F1 student?
Yes. You are eligible to apply for an US green card if you are holding an active F1 visa. Obtaining the green card will allow you to live and work in the country.
What is a F2 nonimmigrant visa?
This is a nonimmigrant visa issued to dependents of F1 student visa holders. It allows dependent spouses and unmarried children under 21 years of age to enter the US.
Can I study in the USA on a visitor visa?
No. Foreign nationals entering the USA on a visitor visa are not allowed to join study programs except to undertake recreational study. You would require a F1 or M1 student visa to enter the US for studies.
Conclusion
Right from choosing a college and seeking admission, to obtaining a visa - It can be time consuming. So start well in advance before you want to join a US study program.
Top 5 USA Study Visa Requirements for Indian Students in 2023 are:
Passing Examinations & Language Tests
Seeking Admission into SEVP-approved Institutions
Paying the SEVIS Fee
Applying for a Student Visa
Attending the Visa Interview
A word of caution here. It requires extensive planning and covering plenty of groundwork for studying in the United States.
Looking at the complicated and arduous process of enrolling and obtaining a student visa, it would be rather easier to seek professional help. This will help you get your visa faster with zero chances of visa rejection or delays.