Looking to study abroad as an international student? You will require a Statement of Purpose, commonly referred to as simply the SOP, to secure admission. Let's find out what is an SOP to study overseas, the kind of SOP that will be expected from you for MBA admission, and other details.
What is a Statement of Purpose?
Put simply, an SOP conveys to the educational institution as to why they should grant you admission over the other applicants. A personal statement from you directly to the admissions department, it is the SOP where you can showcase yourself as the ideal candidate, bringing out your personality and uniqueness.
What is Statement of Purpose for MBA?
Applying for an MBA implies that you have an academic background along with professional experience. As such, international business schools for MBA expect a more sophisticated SOP. The level of maturity expected from an SOP for MBA will naturally be higher.
What is the importance of Statement of Purpose for MBA?
An SOP for MBA is an attempt at convincing the business school that you are indeed forward-looking and possess the required business acumen to be a valued student at their business school.
Both your aptitude as well as lookout for the future will be assessed by the admissions committee. Your MBA SOP should highlight your strengths and offer a valid explanation for your weaknesses, if any. The SOP that you send to a business school should be multifaceted, containing a complete view of you as a prospective student.
How to write an MBA Statement of Purpose?
Statement of Purpose for MBA

Introduction

General and contains basic and relevant information about you, such as -

your educational background,
the program applying under,
the motivation to do MBA abroad,
other instances that might justify choosing an MBA.

Educational background

Here, you will have to explain your academic background in more detail. Focus on whatever will help you with the specific MBA program. For example, if applying for an MBA in International Business, make it a point to mention projects or activities that helped you develop skills for the program.




Certain MBA specializations and the skills/experience that you might target -

MBA in Human Resources: handling a team
MBA in Marketing: ability to handle management responsibilities
MBA in International Business: knowledge of international trade
MBA in Finance: budget planning, projecting economic trends

Professional background

This is where you get to put across your standing as a professional. Promotions and other recognitions are to be included. Volunteer work, versatility, team-building, and soft skills must be highlighted.

Goals

Your career goals - long-term as well as short-term - will be discussed in the fourth section of your SOP. Give and effectively trace the link between your -

Educational background,
Work experience, and
Plans for the future.

The main focus here should be on how you can achieve and realize your vision for the future if accepted as an MBA student.

Language scores

Give your overall score as well the individual scores in each of the abilities assessed.

Proof of funds

Here you will have to give your financial details, such as -

How much you have paid as first-year tuition fees,
Funds in your bank account etc.

Conclusion

Summarize your MBA SOP with a concluding note tying it all together. End with stating how you are a great fit for the course that you are applying for.
Sample Statement of Purpose (SOP) for MBA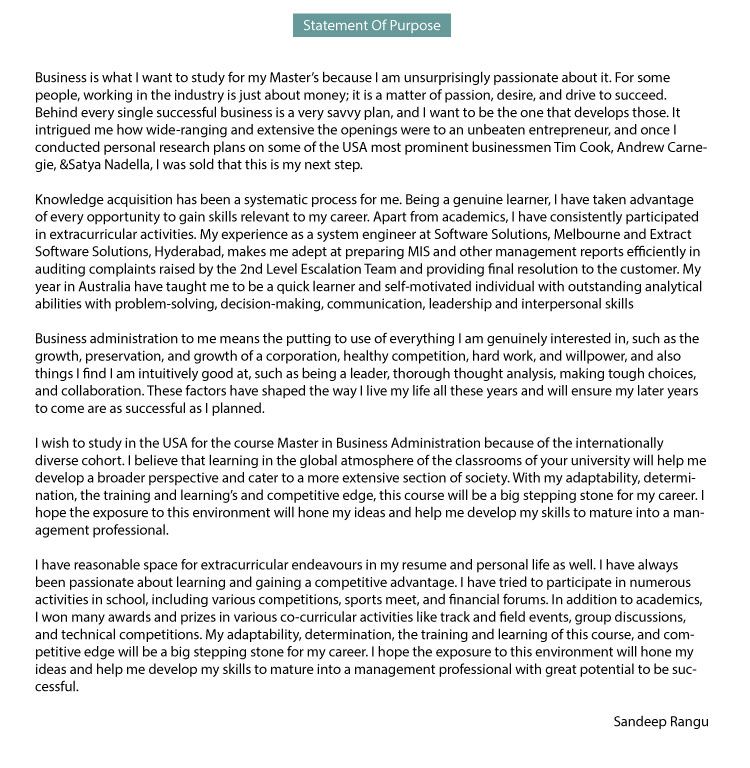 What are some general tips for Indian students for MBA SOPs?
First and foremost, you should be genuine as well as unique. You should be able to project a positive and wholesome personality without any exaggerations or bragging on your part.
General tips for writing SOPs for MBA include -
Make an impact with your opening paragraph
Use simple and easy to understand language
Be careful with your grammar, punctuation, and spelling
Maintain the same tone throughout
Keep to the specific guidelines (for word count etc.) issued by the university/college applying to
Paragraphs to be well-connected to each other
Be to-the-point
Avoid arrogance or exaggeration
Write a good conclusion
Always have your SOP for MBA reviewed by others to gain perspective. If required, get your SOP for MBA prepared by professional SOP writers that have the required expertise and experience.
The more effective your SOP for MBA is, the better the impression that you make on the admissions committee, standing out from the other applicants. There is, as such, no right or wrong way to go about writing your SOP for MBA. Be yourself and get your point across in a simple language. The bottom line here is that you must be able to convince the admissions committee that you will be an asset to the institution, if selected by them.
So, how exactly should you write your SOP for MBA for the specific courses? Let's find out and get some pointers.
How to write SOP for MBA for popular specializations?
An SOP, though a simple statement of purpose, must be written keeping in mind the target audience. This will be the admissions committee of the university or college that you are applying to. An SOP for MBA will be more in-depth as compared to a general SOP. An MBA aspirant is generally expected to have a higher level of professionalism as well as maturity.
SOP for MBA: Guidelines for Popular Specializations

MBA in Human Resources

Focus on: Ability to understand and successfully manage people.

Talk about previous situations where you -

Handled a team,
Resolved conflicts, or
Were in a leadership role.

All information that you give must be related to your MBA in Human Resources. Don't give any irrelevant information.

MBA in International Business

Focus on: A global mindset.

Outline abilities such as -

Knowledge and understanding of international trade, policies, and market
Taking initiative, and
Taking up challenging roles.

Highlight your interest in building a career in business management internationally.

MBA in Information Technology

Focus on: Everything related to your specific domain.

If relevant for your MBA in IT course, you can discuss topics such as -

Database management,
Technological trends, and
Web technologies,
Cloud computing,
Data security etc.

MBA in Operations

Focus on: The career that you see yourself in.

Can demonstrate previous experience of planning, creating, and managing resources. An understanding of logistics and project management can be shown.

MBA in Finance

Focus on: Your financial acumen.

You can talk about instances where you looked into the economic aspect of a company or institution in the past. Be specific. Explain your precise role in simple language.

MBA in Marketing

Focus on: Your knowledge and understanding of national and international markets.

Can discuss any prior experience in -

Data analytics,
Developing new-age marketing strategies,
Consumer behavior,
Targeted advertising, and
Customer relations.
What's the difference: SOP for MBA versus SOP for MS?
While it might be referred to by the same name, an SOP for MBA has certain differences when compared to an SOP for Master of Science (MS).
Difference between SOP for MBA and SOP for MS
| | |
| --- | --- |
| SOP for MBA | SOP for MS |
| More in depth | General |
| Usually with professional experience | Can have no professional experience |
| Focus on the managerial side | Focus on the technical aspect |
Generally more mature than an MS applicant, an individual writing an MBA SOP will have an academic standing and professional maturity as a seasoned executive.
What not to miss out in my SOP for MBA?
An SOP for MBA is a document where you put forward your candidature for being considered as a prospective student with much potential. Every SOP tells a story. The more convincing and engaging story that you can tell, the better it will be for your prospects.
When writing an SOP for MBA, you must not miss out on any of the details that can lead to a rejection. For your MBA SOP, you must -
Match your education with the intended course,

Prove you financial ability,

Include English language test results such as IELTS (with overall score and in each ability), and

Give all supporting documents as proof of the claims made by you in the SOP.
Ensuring that you don't come across as arrogant or bragging, you must state the facts in your favour, without going overboard in the process. Be as genuine as possible. Uniqueness makes you stand out from the rest.
What is the average length for MBA SOP?
If not specifically mentioned by the university or college that you will be applying to, you can aim at a word length of around 1,000 words.
What should be written in my SOP for MBA?
An MBA SOP should find a balance between laying down your technical expertise alongside your managerial skills. You SOP must clearly convey -
Who you are
Where you come from
How qualified you are
Your future plans
How do you intend paying for the course (student loan, parents to source etc.)
Pitching yourself in the correct way can make you stand out. Never underestimate the role of the SOP for study abroad.
What are the important components of SOP for MBA?
Your MBA SOP will contain -
Introduction
Your academic qualification
Professional working experience
Why do you want to pursue an MBA degree?
Why do you wish to study in that particular university/college?
What made you opt for that country to study abroad?
What are your future plans?
English language test results
Financial support (give your source of funds, and how much you have paid as first-year tuition fee etc.)
Conclusion
What to avoid in your MBA Statement of Purpose?
As a general rule, you must avoid -
Making a statement that can't be backed with documentary proof,

Sounding arrogant,

Using overused and popular SOP templates,

Spelling mistakes,

Grammatical errors, and

Big words that make you look fake.
A personalized and one-of-a-kind SOP for MBA will give you an edge over the other applicants.
FAQs
1. What is the goal of a Statement of Purpose?
The goal of an SOP is to convince the intended reader that you have a well-thought out plan and are serious about the program, and are not applying randomly.
2. Do I need to rewrite my statement of purpose for each school?
Ideally, your SOP should be written keeping your intended university/college in mind. However, if you are applying to different educational institutions, you can begin with the same SOP, adding a few sentences with the specific admissions committee in perspective. Around 70% of your SOP can remain the same, the remaining 30% can be altered in a more targeted manner.
3. How do I avoid rehashing my resume?
It is always recommended to write a new resume. Rehashing, or using old material or ideas without any significant changes, may not get you the desired impact.
4. What is included in an SOP for study abroad?
Generally, an SOP includes details like -
Who you are,
What has influenced your career path up to that point,
Your professional interests, and
Your plans going ahead.
5. What makes a great SOP?
While an SOP focuses primarily on facts, it need not be bland or read like a research paper. You can tell your own story in your own words in a way that makes an interesting read. The better the story that you can tell, the brighter the chances of your securing an admission.
For an SOP that stands out from the rest, you must ensure that your SOP fulfills the three basic conditions -
Carries a personal touch that establishes a connection,
Clearly states your purpose and aspirations, and
Is written in simple, jargon-free, and easy to understand English.
Being able to convince the admissions team that you do have the spark in you, making you a valuable addition, can indeed take you places as an international student.
6. What do universities search for in an SOP for study abroad?
Admissions committees usually seek an answer to the question - what is the SOP telling us about the person? Your academic records and English proficiency scores in a standardized test - such as IELTS, TOEFL etc. - are among the main deciding factors for admission. Nevertheless, your SOP can sway things in your favour.
Revealing your personality while highlighting your strengths, a well-written SOP can indeed make a mark. Not taking your SOP seriously can cost you your admission.
Generally, the traits that universities look for in an SOP for study abroad are -
The ability to think independently,
Creativity,
Pride in your work,
Being a team player, and
An enthusiasm for learning.
As universities and colleges seek to form a well-balanced class, they usually select a mix of individuals that might include several personality types.
7. Do I write my SOP as per the university?
Depends. While you can study the brochure and other materials to get a feel of the school, tweaking your SOP as per your intended university should be done with caution. An admissions committee goes through many applications in any given year. Fake sounding applicants get weeded out quite easily. Be honest. Be genuine. Show promise of being a valuable addition.
8. What is assessed in an SOP?
Uniqueness is the main attribute that is sought by the admissions committee. Your SOP should ideally be crisp and to-the-point.
Generally, there are few things that will be looked for in your SOP for study abroad.
Motivation

Q: Why do you want to do the course?

Ans: The inspiration or motivation behind opting for the course should be clearly laid down.

Originality

Q: Who you really are?

Ans: Aim to be as real as possible. Try to stay away from exaggeration or arrogance.

Delivery

Q: How do you get your message across?

Ans: No grammatical errors. Write in a simple and easy to understand language. Your vocabulary should be good without the use of big words that might complicate the meaning.

Get personal

Q: What makes you who you are?

Ans: Highlight your uniqueness as much as you can. You must come across as an individual in your own right. Discussing your goals and interests will make them know you on a personal basis.

Contributor

Q: What difference can you make?

Ans: Your contribution - to your department in particular, and to your college/university as a whole - is how you can make a difference. Mention how you plan on being a contributor in the community. This can be through the means of clubs, sports, community services etc.

Familiarity

Q: How well do you know the university?

Ans: The more familiar and well aware you are of the university, the more genuine you will sound as a prospective student. A thorough knowledge will convey that you are applying after due research and not sending in an application randomly.

Focus

Q: Which course are you writing SOP for?

Ans: Your SOP must be written around your targeted course. For instance, an SOP for MS will be different from an SOP for MBA.