Indians travelling to Canada must first fulfil all the requirements and documentation. This blog gives you all the necessary information you need to get started with your application for a Canada tourist visa. Read on.
What is a Tourist Visa to Canada?

It's a temporary resident visa for people who would like to travel to Canada for:
Meeting a family or friends
Vacation or tourism in Canada
With basic requirements, you can get a Canada visitor visa for long-term purposes.
What are the Canada Tourist Visa Requirements?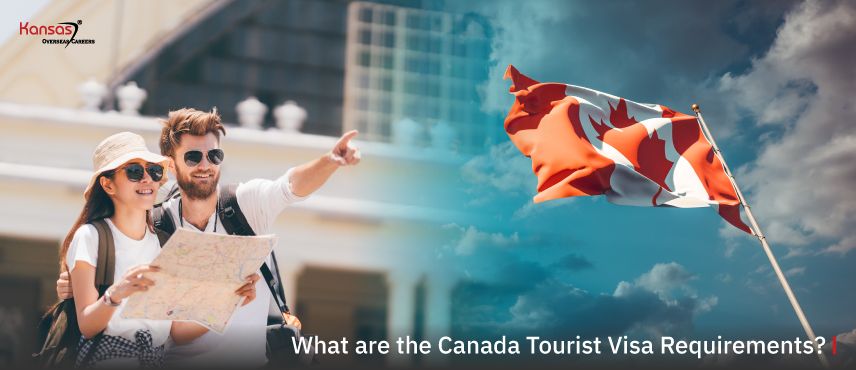 The 9 essential requirements for the Canada visitor visa are:
Passport of the primary applicant
Passport of the dependent (if accompanying)
Visa application form
Proof of funds

Proof of travel itinerary

Letter of invitation from friends and family (if visiting them in Canada)
Proof of relationship whom you are visiting in Canada
Proof that your stay is temporary
Proof of criminality and medicals
What are the Eligibility Criteria for the Canada Visit Visa?
The eligibility criteria for getting your visitor visa for Canada are:
The primary visa applicant should be 18 years and above
Should have a travel document like passport
Should not be a threat to the country
Should not have any criminal violations or immigration-related problems previously
Pay the visa application processing fees through credit card or debit card
Fill the visa application form and Visa Application Center (VAC) Consent Form from visa office
Have enough funds for your stay in Canada
Give

medical examination

Attend and give the biometrics at the Visa Application Centre (VAC)
Proof of your stay in Canada is for a shorter time, and you will be returning home
Proof of employment in your home country.
What are the Required Documents for a Canada Visit Visa?
The documents checklist for a visitor visa to Canada is:
A valid travel document, i.e., passport
Visa application form
Filled family information form
2 passport size photograph

Proof of financial support

during stay in Canada
Proof of marriage certificate (if any)
Medical Certificate
Police Clearance Certificate
Travel insurance
Invitation letter from family or friends inviting you
The immigration status of your family or friend inviting you
Proof of returning to the home country by the time visa expires
These documents are to be submitted online or at a canada visa application centre
How to Apply for a Canadian Visit Visa?
The process of applying for a visit visa to Canada is: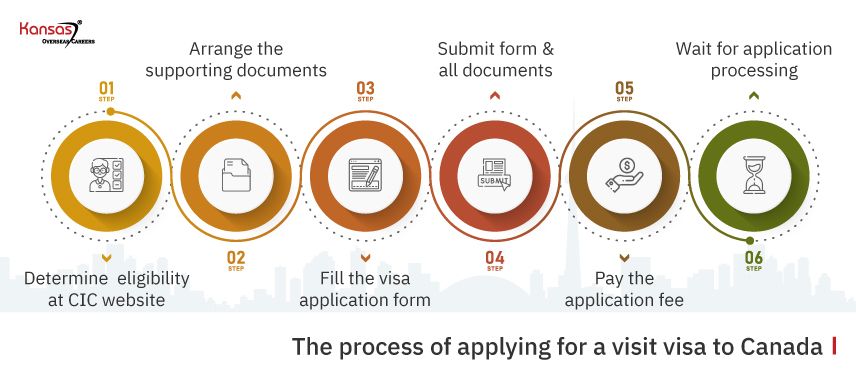 Step 1: Determine your eligibility for visitor visa Canada at the Canada Immigration and Citizenship (CIC) website
Step 2: Arrange all the necessary supporting documents
Step 3: Fill the visa application form and
Step 4: Submit along with supporting and additional documents
Step 5: Pay the required application fee amount and submit your application
Step 6: Wait until your application gets processed.
Upon approval, you will receive an email from the immigration and citizenship department to submit your passport for stamping.
What is the Visa Fee for a Travel Visa to Canada?
The visa fees required for a Canadian tourist visa are:
Application fee: 100 CAD (INR 6,154 approx)
Biometrics fee: 85 CAD (INR 5,231 approx)
Apart from this, you have to show funds in your bank account. This is required for your expenses in Canada during your stay on a tourist visa.
Processing Time for a Canada Tourist Visa
The processing time for Canada tourist visa is 10-30 working days. The time depends on several factors like:
The mode you are applying (online/paper base)
The country you are applying from
Pending application in the VAC office
Biometrics giving time
Other Important FAQs
How do I know if my Canada tourist visa is approved?
You will know all the status in your account online where you have submitted your application. Once your application is approved, you will receive an email to submit your passport for stamping.
Can I find a job in Canada on a tourist visa?
A person can find a job in Canada when he/she is on a tourist visa but need to change the status from a temporary resident visa as a Canadian visitor visa to work permit.
Can I convert my visitor visa to a work visa in Canada?
Yes, you can convert your tourist visa into a work visa provided you get a job offer from the eligible employer in Canada who is ready to sponsor you.
How long can a person stay in Canada on a visitor's visa?
Foreign citizens can stay for 6 months in Canada on average. At the port of entry, the border officer can grant you to stay for 6 months on your visa entry requirements, but it is a rare case. It is advised to leave Canada before the end of 6 months time duration.
Does a person require a visa for transit through Canada?
If you are from the US, you do not require a visa for transit through Canada. However, non-US citizenship requires a transit visa, which is a type of temporary resident visa for non-exempt visa countries.
What is the process of getting a transit visa?
It is similar to the other visa type to submit your application to Canada Immigration and Citizenship (CIC). Here the application must be submitted to the immigration department and convince the embassy that you are traveling through Canada and not willing for immigration.
What to do when the application is approved?
You can apply online, and upon approval, you will receive a passport request for stamping before you start your travel.
Note: If you are not entering Canada with your passport, then you are required to submit a photocopy of your identification or travel document like the alien registration card, citizens, or birth certificate.
What are the different temporary resident visas (TRV)?
The different types of TRVs are:
Study permit/visa: It is required for you to study in Canada for a study permit
Work permit/visa: It is necessary for working in Canada.
Visitor permit/visa: It is required for the person to travel in Canada.
These visas are not the immigration types of visa for a person to settle on immigration as the PR immigration is done.
What is electronic travel authorization?
Few foreign citizens are exempted from getting tourist visas to Canada on their passport. However, they need to have electronic travel authorization (eTA) and their passport while entering Canada.
eTA can be applied at the Canada Immigration and Citizenship (CIC) website for 7 CAD, and the application can be done in a few minutes sometimes, it may go up to a few days.
Who requires an eTA?
Below people can apply for Canada eTA:
Passport holder with valid Canadian visas like a student visa or work permits
Canadian Passport holders, i.e., the citizens of Canada
Canadian permanent resident who has a permanent resident card
US passport holders
How much funds are required for a Canada visitor visa?
On average Canadian citizens or lawful permanent residents living in Canada need 1300 CAD (INR 80,006 approx.) per month expenses. As a tourist on a non-immigrant visa, a person has to show 2000 CAD (INR 1,23,086 approx.) for their 30 days trip of visiting Canada to Canadian embassy.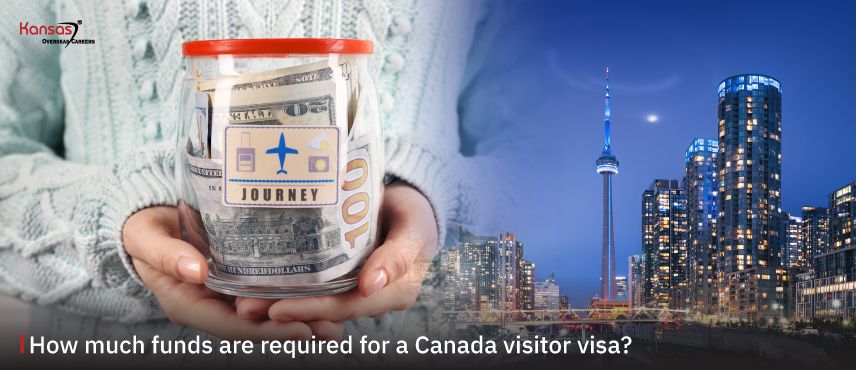 Conclusion:
You can visit Canada for work, study or just to travel around this country and create memories. To visit Canada you will need:
A valid passport
Educational Documents
Birth certificate
National ID proof
Recent Photos
If you are looking to get a Canadian tourist visa or Canadian Immigration, contact our experts for a hassle free visa process.
Why Choose Kansas Overseas?
Kansas Overseas Careers is the best immigration consultant in India with a high success rate. Served 20K+ customers and over 3K+ active cases.
Our visit visa services include:
Profile Evaluation:

Based on your purpose of travel, profile history, and current travel policies, our experts offer you guidance on the visas you can apply for.

Visa Filing: Kansas ensures that your visa application meets all the standard requirements as per the immigration authorities of the country that you are applying for.
Documents & Review: Our team of experts will assist you with all the documents you need to apply for a visit visa.
Visa & Interview: We help you prepare with the best answers and assist you with the documents to be presented at the time of your interview.
Dedicated Case Officer: We assign a case-officer who will guide through every step of the process. This way, you will always have a point-of-contact, when in doubt.
Post Landing Service: After you've received your visa, we help you settle down in the country with a comfortable stay and also offer other customized services.
You can expect a one-stop solution for all your visa needs from profile evaluation, documentation, application drafting to post-visa services with Kansas.