USA education programs offer undergraduate, doctorate, and post-graduate courses to foreign students and motivate them towards a successful career path. The standards of academic excellence provide a wide range of knowledge, adaptability and experience to the students.
They are able to communicate, negotiate and utilise all career opportunities across different fields of professional disciplines and tackle the tough competition on a global stage as a result of strong mentoring and extensive training.
Indian students who want to study in the US have great possibilities of finding the perfect education program that can bring out the best of their potential as well as contribute to the progress of the human race in every possible way. This article, briefly discusses the USA Study Visa requirements as of 2023 in all aspects to help prepare the applicant go through the process with relative ease and confidence.
Categories of US student visas available for International students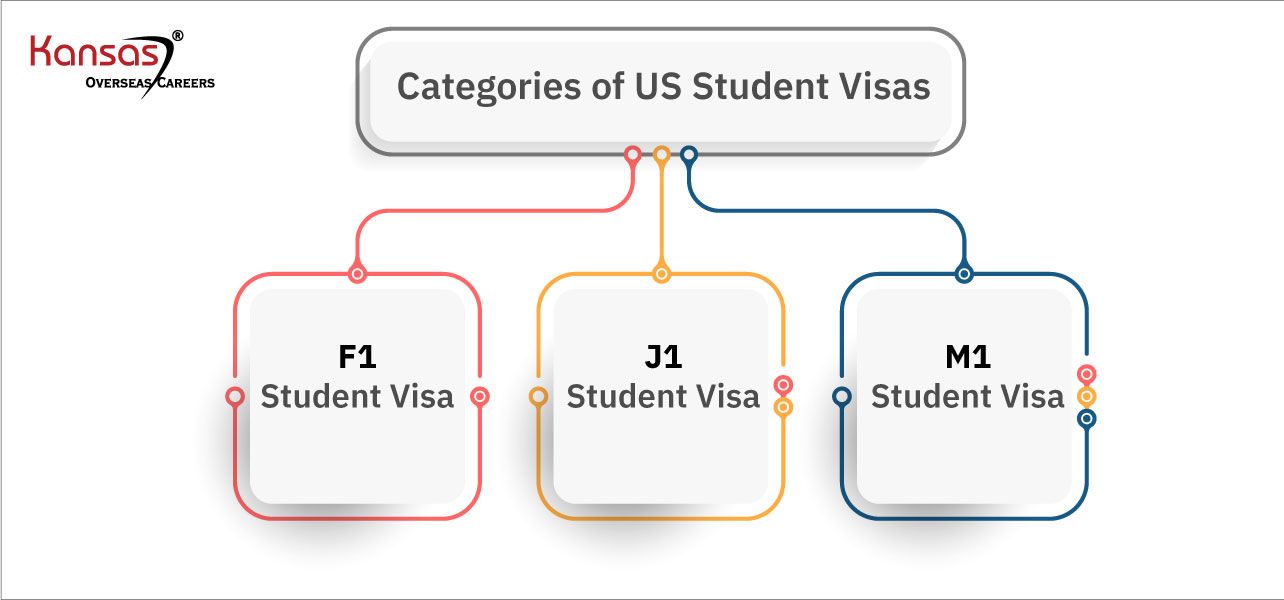 There are 3 main types:
F1 Student Visa: The most common type of entry visa required by international students to pursue academic studies in the US. It permits part-time or on-campus employment and provides Optional Practical Training (OPT) for up to a year after completing the academic program.
J1 Student Visa: A Non-Academic and Vocational Studies visa issued to students for acquiring practical training that is unavailable in their country, paired with similar employment benefits to F1visa.
M1 Student visa: Applicant is not permitted to work during the study program. Verification of funds available will include ability to pay entire tuition and living costs for the period of intended stay.
Recommended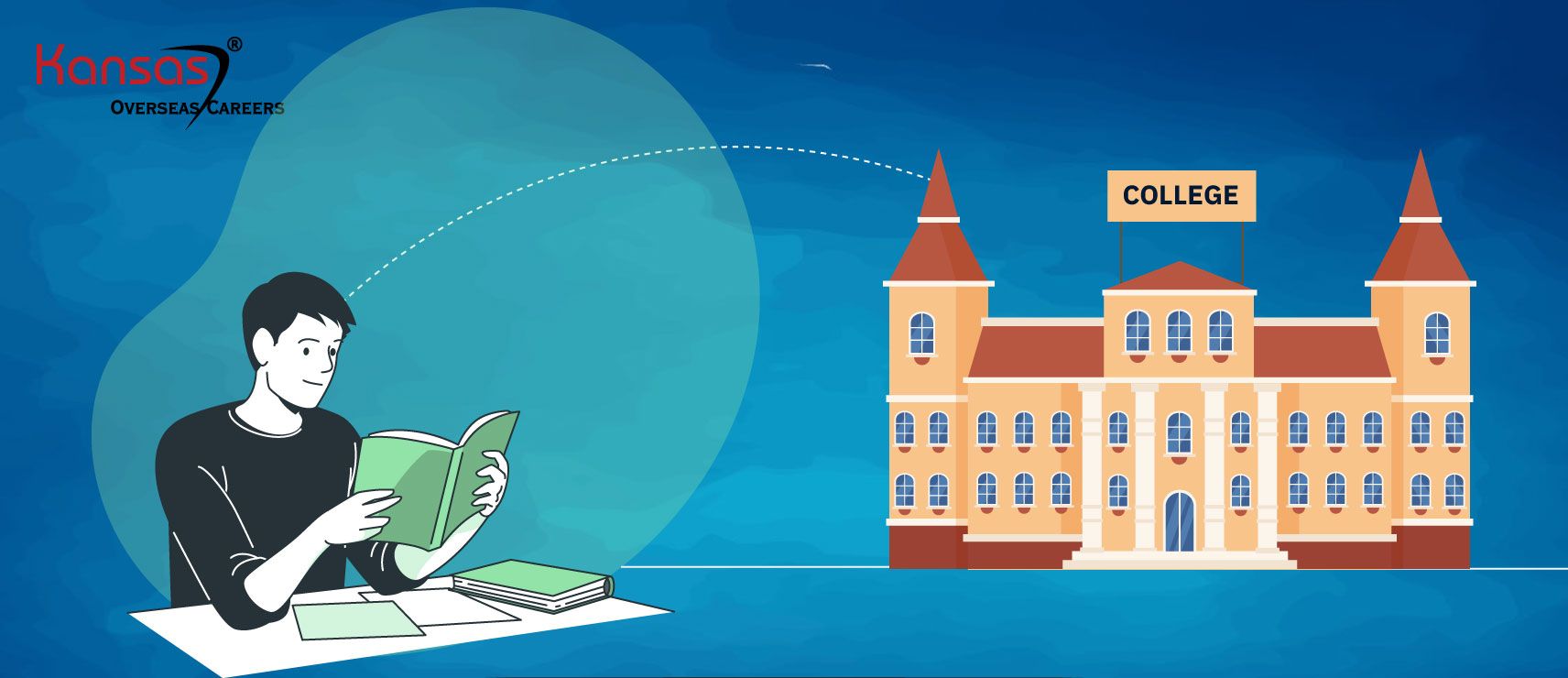 USA Study Visa Process: How to Apply?
Eligibility Criteria
Student Visa Age limit: 14 - 79 years. Applicants below or above are taken as special cases. Interview requirements is as decided by the US Consulate.
Aspiring students need to follow the 6 stages of US Student Visa application: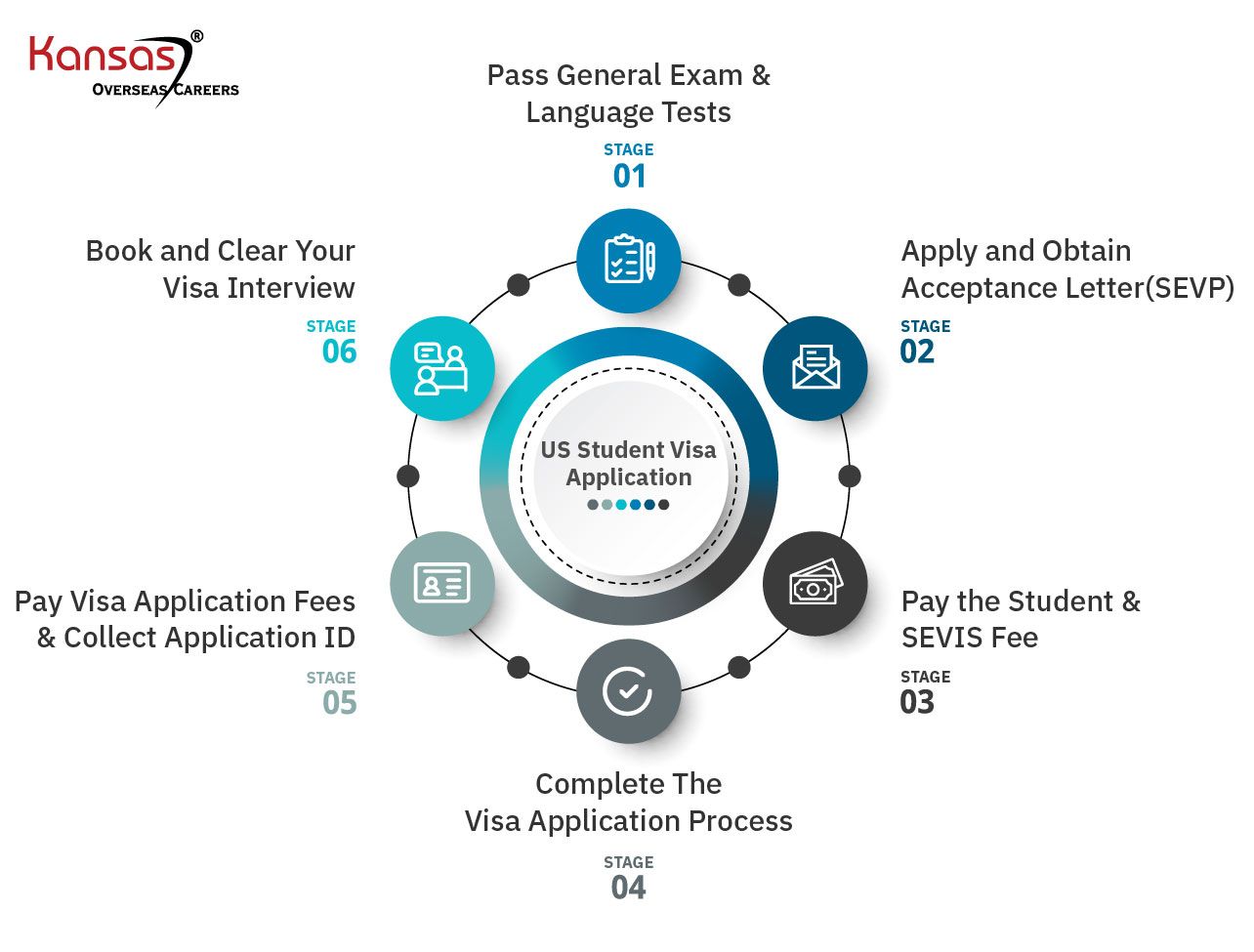 Pass General Exam and Language Tests with high scores.
Apply and obtain Acceptance Letter from Student Exchange Visitor Program (SEVP)-approved Educational Institutions in the US.
Pay the Student and Exchange Visitor Information System (SEVIS) fee.
Complete the Visa Application Process.
Pay Visa Application Fees and collect receipt and Applicants ID.
Book and Clear your Visa Interview
Documentation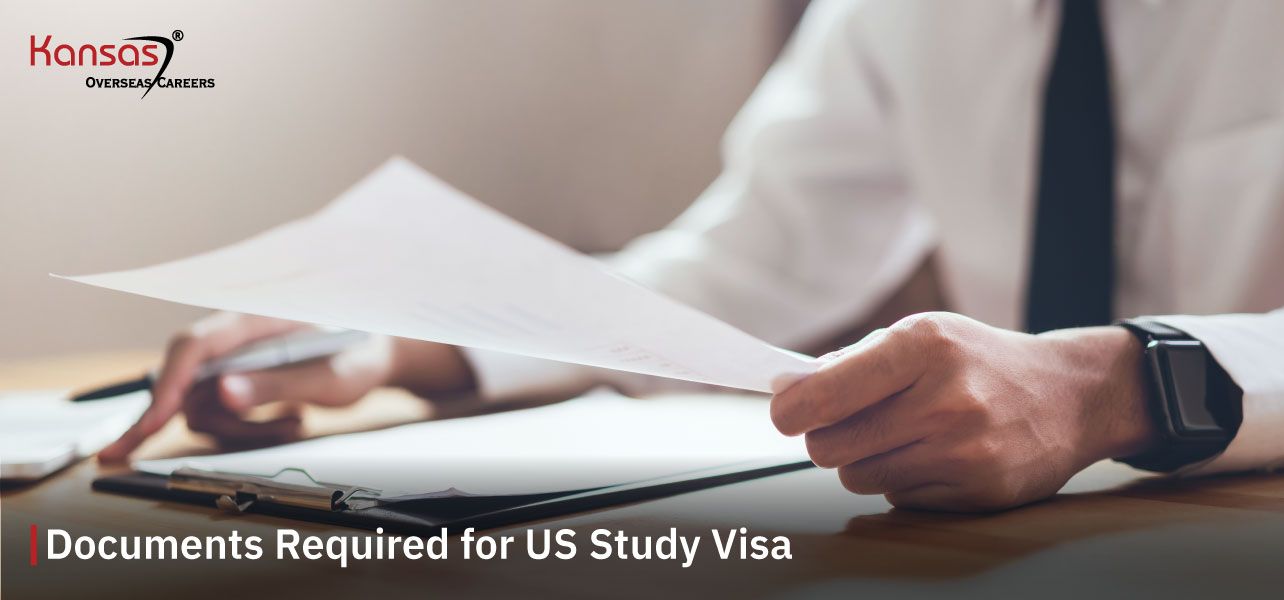 Applicant's passport (at least 6 months validity beyond the period of intended US stay)
Letter of Acceptance from a SEVP-accredited institution with Form I-20
SEVIS Application fee payment receipt
Non-Immigration Visa application and Form DS-160 confirmation page
Applicants' photograph in the right format
Academic documents (certificates, diplomas or degrees)
Financial Proof of sufficient funds for living throughout the stay in the US (Bank statements, Financial undertaking by sponsor, Scholarship offer letter etc.)
Evidence of leaving the country after completion of the study course (Return Air ticket)
Documents you must carry while appearing for a US Study Visa Interview:
Copies and originals of all documents submitted during Visa application. (Valid passport, Exams Scores, 2 colour photos in prescribed format, Academic qualification certificates, SEVP University Acceptance Letter, Proof of funds, Birth/marriage certificate etc.)
Visa Application copy and Interview Appointment confirmation copy
Signed SEVIS Form I-20 or DS-2019
SEVIS and MRV fee receipt
Form DS-7002 for J-1 Trainee & Intern Visa
DS-160 application confirmation page with barcode and ID number
Application Process
1. General exams and Language Proficiency Tests to study in the US
These compulsory entrance exams must be cleared to qualify for the course you want to pursue in the US.
The following table gives a clear idea of the different tests:
| | | | |
| --- | --- | --- | --- |
| S.No | Test | Approx. Fee in INR | Field of Study |
| 1. | Graduate Management Admission Test (GMAT) | 18,300 | A combination of English, mathematics and reasoning skills tests for admission in MBA programs. |
| 2. | Graduate Record Examination (GRE) | 15,800 | For MA or MS Admissions. Some US Business schools accept GRE scores for MBA. |
| 3. | Law School Admission Test (LSAT) | 11600 | For law school Admissions. A reading and verbal reasoning ability standardized test. |
| 4. | Scholastic Assessment Test (SAT) | 7000 | For admission in UG courses. Measures literacy and writing skills, analytical and problem-solving skills based on prior learning |
| 5. | Test of English as a Foreign Language (TOEFL) | 13,625. | Tests proficiency in English language and communication skills. No limits on retake. Minimum waiting period: 12 days. |
| 6. | International English Language Testing System (IELTS) | 14,000 | Assesses four skills of listening, reading, writing and speaking. World's most popular English language proficiency test for higher education and global immigration. No limits on retake. |
| 7. | Pearson Test of English (PTE) | 13,300 | Unbiased English testing for study abroad and visa eligibility. Trusted by universities, colleges and governments around the world. No limits on retake. |
2. Apply to SEVP-Approved Institutions
Student and Exchange Visitor Program (SEVP) is monitored by the US National Security Investigations Division to evaluate and keep a track of the constant stream international students coming to the United States.
Only an SEVP-approved institution can provide documents necessary to apply for a US student F1 or M1 visa. SEVP approved Institution's degrees and certificates will always give you that extra edge because they have universal acceptance worldwide.
If you want to explore different options and apply to more than one University, then follow admission procedures for each of them separately. US does not use a centralised University application system.
3. Once your request for admissions is accepted by an institution and you can provide proof of sufficient funds to cover the course expenses, you will receive a SEVIS-generated document known as Form I-20.
This is a "Certificate of Eligibility for non-immigration student status" issued to prospective International students as a basis for their US Student visa application.
Similarly, SEVIS issues Form DS-2019 for J1 visa.
Remember choosing the right educational program and the right university will be an integral part of making your dreams come true.
4. Apply well before the admission deadline and complete this process 6-12 months prior to your visa application. Do also consider availability of cutting-edge technology, training & research Facilities, outreach opportunities, project internship options, flexibility in programs and long-term career prospects to make an informed choice about the institution that is going to be your home for the next few years.
5. Since admission decisions are based upon the students' test scores, academic records and telephonic interviews, ensure that you put your best foot forward.
6. Once you receive acceptance letters, you can take your final pick and pay your deposit to ensure your seat. Deposits usually cover a semesters or a full academic year's tuition fees.
7. At this point you can also apply for scholarship or financial aid since it validates your merits as an exceptional candidate and expedites the visa granting process to a great extent.
8. Pay the SEVIS fee online.
Student and Exchange Visitor Information System (SEVIS) fee gives you clearance to go ahead with your visa application and ensure that you are now a registered part of the tracking system monitored by the US immigration department. Pay at least 3 days before the submission of the US visa application and collect receipt as proof of payment for verification during the visa interview.
Access is provided in the US Immigration and Customs Enforcement (ICE) SEVP website . All information provided by you in this registration form must match with I-20 / DS-2019 application form.
Accepted Payment Mode: Debit/Credit cards, checks, International Money Transfers, Western Union, Quick Pay or Third-party sponsors.
9. Complete Online Visa Application Process in Form DS-160
US Embassy/Consulate in India conducts all affairs regarding granting of US visas. Student visas are issued up to 120 days before date of probable entry to the US.
Carefully choose the right category of student visa, keeping in mind your future plans of study/work in the US.
You can take professional help from facilitators who arrange for visa applications.
Change is not possible once you have applied, resubmitting a new application is the only option if you want any change.
Fill the US student visa application form with necessary details, submit recent photo(s) and proof of all valid documents.
10. Pay the Visa Application Fee.
The Machine-Readable Visa Fee (MRV fee) can be paid as per instructions on Application website. It is non-transferable and non-refundable.
Application fee for different category of US Student Visas
| | | | |
| --- | --- | --- | --- |
| Category of Visa | Description | Application Fee in INR | Application Fee in USD |
| F1 Visa | Student (academic) | Rs 14, 980.00 | $200 |
| J1 Visa | Exchange Visitor | Rs 13,480.00 | $180 |
| M1 Visa | Student vocational) | Rs 14, 980.00 | $200 |
Payment Mode: Money Deposit at an approved bank, Pay Online, Phone transfer.
MRV Fee Receipt printout for online payments or a MRV Fee Confirmation number for phone transfers are given and later verified during the visa interview.
11. Visa Interview
The final step for obtaining your US student visa, it is the most important part of beginning a new phase of your life as a student in the US pursuing your highest ambitions and goals.
A lot depends on how you are reviewed by the immigration officials regarding your personality, communication skills, credibility, status and aspirations.
Book an appointment for a visa interview and attend on the scheduled date and time with all relevant documents, papers and scores as per the prescribed list.
A Quick Guide:
Dress Code: Formal.
Interview Expectations: Specific, Truthful Answers to all questions without any ambiguity or effort to hide information.
Carry relevant Bank Statements of past 6-12 months (as proof of financial information declared in the visa application)
Proof of current employment if any, employer's details and reference.
Details of Study/Travel plans in the US.
Biometrics will be scan recorded and details of Health Insurance will be verified.
Conduct Code: Professional attitude and calm composure is expected at all times.
Cost
For a Public University- 4-year Term: Average cost is $25,396 per year (Average in-state tuition fee: $9,308; Out-of-state tuition fee: $26,427)
For a Private University: Average cost is $53,102 per academic year, (Tuition fees are approx. $35,801)
A bachelor's degree: Cost may exceed $400,000 (Cumulative average of Student Loan Interest, Boarding and Mess expenses)
Conclusion
Successful verification of visa application and the interview performance are crucial in assessing the merits of your visa approval. Though it may take time, it can be beneficial if the applicants follow the steps with diligence. If the US embassy/consulate takes a favourable decision, the new visa stamped passport will be returned to you in person or by registered post.
Be careful about some common reasons for US student visa rejections:
Lack of financial resources
Inability to prove intent of returning to the home country.
Inconsistencies in data verification.
Inability to create a favourable impression with the Interviewing officer.
Signs of hostility, aggression, racial/ religious discriminatory responses etc.
US visas website posts regular updates regarding the process. Check to follow the approval timeline and make your travel plans accordingly. Inform your university of your itinerary as soon as your visa is granted.
Other Important FAQs
What is the maximum validity of a US student visa?
F1 student visa is usually valid for 5 years. You can stay in the US only for 60 days on a F1 visa after completing your graduate studies.
What happens when my student visa expires?
When F1 visa expires, you have to maintain your student status to remain in the US. You can apply for revalidation if you plan to return to your home country or travel to any another country.
What is the visa renewal process requirements?
Same as initial F1 visa application with reasons to validate the extension of your stay and proof of your current study program. It is still possible to stay in the US with an expired F1 visa provided your Certificate of Eligibility for Non-immigrant Student Status (Form I-20) is valid.
Is it possible to apply for a US Green Card as an F1 student?
Active F1 visa holders are eligible to apply for an US Green Card that permits them to live and work in the US once their student status expires.
What is a F2 non-immigrant visa?
Dependents of F1 student visa holders, (like spouses and unmarried children under 21 years of age) can get this non-immigrant visa issued so that they can accompany their providing family member with the F1 Visa.
Is it possible to study in the US on a visitor visa?
US visitor visa holders cannot undertake study programs without officially being granted a valid F1/ M1 student visa.