Canada, as a country, is known for being the most immigration-friendly nation. It is also a beautiful country to visit having a variety of natural wonders, historical monuments and diverse cultures.
While most immigration applicants get a Canada tourist visa easily, quite often, a lot of applications get rejected due to incomplete forms, and insufficient or incorrect documentation.
If you plan on getting a tourist visa for Canada, read along to know all the important aspects about it.
1. Who requires a Canada Visitor Visa?
Foreign nationals who would like to visit Canada for:
Leisure and tourism purpose
Meet family and friends
All the above categories require having a visitor visa to enter Canada. This is a type of temporary resident visa.
2. Minimum Requirements for a Canada Visitor Visa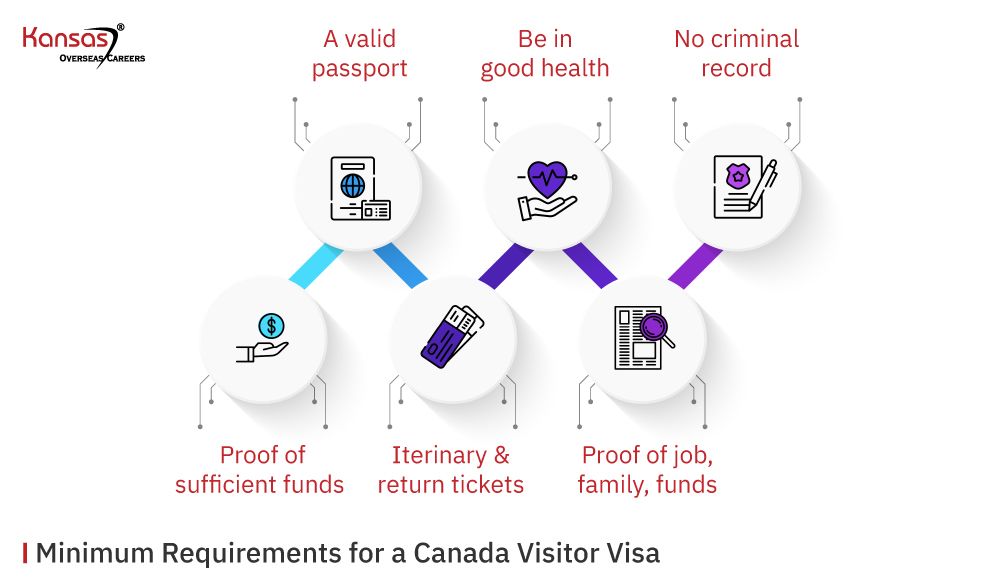 The requirements for a Canada visitor visa for an applicant:
Must have a passport
Must have good health
Must have no criminal record
Must have

enough funds

to support your stay in Canada
Must provide the travel itinerary and to and from air tickets
Must show proof of job, family, and financial assets
3. What are the Documents Required for Canada Tourist Visa?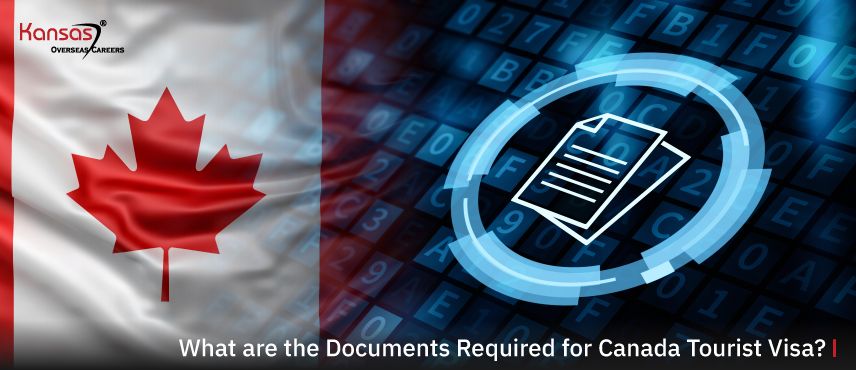 The 9 important documents required for a Canada visit visa are:
1. Passport
You need to have a genuine passport and other important travel documents. While applying for a Canada Visa to provide two photocopies containing the information page of your passport.
The photocopies should include:
Date of issue and expiry of the passport
Passport Number
Personal Information (it includes photo, name, date of birth and place of birth.
2. Photographs
Minimum 2 passport size photos are required when you are applying for a Canada Tourist Visa.
3. Proof of funds
You have to submit a proof that you can support the family during your stay or visit to Canada. These are the following documents that you have to submit as proof of funds:
Bank statements
Letter of employment (to show your annual earnings)
Financial support evidence from friends/family to cover your expenses during your stay.
Income evidence of the person who will host you during your stay in Canada
Other financial proofs like property, PPFs, shares, FDs, etc
Tax filing documents of the last 3 years
4. Cover letter
You should write a cover letter or declaration to the Government of Canada, explaining why they should provide you with a Tourist Visa.
5. Letter of invitation
If you are visiting your family or friends, then you have to submit a letter of invitation received from them
6. Visa application form and other documents
You have to download this visa application form the IRCC website. Then submit all the documents (pictures, fee receipts, passport copies, and other documents)
7. Travel itinerary
A complete plan of the trip you are making including to and from air tickets. Mentioning the places you are going to visit. And, a detailed description of routes of travel you will be using during your visit to Canada.
8. Memorandum of Association and other documents
Self-employed applicants should submit Memorandum of Association (company's important corporate document) and other supporting documents.
9. Documents of Proof
You need to make the visa officers believe that you are not planning to stay in Canada. The documents that are required are:
Proof of employment: Employment Contract details which claims that you are their permanent employee, job role in the company and your expected date to return to the company for work.
Proof of lease, property dealing: These documents prove that you will return to your country once your trip is over.
Note: For the students, ID cards is mandatory and for retired applicants, they should show their pension slips and retirement proofs along with above documents for tourist visa
4. Visa Application Process for Canadian Tourist Visa from India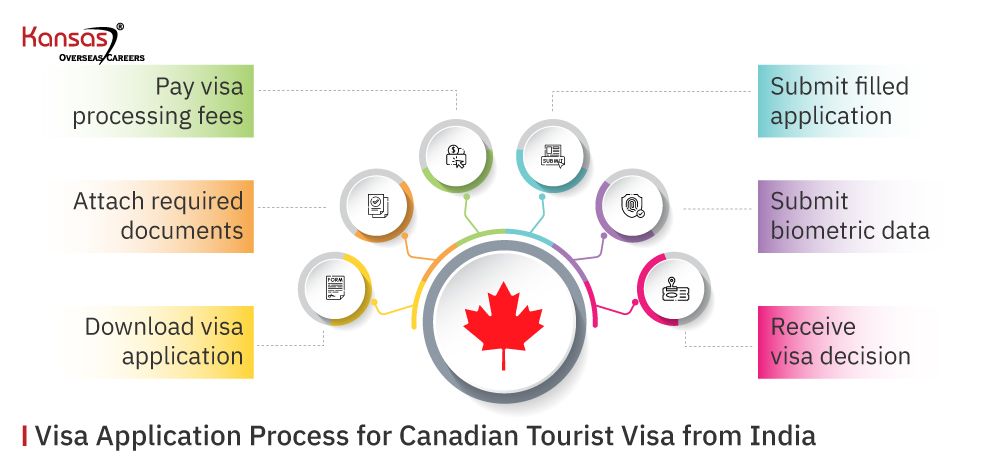 The process to apply for a Canada visa needs the patience to follow a few steps:
Step 1: Download the visa application
Step 2: Attach all the documents supporting the application
Step 3: Pay the

visa processing fee

and biometrics fee
Step 4: Submit your application
Step 5: Give your biometrics (fingerprint and photograph) visit embassy or consulate
Step 6: Upon reviewing your background check and eligibility, you will receive your decision.
During the review stage, the immigration department may ask for additional documents.
5. What is the Fee Required to Apply for Canada Tourist Visa?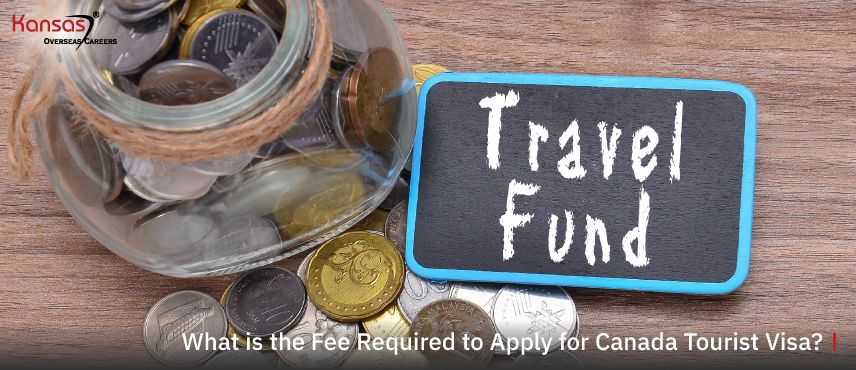 For the tourist visa the fee required is:
Application fee: 100 CAD (6,140 INR approx.)
Biometrics fee: 85 CAD (5,219 INR approx.)
6. Funds Needed for a Canada Tourist Visa
An individual living in Canada needs 1,230 CAD (INR 75,525 approx.) per month for their monthly expenses, and if an applicant is coming for tourism, then 2,000 CAD (INR 1,22,805 approx.) for 30 days per person is enough.
This amount is an addition to the visa fees.
7. Processing Time for the Canada Tourist Visa
The processing time for visitor visas taken is 10-15 working days.
This time does not include:
Time for giving biometrics
Application send between VAC and visa office
Note: Visitor Visas are non-immigrant visa
Other Important FAQs
Why would you like to visit Canada?
Canada is in demand among students, business professionals, and workers. It is known for:
Modern and multicultural cities
Natural attractions like Rocky Mountain Parks, Niagara Falls, etc
Several outdoor activities like camping, rafting, etc
Famous events and festivals of the country
Canada's 4 seasons have different charm in the country
Witness the dominant French culture in Canada
Very feasible for a vacation with kids
To see all these, you require a visa in Canada by paying proper visa fees along with the visa application to travel on the temporary resident visa or permit.
Can you apply for a Canadian visa without an invitation letter?
An invitation letter is not compulsory to apply for a visitor visa. It is an added document to make your case strong and prove the immigration officer that you are visiting Canada to meet family or friends or from canadian citizens who invited you over there.
Can a person work with a visitor visa?
You are not allowed to work or indulge in any commercial activity which will get you to enter the labour market when you have a visitor visa stamped in your passport.
How much time is a tourist visa valid?
A person whose visit visa is stamped in the passport can stay up to 6 months anywhere in Canada. You have to leave the country before the permit expiry date.
What is the way to prove that you will leave Canada?
You are required to provide proof apart from being a citizen of the country through the passport. The proofs can be:
Proof to show that you have family in your home country from whom you have to support

financially

Proof that you will not study or work in Canada
Proof of no criminal records
All these proofs should be submitted along with your visa application.
Why apply for a visitor visa online rather than by paper base?
The CIC government has started with an online process along with the paper process. Visa application through the online process can be better because:
If submitted online no problem of courier and mailing
Submission is received immediately
The online process takes less time
If you provide an incomplete visa application by offline mode, the visa application is returned to you after some days, whereas in online mode upon completion of the form, your visa application is submitted.
Do not have to submit the passport until the CIC asks for it
Get updates in your online account directly about the visa status
Who requires electronic travel authorization (eTA)?
Applicants from a country that do not require a visa and would be air traveling to Canada need eTA, travel document or should inform canada visa application centre before their travel time.
What cannot be done on a visit visa?
The following cannot be done if you have a visit permit:
You cannot study if you have a visitor visa and

opt for a student visa

by getting a study permit in the country
You are not allowed to work in Canada as you do not have a work permit for the country
You are not allowed to stay in Canada permanently
Conclusion
If you are planning to get a tourist Visa for Canada, then make sure you have submitted all the required documents properly.
The documents needed are:
Passport
Photographs
Proof of funds
Cover letter
Letter of invitation
Visa application form and other documents
Travel itinerary
Memorandum of Association and other documents
Documents of Proof
If you still have any confusion regarding the visa application process, feel free to reach out to us.
How can Kansas Help you?
Kansas Overseas Careers is the best immigration consultant in India with a high success rate. Served 20K+ customers and over 3K+ active cases.
Visit Visa: Travel for leisure or business to any part of the world with Kansas.
Study Visa: Study in Globally-recognized Universities.
Work Visa: Work & settle in the World's Best Cities!
Immigration: We are your one-stop solution for all your visa and immigration needs
Permanent Residence: Become a Permanent Resident and enjoy special benefits.
Customized services:
Profile Evaluation:

Based on your purpose of travel, profile history, and current travel policies, our experts offer you guidance on the visas you can apply for.

Visa Filing: Kansas ensures that your visa application meets all the standard requirements as per the immigration authorities of the country that you are applying for.
Documents & Review: Our team of experts will assist you with all the documents you need to apply for a visit visa.
Visa & Interview: We help you prepare with the best answers and assist you with the documents to be presented at the time of your interview.
Dedicated Case Officer: We assign a case-officer who will guide through every step of the process. This way, you will always have a point-of-contact, when in doubt.
Post Landing Service: After you've received your visa, we help you settle down in the country with a comfortable stay and also offer other customized services.
You can expect a one-stop solution for all your visa needs from profile evaluation, documentation, application drafting to post-visa services with Kansas.