A letter of recommendation is a document that accompanies your college application. A strong letter of recommendation is the academic equivalent of a reference letter. There are several different letter of recommendation formats depending on your intended purpose. You could have letters of recommendation for employment or educational purposes.
What is the purpose of a Letter of Recommendation?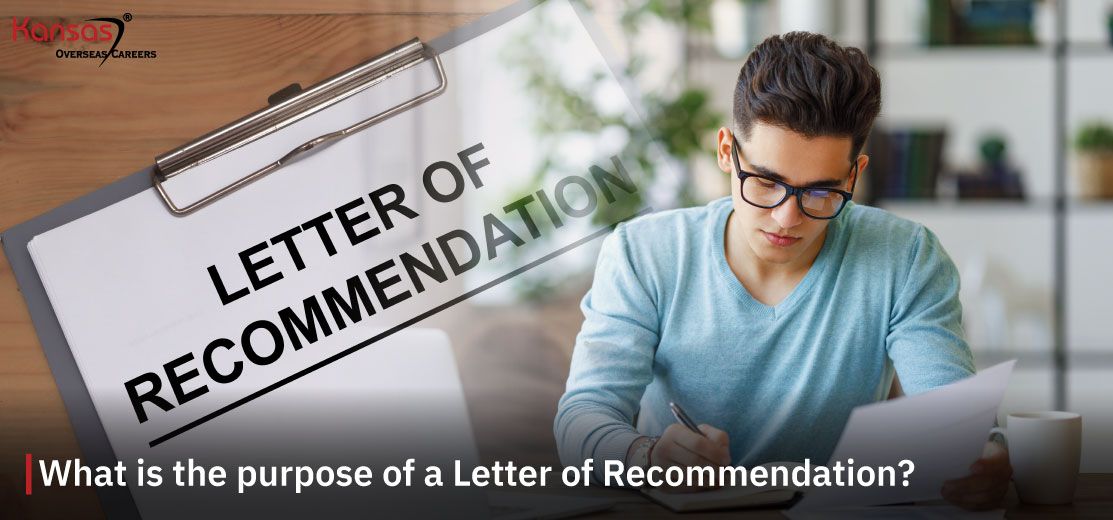 A letter of recommendation adds weight to your application. For example, a college recommendation letter tells your university that you are a worthy candidate. It makes you more than just a candidate with eligible marks. These letters are usually used for academic and work purposes.
An effective letter of recommendation could strengthen your chances of acceptance and getting a scholarship.
Kinds of Letters of Recommendation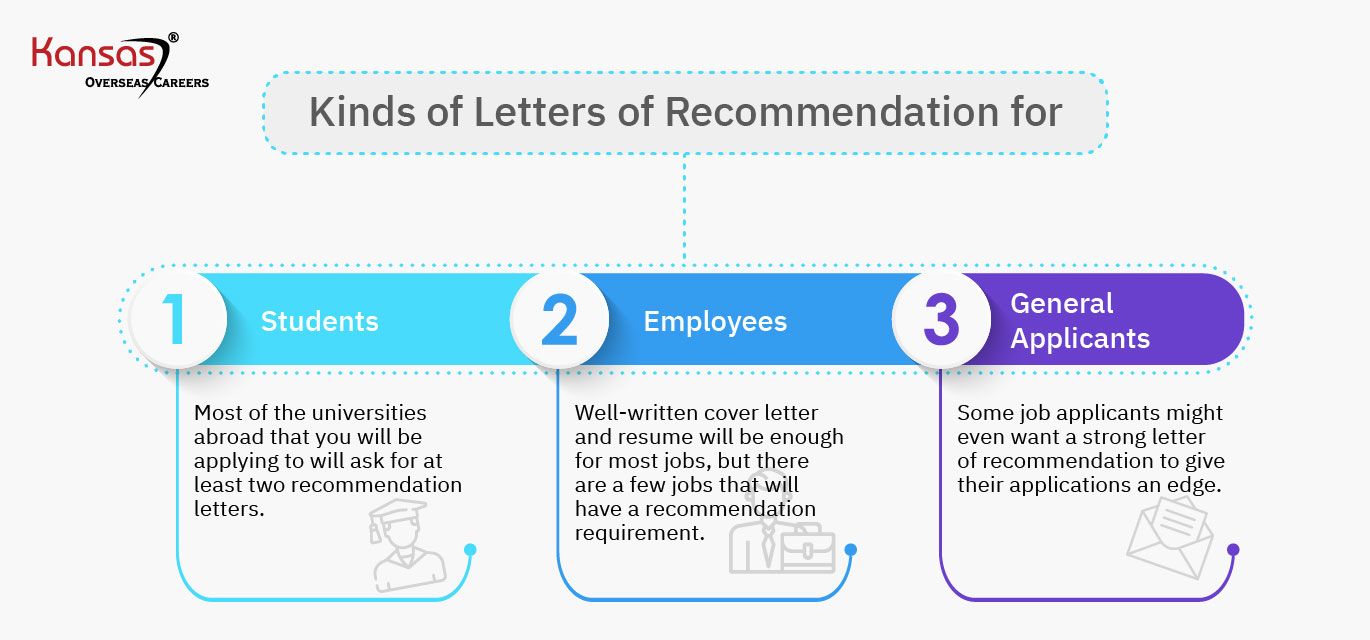 1. Letters of recommendation for Students
Most of the universities abroad that you will be applying to will ask for at least two recommendation letters. You will get these letters of recommendation from your high school teachers or professors if you have been pursuing a degree from within the country. The admissions committee will see you in a positive light if you have a glowing letter of recommendation. A letter in this case will make your application seem more complete.
2. Letter of Recommendation for Employees
A well-written cover letter and resume will be enough for most jobs, but there are a few jobs that will have a recommendation requirement. An effective letter will help professions that include interacting with sensitive groups of people, like students or aged people.
3. Letters of Recommendation for General Applicants
Some job applicants might even want a strong letter of recommendation to give their applications an edge. A resume or cover that may be missing a few elements might be better received if they are accompanied with a good recommendation letter. This also helps if you have very little work experience.
Format for Letter of Recommendation
If you want your letter of recommendation to be well-received, it must be structured and written perfectly. There will a sample recommendation letter involved further into the blog, but we will discuss all the sections of the letter first.
There are 7 basic sections to a recommendation letter:
Letterhead and contact information
Greeting
Introduction
Academic and professional achievements of the candidate
Personal traits of the candidate
Reasons for the candidates' departure from the institution/job
Call-to-action
1. Letterhead and contact information
This section includes the recommenders name, address and other details. The letterhead of the institution will usually be in this section.
2. Greeting
This line should greet the reader of the letter. It could be made out to the university admissions officer or the hiring manager of the company. It is best to avoid being vague about it.
3. Introduction
This section is the first part of your letter and explains how you know the candidate. He/she may be a student, employee or acquaintance.
4. Academic and professional achievements of the candidate
This section lists all the academic or professional achievements of the candidate. Be specific about this.
5. Personal traits of the candidate
This section elaborates on the personal traits of the candidate, and how these traits make the candidate an asset to the new institute or company. You could demonstrate how these traits have served you over the years and added value to the current institution or company.
6. Reasons for the candidates' departure from the institution/job
This section is optional, and may be avoided if the candidate is leaving for a somewhat negative reason. The reason for departure may be included if positive or neutral, for example, if the candidate is leaving because of completion of the current course.
7. Call-to-action
This section is important in an effective letter of recommendation. It encourages the reader to consider the candidate and also to follow up with the applicant for more information. It also cordially concludes the letter.
Recommendation Template
<Letterhead>
1234 Lane
City
Pin code
Date
Name
Title
Company Name
1234 Lane
City
Pin code
Dear Name,
It is my great pleasure to recommend Miss Name for the role of HR Manager at ABC Company. I have been Miss Name's manager for the past 5 years at XYZ Company where she has proven to be a valuable asset over the years. I am writing to assure you of Miss Name's punctuality, quality of work and dependability.
As the HR Manager of ABC Company, Miss Name has taken great care of our company's employees and demonstrated superior management skills over the years. Her careful research and impeccable recall of our company's policies over the have served employees and partners equally. She has never missed a deadline or handed in sub-par work. Her communication skills have helped us weather several storms in the past and have resulted in healthy, happy employees who have their voices heard.
Miss Name's social skills have made us a happy group of individuals back at this office. Her happy demeanour has uplifted us on the worst of days. She is an expert in de-escalating situations.
She is leaving our company as she has to move to City Name. She is relocating to your city, and is on the search for newer opportunities there. She is very enthusiastic about being a part of your company.
I strongly recommend Miss Name for the position of HR Manager at your company. There is no better candidate for this role. Please feel free to get into touch with me in case of further queries on this subject.
Sincerely,
Signature
Your Name
Recommendation Letter Guide
There are a few pointers to remember, whether you are writing a recommendation letter for a school or workplace:
Do not write a letter that is more than a page's length. Especially in cases of school admissions like graduate school applications, as officials have to go through a large volume of documents. A good letter writer will keep it short.
Use a font size of 12. This is neither too big nor too small. Faculty members, for example, school admissions department should be able to read it easily.
Stick to popular basic font styles.
Choose a margin of 1-1.5. This is enough so that the letter does not look congested and not too sparse at the same time. It would also be a good use of space.
Make sure your entire letter is left-aligned.
To have a superior letter of recommendation written for you, book a consultation with us now.
Conclusion
Whether it is for graduate school or a new job, having a good letter of recommendation, or two or three, is very important. As long as you ensure the above format is followed and that the letter is coming from a viable and professional's source, you have nothing to worry about. Call us or book a free consultation to know more!
Other Important FAQs
Can a guidance counsellor write a recommendation letter for college?
Yes, a guidance counsellor is deemed fit to write a letter for graduate school. A counsellor recommendation is very valuable.
What is a good letter format?
The sample letter above is a good example of what a letter of recommendation should look like.
Can you mention extracurricular activities in your letter?
Yes, this is a good idea as it presents a more well-rounded profile. This is good, especially for graduate schools who have special considerations for things like that. Anything positive about a student's performance should be listed in the letter.
Can you write anything negative in the letter?
No, only a students' strength should be mentioned on the letter. A student's suitability is deemed with the help of this letter and he/she must be presented in a favourable light.
Can a high school teacher write a letter of recommendation?
Yes, an educator is qualified to write a letter.
Does a high school student require a letter?
Selection committees abroad look at test scores, letters of recommendation and extra-curriculars.
Will an office require a letter?
Not always, in this situation a cover letter is more important.
Who requires letters of recommendation?
Students and candidates in professions like teaching and medical require letters of recommendation.