The Canada Student Visa processing time for Indian students is a matter of concern for most. With the growing number of applications, it's not that easy to predict how long it will take to process your application.
This is why many applicants want to know about the exact Canadian student visa processing time from India before applying for one.
Before applying, make sure you are aware of all the factors which can influence Canada Student Visa processing time in India. If you follow our guide, we assist with a smooth and hassle-free journey! Read on.
What is a Student Visa?
A student visa is meant for international students. This is a non-immigrant type visa that allows applicants to complete their higher education in a foreign country.
In Canada, a study visa is often described as a study permit. International students can only study at designated learning institutions (DLI) in Canada.
Visa Processing Time for Canada Study Visa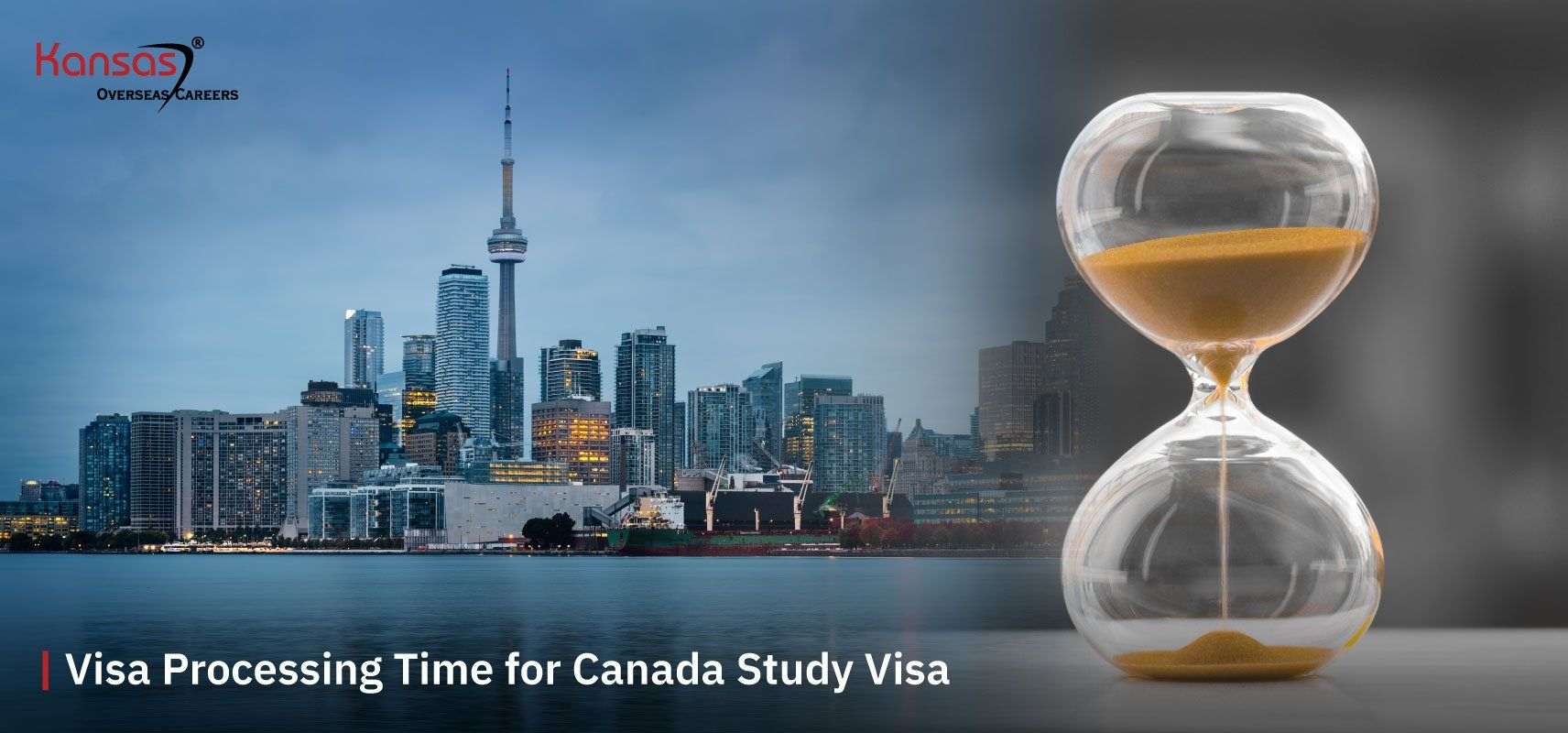 Before applying for a Canada Study Permit, you must have a fair idea of how long it can take to get the final approval. This actually makes your visa application journey way smoother and hassle-free.
It usually takes 3-4 weeks to process your application for a Canadian Student Visa. But this is just an approximate time. Many factors can influence Canada's Student Visa processing time from India significantly.
8 Factors influencing the Canada Study Visa Processing Time
Processing time starts from the day The Embassy or the visa granting authority receives your application. We have made a list of factors influencing the student visa processing time:
Type of application you have submitted
Completion of application with accurate information

Supporting documents

have been presented or not
Backlog the immigration department is experiencing
How quick you are to respond to any requests or queries sent by the authority
Applicants with previous criminal records can expect a delay in the processing time
Ban or travel restriction (due to COVID) implemented during the time of your visa application
A shift in political power also can influence the visa processing time
Can I check the processing time for my Canadian study permit?
Yes, you can. Canadian Immigration Department allows study visa applicants to check the approximate processing time. You have to visit their official website to check the status of your visa application with a unique tracking ID.
If you applied using the VFS services, you can also track the progress through their website.
How has COVID-19 affected the Canadian Study Visa application time?
Canadian student visa timing has been affected by the emergence of the COVID-19 pandemic. Due to several restrictions on travel, many visa applications were delayed. This was done in the health interest of both the Canadian people and foreign nationals.
Suppose you apply from high-risk regions (like Iran, China, and South Korea), you will be given additional 90 days to submit your supporting documents to the authority.
Note: You have to provide proof that you are being restricted from travelling to avail this extension
Update on Travel Restrictions for International Students
As of January 7, 2021, air travellers MUST present a negative COVID-19 test result to the airline prior to boarding international flights to Canada.
You must be attending a

Designated Learning Institution (DLI)

As of January 7, 2021, air travellers MUST present a

with a COVID-19 readiness plan approved by its province or territory that is on the

approved list

An international student must carry a valid student visa/study permit and a Letter of Introduction to enter Canada. Letter of Introduction shows that a particular student is approved for a study permit.
Anyone entering Canada at this time must follow a mandatory

14-day quarantine period

. All international students are subject to this quarantine period with no exceptions.
No international student can enter Canada if the study program has been cancelled or suspended due to the COVID-19 situation.
Other Important FAQs
Why does the processing time information change?
Processing time information that you can check on the website is just an estimation. Approximate time is often calculated on the number of current applications received by the authority. As soon as the load starts to clear off, it reduces the processing time. Similarly, any delay in the process can increase the wait time.
What is the right time to apply for a Canadian Student Visa?
Our experts say that the right time to apply is 3 months before the Fall Intake. However, Canadian universities offer intakes of students on a semester basis. So, you can choose the semester you are willing to enroll yourself in.
Fall Intake starts from September
Winter Intake begins in January
Spring Intake starts from May
What is the minimum age limit to apply for a student permit in Canada?
The applicant must be 18 years or more while applying for a Canadian student permit. A parent or legal guardian must accompany the applicant below the age of 18 years.
What is the percentage of rejection for a Canadian student visa?
As per the data released by IRCC, about 30% of study visa applications get rejected by the visa granting authority.
How many times can I apply for a Canadian Study Visa?
There is no maximum limit to apply for a Canadian study visa. If you face rejection, you must understand the reason. It is recommended not to repeat the same mistake. You may have to modify your application and document to avoid further rejection.
When can you apply for a Canada student permit after facing a rejection?
There is no waiting period to re-apply for a Canada student permit. You can apply just after the rejection of your study visa application.
Note: Don't submit the previous application, which was rejected. Always submit a fresh application to avoid further rejection.
What are the Common reasons for student visa rejection?
We have summed up the most common reasons for student visa rejection in Canada:
Financial background

: The immigration department may find that you are not financially stable to support yourself while studying in Canada. You need to prove that you can arrange for sufficient funds until you stay in Canada.

Academic performance

: While applying for a Student Visa, you must have required academic credits or scores set by your educational institution and the Canadian government to secure the approval.

Letter of acceptance

: To apply for a study permit, you must produce a letter of acceptance from a registered Canadian educational institution. Your visa application will not be granted without this letter.

IELTS or TOEFL Score

: Whether you are applying under the SDS, PNP, or SPP program, you need to secure the minimum IELTS, or TOEFL Score set under these programs for securing a student visa. This score proves your English language proficiency.
Is Canada accepting student visa applications amidst COVID-19?
Undeniably, there can be delays in the approval of a student visa owing to the COVID-19 crisis. But the Canadian immigration department is still accepting all sorts of visa applications.
What to expect if the applicant fails to provide the required student visa documents due to COVID-19?
Even if you fail to submit the required documents to process your Canadian student visa, you can upload a letter of explanation describing the reasons behind it. This will save your visa application from instant rejection.
You also need to submit a letter of acceptance from a DLI when you apply for a student visa in Canada. The Immigration Department doesn't entertain any study permit application without a letter of acceptance.
How long does it take to get a Canadian student visa in India?
It takes around 7 weeks to get a Canadian Student Visa in India. However, with the Student Direct Steam, you can get your visa even within 20 days. The process time usually depends on the number of applications the IRCC is approving or rejecting.
How do I know if my Canadian student visa is approved?
There are 3 ways to find out:
Check Online

:

Log in to your Express Entry Profile and check if you have received an email 'Confirmation of Student Visa'.

Check your Passport

:

If you have sent your application via post, wait until you receive your passport. On the inside, you will find an 'Approved' Stamp.

Ask your consultant

:

Since consultants are a bridge between the Embassy and Clients, they have all the first-hand knowledge about the status of your application. They'll be able to give you a better understanding.
Is Canada still processing student visas?
Yes, the IRCC is still processing student visa applications. However, owing to the COVID 19 situation, the entire process is expected to get delayed. But Canadian Authorities aren't leaving any stones unturned to help student migrants start their university education in the country.
How long does it take to get a visa after Biometrics Canada 2023?
It takes around 8 weeks to get a visa after submitting your biometrics along with the work permit to the IRCC.
Conclusion
The best time to apply for your SDS Canada Visa is 3 months before the Fall Intake.
It usually takes up to 12 weeks or 90 days to process your application for a Canadian Student Visa.
You can also apply for the Student Direct Stream to get a study permit faster.
Many factors can influence Canada's Student Visa processing time from India significantly like:
What's the situation in your home country like?
Financial ability - whether or not you can pay for education and living expenses, or if you have someone to fund you
If you don't have strong home ties or if you show signs that you don't want to return to your home country
if your application is incomplete or has wrong claims made in it
how long it takes you to respond to request or concerns
External concerns like COVID-19 outbreak, lack of working staff in the immigration office, and so on.
You can check the status of your application online. Or you can reach out to a reliable and trusted visa consultancy to apply for your student permit. This will help you get a Canada study permit with a faster or reduced processing time and you will have a fool-proof application with no errors and no delays.
Apart from this, we also help with admission letters and essays, guidance on selecting the right university and course with best advice on work during your study and post-work opportunities and PR options after.
We can also help you to settle in Canada with a comfortable stay for up to 6 months after you have received your visa with our post-settlement services.