L1A Visa is the USA's temporary visa used to enter the United States for a short period of time.
Read along to know more about the US L1A visa.
What is an L1A Visa?
L1A visa is a non-immigrant visa given to foreign nationals with a managerial or executive status, who wish to work in their company's US branches.
L1A Visa holders may work, live, and travel legally within the US.
Dependents of the visa holders may accompany him or her to the US.
L-1A visa holders may be able to apply for

permanent residency.

L1A visa allows a foreign company to establish a branch in the US.
L1A Validity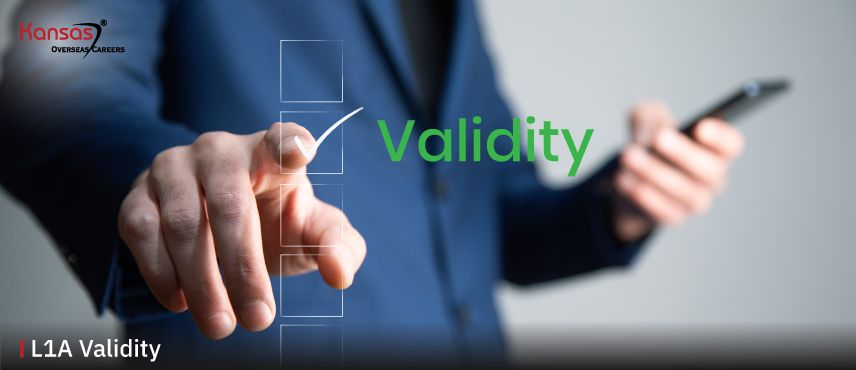 This nonimmigrant worker L1A visa is granted for a period of 1 year for new, start-up companies and 3 years for existing companies. L1A employees may be granted L1A visa extensions of 2 year increments for up to 7 years.
What are the types of L1 Visas?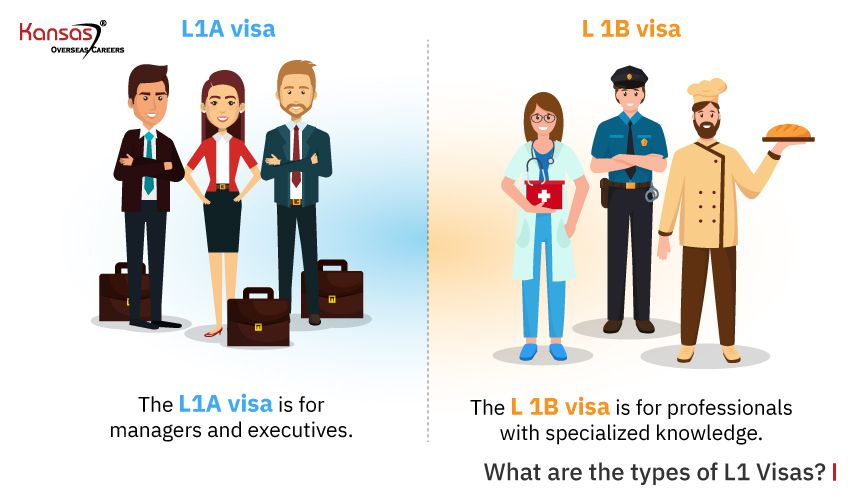 Foreign employees eligible for L1 visas will be granted either an L1A or L1B visa.
The L1A visa is for managers and executives.
The L 1B visa is for professionals with specialized knowledge.
Want to move to your US branch? Opt for the L1A visa.
Differences Between an L1A visa and the L1B visa?
L1A

L1B

Who is it meant for?

L1A visa is meant for foreign workers whose job duties are of managerial capacity or executive posts of an organization.

L1B visa is given to foreign workers with specialized knowledge.

Eligibility criteria

The foreign petitioner who files the L1A petition should be managing a part or component of his organization.




The visa beneficiary must be supervising the work of professionals or other managers.




The applicant has to hire, fire, and give promotions to some of the employees of the organization




The applicant must establish the business's policies and goals.

The foreign visa applicant, who files the L1B petition, should have specialized knowledge in a field.




These people cannot be replaced, and their skill sets cannot be replicated in a short time




They have to have expert knowledge in certain fields, which cannot be learned in a day or two but has to have years of experience and skills.

Validity period

The L1A visa for startups and new businesses will be given with one-year validity.




For multinational companies, visa validity will be 3 years.

This can be extended up to 7 years.

The L1B visa for startups and new businesses will be given for 1 year.




For multinational companies, visa validity will be 3 years.

It can be extended a maximum of up to 5 years.

Green Card Eligibility

The L1A visa holders can file an application for a green card without a labor certification

The L1B visa holder or beneficiary's employer has to have a labor certification for the visa holder to file an application to get a green card
Who is Eligible for an L1A Visa?
You have to be a manager or an executive in your company to be eligible to get an L1A visa to the US. It will also be given to those executives who want to establish their company branch or subsidiary in the US.
What Documents are Required for the L1A visa?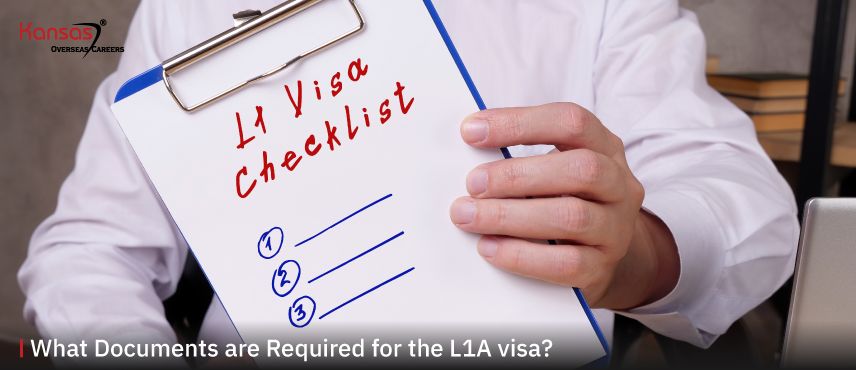 The following are the document requirements of the visa application of the L1A visa:
Passport (current and old)
Passport-size photographs
Confirmation page of DS-160 Form (along with the barcode of the CEAC)
Receipt of the visa fee
Original and additional copies of the interview appointment letter
Approved I-129 petition form along with I-129 Petition Receipt Number
If you are an individual applicant, then you need to submit:

A copy of Form I-797
An extra copy of Form I-129
If you are a

blanket applicant

, then you need to submit:

Form I-129S, filled by the petitioner (one original and two copies). This form should have been issued in the last six months. It is a United States Citizenship and Immigration Services USCIS form.
Form I-797- 3 copies
Visa fees receipt
Letter from the employer
Your previous employers should issue work experience certificates
Employers certificates stating your specific skills and abilities
Educational certificates.
Cost of L1A Visa
The addition of the below components form the complete fee of the L1A visa:
Filing fee:

$325

If the applicant wants faster processing, then the premium processing fee: $ 1225
Fraud detection and prevention fee: $500
Additional fees (if applicable): $2250.
What is the Processing Time for L1A Visa?
The L1A visa takes around 6 months of processing time. The time depends upon the embassy from which you are applying:
If you pay a premium cost of $ 1225, then your visa would be processed in

1 or 2 weeks

.
If your company has a blanket approval, you can get your visa processed faster.
Other Important FAQs
How to convert an L1A visa into a Green Card?
An L1A visa holder can apply under an EB-1C green card. This doesn't require a PERM Labor Certification, and saves up to 8 months off of the processing period. To apply for the green card, the employer only needs to file an I-140 petition. Once approved, the applicant files for an adjustment of status (Form I-485).
What is the validity period for the L1A visa?
The employee will be given an initial visa of

3 years.

They can apply for a visa extension for up to a maximum of 7 years.
After staying in the U.S. for 7 years under an L1A visa, you need to go out of the US for a year and apply again for a visa if you want to come back.
Can I bring dependents if I go to the US with an L1A visa?
Yes, you can bring your dependents, that is, spouse and children (who are below 21 years) if you are going to the US under an L1A visa.
How long will my dependents' visa be valid?
Your dependents will be given L2 visas if you have an L1 visa. Their visas will be valid as long as the primary applicants' L1 visas are valid.
Can my spouse work if he/she comes under an L2 dependent visa?
Yes, your spouse can petition for an EAD (Employment Authorization Document) by submitting the I-765 form. If the authorities approve his/her EAD, then he/she can have work visas and work in the US. There will not be any restrictions on their working hours or wages.
How many L-1 visas does the US issue per year?
There is no cap or limit for the number of persons in the L-1 visa category.
Can I go to a law firm if I face any problems with an L1A visa?
Yes, you can go to an immigration lawyer in a reputed law firm to get your issues regarding the L1A visa solved.
Can I speed up the processing time to get an L1A visa?
Yes, by paying a premium process fee, you can get your visa processed faster as a foreign worker.
Is it hard to get an L1 visa?
Not really. If you have the required profile then an L1 visa issuance is easier than getting other US work visas.
Can the L1 visa application holder apply for a green card (permanent residence status of the US)?
Yes, foreign nationals, on L-1 Visa, can apply for a green card (the permanent residence status of the US). The visa holders can apply under employment-based green cards based on their qualifications and experience.
L1 visa holders can get a green card more easily than others with a temporary visa.
What is a L2 visa?
The L2 visa is issued to dependents of L1A visa holders. Family members (spouse and children) of L 1 visa holders can visit the United States by obtaining L 2 visas.
What is Qualifying Relationship in perspective of an L-1 visa?
A company gets a qualifying relationship when it sponsors an L-1 petition for its employees. It mostly happens when the company's branch, subsidiary or firm is in some other country. So this means, from now on, it is not necessary to include a U.S. company to get qualified for an L-1 visa petition because a foreign parent company can send their employees to work in their subsidiary company in the U.S.
Conclusion
With an L1A visa you can:
Get a visa

quicker

than any other visa to the US.
Travel to and from the US many times
Be in the US until the visa expires
Apply for visa extension until a maximum period of 7 years
Take your family, and your spouse can work after fulfilling certain requirements
File an application for a green card
Apply for permanent residency without labor certification
Get your kids access to the best education
How can Kansas Help You?
Kansas Overseas Careers is the best visa consultant in India with a high success rate. Served 20K+ customers and over 3K+ active cases.
What do we offer?
Visit Visa: Travel for leisure or business to any part of the world with Kansas.
Study Visa: Study in Globally-recognized Universities!
Work Visa: Work & settle in the World's Best Cities!
Immigration: We are your one-stop solution for all your visa and immigration needs
Permanent Residence: Become a Permanent Resident and enjoy special benefits.
Customized services:
Profile Marketing: We are known for creating best-in-class portfolios that boost your profiles in job-portals. And yes, this is a complimentary service!
Test Preparations: We have a specialized team of experts who provide online training for IELTS, French and other language tests at no extra cost.
Resume Writing: Our resume experts craft the best resumes that meet prerequisites of immigration authorities and potential employers. This greatly improves your chances of success.
Documents & Review: Error-free visa documentation from document gathering, verification, application submission, and also post-landing assistance.
Visa Filing: Kansas ensures that your visa application meets all the standard requirements as per the immigration authorities of the country that you are applying for.
Interview Training: Be it a job interview or a visa interview, we have experts who will help you excel in both.
Dedicated Case Officer: Your case-officer will assist you at every step of your visa process. You can also opt to request a change of officer if you're not satisfied.
Post Landing Services: Our customized accommodation-support team will help ease your migration journey to the country you wanted to work and settle in.
You can expect a one-stop solution for all your visa needs with us.