Introduction
Are you worried that your EA CDR will be unnoticed or get rejected? A good CDR should showcase specialized knowledge and skill base, engineering application capabilities, values, and attributes of the profession must be demonstrated to practice.
It takes 6-7 years to become an engineer, so it's no surprise that you need to learn many different skills.
But it doesn't end once you're qualified; if you want to work in Australia, you'll need to submit a CDR report (competency demonstration report). It makes it simpler for engineers to start their careers in Australia.
The CDR is crucial in obtaining a skilled migration visa. The EA evaluator assesses your technical abilities, experience, competency, and language abilities.
Make sure to double-check that you're applying the proper structure and terminology. When you write a CDR report, you must always consider the essential documents that need to be submitted along with the CDR report.
The quality of your report will help immigration services to determine whether you are fit to work in Australia.
If you're in the field of engineering, read on for everything you need to know about CDR reporting and how to make a successful CDR submission.
Why CDR Engineers Australia Rejected?
A few reasons for the rejection of the CDR applications by the Engineers Australia (EA) assessors are as follows:
Not following the EA guidelines
Improper formatting
Lack of indices
The absence of essential document scans
The absence of necessary evidence
Presence of plagiarism
Improper presentation of the Career Episodes, summary statement, and the CPD
Irrelevant data and information
Lack of enough evidence to substantiate the mentioned claims in the CDR applications
Improper presentation of the various sections of the CDR- career episodes, summary statement and the CPD
What Are CDR Reports?
The competency demonstration report is a procedural document required for any skilled migration visa in Australia.
The point of CDR data is to emphasize each skill and competency you've gained through education or on-the-job training.
You can use your CDR to demonstrate that you know how to conduct risk evaluation, manage adequate production volume and that you know how to deal with any alleged violation.
The CDR requirement for Australia is one of the most helpful tools immigration officers use to determine whether to grant your visa.
But you're not the only person applying; the CDR database at each immigration office is vast, and competition is high. So, it pays to get it right the first time.
Who needs CDR reports and why?
Aspiring migrating engineers who want to relocate to Australia must first go through Engineers Australia (EA) (the assigned surveying expert for designing occupations). The Migration Skills Assessment (MSA) certifies Australia or nations fully signatory to the Sydney Accord, Dublin Accord, or Washington Accord. Other people (with a place with countries that EA does not license) need to present a Competency Demonstration Report (CDR).
Engineers Australia (EA) asks for 2 primary assessments –
The Engineering Skills Assessment: EA has laid out clear guidelines on how they would be assessing engineering skills. The most critical aspect of the assessment is the pathway you are taking. The next bifurcation is the industrial category you are applying to. There are 4 occupational classes, and EA has done an excellent job laying out what's expected in each occupation.
Proficiency of English Language: You need to show your proficiency in the English Language. However, this might be waived off for those who have completed Australian Undergraduate Engineering Qualification or 2 years Master's Degree or Ph.D. Program at Australian University. The waiver might also be on the cards for native English speakers (i.e., from Australia, USA, UK, Ireland, Canada (excluding Quebec), New Zealand). However, EA reserves the right to request an English language test if required.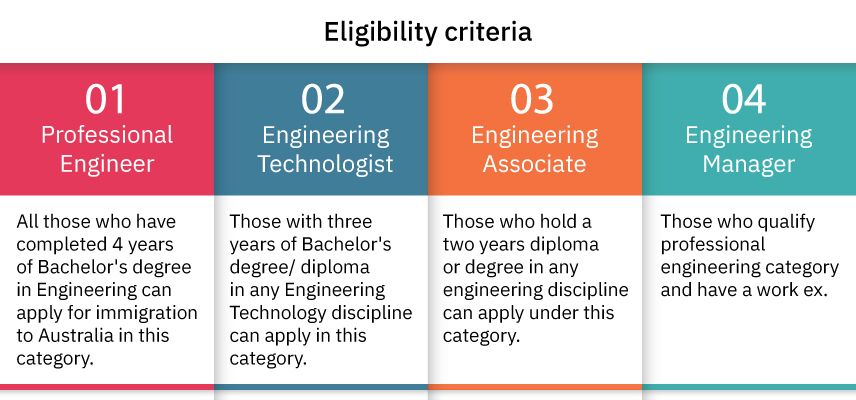 Professional Engineer: All those who have completed four years of Bachelor's degree in Engineering can apply for immigration to Australia in this category.
Engineering Technologist: Those with three years of Bachelor's degree/diploma in any Engineering Technology discipline can apply in this category.
Engineering Associate: Those who hold a two-year diploma or degree in any engineering discipline can apply under this category.
Engineering Manager: Those who qualify professional engineering category and have a work ex.
How To Create a Good CDR Record
A simple CDR rule of thumb to help you succeed requires knowing the requirements inside-out.
There is a different reporting requirement for each engineering sector, so you should use government websites to understand precisely what you need to submit.
Next, you should gather a list of all the technical skills you've gained in each calendar year since you began training.
It doesn't matter if you were a small manufacturer or working for a large firm; you'll have gained skills that will be beneficial.
Finally, you need to compile all the relevant documents to be submitted in your reporting period. The more detail your records contain, the better. If you have submitted a federal register notice for any of your previous education or trading, include this too.
If you need further guidance, you can join an online webinar or educational event to guide you through the process.
At Kansas overseas, we offer bespoke services to help you get your CDR report accepted and get your skilled worker visa approved.
Take Action Today: Complete Your CDR Report
Guidelines for Getting Best CDR
As CDR Reports for engineering professionals are considered a significant part of Australian immigration. Writing a CDR report can be challenging because one has to toil hard for quite a long period to accomplish the anticipated outcome.
Below mentioned are some essential steps required to complete your exhausting task of writing the Best CDR Report:
You should share a few details regarding your academic qualifications and your capability to apply your knowledge in the specific area in your résumé.
It would help if you mentioned the professional Engineering field and the category related to it.
You essentially share your experiences with the organization you have been working with, together with the details of Project names, start and end time of the project, your roles and added responsibility, losses, productivity and the efficiency of that company.
It would be best to upgrade the projects you take where the location, duration, responsibilities, and objectives are mentioned. This would guarantee that the CDR report is complete with 100% success.
You are also mandatory to share your details in your CV.
Kansas overseas is the best online platform to seek help if you find it hard to get genuine CDR report writing services. We have a vast team of engineer experts who have excellent knowledge of a wide range of engineering streams and use impeccable knowledge to prepare outstanding CDR reports by referring to the personal and professional details shared by the client. We are working with a team that can deliver premium CDR writing services, and we strive to help each domain of engineers get the best outcome.
So that's the basics of CDR reporting. Whether you're still studying or looking to immigrate, you'll need to submit a CDR before starting work.
Now you know this; you won't have an issue when it's time to fill out your first summary statement. Just take care to keep on top of your CDR data so that filling out your report is a painless process.
Contact us today for a no-obligation consultation if you need further assistance with migration, work, or study in Australia.