Canada is a popular destination for immigrants all around the world. Its high quality of life, excellent career prospects, and safe environment make it an ideal place for Indians to live, work and settle permanently in the nation.
The maple country also invites immigrants through varied immigration pathway programs that have fairly easier processes and shorter visa processing times.
Read on to know more about how you can settle abroad in Canada.
What does a Canada PR Visa mean?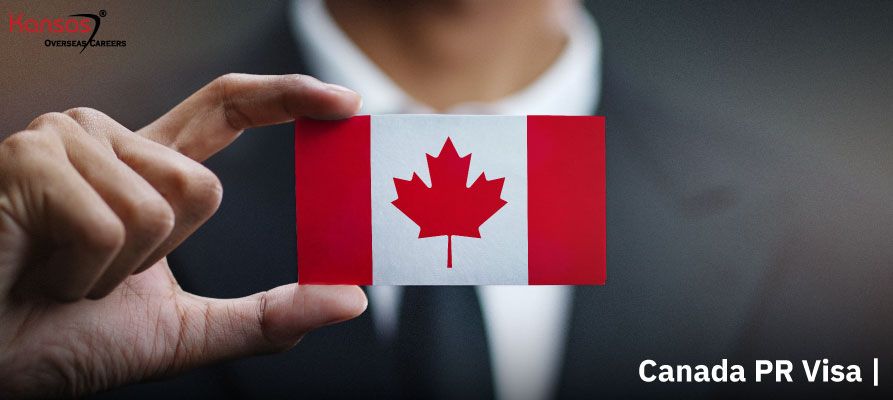 Canada Permanent Residence is a five year-multiple-entry visa that provides skilled foreign workers with an opportunity to work and settle in Canada. You can extend or renew your visa after five years!
After three years of stay and work with the Canadian PR card, you can apply to be a Canadian Citizen too!
What is the Eligibility Criteria for Canadian Immigration?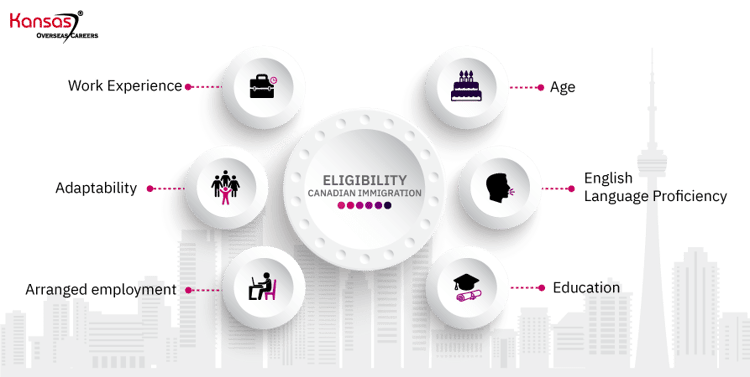 To know if you can apply for Canadian permanent residence, you must check these parameters for eligibility requirements.
To be eligible to apply for a Canada PR under the Express Entry system, you will need a minimum score of 67 points out of 100 to qualify.
When you apply for a Canada PR, you will be evaluated on the following factors:
Canada Express Entry Eligibility | 67 points on 6 factors
| | |
| --- | --- |
| Factor | Maximum Points Available |
| Language skills - in English & French | 28 |
| Education | 25 |
| Work experience | 15 |
| Age | 12 |
| Arranged employment (job offer in Canada) | 10 |
| Adaptability | 10 |
| TOTAL POINTS AVAILABLE | 100 |
There is no specified age limit. However, different programs may give preference to candidates who are younger by giving them more points.
English Language Proficiency
The candidate must give the IELTS exam to show that they can adapt and work in Canada. The minimum score of IELTS required for permanent residency obligation is CLB 7. Simultaneously, an IELTS score of CLB 9 or above can make your profile stronger and improve your chances of getting work permit approval.
A candidate must have senior-secondary level education according to the Canadian immigration standard to prove eligibility. The applicants who have a higher educational level than senior-secondary will get more points and have the edge over others.
The candidate must have a minimum of one year of experience (30 hours per week) to become eligible. Having more work experience improves the chances of approval.
The ability to adapt in the maple country also helps the candidate win points. If the candidate has a spouse or blood relation in Canada, they can get extra points for permanent residence.
How to Calculate your Canada Permanent Resident Visa Points?
The CRS system has four major sections, and a candidate gets scored out of 1,200 points based on them. They are: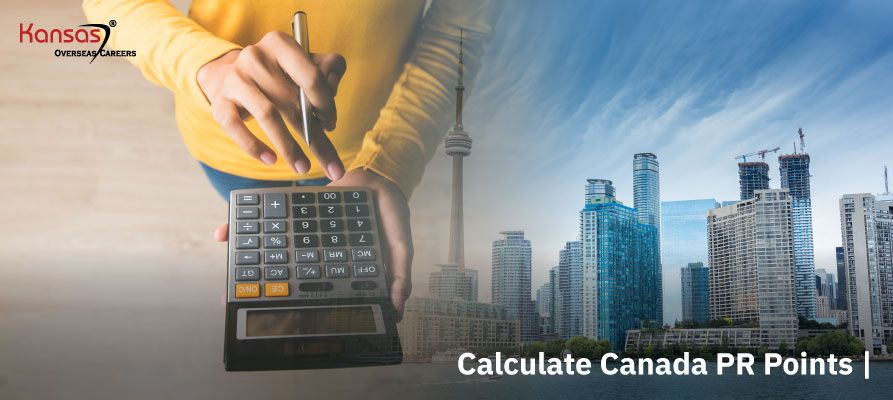 Core or Human Capital Factors
The core and human capital factors include parameters like age, education, work experience in Canada, and language proficiency skills.
Factors

With Spouse/ common-law partner

Without Spouse/ common-law partner

Age

110

100

Education level

150

140

Official

languages proficiency (IELTS)

160

150

Canadian working experience

80

70

Spouse - Level of education

10

Spouse - Official language proficiency

20

Spouse Required IELTS Score (General)

10

Total

540

460
Spouse or Common-Law Partner Factors
This category includes factors like age, education, language proficiency, and work experience of the spouse or common-law partner who is accompanying the candidate.
Factors

With Spouse/ common-law partner

Without Spouse/ common-law partner

Age

110

100

Education level

150

140

Official

languages proficiency (IELTS)

160

150

Canadian working experience

80

70

Spouse - Level of education

10

Spouse - Official language proficiency

20

Spouse Required IELTS Score (General)

10

Total

540

460
The skills transferability section provides points to the candidate on education, foreign work experience, and certificate of qualification for people involved in trade occupations.
Factors
Max. Canada PR Points per factor

Education and Language Ability

CLB 7 - CLB 9 50 13

OR

Education and Canadian

Work Experience

50

Language Ability and (Foreign work experience) Non-Canadian Work Experience

OR

Canadian work experience and foreign work experience (Non- Canadian Work Experience)

50

Certificate of Qualification in a Trade and Language Ability

Total
100
The last section of additional points awards 600 additional points to a candidate who has a Provincial Nomination. Other factors, like valid job offers and post-secondary education from Canada, can help you win additional points.
| | |
| --- | --- |
| Factor | Max. Canada PR Points per factor |
| Brother or sister living in Canada who is a citizen or permanent resident of Canada | 15 |
| Post-secondary education in Canada - credential of one or two years | 15 |
| Post-secondary education in Canada - credential of three years or longer | 30 |
| Arranged employment - NOC 00 | 200 |
| Arranged employment – any other NOC 0, A or B | 50 |
| Provincial Nomination | 600 |
| Maximum points to be claimed | 600 |
What is the Process of the Canada PR Application?
The applicant must carefully complete the process within the given time frame. Here is the process:
Step 1: Educational Credential Assessment (ECA)
An applicant has to get Educational Credential Assessment or ECA to prove that their foreign education is on par with the Canadian level.
Step 2: Language Proficiency Report
The candidate needs a language expertise report with the IELTS score. This demonstrates if the English skills of the applicant are as per the Canadian Government Benchmark Level (CLB) 7 or not.
Step 3: Express Entry Application
Once the candidate has both the documents, they can create an online profile in the Express Entry System profile.
Step 4: CRS Score
The candidate receives a score after filling the application form, which serves as a cut-off to assess applications. If you have the required CRS score, you become eligible for the Canada PR visa.
Step 5: Express Entry Draw
After that, the applicant must wait for the Express Entry Pool draw, held at regular intervals. Candidates who are above a specific rank get an invitation for PR.
Step 6: Invitation To Apply (ITA)
If you are above the rank, you will receive an Invitation To Apply (ITA). After receiving it, you have 60 days to apply for PR.
Step 7: Final PR Application
You can send in the final PR application with the required documents. The authorities aim to process a majority of these applications within six months. If you get approved, you will receive your PR authorization.
What is the Cost for Canada PR?
Here is the cost breakdown for Canada PR:
Canada PR Process

CAD

INR

Step 1: Educational Credential Assessment fee

CAD 240

INR 14,568

Courier charges approx

CAD 10

INR 607

Fast Express courier charges

CAD 85

INR 5159

Step 2: Express Entry Application

This is free of cost

Step 3: Pay the application fees.

Main applicant

Application processing fee

CAD 850

INR 51,596

Right of Permanent Residence Fee (RPRF)

CAD 515

INR 31,261

Spouse/partner

Application processing fee

CAD 850

INR 51,596

RPRF

CAD 515

INR 31,261

Dependent child

CAD 230 (per child)

INR 13,961 (per child)

Step 4: Complete your biometrics

For a single applicant

CAD 85

INR 5,159

For two or more applicants

CAD 170

INR 10,319

Step 5: Send your passport details

INR 1,000 to 2,500

If you already have a valid passport

Free of cost

Other Costs

Provincial Nominee Program

CAD

INR

Ontario Immigration Nominee Program (OINP)

CAD 1500

INR 92,314

Saskatchewan Immigration Nominee Program (SINP)

CAD 350

INR 21,540

Manitoba Provincial Nominee Program (MPNP)

CAD 500

INR 30,771

British Columbia Provincial Nominee Program (BCPNP)

CAD 1150

INR 70,774

Quebec Skilled Workers Program (QSWP)

Primary applicant: CAD 785

Spouse or Partner: CAD 168

Dependent Child: CAD 168

Primary applicant: INR 48,311

Spouse or Partner: INR 10,339

Dependent Child: INR 10,339

Language exam fees (IELTS)

INR 15,500

Medical exam (varies depending on city)

INR 3,000

Police certificate(varies depending on your city)

INR 500
What is the Processing Time for a Canadian PR Visa?
It takes 5-8 months after receiving the ITA (Invitation to Apply) for the Canada permanent residence (PR) Visa to be processed.
How Can Kansas Help?
Kansas Overseas Careers specializes in Permanent Residency Visas, Work Visas, Study Visas, Temporary visas, and Dependent Visas to Canada, UK, USA, Germany, and Hong Kong.
Apart from these services, Kansas offers its clients personalized services such as:
Profile Evaluation:

Professional guidance based on an

in-depth assessment of the client profile to determine the chances of visa success.
Documents & Review: Detailed, error-free documentation based on the visa type drafted to meet specific formats.
Dedicated Case Officer: A dedicated consultant is provided to assist clients throughout the process.
Visa Filing: Kansas ensures that the visa applications meet all the standard requirements of concerned immigration authorities and governing bodies.
Test Preparations: Complimentary online courses are offered to help aspirants improve their Language Proficiency for important exams like IELTS, French, TOEFL, and PTE.
Visa & Interview: Guidance is provided for aspirants attending visa interviews along with verified documents.
Post-Landing Service: Kansas helps clients settle down in the new country with a comfortable stay after they have received their visas.
Additional services offered to job-seekers:
Resume Writing: Dedicated team of resume experts to craft the best resumes that meet the prerequisites of immigration authorities and potential employers. This greatly improves their chances of selection.
Profile Marketing: Kansas is well-known for creating the best-in-class portfolios that boost applicant profiles in job-portals. And yes, this is a complimentary service!
Don't wait. Begin your visa application today!
Other Important FAQs
What are the various pathways to Canadian immigration?
Depending upon the profile, you can find a program that you are eligible for and then apply for a Permanent Resident card from outside Canada. Here are some of the main pathways:
1. Express Entry: The Express Entry Program is a system for managing applications of the federal programs. It enables people to immigrate to Canada and fill in vacant job positions in the fields which have a lack of skilled workers.
There are three federal programs under this:
Federal Skilled Worker Program:

Federal Skilled Trades Program:

Canadian Experience Class:
2. Labour Market Impact Assessment (LMIA) Visa: Several applicants for Canadian immigration first get a job offer to apply for a work visa. The LMIA through Service Canada is also one that involves securing a job offer from a Canadian employer. This is an excellent pathway that can eventually lead to Canada's PR.
3. Provincial Nominee Programs: The Provincial Nominee Program (PNP) is an ideal way for skilled immigrants to move to Canada. It invites both students as well as employees to move to a province and address labour shortages in the territory.
Some of the most popular Canadian PNP programs are:
AINP: The Alberta Immigrant Nominee Program
BCPNP: The British Columbia Provincial Nominee Program
MPNP: The Manitoba Provincial Nominee Program
NLPNP: The Newfoundland & Labrador Provincial Nominee Program
NBPNP: The New Brunswick Provincial Nominee Program
NS PNP: The Nova Scotia Provincial Nominee Program
NTPNP: The Northwest Territories Provincial Nominee Program
OINP: The Ontario Immigrant Nominee Program
PEI PNP: The Prince Edward Island Provincial Nominee Program
QSWP: The Quebec Skilled Workers Program
SINP: The Saskatchewan Immigrant Nominee Program
YNP: The Yukon Nominee Program
The Provincial Nominee Program routes are fast becoming a popular Canadian immigration pathway.
4. Canada Business & Investor Immigration: This program is ideal for those individuals having owned or managed businesses overseas. By investing in Canada, these immigrants are contributing to the overall growth and prosperity of the country. The Federal Investor Program requires applicants to have a high net worth for a period of 5 years at least.
5. Family Class Sponsorship: Immigrants who want to move to Canada along with their family members can apply under the Family Class Immigration program. Family reunification remains the cornerstone of Canadian immigration and allows spouses, children, parents, grandparents, and relatives to come together.
6. The Atlantic Immigration Pilot Program (AIPP):This program aims to recruit immigrants to the Atlantic provinces of Newfoundland & Labrador, Prince Edward Island, Nova Scotia, and New Brunswick in Canada. Labour gaps within these provinces are filled with newcomers who qualify with their work experience.
Which is the fastest way to immigrate to Canada?
Here are the four easiest and fastest ways to immigrate to Canada:
The Express Entry System: This has proved to be one of the fastest and most effective ways of immigrating to Canada. You can apply online, and the average visa application processing time is six months.
The Atlantic Immigration Pilot Program (AIPP): The AIPP is yet another fast way to immigrate to Canada. It is designed to assist immigration to the provinces of Atlantic Canada. The visa application processing time for AIPP is also six months.
The British Columbia PNP: This province's Provincial Nominee Programs are way ahead of others. They have an online portal, and visa applications for BC PNP are processed within 2 - 3 months. The BC PNP also has more draws than other provinces.
Global Talent Stream 'Temporary Foreign Work Permit': Don't get carried away by the 'Temporary' word here. Once you have gained six months of Canadian work experience with this visa, you can apply for permanent residency. The Agricultural, Healthcare, and Hospitality sectors are in high-demand in Saskatchewan province. The visa application process takes anywhere from 4 - 6 months time.
Another option apart from these four mentioned above is the Canadian Experience Class managed by the Express Entry. But it takes one year of Canadian work experience to qualify for permanent residency.
Who can sponsor me to come and live in Canada?
Any Canadian citizen or permanent resident above 18 years of age can sponsor you to come to Canada. Indians registered as citizens, or permanent residents can sponsor their spouse, partner, child, sibling, parent, grandparent, or any other relative to visit and live with them in Canada.
Can I marry a friend while visiting Canada?
Yes. Foreign nationals, including Indians, can get married in Canada on a visitor or temporary resident visa. Marriage is an option available to all citizens and permanent residents of Canada. They can marry a foreign partner as and when they want.
How do I know if I qualify for the FSW program?
You will have to possess sufficient work experience and language skills to qualify for the FSW program. It means that you will have to accumulate a minimum of 67 points on the skilled worker selection grid. The grid allocates points for age, education, language, employment experience, Canadian employment offer and adaptability.
Who does not require proof of funds to immigrate to Canada?
The following applicants will not be required to show proof of funds to support themselves and the family for their stay in Canada.
When you are applying under the 'Canadian Experience Class'
When you have a valid job offer and are authorized to work in Canada
This is applicable even when you are applying under the Federal Skilled Trades and Federal Skilled Worker programs.
But then keep the funds up-to-date in the profile, as you may be eligible for more than one program. You never know under which you may be invited to apply.
Why should I immigrate to Canada?
Here's why you should move to Canada and apply for a Canada PR:
Right to Live and Work
Free Education
Universal Healthcare
Citizenship of Canada
Social Benefits
Safe Environment
Freedom to move
Freedom to start a business
Are you excited to settle in Canada?
We can help you fast-track your visa!
Conclusion
This post gives you a simple step-by-step guide to Canada's permanent residency.
Educational Credential Assessment (ECA)

Undergo Language Proficiency Report

File Your Express Entry Application

Obtain Your CRS Score

Wait for the Express Entry Draw

Receive the Invitation To Apply (ITA)

File Your Final PR Application
Find out all it takes to immigrate to Canada in one go!