Express Entry is one of the best ways chosen by skilled immigrants for Permanent Residence. Here is a complete guide on how to get a Canadian Permanent Residency through the Express Entry.
What is the Canada PR Express Entry?

Introduced in 2015, Canada PR Express Entry is an online system to manage multiple categories of visas on one simple platform. Through this process, the Canadian Government wants to choose the most talented worker across the world.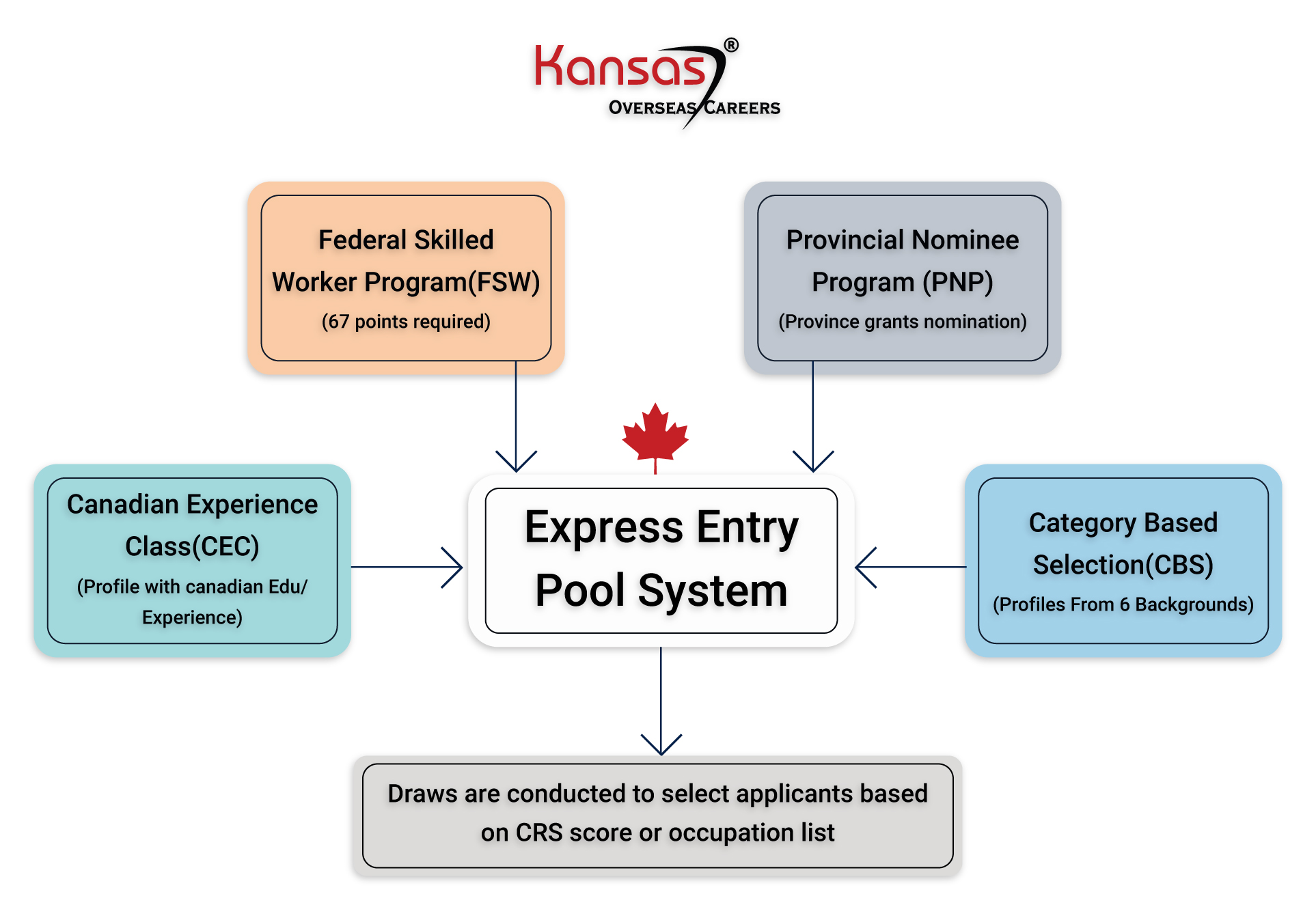 Types of Canada PR Programs
Federal Skilled Worker Program
The program is mainly referred to skilled workers with professional backgrounds.
Federal Skilled Trades Program
The program is meant for people having experience in the industrial sector or trading.
Canadian Experience Class
The program is related to candidates having Canadian work experience.
Provincial Nominee Programs
Provinces of Canada participate under the program to nominate candidates who are meeting its labor market needs.
Category-based selection:
Introduced in 2023, Canada listed profiles from 6 backgrounds to hold a separate draws to select the candidates most required in Canada.
Eligibility to Apply for Canada PR Express Entry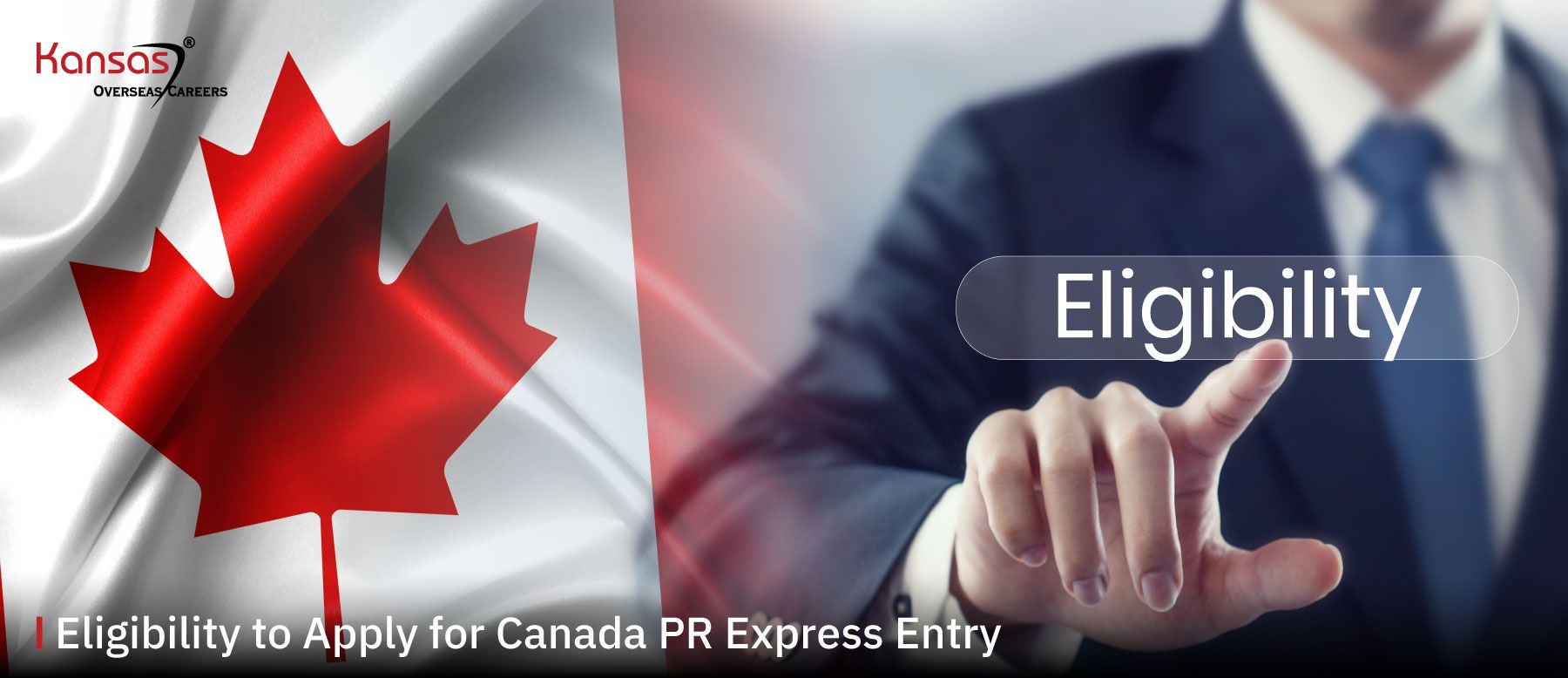 Eligibility depends on the below factors:
Age
The highest level of education
Language skills
Canadian work experience
Other work experience
Skill transferability
Express Entry candidates can get a PR within 6 months.
Minimum Points for Express Entry into Canada
The points are analyzed on five selection factors.
1. Age
| | |
| --- | --- |
| Age Group | Maximum Points |
| 18 - 35 years | 12 |
| 36 | 11 |
| 37 | 10 |
| 38 | 9 |
| 39 | 8 |
| 40 | 7 |
| 41 | 6 |
| 42 | 5 |
| 43 | 4 |
| 44 | 3 |
| 45 | 2 |
| 46 | 1 |
| 47 & Above | 0 |
2. Education
| | |
| --- | --- |
| Education | Maximum Points |
| Doctoral or Ph.D. or equivalent | 25 Points |
| Master's degree | 23 Points |
| Two or more diplomas | 22 Points |
| Canadian Post Secondary Degree or Bachelor's degree | 21 Points |
| Canadian Post Secondary Degree | 19 Points |
| Canadian Post Secondary Degree or One year program | 15 Points |
| Secondary Diploma – High School Graduation | 5 Points |
3. Work Experience
| | |
| --- | --- |
| Work Experience | Points |
| Above 6 years | 15 Points |
| 4-5 years | 13 Points |
| 2-3 Years | 11 Points |
| 1 Year | 9 Points |
4. Language Proficiency
| | | | | |
| --- | --- | --- | --- | --- |
| First Language | Speaking | Listening | Reading | Writing |
| CLB 9 and above | 6 | 6 | 6 | 6 |
| CLB 8 | 5 | 5 | 5 | 5 |
| CLB 7 | 4 | 4 | 4 | 4 |
| Less than CLB 7 | - | - | - | - |
For the second official language
| | |
| --- | --- |
| Second Official Language | Points |
| Minimum CLB 5 in all four language factors | 4 |
| At least CLB 4 or less | 0 |
5. Adaptability
| | |
| --- | --- |
| Adaptability | Maximum Points |
| Your spouse language skills | 5 points |
| Previous Education was in Canada | 5 points |
| If your spouse's past education was in Canada | 5 points |
| Past work experience in Canada | 10 Points |
| If your spouse is having past work experience in Canada | 5 Points |
| Arranged employment in Canada | 5 Points |
| Relatives in Canada | 5 Points |
Express Entry immigration streams can help you get PR faster.
5 Ways to Improve your CRS Score for Canada Express Entry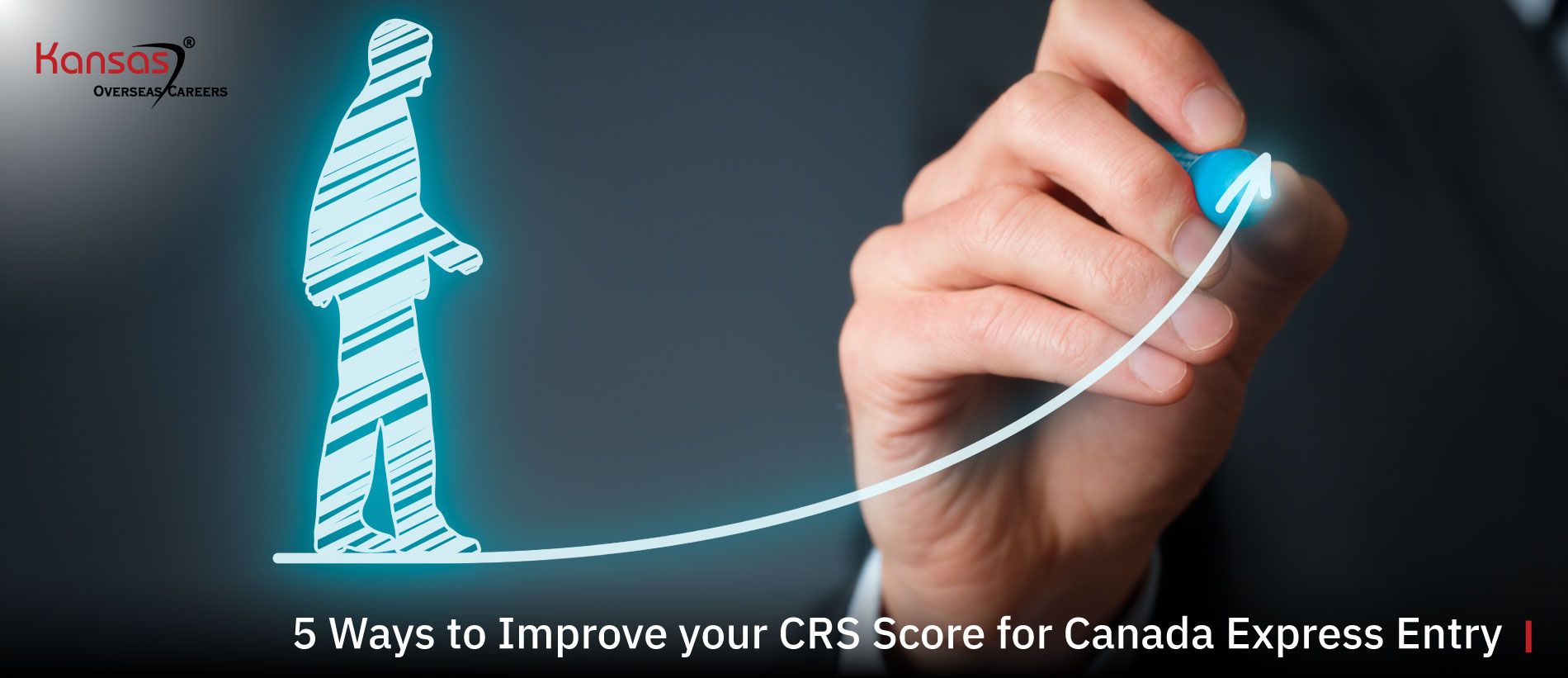 The possible pathways to improve your CRS score are:
1. Language Skills
Under the language factor, you can score maximum points of up to 260 CRS. Hence, you can prove proficiency in the two official languages to gain the maximum points.
2. Education
You can improve your educational experience so that you claim additional points for your CRS score. You can also obtain a Canadian Study Experience to significantly improve your overall score.
3. Spouse Adaptability
If you are traveling along with your spouse, you can include your spouse's potential factors to increase the overall CRS score.
4. Nomination from PNP programs
You can check and apply for a Provincial Nominee program suitable for your profile. This will help you in receiving a nomination and improve your total score with an additional 600 points.
5. Canadian Employment
If you have an employment opportunity from a Canadian employer, then this can help you in increasing your total score by 50-200 points.
Costs Involved in Canada PR
Canada PR Process

CAD

INR

Step 1: Educational Credential Assessment fee

CAD 240

INR 14,568

Courier charges approx

CAD 10

INR 607

Fast Express courier charges

CAD 85

INR 5159

Step 2: Express Entry Application

This is free of cost

Step 3: Pay the application fees.

Main applicant

Application processing fee

CAD 850

INR 51,596

Right of Permanent Residence Fee (RPRF)

CAD 515

INR 31,261

Spouse/partner

Application processing fee

CAD 850

INR 51,596

RPRF

CAD 515

INR 31,261

Dependent child

CAD 230 (per child)

INR 13,961 (per child)

Step 4: Complete your biometrics

For a single applicant

CAD 85

INR 5159

For two or more applicants

CAD 170

INR 10,319

Step 5: Send your passport details

INR 1,000 to 2,500

If you already have a valid passport

Free of cost

Other Costs

Provincial Nominee Program

CAD

INR

Ontario Immigration Nominee Program (OINP)

CAD 1500

INR 91,050

Saskatchewan Immigration Nominee Program (SINP)

CAD 350

INR 21,245

Manitoba Provincial Nominee Program (MPNP)

CAD 500

INR 30,350

British Columbia Provincial Nominee Program (BCPNP)

CAD 1150

INR 69,805

Quebec Skilled Workers Program (QSWP)

Primary applicant: CAD 785

Spouse or Partner: CAD 168

Dependent Child: CAD 168

Primary applicant: INR 47,649

Spouse or Partner: INR 10,197

Dependent Child: INR 10,197

Language exam fees (IELTS)

INR 15,500

Medical exam (varies depending on city)

INR 3,000

Police certificate(varies depending on your city)

INR 500
Proof of Funds for Canada Express Entry
Yes, it is essential to show proof of funds while processing your application through Express Entry.
Here's a breakdown for you:
IRCC Express Entry Proof of Funds Requirement in 2023
The proof of funds requirement has been updated with effect from April 25, 2023. To remain eligible, you must ensure that settlement funds are accordingly updated in your Express Entry profile.
IRCC Express Entry Proof of Funds Requirement in 2023

Number of family members

Funds required in Canadian dollars (CAD)

Approximate in Indian Rupees (INR)

As per 1 CAD = 60.05 INR

1

CAD 13,757

8,26,242

2

CAD 17,127

10,28,643

3

CAD 21,055

12,64,575

4

CAD 25,564

15,35,388

5

CAD 28,994

17,41,395

6

CAD 32,700

19,63,953

7

CAD 36,407

21,86,594

For each additional family member

CAD 3,706

2,22,581
Other Important FAQs
Is the work experience necessary for Canada express entry?
Work Experience is one of the crucial factors when you are planning to migrate through Express Entry. The experience plays a vital role than a Canadian job offer.
With relevant and

sufficient work experience

, you will have higher chances of receiving an Invitation to Apply (ITA) for Canada PR from the IRCC.
As per the updates from November 2016, the points provided for employment have been changed. An Express Entry candidate can receive points ranging from 50 to 200 if having a valid job offer.
What is the Express Entry pool?
The Express Entry pool is where people from around the world seeking permanent residence in Canada provide information. Eligible candidates hoping to be permanent residents are ranked using a points-based system. The CRS score is based upon the information provided in the profile.
Do you need a job offer for express entry?
No, there is no mandatory requirement of Canadian employment to apply for Canada Express Entry system.
How can I create an online Express Entry profile?
Undertake the following steps to create an online Express Entry profile:
Undergo the language efficiency test
Take a Foreign Education Credential Assessment evaluation
Determine your NOC (National Occupation Classification)
Determine your eligibility criterion for Express Entry immigration
Build your profile for the Express Entry system
Submit your Express Entry program profile
How long can a candidate stay in the Express Entry pool?
Candidates seeking permanent residence in Canada can stay in the Express Entry pool for up to one year from the date of entry. You can also re-submit your Express Entry profile after this in case you are still eligible.
Is it easy to get a provincial nomination in Canada?
Provincial nomination offered by the Canadian government's directives to the provinces is comparatively easy for Canadian immigration. This is more so when you already have a job offer in a particular province.
What is the Canadian federal economic immigration program?
It is commonly known as the Federal Skilled Worker Program (FSWP). This program offers permanent residence to foreign nationals with skilled work experience to come and live in Canada as permanent residents. This Canadian immigration program is designed to contribute to the economy.
Why do you need to take a language test for express entry?
The language test is an essential factor to be eligible candidates for the Canada Express Entry. It is mandatory for any skilled foreign worker aiming for Citizenship Canada PR to prove proficiency in English or French language ability.
What is the validity of the Canada PR visa?
Normally, the Canada PR visa is valid for 5 years from the date of issue. But some PR visas are only valid for one year. The expiry date of the PR visa is mentioned on the card. You should renew your PR visa 6 months prior to the date of expiry. It can however be also used as a travel document after expiry.
What are the Language Tests Accepted for Canada PR?
The First official Language: English
| | |
| --- | --- |
| CELPIP: Canadian English Language Proficiency Index Program | IELTS: International English Language Testing System |
| Need to take up the CELPIP-General test | Must take up the General Training option |
| General – LS test for Express Entry is not accepted | Academic option for Express Entry is not accepted |
The Second Official Language: French
TEF Canada : Test devaluation de Francis

TCF Canada: Test de connaissance du Francis

This includes:

comprehension de l'écrit
comprehension de Loral
expression eucrite
expression orals

This includes:

comprehension de l'écrit
comprehension de Loral
expression eucrite
expression oracle
Conclusion:
Tips to remember when applying for Canada PR:
The need to demonstrate required settlement funds: If you plan your migration with the Federal Skilled Worker Class or Federal Skilled Trade Class, you should prove sufficient funds to support your application.
Accurate information about travel history, personal details, address, etc.: You need to provide every aspect of yours when you are processing with the Canadian officials.
Must provide clear details if holding a Job offer: If you have a job offer from a Canadian employer, then make sure that the offer you received is matching with the information expected by the IRCC.
Information on your Express Entry Profile: Every detail you mention in the Online Express Entry Profile will be considered for your PR application.
Educational Credential Assessment: There is no particular rule for a candidate migrating through a Federal Skilled Trade Class (FSTC) and Canadian Experience Class (CEC) to get their ECA done.
How Can Kansas Overseas Help You?
Kansas Overseas Careers is the best visa consultant in India.
We specialize in Permanent Residency Visas, Work Visas, Study Visas, Temporary visas, and Dependent Visas to Canada, UK, USA, Germany, and Hong Kong.
Our Customized services for Canada PR via Express Entry include:
Profile Evaluation

:

Professional guidance based on an

in-depth assessment of the client profile to determine chances of visa success.

Documents & Review

: Detailed, error-free documentation based on the visa type drafted to meet specific formats.

Dedicated Case Officer

: A dedicated consultant to assist clients throughout the process.

Visa Filing

: Kansas ensures that the visa applications meet all the standard requirements of concerned immigration authorities and governing bodies.

Test Preparations

: Complimentary online courses are offered to help aspirants improve their Language Proficiency for important exams like IELTS, French, TOEFL, and PTE.

Visa & Interview

: Guidance is provided for aspirants attending visa interviews along with verified documents.

Post-Landing Service

: Kansas helps clients settle down in the new country with a comfortable stay after they have received their visas.
Additional services offered to job-seekers:
Resume Writing

: Dedicated team of resume experts to craft the best resumes that meet prerequisites of immigration authorities and potential employers. This greatly improves their chances of selection.

Profile Marketing

: Kansas is well-known for creating the best-in-class portfolios that boost applicant profiles in job-portals. And yes, this is a complimentary service!
Don't wait. Begin your visa application today!