Are you looking to rope in Canada PR Consultants? To help guide you through the long and arduous process of applying for a visa. Well, then it's natural that you get a bit skeptical. After surfing through the host of immigration consultancies. But we've got you covered.
What makes Kansas India's Best Immigration Consultant?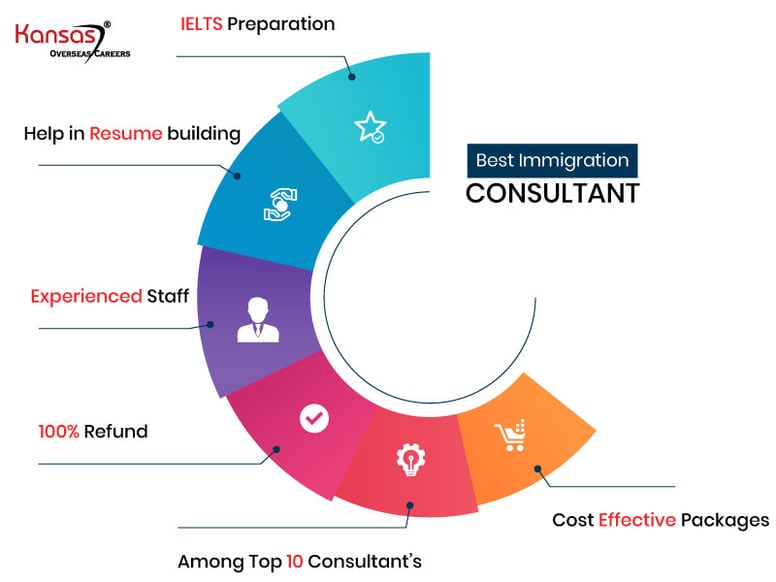 Kansas Overseas Careers hasn't been built in a week or month. Instead, it has been the consistent hard work and commitment that did it. And the effort we have put in ensuring each of our client's visas gets approved. That makes us one the best immigration consultants.
Among immigration consultants in India. Kansas Overseas has one of the best client servicing and customer support. That ensures the immigrants are never put in the dark. The process is always transparent. And focused on client satisfaction. But we don't shy away from making clear about your chances of getting a Canadian permanent residency visa as per your credentials.
We have also analyzed and curated a list of factors. That our clients have particularly loved about our services. These are the factors that make Kansas Overseas one of the best immigration consultants in Pune:
Visa Options: Apart from getting the regular Canada PR visa through marriage or full time. Kansas also assists its clients with work experience for the Federal Skilled Workers program. Which makes the process quicker and possible for a broader client base. Experts from Kansas overseas look at all the options. And suggest the ideal way to get your Canada permanent residency Visa.
Another of these methods includes. The PNP programs, which are among the immigrant programs launched by the Canadian government. The consultants would ensure that you choose the best possible way. And would lay bare all the options in front of you to decide. This, along with your Educational credential assessment. Maximizes your chances of getting your Canada pr visa approved.
Legal & Fair Service: Kansas Overseas is focused on providing the best assistance for immigrants. To get a Canada permanent residency visa. Traditionally. Kansas would never go out of the legal boundaries to do our clients a favor. All the rules and regulations, apart from the possibilities are explained. And made clear beforehand.
Since the services of Kansas Overseas cover everything. And the systems are updated. We don't need to hide anything from you. At any point in the process. You can read the terms of service of Kansas Overseas right now by clicking here.
Experienced Staff: Kansas Overseas has been one of the oldest immigration consultants in Bangalore. And likewise has earned a reputation only to deliver the best. We are continually striving to build a long-standing reputation. And get maximum clients a PR in Canada visa.
The staff has been with us for a long time. And we have complete faith in their ability and coordination. Communication is at the forefront of our services. And we don't compromise on that front.
Transparent Costs: At Kansas Overseas, you'll only pay for what you're getting. There are no hidden costs. You'll be explained in detail the breakup of the expenses. Before enrolling in the services. The fee includes the registration fee and other charges. Of the visa migration process.
Our experts will brief you about the complete charges you'll incur. Before applying for the visa. You'll also get a free assessment at Kansas Overseas. Going through the investment will let you understand your chances of eligibility. And whether you should apply now or not.
Refund Policy: It's not that once you enroll in the Kansas Consultancy service. You'd have to pay all the charges even if your visa doesn't get approved. Indeed, that'd been quite a risky shot. Instead, Kansas offers a transparent refund policy. Which is one of the reasons why clients trust them.
You'll get a 100% refund without any conditions on the service charges you paid. In case your visa gets rejected due to some error on your end. That's one reason why you can trust Kansas blatantly. The experience is significantly risk-free.
Extra Assistance: Apart from immigration consultancy. Kansas also provides other services and assistance. To help you establish a new life in Canada. Migration is much more than getting a permit to enter the country.
Kansas helps you settle in your new life in a foreign land. By providing adequate assistance and advice. Here are the additional services you can expect:
Help in IELTS preparation through online aid and study materials.
Support in the search for jobs. Through a consultancy service. To ensure you already have a job before you land.
Assistance before departure. As well as after arrival. Kansas never leaves their client until they reach their desired destination.
Help in Resume building. which is crucial to land international jobs.
Choosing a Reliable Consultancy for Canada PR: How to choose?
Kansas Overseas Careers is one of the best Canada pr consultancy services. Because of the trust we have gained with immigrants over the years. But you shouldn't trust us blindly. Instead, here we discuss a few traits that you should look for, while choosing a Canada immigration consultant:
The consultancy service should be registered with the Immigration Consultancy of Canada regulatory council or IRCC.
You should check for the consultancy service's online office. To ensure it's not a scam. This step is crucial. To ensure the credibility of your immigration consultant. And establish that it's a professional firm.
You should go through the complete website of the consultancy service. And analyze it thoroughly. Check for the services the immigration company offers. And why it is the right fit for you.
Contact the consultancy service. To ensure there's proper communication. The experts working in the immigration consultancy service should keep you updated. With all the recent changes in immigration regulations.
The immigration service should provide you with testimonials of satisfied clients. Check for the successful cases. And read what they have to say.
Other Important steps to ensure your immigration consultant is real and trustworthy:
Check for the registration number of your RCIC: The Regulated Canadian Immigration Consultant or RCIC should be registered with the ICCRC. To provide you a Canadian visa or a paid immigration. The members of the registered consultancy service have gone through rigorous training. To receive their registration numbers. The registration number would ensure they are qualified. To assist you with your VISA application.
Check for the current standing of the RCIC: Apart from checking the RCIC's registration number. You should also check if your immigration consultant has renewed their registration number. This step is vital to ensure that you don't get duped. By a former RCIC who hasn't renewed its contract.
It's also possible that the immigration consultant has violated ICCRC's code of ethics. Which can eventually lead to contract termination. Yes, you can still take advice from people or organizations without a registration number. As long as they don't charge you. In all paid transactions. The immigration lawyer or consultant should be qualified or registered.
Hiring a Representative to Handle the Application: If you choose to bring in a representative to file forms. And handle your application. The representative should have a registered name and number. Or your application would get rejected. It's hence mandatory for your RCIC to have a proper registration with ICCRC.
Check for the affiliations of your RCIC: Most people don't know that RCICs can have affiliation. With several immigration agencies. While it isn't a straightaway fraud. It's essential to ensure that your consultancy service does actually work with the affiliate agency. That they claim to be working with.
Other ways to look out for fraud immigration consultant:
Beware of companies who ask you for your credit or debit card details over the phone. Reputable agencies like Kansas Overseas Careers would always redirect you to a secure payment page. After filling the application form on their website.
Consultancies who guarantee to provide you a visa might be a fraud. The processing of the visa is only in the hands of Canadian immigration authorities. And consultancies can only help you maximize your chances of grabbing it.
Look out for companies sending you uncalled-for emails. If you haven't registered with the company from their website. And it's still approaching you, it's likely to be a scam.
What are the Different Types of Canada PR Visas?
Here is a list of 8 of the most popular types of Canada PR visas sought by foreigners:
Federal Skilled Worker
Provincial Nominee Program (PNP)
Family Class
Federal Skilled Trades Class
Canadian Experience Class
Business Investor
Business Entrepreneur
Business Self-Employed
Eligibility & Documents for Canada PR
Eligibility of Canada PR from India require the following:
You Require 67 Points Out of 100.
Minimum Bachelor's Degree.
IELTS Score of 6 in Each Band.
Minimum 2 Years of Work Experience.
You Get Extra Points if Your Spouse is a Graduate.
You Get Extra Points if You Have Blood Relatives in Canada.
You'll Get Extra Points if You Have a Job Offer Letter.
Additional Requirements:
Minimum Funds of INR 7 Lacs.
Medical Certification.
Police Clearance.
Mandatory Documents Required for Canada PR
Here is a complete list of documents required along with your Canada PR application:
Copy of Your Valid Passport / Travel Document Bio Data Page
The Medical Examination Confirmation
Police Clearance Certificates
Proof of Work Experience
Proof of Sufficient Funds
Other Mandatory Documents (If Applicable)
Copy of Birth Certificate
Proof of Educational Qualifications
Provincial or Territorial Certificate of Qualification
Letter of Offer from the Employer
Use of Representative Form (IMM 5476)
Marriage Certificate
Evidence of Common-Law Union & Cohabitation
Adoption Certificate
Death Certificate
How to Apply for Canada PR?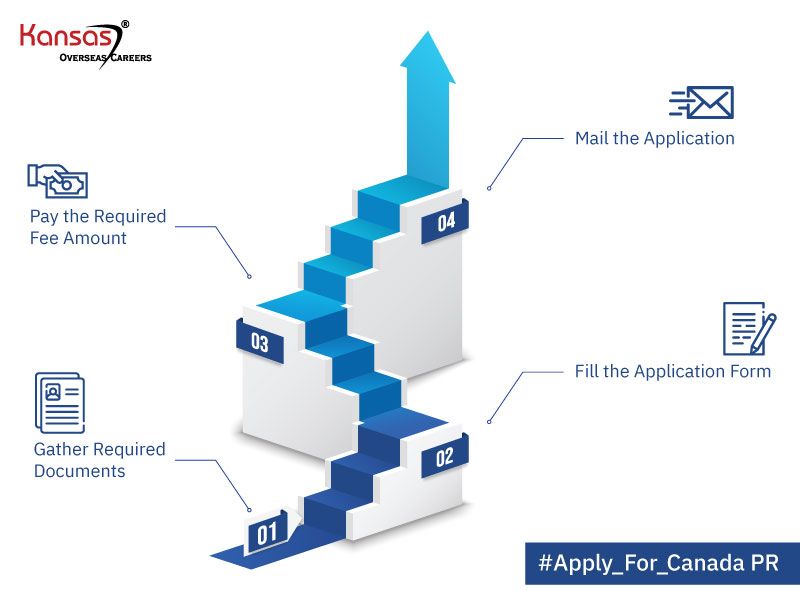 Here is a brief step-by-step process telling you how to go about applying for a Canada PR. It is once again reminded that seeking the services of a consultancy will be fruitful. They will effectively guide you through a smooth transition from beginning to end.
Step 1: Check out what documents are required in your case. And gather them. A consultant can assist you in gathering the necessary documentation.
Step 2: Fill out the application form. Follow the step-by-step instructions given here to complete the procedure.
Step 3: Calculate and pay the required fee amount. The processing fee must be paid along with your application. Consult an expert.
Step 4: Mail the application along with the documents. Consult an expert who can guide you to the nearest embassy or consulate.
What Happens Next
You have properly completed and submitted the application form along with the application fee. Following this you will receive an acknowledgement receipt from the consulate. You will be sent an email or mail confirming that.
However, your application will be returned to you. If it is lacking any of the required documents. In certain circumstances this may even result in refusal of granting a Canada PR visa.
Cost Factors for Canada PR
Here are the details of some of the basic charges for Canada PR visa:
Basic Charges for Canada PR
| | |
| --- | --- |
| IELTS Test Fees | INR 12,700 |
| Education Credential Assessment (ECA) Report | INR 21,000 |
| Medical Test Report | INR 5,500 |
| Police Verification Report | INR 500 |
| Canada Permanent Resident Fee | INR 28,000 |
| Right of PR Fee | INR 25,000 |
Canada PR applicants will have to bear these charges. Additionally, they will also have to submit proof of funds for themselves and their dependents. This is to9 show that they can bear the expenses during their stay in Canada.
How Much Do Consultants Charge for Canada PR?
Consultancy charges commonly vary from one company to another. It can range from INR 49,000 to INR 1,50,000. However, do not compromise on the fees as these charges are as per the expertise of an individual company.
Conclusion
Immigrating to Canada is a time taking process. And does cost a substantial amount of money. But choosing the right Canada pr consultants can help. You save both times, cost, and hassle. On the contrary. Choosing the wrong consultancy service can lead to huge losses.
So, you must ensure that the Canada PR consultant you are choosing is trustworthy. And credible. A good consultancy service should cover all the responsibilities. Of immigrating to Canada.
The process starts right from the filing of application forms. Submission of fee. And your Canada pr consultant should guide through the process. Ensuring proper communication between you and the authorities.
Hiring a reputed consultancy service like Kansas Overseas can help you avoid these amateur but frequent mistakes. So if you are looking to migrate to Canada. You must check out our website. And contact us now for a quick briefing.
Other FAQs
1. Which is the Best Canada Immigration Consultant in India?
Kansas Overseas Careers is the most preferred Canada immigration consultant in India. The immigration and visa services from the consultancy headquartered in Hyderabad, has been acclaimed all over the country.
Kansas Overseas currently operates in Chennai, Pune, and Vizag. Apart from Bangalore and Hyderabad. Indeed, there is no dearth of Canada immigration consultants in Delhi and Bangalore.
The team of expert consultants at Kansas Overseas will start the immigration process by guiding you through the application forms. The team would also explain how your process will go through. And how you can increase your chances of getting a Canada PR visa.
Kansas would review all your documents before submitting them. This would ensure that your application won't get rejected. Because of any discrepancies or mistakes.
The team of experts will provide valuable advice. On the best ways to describe your work experience. For your application to have the best chance of being selected. Kansas also assists clients with filling the correct work experience for MOC.
Kansas will assist you through the procedure of getting a police verification certificate. Which is mandatory while applying for a visa. They'll also inform you when you'd need to get a medical clearance. As and when declared by the Candian authorities.
Kansas Overseas will regularly keep you updated. On your application status, and progress. And guide on what else you need to do. To have the best chance of getting a Canada PR visa.
2. Why Should You Hire the Best Immigration Consultant to Migrate to Canada?
Applying for migration is a very long and complicated process. Moreover, a few human errors can lead to permanent resident card rejection. Which further means a massive setback in your career. To avoid all this you should consult an immigration consultant. They will assist you in landing a well-paying job. As well as guide you well to get a high score to get visa approval. Other services consultants offer include resume building, getting accommodation, and more. Here are a few drawbacks you should be wary of in such a case:
Lack of knowledge directly affects the availability of opportunities. You don't want to miss prime job opportunities at the peak of your career.
Improper filing of the application, the discrepancy in documents. And other such errors can lead to instant rejection of the application. Once rejected, it can become even more challenging to get a visa again.
The IRCC can also reject incomplete applications.
Kansas Overseas has been in the immigration industry for several years. And the collaborative efforts of its experts have resulted in high approval ratings for the clients. Since a consultancy is best known from the experience of its previous clients. You might want to check out their testimonials and success story page apart from reviews.