Traditionally, Indian immigrants have always focused on countries like the US and UK when it comes to education and moving abroad. The last decade has seen Canada emerge as a popular option for aspirants as well.
The cost of living and education in Canada is more affordable than other Western countries. Also, Canada's immigration laws are laxer than countries like the US and UK. These are the primary reasons to consider Canada over other countries, especially in matters of a PR Visa.
3 popular ways to get through the Canada PR process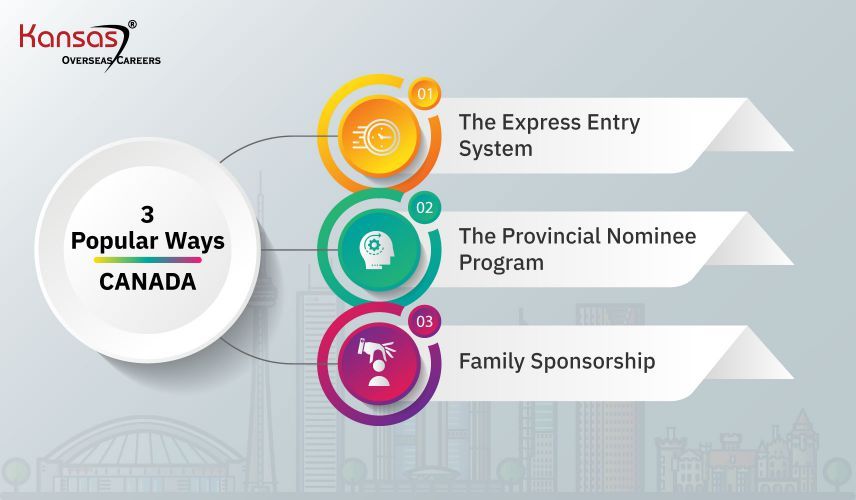 The following are 3 well-established methods of immigrating to Canada and getting a PR Visa:
The Express Entry System
The Provincial Nominee Program
Family Sponsorship
They are elaborated below.
1. The Express Entry System
The Express Entry System is a good choice for aspiring immigrants. This is for two reasons - the processing time for this visa is quite low, and applicants do not need a job offer to be eligible for it. This is a relatively new system, aiming to make the immigration process quick and easy for immigrants.
There are 3 programs under the Express Entry System:
2. The Provincial Nominee Program
Canada has a low population, so this program focuses on getting skilled immigrants to the country to help bridge the gap between demand and supply in the labor market. To qualify, your occupation must be in demand. A provincial nomination is worth a lot of points, and guarantees a number of 600 points being awarded to your CRS score.
Opting for the Provincial Nomination Program also means that your application may get processed faster. If you opt to go through Express Entry, and express an interest in a specific province at the same time, then they will be able to select your profile from a pool of other applicants. You will get through the process faster, and be awarded extra points at the same time.
The following are the provinces offering this facility, and the names of their programs:
Alberta Immigrant Nominee Program (AINP)

British Columbia Provincial Nominee Program (BCPNP)

Manitoba Provincial Nominee Program (MPNP)

Newfoundland and Labrador Provincial Nominee Program (NLPNP)

New Brunswick Provincial Nominee Program (NBPNP)

Nova Scotia Provincial Nominee Program (NSPNP)

Northwest Territories Nominee Program (NTNP)

Ontario Immigrant Nominee Program (OINP)

Prince Edward Island Provincial Nominee Program (PEI PNP)

Quebec Skilled Workers Program (QSWP)

Saskatchewan Immigrant Nominee Program (SINP)

Yukon Nominee Program (YNP)
3. Family Sponsorship Visa
If you happen to be a permanent resident of Canada over the age of 18, then you can sponsor a family member (spouse, relative, parent, grandparent, dependent) to live and work in Canada.
There are 4 streams under this program:
Spouse or Common-Law Partner Sponsorships
Child or Other Dependent Sponsorship
Parent or Grandparent Sponsorship
Super Visa
Eligibility for Canada PR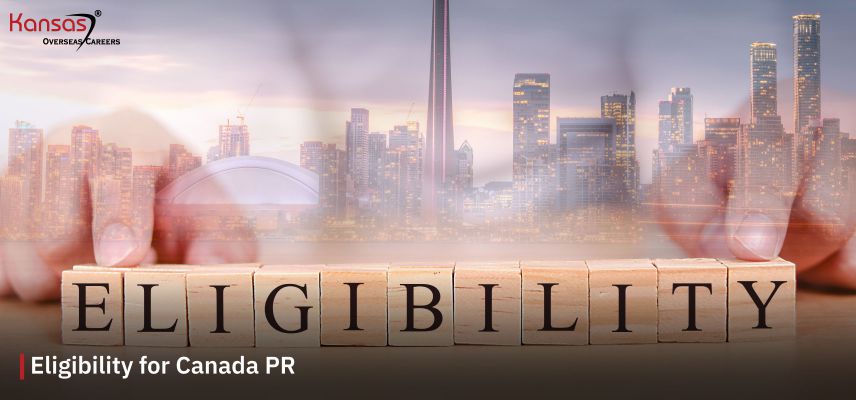 The following are the eligibility criteria:
You qualify if you score 67 points or more on a scale of 100. The following are the criteria they focus on:
Language skills- 28 points
Education- 25 points
Work Experience- 15 points
Age- 12 points
Offer of Employment- 10 points
Adaptability- 10 points
You should work in an occupation that is in demand in Canada
You must be proficient in English, and for some parts of Canada, you must be proficient in French. You will be tested on your speaking, reading, writing and listening skills. The test must be approved by the Citizenship and Immigration Canada. IELTS is a good test to prove English proficiency.
You need to prove you have sufficient funds to support yourself during your stay in Canada
There is no upper age limit, however applicants between the ages of 18-35 are likely to get the most points.
You must have an education that is recognized by the Canadian education board.
You must have sufficient and relevant work experience. Paid, full-time jobs have the most validity.
Your occupation must be classified as Skill Type 0 or Skill Level A or B according to the National Occupational Classification.
You do not need to have an offer of employment from an employer in Canada, but it is recommended as you will gain several points this way.
You must also remember that your score will be affected by your spouse's score if they are accompanying you.
Documentation
The following documents are required:
Passport
Education Credential Assessment (if you have not completed your education in Canada)
Proof of Funds
Proof of Language Proficiency
Proof of employment offer
Certificate of Nomination (in case of provincial nomination)
Certificate of Marriage or Divorce (if any)
Personal Reference Code
Express Entry Profile Number
Job Seeker Validation
Certificate of Good Health
Certificate of Birth
Passport-size photographs
Police report verifying that you have a clean record
Letters of recommendation
Application Process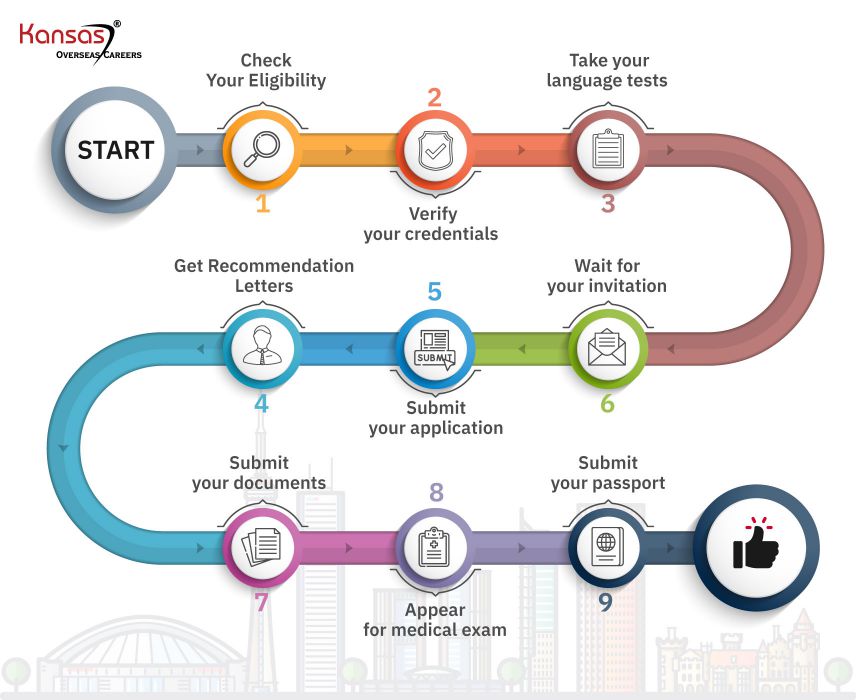 Step 1: Check your eligibility
The first thing you need to do is check your eligibility. Add up your points or use our CRS score calculator to effortlessly calculate your points. If you have a total of 67 points or more, you are eligible to apply.
Step 2: Verify your credentials
Verify your educational qualifications. If you have earned a degree or completed your schooling from Canada, proving your credentials will be easier. If you have earned a foreign degree, you will need to get an Education Credential Assessment from WES.
Step 3: Take your language tests
Take your language proficiency test and get the desired score.
Step 4: Get letters of recommendation from employers
Arrange referral letters from your past employers.
Step 5: Submit your application through the appropriate channel of entry
Submit your application in the Express Entry pool or in the Provincial Nomination Program.
Step 6: Wait for your invitation to apply
You will receive an invitation to apply if you make it through the process.
Step 7: Submit your documents
If you receive an invitation to apply, then you need to gather and submit all your documents within a span of 60 days.
Step 8: Appear for medical exam
You will need to appear for a medical exam.
Step 9: Submit your passport
You will now need to submit your passport to the Canadian or Indian Consulate.
Our expert immigration consultants can help you with the application process. Contact us now!
Cost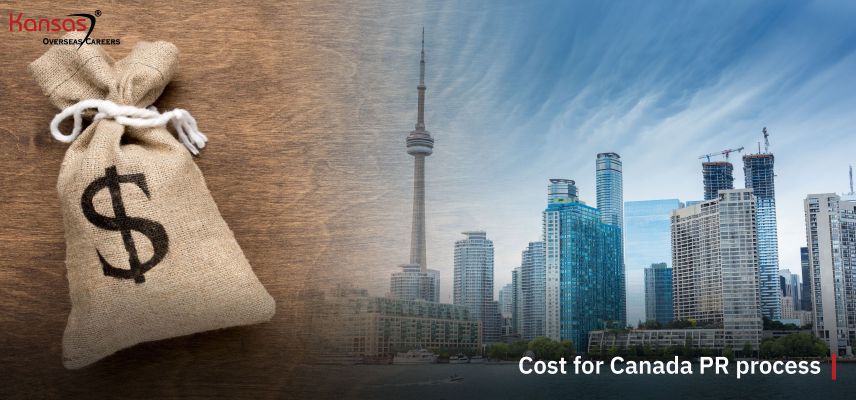 The following are the costs:
| | | |
| --- | --- | --- |
| Fees | CAD | INR |
| Application Fee Processing Fee | 1,365 | 82,855 |
| Application Fee (Without right of permanent residence) | 850 | 51,596 |
| Including Spouse or Common-Law Partner Processing Fee | 1,365 | 82,855 |
| Including Spouse or Common-Law Partner (without right of permanent residence) | 850 | 51,596 |
| Including a Dependent Child | 230 | 13,956 |
Processing Time
It usually takes around 6-12 months.
There are several restrictions that have been imposed due to the pandemic, therefore, applications are not being processed at the normal rate of speed.
FAQS
How long does the Canada pr process take?
It may take several weeks; the pandemic has slowed the process down.
What does a Canada PR visa entitle its holder to do?
The holder of a Canada PR visa can permanently reside in Canada, and work there at the same time. He/she may also be accompanied by their dependents after following proper procedure.
Who is included in the application for Canada immigration?
The permanent visa application usually includes the applicant, spouse and common - law partner. Children below the age of 19, and above in some circumstances, may also be included.
Who can attend the selection interview?
The applicant has to appear for the selection interview. In cases where the spouse is also being taken along, the spouse must accompany the applicant for the interview.
How long does it take to obtain a visa under the Federal Skilled Worker Class?
The selection decision takes around 6-12 months.
Do I need to travel to Canada as part of the immigration process?
It is not necessary to travel to Canada as part of the process. However, it may help your express entry profile if you can show that you are familiar with the country.
Is a job offer necessary to get a visa?
There are several Canada visa programs that do not require a job offer.
What if I want a job that differs from my previous occupations?
You can do this. There is no rule that says your occupation has to remain the same.
What if I need a license as a landed immigrant to continue my career in Canada?
You will need to get certified in that case. There are several occupations that require licensing in Canada.
What is the permanent residence fee?
The current fee for this is $CAD 490.
What are a few good employment sectors in Canada?
Healthcare
Engineering
Financial Services
Construction and Skilled Trades
Machining
Heavy Equipment Operators
Automotive and Agriculture
Are you required to pay tax after acquiring permanent residency?
Canada imposes tax based on residency and not citizenship. So yes, you are liable to pay tax after gaining residency.
What other kinds of visas are popular?
Two visas commonly issued:
What are the different types of permanent residence visas?
There are 6 different types of permanent visas:
Family Class Immigration
International Adoption
Skilled Worker Class Immigration
Provincial Nomination
Business Class Immigration
Quebec-Selected Immigration
Conclusion
The three methods discussed above- Express Entry, Provincial Nomination Program and Family Sponsorship are easy and popular ways to gain entry to Canada. To ensure a smoother application process, try to ensure your application has the following components:
Recognized education qualifications
Ample work experience
Good language proficiency test scores
Letters of recommendation
If you want help with your application, or even help with choosing the right immigration program, contact Kansas now!